New report shows democracy is in decline everywhere—including the United States
Have you been feeling like democracy is in trouble lately? According to this report, you're right.
05 February, 2018
We've discussed before how young people are losing their faith in democracy. The problems of democratic government are many, and the failure to resolve them can lead to a decline in the trust people have for public institutions, political apathy, tribalism, and worse. While democracy offers us many good things, it is highly dependent on popular support to function.
---
But, unpopularity might be the least of democracy's problems.
The annual Democracy Index report by the Economist Intelligence Unit shows that democratic governments are in trouble everywhere. Of the 167 countries ranked this year, 89 of them received lower scores than last year. The scores reflect a wide range of liberties, attitudes, and norms that are vital elements of a free society.
How does it work?
The report ranks countries on a scale of 0-10 in the categories of electoral process and pluralism, civil liberties, government functionality, political participation, and political culture. Each of those categories is further composed of a dozen, more concrete, indicators. The scores are then aggregated to create a single score for the state of freedom and democracy in that country.
A country's overall score then places it in one of four categories: full democracy, flawed democracy, hybrid regime or authoritarian regime. The map which shows how each country ranks is rather interesting.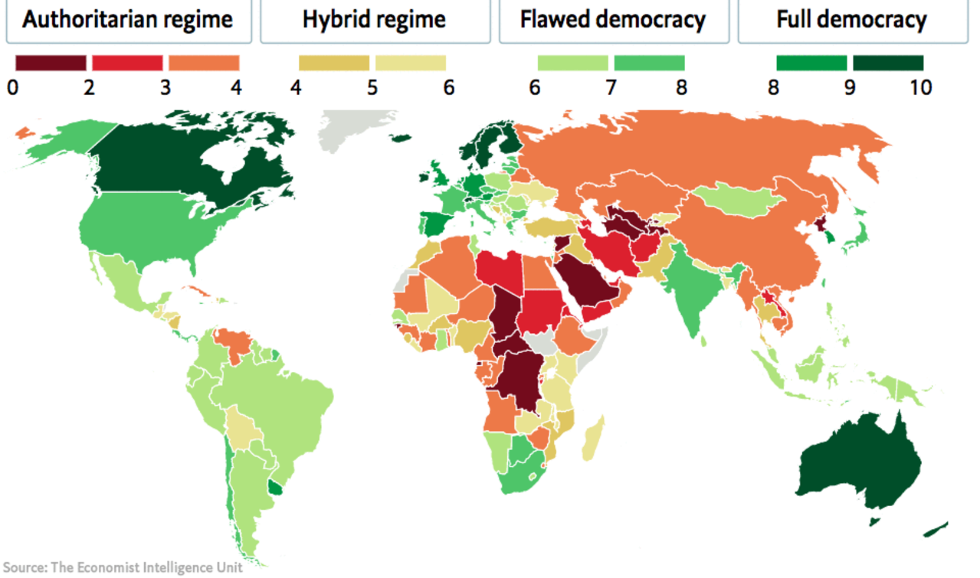 As you can see, darker greens correspond to higher scores for the health of a democracy. Red and yellow countries are hardly democratic at all. Credit: The Economist Intelligence Unit.
So, how bad is it?
This year less than half of the world's population lives in a democracy "of some sort." While the margin is thin, a one percent swing would tip the scale; it is symbolic of the decline of democracy over the last decade. One-third of the global population lives in outright authoritarian regimes, primarily due to the massive population of the People's Republic of China. The percentage of the world's population that lives in a "full democracy" fell to less than five percent.
Asia was a significant driver behind this decline. India, a democracy since independence, saw a substantial fall in its score due to increasing religious and ethnic unrest. Myanmar, Cambodia, and Vietnam all descended further into authoritarianism, and the recent religiously focused election for the governor of Jakarta caused Indonesia to see a major drop in its score.
The average Asian country is now a hybrid regime, as opposed to the full democracies which are typical in Europe and North America. The average Latin American country is a flawed democracy, although Uruguay has the distinction of being the only developing country which is also a full democracy.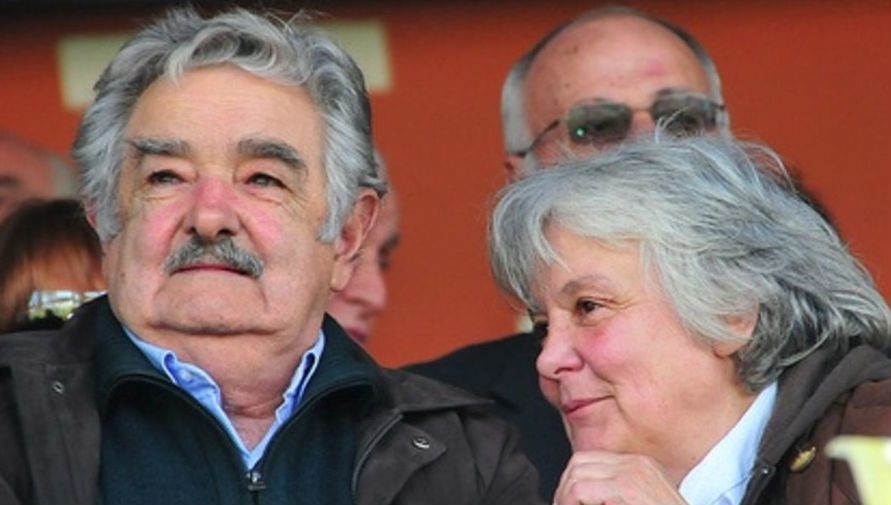 Uruguay's government is already rather unusual. As former president Jose "Pepe" Mujica donated nearly his entire income to charity. 
Why did this happen?
While some of the global decline is attributable to the gratuitous use of authoritarian tactics, such as the Spanish response to the ever-rebellious Catalonia or the crackdowns on dissent in Venezuela, some of it was due to much more subtle problems in the established democracies.
The report cites a "serious decline" in trust for governmental institutions for the decay of the United States' score, which fell low enough in 2015 to earn the title of "flawed democracy." The authors suggested that the decline was caused by factors which go back to the 1960s and helped facilitate the election of Donald Trump.
The authors also warn that many elements of a falling score can create vicious cycles, such as increasing polarization preventing government functionality. The decline in functionality almost inevitably leads to further erosion of confidence in public institutions.
Is there any good news in the report?
Some nations managed to improve their scores. The Gambia, in particular, saw so much improvement that it was promoted to a hybrid regime. Norway can celebrate its eighth year at the top of the list, scoring 9.87 points after a slight drop from last year.
It is also important to remember that while many nations are listed as "flawed" democracies, being even a hundredth of a point below the cut off is the same as being a full point below it. This year the United States tied with Italy at 7.98 points, making both nations "flawed" democracies. 
The authors also see some reasons to be optimistic. "If 2016 was notable for the populist insurgency against mainstream political parties and politicians in the developed democracies of Europe and North America, 2017 was defined by a backlash against populism," they write. As the decline in democratic norms in many nations was the result of populism gone mad, the reversal of the trend might offer hope for democratic norms in those places.
Last year was a difficult year for democracy around the world. Between direct challenges to freedom in places like China, Vietnam, and Venezuela and a deterioration in democratic norms in places like the United States, the world became a little less safe for democracy. If this report will be the beginning of a new trend or a blip on the march of democracy is yet to be seen.
Lumina Foundation is partnering with Big Think to unearth the next large-scale, rapid innovation in post-high school education. Enter the competition here!
Butter supply and life satisfaction are linked – but by causation or correlation?
Image: Carey Tilden/Wikimedia Commons, CC BY 2.0
Strange Maps
Haiti and other countries with low butter supply report low life satisfaction.
The reverse is true for countries like Germany, which score high in both categories.
As the graph below shows, a curious pattern emerges across the globe. But is it causation or correlation?
Advances in satellite imagery are shining a light.
Boyd et al., 2018
Technology & Innovation
Today, there are 40.3 million slaves on the planet, more than the number of people living in Canada.
Slavery can be hard to find, but it commonly occurs in several key industries like fishing and mining.
Using satellite data, researchers and activists are using crowdsourcing and artificial intelligence to identify sites where slavery is taking place.
The catacombs of Paris. Secret graffiti beneath NYC. The hidden cities of Cappadocia. Writer and explorer Will Hunt is your philosophical tour guide to what lies beneath.
Think Again Podcasts
"The surface of the earth is where we're rational . . . Part of us dreads the chaos, and part of us is always attracted to it."
"There were these things hanging from the ceiling…long strands of bacteria called "snotsicles"… But at our feet was a natural stream that had been running through Brooklyn forever."
"It's…about death. Undergoing a death. We're going into the other world and then retreating to the surface… changed in some way."
Big think's weekly newsletter.
Get smarter faster from the comfort of your inbox.
See our newsletter privacy policy
here
Most Popular
Most Recent
Big think's weekly newsletter.
Get smarter faster from the comfort of your inbox.
See our newsletter privacy policy
here
© Copyright 2007-2018 & BIG THINK, BIG THINK EDGE,
SMARTER FASTER trademarks owned by The Big Think, Inc. All rights reserved.