A New Hypothesis Suggests That Parallel Universes Might Interact after All
A new conception of quantum mechanics rests on the idea that parallel universes exist, and that they interact with our own to create weird and wonderful quantum phenomena.
29 November, 2017
Quantum mechanics is hard to do. The great physicist Richard Feynman once remarked "It is safe to say that nobody understands quantum mechanics" and that statement was regarded as correct. The problem isn't in the math, even an undergraduate can use Schrödinger's equation, it is in what the math means.
---
We are all familiar with several interpretations of what the math could mean, from cats that are both dead and alive to an infinite multiverse where every possible history does happen. How to prove which of these interpretations is correct is another problem; as parallel universes are postulated to not interact with one another and scientists don't quite have the stomach to put cats in quantum booby traps. With no ability to experiment, the math is all we know for sure.
But, a radical new interpretation might hold the answer, and in a manner that could be tested.
The idea is called the Many Interacting Worlds hypothesis, the or MIW. The core concept is that a plethora of universes have always existed side by side, and that they subtly influence the ones near them to differ from themselves. The bizarre effects of quantum mechanics that we observe and are confused by, such as quantum tunneling and the double slit experiment, are really caused by the interactions between these universes.
The hypothesis says the probabilistic nature we ascribe to certain events is really uncertainty caused by our not knowing which universe we are in, and that if we knew where we were physics would again be deterministic. The authors of the study say as little as two existent universes would be enough to assure quantum effects take place. They show they can account for basic quantum phenomena using their ideas.
What makes this model different from the others?
Firstly, it "contains nothing that corresponds to the mysterious quantum wave function," except when the number of modeled universes is infinite. When the model contains only one universe, it simplifies to a classical, Newtonian system. Quantum physicist and author of the hypothesis Michael Hall called this element "surprising" and said that it means that their hypothesis "incorporates both classical and quantum theory".  A vital step for any interpretation that wants to make headway.

Another key difference is that the proposed words in this hypothesis interact with one another. Because of this, scientists could devise an experiment to show if the predicted interaction was taking place; supporting or disproving the hypothesis. Since science typically holds falsifiability to be a gold standard, this is a great leap forward for quantum theory.
So, is this model going to be of any use?
At the moment, the model is still speculative and unlikely to become the new standard interpretation anytime soon. The authors of the hypothesis hope that their concept "will be useful in planning experiments to test and exploit quantum phenomena such as entanglement. Our findings include new algorithms for simulating such phenomena and may even suggest new ways to extend standard quantum mechanics."

Even if the ideas are proven false, or never catch on as a paradigm for interpreting quantum phenomena, the researchers hope to advance our understanding of science anyway. As they say in their press release, "while Richard Feynman may have had a point when he said 'I think I can safely say that nobody understands quantum mechanics,' there is still much to be gained by trying to do so".
Malcolm Gladwell teaches "Get over yourself and get to work" for Big Think Edge.
Big Think Edge
Learn to recognize failure and know the big difference between panicking and choking.

At Big Think Edge, Malcolm Gladwell teaches how to check your inner critic and get clear on what failure is.

Subscribe to Big Think Edge before we launch on March 30 to get 20% off monthly and annual memberships.
It's one of the most consistent patterns in the unviverse. What causes it?
Videos
Spinning discs are everywhere – just look at our solar system, the rings of Saturn, and all the spiral galaxies in the universe.
Spinning discs are the result of two things: The force of gravity and a phenomenon in physics called the conservation of angular momentum.
Gravity brings matter together; the closer the matter gets, the more it accelerates – much like an ice skater who spins faster and faster the closer their arms get to their body. Then, this spinning cloud collapses due to up and down and diagonal collisions that cancel each other out until the only motion they have in common is the spin – and voila: A flat disc.
It turns out, that tattoo ink can travel throughout your body and settle in lymph nodes.
17th August 1973: An American tattoo artist working on a client's shoulder. (Photo by F. Roy Kemp/BIPs/Getty Images)
popular
In the slightly macabre experiment to find out where tattoo ink travels to in the body, French and German researchers recently used synchrotron X-ray fluorescence in four "inked" human cadavers — as well as one without. The results of their 2017 study? Some of the tattoo ink apparently settled in lymph nodes.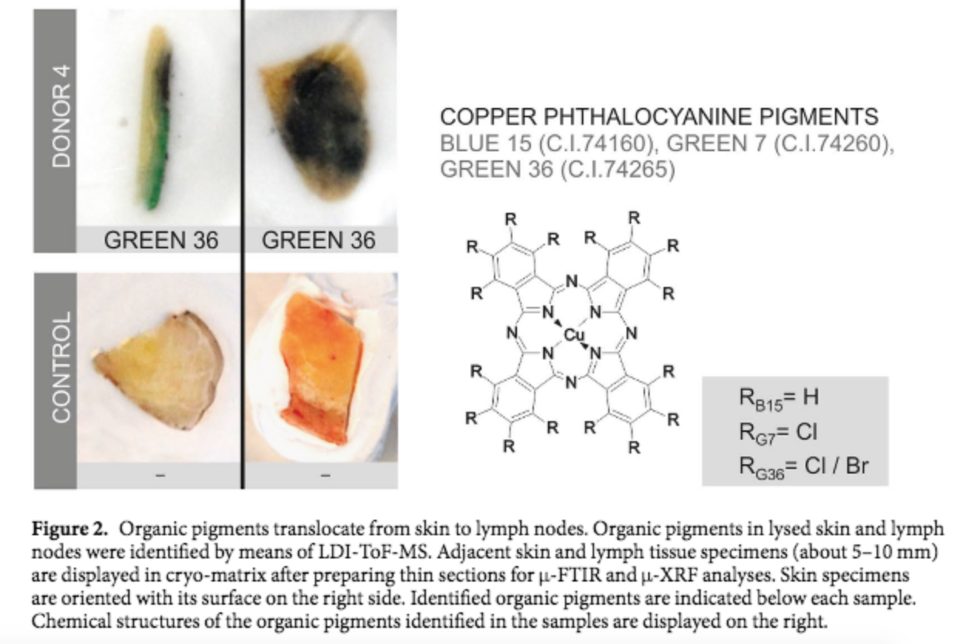 Image from the study.
As the authors explain in the study — they hail from Ludwig Maximilian University of Munich, the European Synchrotron Radiation Facility, and the German Federal Institute for Risk Assessment — it would have been unethical to test this on live animals since those creatures would not be able to give permission to be tattooed.
Because of the prevalence of tattoos these days, the researchers wanted to find out if the ink could be harmful in some way.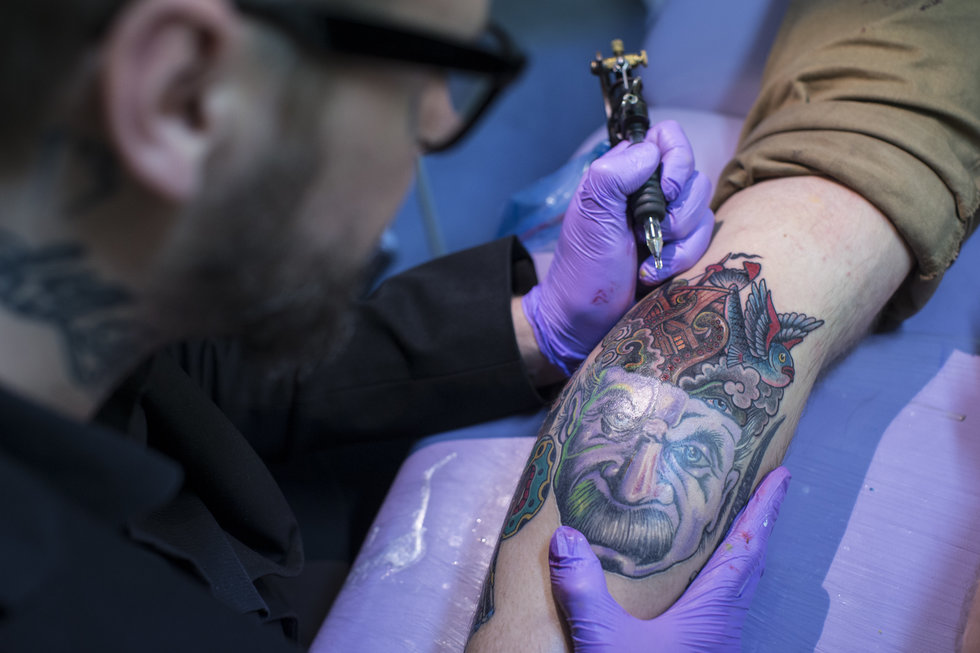 "The increasing prevalence of tattoos provoked safety concerns with respect to particle distribution and effects inside the human body," they write.
It works like this: Since lymph nodes filter lymph, which is the fluid that carries white blood cells throughout the body in an effort to fight infections that are encountered, that is where some of the ink particles collect.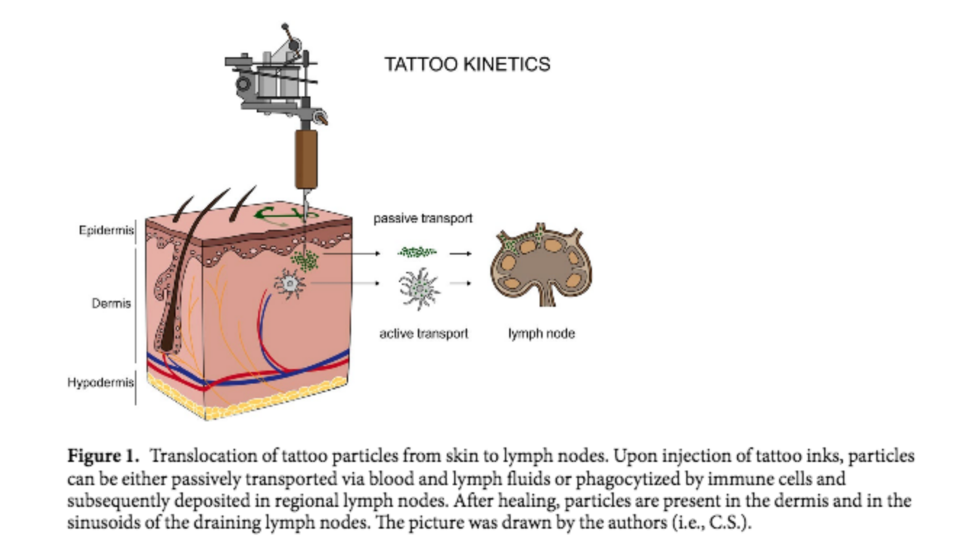 Image by authors of the study.
Titanium dioxide appears to be the thing that travels. It's a white tattoo ink pigment that's mixed with other colors all the time to control shades.
The study's authors will keep working on this in the meantime.
"In future experiments we will also look into the pigment and heavy metal burden of other, more distant internal organs and tissues in order to track any possible bio-distribution of tattoo ink ingredients throughout the body. The outcome of these investigations not only will be helpful in the assessment of the health risks associated with tattooing but also in the judgment of other exposures such as, e.g., the entrance of TiO2 nanoparticles present in cosmetics at the site of damaged skin."
Do you have a magnetic compass in your head?
Big think's weekly newsletter.
Get smarter faster from the comfort of your inbox.
See our newsletter privacy policy
here
Most Popular
Most Recent
Big think's weekly newsletter.
Get smarter faster from the comfort of your inbox.
See our newsletter privacy policy
here
© Copyright 2007-2018 & BIG THINK, BIG THINK EDGE,
SMARTER FASTER trademarks owned by The Big Think, Inc. All rights reserved.