2,000-year-old Roman library discovered in Germany
A "new" Roman library has been found in Germany. What might it have had in it?
10 August, 2018
Workers in Cologne, Germany have stumbled upon a 2000-year-old library while preparing a car park site for construction. The find, one of many archeological discoveries in the ancient city, has greatly excited archeologists, bibliophiles, and history buffs alike as it is the oldest known library in Germany.
---
Archeologists initially thought they had found a public meeting space until they noticed the walls had small niches carved into them that were too small to fit statues inside. "They are very particular to libraries—you can see the same ones in the library at Ephesus," explained Dr. Dirk Schmitz, an archeologist involved in the excavation.
The library dates back to the second century AD, a golden age for the Roman Empire, and would have been built around the same time as many others, such as the Library of Celsus in Turkey. The construction of libraries was vogue at this time, and massive new buildings were put up to both store documents and glorify the builders. The Library of Celsus, for example, was built to commemorate Senator Tiberius Celsus, who was buried inside.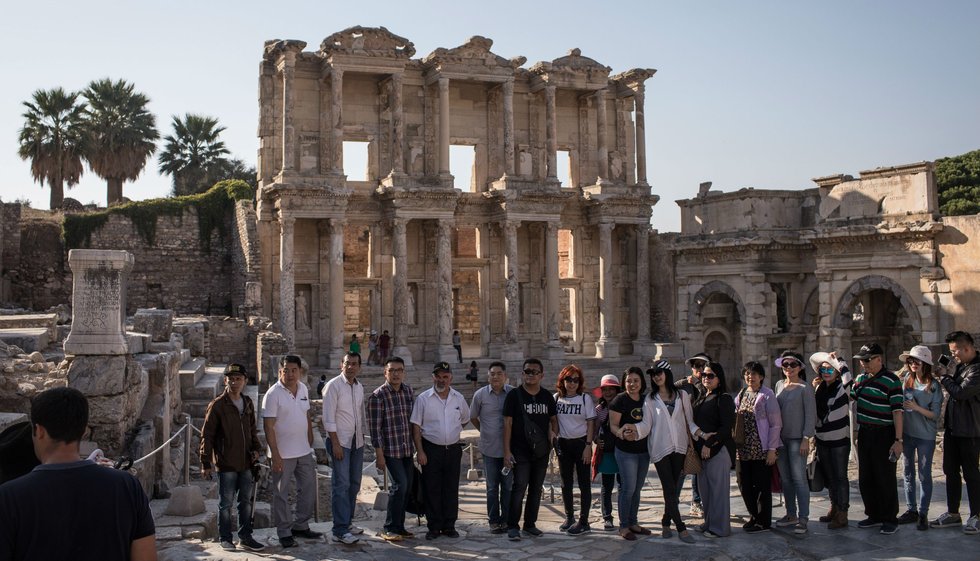 Tourists pose in front of the restored facade of the Library of Celsus in Izmir, Turkey. Its statues, facade, and size made it much larger than many other libraries of the day. (Photo by Chris McGrath/Getty Images)
The Cologne library is estimated to have held up to 20,000 parchment scrolls, all of which have long turned to dust. This makes it more extensive than many other libraries of the time, but much smaller than the Bibliotheca Ulpia, which needed separate buildings to hold its Greek and Latin collections, or the famous Library of Alexandria, which was built to house all of the knowledge of the ancient world.  
What kind of scrolls could you get there?
The content of the scrolls the library held is the subject of pure speculation, but other libraries are known to have held records, histories, poetry, scientific manuscripts, philosophy, and works of Greek and Roman literature.
Since the Romans held Greek culture and thought in high regard, most major libraries would have had separate sections for both languages. Many upper-class Romans had private libraries and enjoyed reading what we now think of as classics, so it is probable that this library had works by Virgil and Homer. 
So, could anybody have gone in and checked out a scroll?
Such a library would have been the domain of well-connected elites, so claims T. Keith Dix of the University of Georgia in his article "Public Libraries" in Ancient Rome: Ideology and Reality. While some Roman libraries were open to the general public, many were not, and the books and scrolls would be available only to those the local authorities liked. Records show that being able to take the books out of the library was rare and most people had to read the scrolls in the room where they got them.
In any case, William V. Harris claims in the book Ancient Literacy that no more than 5-10% of the population of the classical world would have been literate, with some scholarly areas seeing rates near 20%. He also tells us that members of the army tended to be more literate than most. 
This is taking a strong definition of the word "literacy" though. The presence of graffiti on many Roman buildings shows that members of the lower classes could write, if poorly.
Since what is now Cologne was the heavily fortified capital of the frontier province of Germania Inferior, it is probable that the city had a decent number of literate citizens between its garrisons, administrators, educators, professionals, and priests who could have been patrons of the library. 
What will become of this library now?
As is often the case when an ancient site is found under a modern construction area, the foundations of this ancient library will be incorporated into the new building, and the rest of the site will remain visible to the public. A planned parking lot will be reduced in size to avoid damaging the find, and a glass window will be installed to protect it while allowing visitors to look at a beacon of knowledge from ages past. 
Malcolm Gladwell teaches "Get over yourself and get to work" for Big Think Edge.
Big Think Edge
Learn to recognize failure and know the big difference between panicking and choking.

At Big Think Edge, Malcolm Gladwell teaches how to check your inner critic and get clear on what failure is.

Subscribe to Big Think Edge before we launch on March 30 to get 20% off monthly and annual memberships.
Do you have a magnetic compass in your head?
Turns out pushups are more telling than treadmill tests when it comes to cardiovascular health.
Airman 1st Class Justin Baker completes another push-up during the First Sergeants' push-up a-thon June 28, 2011, Eielson Air Force Base, Alaska. Participants were allowed 10 minutes to do as many push-ups as they could during the fundraiser. Airman Baker, a contract specialist assigned to the 354th Contracting Squadron, completed 278 push-ups. (U.S. Air Force photo/Airman 1st Class Janine Thibault)
Surprising Science
Men who can perform 40 pushups in one minute are 96 percent less likely to have cardiovascular disease than those who do less than 10.
The Harvard study focused on over 1,100 firefighters with a median age of 39.
The exact results might not be applicable to men of other age groups or to women, researchers warn.
On Thursday, New Zealand moved to ban an array of semi-automatic guns and firearms components following a mass shooting that killed 50 people.
(Photo by Spencer Platt/Getty Images)
Politics & Current Affairs
Gun control supporters are pointing to the ban as an example of swift, decisive action that the U.S. desperately needs.
Others note the inherent differences between the two nations, arguing that it is a good thing that it is relatively hard to pass such legislation in such a short timeframe.
The ban will surely shape future conversations about gun control in the U.S.
Big think's weekly newsletter.
Get smarter faster from the comfort of your inbox.
See our newsletter privacy policy
here
Most Popular
Most Recent
Big think's weekly newsletter.
Get smarter faster from the comfort of your inbox.
See our newsletter privacy policy
here
© Copyright 2007-2018 & BIG THINK, BIG THINK EDGE,
SMARTER FASTER trademarks owned by The Big Think, Inc. All rights reserved.