School law feeds (and other resources) for Google Reader
Scott McLeod
Scott McLeod, J.D., Ph.D., is an Associate Professor of Educational Leadership at the University of Kentucky. He also is the Founding Director of the UCEA Center for the Advanced Study of Technology Leadership in Education (CASTLE), the nation's only academic center dedicated to the technology needs of school administrators, and was a co-creator of the wildly popular video series, Did You Know? (Shift Happens). He has received numerous national awards for his technology leadership work, including recognitions from the cable industry, Phi Delta Kappa, and the National School Boards Association. In Spring 2011 he was a Visiting Canterbury Fellow at the University of Canterbury in New Zealand. Dr. McLeod blogs regularly about technology leadership issues at Dangerously Irrelevant and Mind Dump, and occasionally at The Huffington Post. He can be reached at scottmcleod.net.
16 February, 2011
This is the message that I just sent my Education Law and Ethics students (the two cohorts are in Des Moines and Mason City, Iowa). Thought I'd share here too...
---
\n
———
\n
Time to set up Google Reader!
\n
1. Watch this video:
\n
2. Go to www.google.com/reader. Sign in with your new Gmail account info if need be. Once you're in, click on the gray 'Add a subscription box' (top left). Paste in the first URL below. Repeat for each of the remaining links on the list. When you're done, you should have 11 'feeds' in your subscription list (bottom left). Click on a specific feed name to see items from just that one. Click on 'All items' (top left) to see all 11 feeds mixed together.
\n
\n
3. My goodness, what have we done? Well, we've just saved you time by putting ten school law-related feeds into one place. Now you'll be up to date on all of the latest school law news and you'll only have to go to one location (www.google.com/reader) rather than ten! Try to visit Google Reader at least once or twice per week just to stay current.
\n
4. Note that you can add other feeds to Google Reader too! For example...
\n
\n
5. Start looking for the letters 'RSS' and/or the little orange RSS symbol on web sites. Those tell you that you can add that site's content to Google Reader, meaning one less place you have to visit separately on the Web. Use Google Reader to ease your personal, professional, and academic lives. See the attached file for ways you can supercharge your Google Reader experience!
\n
6. Get in touch if you have questions / difficulty!
\n
Google Reader Tips (click on image for larger version)
\n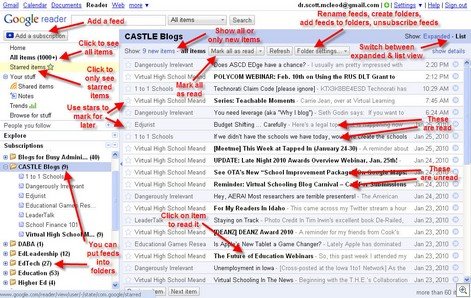 \n
Big think's weekly newsletter.
Get smarter faster from the comfort of your inbox.
See our newsletter privacy policy
here