Route 21 and the Partnership for 21st Century Skills
Scott McLeod
Scott McLeod, J.D., Ph.D., is an Associate Professor of Educational Leadership at the University of Kentucky. He also is the Founding Director of the UCEA Center for the Advanced Study of Technology Leadership in Education (CASTLE), the nation's only academic center dedicated to the technology needs of school administrators, and was a co-creator of the wildly popular video series, Did You Know? (Shift Happens). He has received numerous national awards for his technology leadership work, including recognitions from the cable industry, Phi Delta Kappa, and the National School Boards Association. In Spring 2011 he was a Visiting Canterbury Fellow at the University of Canterbury in New Zealand. Dr. McLeod blogs regularly about technology leadership issues at Dangerously Irrelevant and Mind Dump, and occasionally at The Huffington Post. He can be reached at scottmcleod.net.
16 February, 2011
[cross-posted at the TechLearning blog]
---
\n\n
At the SETDA Leadership Summit and Education Forum, we've been talking a lot about 21st century skills, so I thought it might be helpful to highlight some of the work that the Partnership for 21st Century Skills has been doing.
\n
The Partnership has been quite busy lately. In October, it announced new poll results that showed that a significant majority of voters 'are deeply concerned that the United States is not preparing young people with the skills they need to compete in the global economy.' Here's an excerpt from the full report: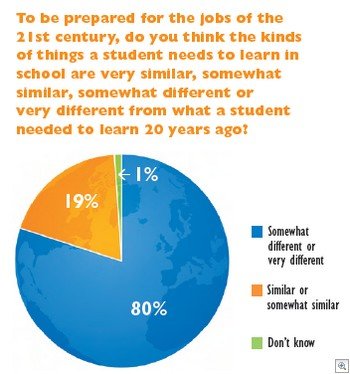 \n
As I noted on my blog earlier this week, on Monday the Partnership, SETDA, and ISTE released a paper on maximizing the impact of digital technologies for 21st century learning. The document contains examples of successful programs that can be used as models, guiding questions for stakeholders, and action principles for moving forward. Plus there's also this great (if depressing) quote:
\n
\n

No industry or organization can remain competitive today without making comprehensive use of technology as a matter of course in all of its operations. . . . [E]ducation is the least technology-intensive enterprise in a ranking of technology use among 55 U.S. industry sectors, according to the U.S. Department of Commerce.
\n
Today the Partnership released a new resource, Route 21:
\n
\n

[Route 21] represents the first comprehensive, go-to online resource for high-quality content, best practices, relevant reports, articles and research to assist practitioners in implementing 21st century teaching practices and learning outcomes. Route 21 harnesses Web 2.0 features to allow users to tag, rank, organize, collect and share Route 21 content based on their personal interests. Individuals will continuously update the site with relevant examples as well as share their reactions and insights on implementing 21st century skills in their state, district or school.
\n
You can read the press release, watch the 10–minute video, or dive right into the resources and tagging tools:
\n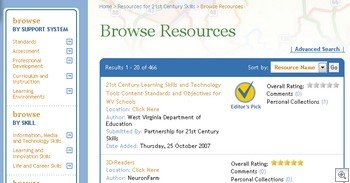 \n
Also, for those of you who didn't know, the Partnership recently updated its famous rainbow framework in order to better highlight essential supporting conditions:
\n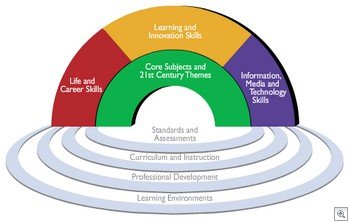 \n
[read more about the framework]
\n
In addition to the resources already described, the Partnership has a number of useful reports, issue briefs, and literacy maps, the latter of which are intended to give some examples of 21st century literacies in practice. Many of the Partnership's presentations are available online, as are some nifty tools for educators and policymakers.
\n
In short, the Partnership is working hard to help us move our nation's schools forward. There are numerous helpful resources on the Partnership's main site and in Route 21. I encourage you to check out what the Partnership has to offer.
\n
New research links urban planning and political polarization.
Pixabay
Politics & Current Affairs
Canadian researchers find that excessive reliance on cars changes political views.
Decades of car-centric urban planning normalized unsustainable lifestyles.
People who prefer personal comfort elect politicians who represent such views.
It turns out the human scalp has an olfactory receptor that seems to play a crucial role in regulating hair follicle growth and death.
Surprising Science
Scientists treated scalp tissue with a chemical that mimics the odor of sandalwood.
This chemical bound to an olfactory receptor in the scalp and stimulated hair growth.
The treatment could soon be available to the public.
Science and the squishiness of the human mind. The joys of wearing whatever the hell you want, and so much more.
Flickr / 13winds
Think Again Podcasts
Why can't we have a human-sized cat tree?
What would happen if you got a spoonful of a neutron star?
Why do we insist on dividing our wonderfully complex selves into boring little boxes
Big think's weekly newsletter.
Get smarter faster from the comfort of your inbox.
See our newsletter privacy policy
here
Most Popular
Most Recent
Big think's weekly newsletter.
Get smarter faster from the comfort of your inbox.
See our newsletter privacy policy
here
© Copyright 2007-2018 & BIG THINK, BIG THINK EDGE,
SMARTER FASTER trademarks owned by The Big Think, Inc. All rights reserved.