Roll the dice!
16 February, 2011
We have a bunch of crazy dice at our house, including fractions dice, decimal dice, money dice, alien dice, dice with colored dots on them, and dice within dice. We also have a bunch of Dungeons and Dragons dice from a toy store in Duluth, Minnesota. Instead of six sides, those dice have four, eight, ten, twelve, and even twenty sides.
---
Yesterday I found my kids playing Monopoly with the crazy dice. If they paid $5 to the bank, they got to use one of the crazy dice. If they paid $10, they got to use two. If they used a die with a color dot, they got to move to the set of properties with that color.
Kids don't need us to 'train them' to be creative. They just need permission, space for their creativity to blossom, and maybe a little active encouragement and/or nurturing of their creative spirits.
Roll the dice and see what happens!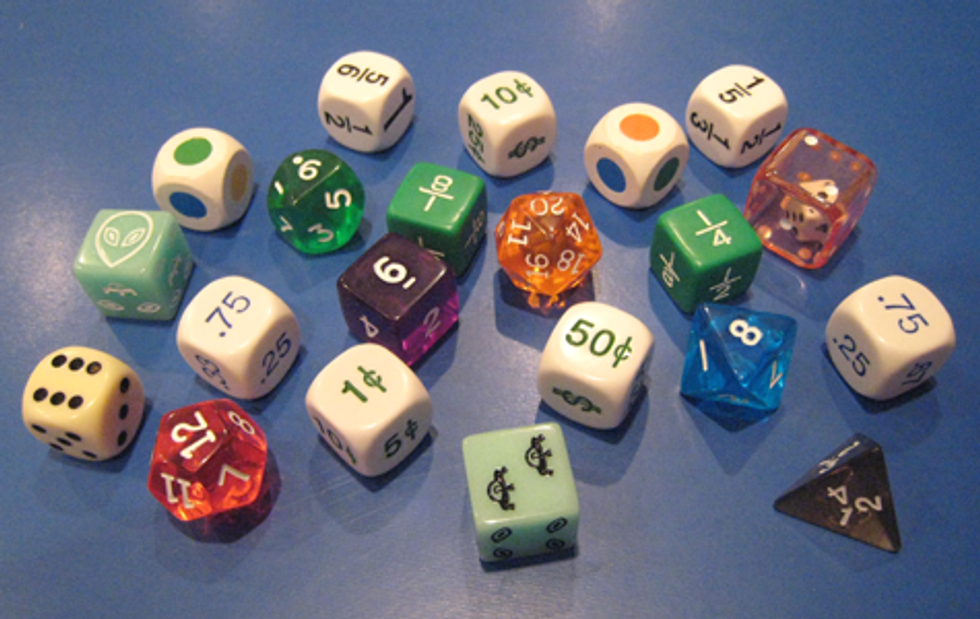 Universities claim to prepare students for the world. How many actually do it?
Sponsored by Charles Koch Foundation
Many university mission statements do not live up to their promise, writes Ben Nelson, founder of Minerva, a university designed to develop intellect over content memorization.
The core competencies that students need for success—critical thinking, communication, problem solving, and cross-cultural understanding, for example—should be intentionally taught, not left to chance.
These competencies can be summed up with one word: wisdom. True wisdom is the ability to apply one's knowledge appropriately when faced with novel situations.
This is what the world will look like, 250 million years from now
On Pangaea Proxima, Lagos will be north of New York, and Cape Town close to Mexico City
Surprising Science
To us humans, the shape and location of oceans and continents seems fixed. But that's only because our lives are so short.
SpaceX's momentous Crew Dragon launch is a sign of things to come for the space industry, and humanity's future.
Photo:Joe Raedle/Getty Images
Politics & Current Affairs
SpaceX was founded in 2002 and was an industry joke for many years. Eighteen years later, it is the first private company to launch astronauts to the International Space Station.
Today, SpaceX's Crew Dragon launched NASA astronauts Bob Behnken and Doug Hurley to the ISS. The journey will take about 19 hours.
Dylan Taylor, chairman and CEO of Voyager Space Holdings, looks at SpaceX's journey from startup to a commercial space company with the operating power of a nation-state.
A new study may help us better understand how children build social cognition through caregiver interaction.
Personal Growth
Scientists speculate imitation helps develop social cognition in babies.
A new study out of Lund University shows that six-month-olds look and smile more at imitating adults.
Researchers hope the data will spur future studies to discover what role caregiver imitation plays in social cognition development.
Surprising Science
Researchers at UT Southwestern noted a 47 percent increase in blood flow to regions associated with memory.
Scroll down to load more…