Why We Should Explore the Ocean as Seriously as We Explore Space
We should be exploring the oceans as seriously as we explore space.
23 October, 2016
Anyone who's found themselves beneath a spectacularly starry night sky has to wonder what's out there. That same person, though, might stare out at a dark ocean at night and ponder the very same thing. And yet the resources we've committed to the vast, largely unexplored ocean is a mere fraction of what we've invested in space exploration. Jacqueline Ronson, writing for Inverse, makes the case that we need an "upside down NASA."
---
NASA's budget request for the 2017 fiscal year that began October 1 is $19 billion (last year's appropriation was $19.3 billion). The federal organization charged with ocean science is NOAA, and their budget request for 2017 is $5.8 billion. It seems to many, though, that both efforts are underfunded, and that scientists shouldn't be in competition as they mount equally valuable projects.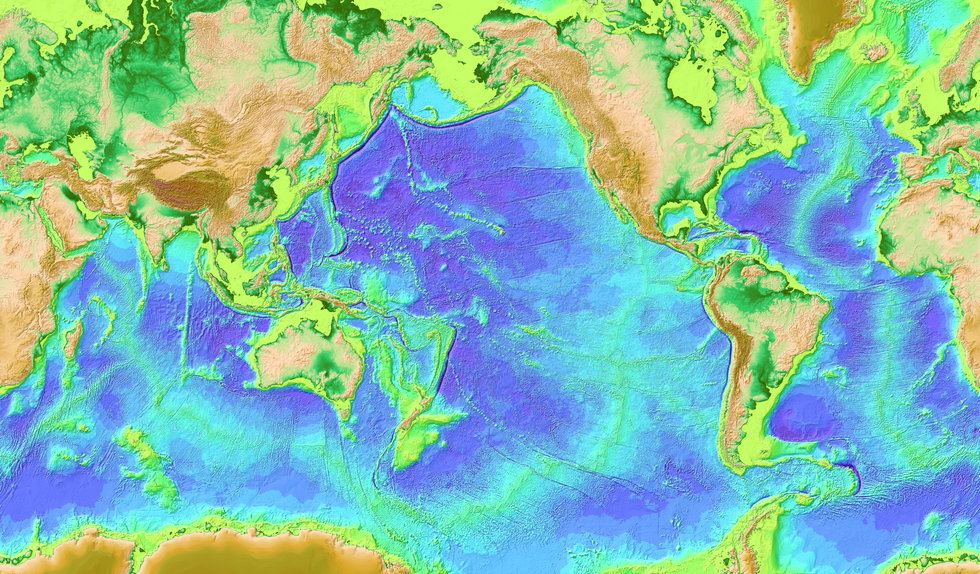 Global ocean-floor map (NOAA)
Still, the difference in committed dollars — and the technology it can buy — is exemplified by a comparison of the quality of their mapping equipment. NASA can chart the terrain of Mars every 330 feet, producing maps unlikely to miss much. In the ocean, by comparison, NOAA charts the underwater world in three-mile chunks at best — missing everything in between the points it captures — resulting in maps that capture only the roughest outlines of what's down there. During the search for Malaysian Flight M370, two previously unknown volcanoes were discovered. As far as the rest of the ocean goes, who knows what's really down there?
According to Amitai Etzioni, writing for Issues, the "oceans are nearby, and could prove helpful for addressing a wide range of national concerns from climate change to disease; for reducing energy, mineral, and potable water shortages; for strengthening industry, security, and defenses against natural disasters such as hurricanes and tsunamis; for increasing our knowledge about geological history; and much more." Etzioni proposes that until the government is willing to increase science funding altogether that some of NASA's funding should be moved over to a revitalized, streamlined, and upgraded NOAA.
In the meantime, XPRIZE — noting that only about 5% of the ocean floor has been thus far explored — has announced the XPRIZE Shell Ocean Discovery Competition. 32 international teams are competing for $7 million dollars to "push the boundaries of ocean technologies by creating solutions that advance the autonomy, scale, speed, depths and resolution of ocean exploration."
The 32 teams will be judged after two rounds of testing in which each will have a specified amount of time to launch exploration devices from shore or air with limited human intervention from shore, and explore the 2,000-4,000-meter deep competition area. When they're done, they have to produce:
1. a high resolution bathymetric map
2. images of a specified object
3. identify archaeological, biological or geological features
Jyotika Virmani of XPRIZE told Inverse, "The technologies that they are proposing are phenomenal, including drones that can go from air to sea, swarms of robots — it's going to be very exciting." You can follow the latest breakthroughs on the competition's web page.
Anybody studying earth from out in space would think of it as a water planet. The oceans, of course, cover 75% of its surface, so we Masters of the Land command not much more than a puny 25% of it. Really, visiting aliens should want to meet the whales and dolphins, not us.
Malcolm Gladwell teaches "Get over yourself and get to work" for Big Think Edge.
Big Think Edge
Learn to recognize failure and know the big difference between panicking and choking.

At Big Think Edge, Malcolm Gladwell teaches how to check your inner critic and get clear on what failure is.

Subscribe to Big Think Edge before we launch on March 30 to get 20% off monthly and annual memberships.
Both panoramic and detailed, this infographic manages to show both the size and distribution of world religions.
Strange Maps
At a glance, this map shows both the size and distribution of world religions.
See how religions mix at both national and regional level.
There's one country in the Americas without a Christian majority – which?
Pugs and bulldogs are incredibly trendy, but experts have massive animal welfare concerns about these genetically manipulated breeds. 
'No nose, no thermoregulation, no health, no welfare.' Photo by terriermandotcom.blogspot.com
popular
Pugs, Frenchies, boxers, shih-tzus and other flat-faced dog breeds have been trending for at least the last decade, thanks to higher visibility (usually in a celebrity's handbag), an increase in city living (smaller dogs for smaller homes), and possibly even the fine acting of Frank the Pug in 1997's Men in Black. We're not ruling it out. These small, specialty pure breeds are seen as the pinnacle of cuteness – they have friendly personalities, endearing odd looks, and are perfect for Stranger Things video montages.
Image source: Topical Press Agency / Getty Images
Politics & Current Affairs
Though we know today that his policies eventually ended the Great Depression, FDR's election was seen as disastrous by some.
A group of wealthy bankers decided to take things into their own hands; they plotted a coup against FDR, hoping to install a fascist dictator in its stead.
Ultimately, the coup was brought to light by General Smedley Butler and squashed before it could get off the ground.
Big think's weekly newsletter.
Get smarter faster from the comfort of your inbox.
See our newsletter privacy policy
here
Most Popular
Most Recent
Big think's weekly newsletter.
Get smarter faster from the comfort of your inbox.
See our newsletter privacy policy
here
© Copyright 2007-2018 & BIG THINK, BIG THINK EDGE,
SMARTER FASTER trademarks owned by The Big Think, Inc. All rights reserved.