Why CO2 from Volcanoes Is Definitely Not the Issue
Do volcanoes contribute a significant amount of CO2 to the atmosphere compared to humans?
16 June, 2017
---
One of climate-change deniers' favorites assertions to make is that it's not us throwing all that carbon dioxide into the atmosphere — it's those pesky volcanoes. While it's true that volcanoes spew tons of pollutants into the air when they erupt, do they really contribute more CO2 than we do? Or even the same amount as we do? Short answer: Hell, no. Astrophysicist, science communicator and NASA columnist Ethan Siegel explains how the comparison shakes out in an article for Medium.
Before getting into the numbers, though, it's worth noting that volcanic activity is the earth's way of getting needed carbon out of the crust and into the atmosphere in CO2. And for billions of years we believe this has been going on without resulting in the kinds of elevated CO2 levels we're seeing now: an estimated 3.2 trillion tons, of which 870 billion tons are carbon. What's changed? Us.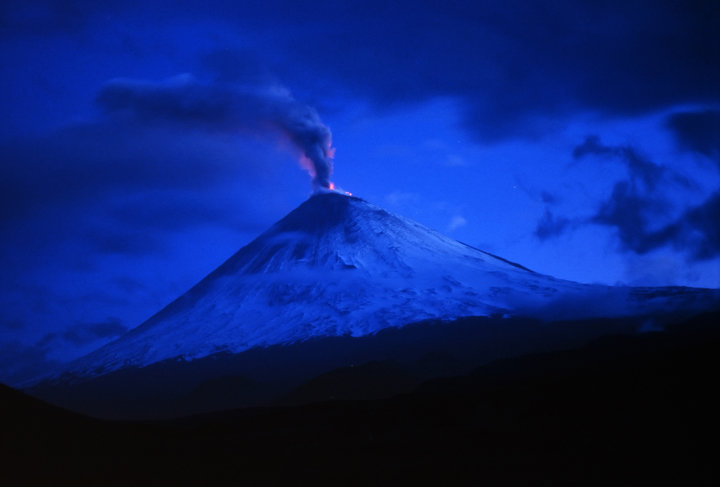 Klyuchevskaya Volcano, Kamchatka(GIORGIO GALEOTTI)
A 2013 study published in GeoScienceWorld tallied up all of the naturally occurring CO2 emissions per year. Siegel summarizes its findings in his Medium post:
33 measured degassing volcanoes emit a total of 60 million tons of CO2 per year.
There are a total of roughly 150 known degassing volcanoes, implying (based on the measured ones) that a total of 271 million tons of CO2 are released annually.
30 historically active volcanoes are measured to emit a total of 6.4 million tons of CO2 per year.
With roughly 550 historically active volcanoes total, they extrapolate this class of object contributes 117 million tons per year.
The global total from volcanic lakes is 94 million tons of CO2 per year.
Additional emissions from tectonic, hydrothermal and inactive volcanic areas contribute an estimated 66 million tons of CO2 per year, although the total number of emitting, tectonic areas are unknown.
And finally, emissions from mid-ocean ridges are estimated to be 97 million tons of CO2 annually.
This all adds up to a total average contribution to the atmosphere of 645 million tons of CO2 per year. Some years a little more and some years, less. But remember that number: Volcanoes add 645 million tons of CO2 to the atmosphere per year.
Now, us. Human activity, adds an average of 29 billion tons of CO2 each year to the atmosphere. Close? As we said at the top, nope. Not even.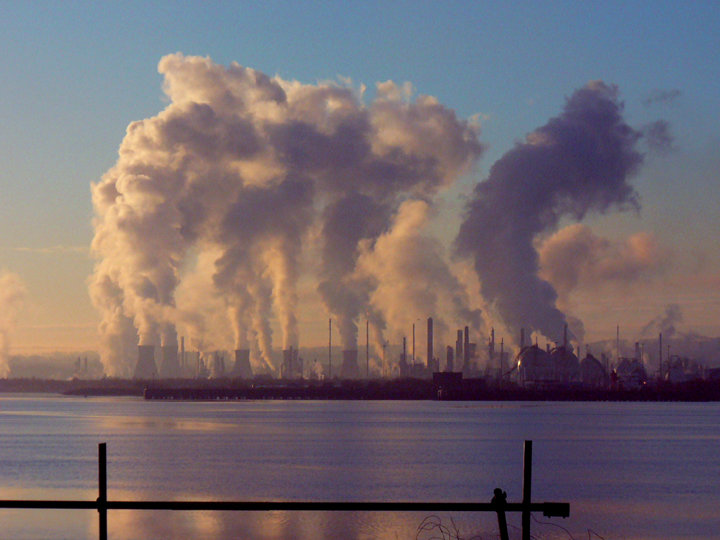 Grangemouth oil refinery in Scotland (GRAEME MACLEAN)
So the next time someone tries to let humankind off the climate-change hook, blaming volcanoes as part of a natural heating and cooling cycle, tell them no. If they try and play the alternate facts game with you, lay some of Siegel's math on them.
This is clearly our mess. The earth was doing just fine before we began making all this trouble.
The way that you think about stress can actually transform the effect that it has on you – and others.
Big Think Edge
Stress is contagious, and the higher up in an organization you are the more your stress will be noticed and felt by others.
Kelly McGonigal teaches "Reset your mindset to reduce stress" for Big Think Edge.

Subscribe to Big Think Edge before we launch on March 30 to get 20% off monthly and annual memberships.
These quick bursts of inspiration will brighten your day in 10 minutes or less.

Explore a legendary philosopher's take on how society fails to prepare us for education and progress.
Alan Watts.
Personal Growth
Alan Watts was an instrumental figure in the 1960s counterculture revolution.
He believed that we put too much of a focus on intangible goals for our educational and professional careers.
Watts believed that the whole educational enterprise is a farce compared to how we should be truly living our lives.
How can we use the resources that are already on the Moon to make human exploration of the satellite as economical as possible?
The All-Terrain Hex-Limbed Extra-Terrestrial Explorer (ATHLETE), a prototype heavy-lift utility vehicle to support future human exploration of extraterrestrial surfaces, at right, is parked beside the Habitat Demonstration Unit - Pressurized Excursion Module (HDU-PEM), at left, a concept off-Earth living and work quarters for astronauts stationed on asteroids, the moon or Mars, 15 September 2010. Photo by: ROBYN BECK/AFP/Getty Images
Technology & Innovation
If you were transported to the Moon this very instant, you would surely and rapidly die. That's because there's no atmosphere, the surface temperature varies from a roasting 130 degrees Celsius (266 F) to a bone-chilling minus 170 C (minus 274 F). If the lack of air or horrific heat or cold don't kill you then micrometeorite bombardment or solar radiation will. By all accounts, the Moon is not a hospitable place to be.

Big think's weekly newsletter.
Get smarter faster from the comfort of your inbox.
See our newsletter privacy policy
here
Most Popular
Most Recent
Big think's weekly newsletter.
Get smarter faster from the comfort of your inbox.
See our newsletter privacy policy
here
© Copyright 2007-2018 & BIG THINK, BIG THINK EDGE,
SMARTER FASTER trademarks owned by The Big Think, Inc. All rights reserved.