Why CO2 from Volcanoes Is Definitely Not the Issue
Do volcanoes contribute a significant amount of CO2 to the atmosphere compared to humans?
16 June, 2017
Calbuco Volcano, Chile (FOTOSMONTT .COM)
---
One of climate-change deniers' favorites assertions to make is that it's not us throwing all that carbon dioxide into the atmosphere — it's those pesky volcanoes. While it's true that volcanoes spew tons of pollutants into the air when they erupt, do they really contribute more CO2 than we do? Or even the same amount as we do? Short answer: Hell, no. Astrophysicist, science communicator and NASA columnist Ethan Siegel explains how the comparison shakes out in an article for Medium.
Before getting into the numbers, though, it's worth noting that volcanic activity is the earth's way of getting needed carbon out of the crust and into the atmosphere in CO2. And for billions of years we believe this has been going on without resulting in the kinds of elevated CO2 levels we're seeing now: an estimated 3.2 trillion tons, of which 870 billion tons are carbon. What's changed? Us.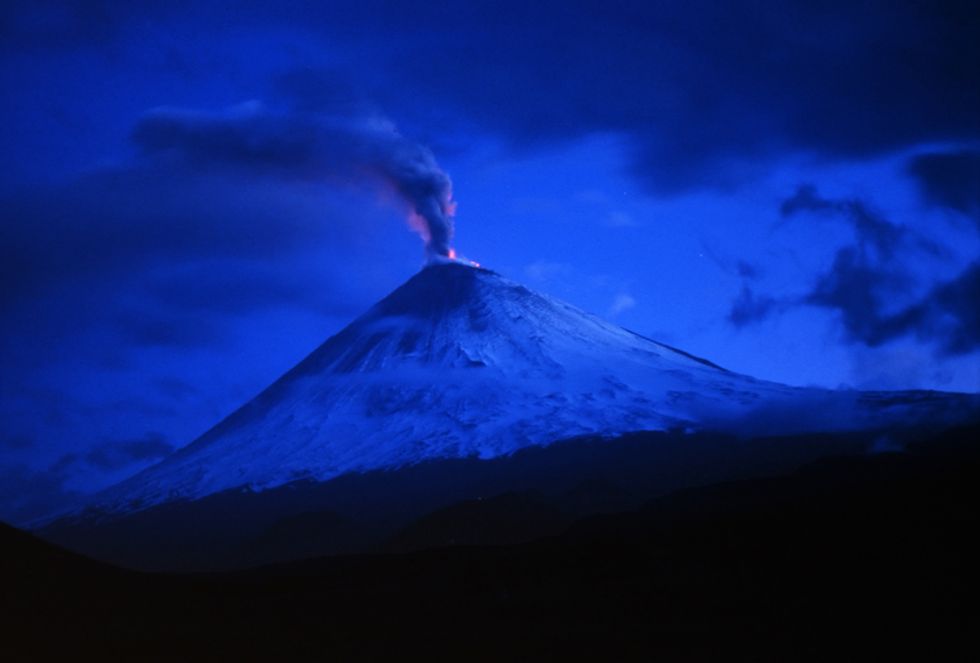 Klyuchevskaya Volcano, Kamchatka(GIORGIO GALEOTTI)
A 2013 study published in GeoScienceWorld tallied up all of the naturally occurring CO2 emissions per year. Siegel summarizes its findings in his Medium post:
33 measured degassing volcanoes emit a total of 60 million tons of CO2 per year.
There are a total of roughly 150 known degassing volcanoes, implying (based on the measured ones) that a total of 271 million tons of CO2 are released annually.
30 historically active volcanoes are measured to emit a total of 6.4 million tons of CO2 per year.
With roughly 550 historically active volcanoes total, they extrapolate this class of object contributes 117 million tons per year.
The global total from volcanic lakes is 94 million tons of CO2 per year.
Additional emissions from tectonic, hydrothermal and inactive volcanic areas contribute an estimated 66 million tons of CO2 per year, although the total number of emitting, tectonic areas are unknown.
And finally, emissions from mid-ocean ridges are estimated to be 97 million tons of CO2 annually.
This all adds up to a total average contribution to the atmosphere of 645 million tons of CO2 per year. Some years a little more and some years, less. But remember that number: Volcanoes add 645 million tons of CO2 to the atmosphere per year.
Now, us. Human activity, adds an average of 29 billion tons of CO2 each year to the atmosphere. Close? As we said at the top, nope. Not even.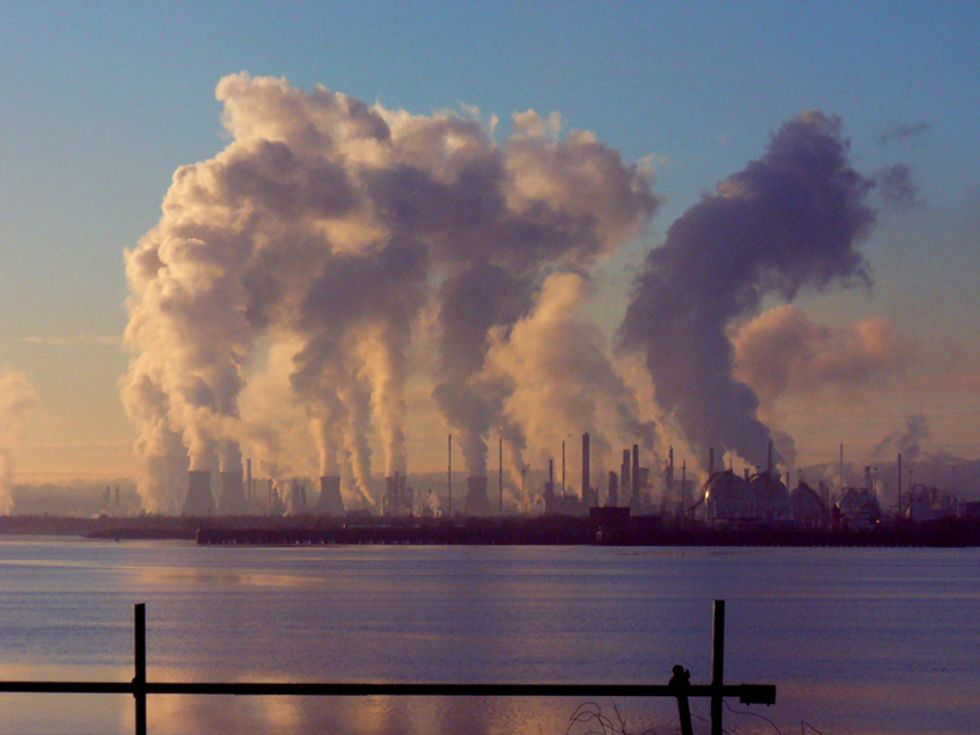 Grangemouth oil refinery in Scotland (GRAEME MACLEAN)
So the next time someone tries to let humankind off the climate-change hook, blaming volcanoes as part of a natural heating and cooling cycle, tell them no. If they try and play the alternate facts game with you, lay some of Siegel's math on them.
This is clearly our mess. The earth was doing just fine before we began making all this trouble.
The pandemic reminds us that our higher education system, with all its flaws, remains a key part of our strategic reserve.
Sponsored by Charles Koch Foundation
America's higher education system is under great scrutiny as it adapts to a remote-learning world. These criticisms will only make higher ed more innovative.
While there are flaws in the system and great challenges ahead, higher education has adapted quickly to allow students to continue learning. John Katzman, CEO of online learning organization Noodle Partners, believes this is cause for optimism not negativity.
Universities are pillars of scientific research on the COVID-19 frontlines, they bring facts in times of uncertainty and fake news, and, in a bad economy, education is a personal floatation device.
Why do so many people encounter beings after smoking large doses of DMT?
Pixabay
Mind & Brain
DMT is arguably the most powerful psychedelic drug on the planet, capable of producing intense hallucinations.
Researchers recently surveyed more than 2,000 DMT users about their encounters with 'entities' while tripping, finding that respondents often considered these strange encounters to be positive and meaningful.
The majority of respondents believed the beings they encountered were not hallucinations.
We'd like to think that judging people's worth based on the shape of their head is a practice that's behind us.
PATRICK KOVARIK/AFP via Getty Images
Culture & Religion
'Phrenology' has an old-fashioned ring to it. It sounds like it belongs in a history book, filed somewhere between bloodletting and velocipedes.
Maybe you've been wondering if you're seeing one persistent squirrel or a rotating cast of characters.
Surprising Science
A new wearable patch has been created at the University of California San Diego.
Scroll down to load more…