Why CO2 from Volcanoes Is Definitely Not the Issue
Do volcanoes contribute a significant amount of CO2 to the atmosphere compared to humans?
16 June, 2017
---
One of climate-change deniers' favorites assertions to make is that it's not us throwing all that carbon dioxide into the atmosphere — it's those pesky volcanoes. While it's true that volcanoes spew tons of pollutants into the air when they erupt, do they really contribute more CO2 than we do? Or even the same amount as we do? Short answer: Hell, no. Astrophysicist, science communicator and NASA columnist Ethan Siegel explains how the comparison shakes out in an article for Medium.
Before getting into the numbers, though, it's worth noting that volcanic activity is the earth's way of getting needed carbon out of the crust and into the atmosphere in CO2. And for billions of years we believe this has been going on without resulting in the kinds of elevated CO2 levels we're seeing now: an estimated 3.2 trillion tons, of which 870 billion tons are carbon. What's changed? Us.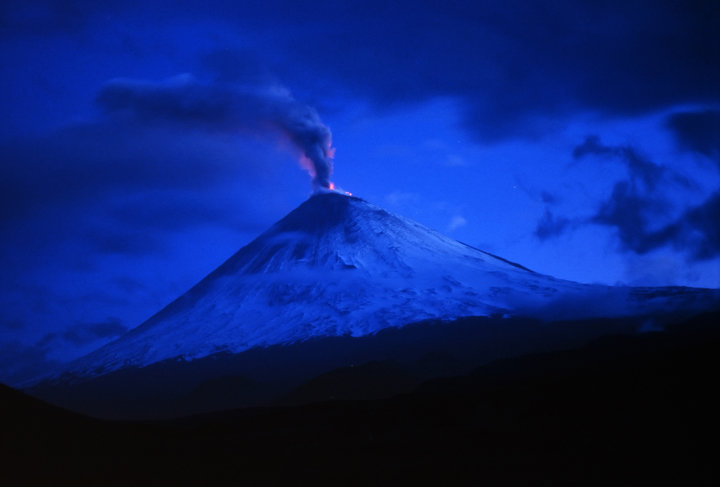 Klyuchevskaya Volcano, Kamchatka(GIORGIO GALEOTTI)
A 2013 study published in GeoScienceWorld tallied up all of the naturally occurring CO2 emissions per year. Siegel summarizes its findings in his Medium post:
33 measured degassing volcanoes emit a total of 60 million tons of CO2 per year.
There are a total of roughly 150 known degassing volcanoes, implying (based on the measured ones) that a total of 271 million tons of CO2 are released annually.
30 historically active volcanoes are measured to emit a total of 6.4 million tons of CO2 per year.
With roughly 550 historically active volcanoes total, they extrapolate this class of object contributes 117 million tons per year.
The global total from volcanic lakes is 94 million tons of CO2 per year.
Additional emissions from tectonic, hydrothermal and inactive volcanic areas contribute an estimated 66 million tons of CO2 per year, although the total number of emitting, tectonic areas are unknown.
And finally, emissions from mid-ocean ridges are estimated to be 97 million tons of CO2 annually.
This all adds up to a total average contribution to the atmosphere of 645 million tons of CO2 per year. Some years a little more and some years, less. But remember that number: Volcanoes add 645 million tons of CO2 to the atmosphere per year.
Now, us. Human activity, adds an average of 29 billion tons of CO2 each year to the atmosphere. Close? As we said at the top, nope. Not even.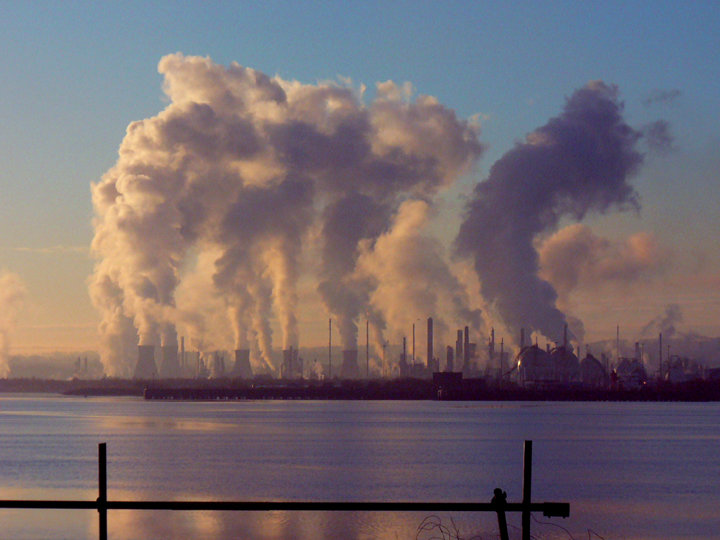 Grangemouth oil refinery in Scotland (GRAEME MACLEAN)
So the next time someone tries to let humankind off the climate-change hook, blaming volcanoes as part of a natural heating and cooling cycle, tell them no. If they try and play the alternate facts game with you, lay some of Siegel's math on them.
This is clearly our mess. The earth was doing just fine before we began making all this trouble.
Pfizer's partnerships strengthen their ability to deliver vaccines in developing countries.
Susan Silbermann, Global President of Pfizer Vaccines, looks on as a health care worker administers a vaccine in Rwanda. Photo: Courtesy of Pfizer.
Sponsored
Community healthcare workers face many challenges in their work, including often traveling far distances to see their clients
Pfizer is helping to drive the UN's sustainable development goals through partnerships.
Pfizer partnered with AMP and the World Health Organization to develop a training program for healthcare workers.
The controversy around the Torah codes gets a new life.
Michael Drosnin
Surprising Science
Mathematicians claim to see a predictive pattern in the ancient Torah texts.
The code is revealed by a method found with special computer software.
Some events described by reading the code took place after the code was written.
The controversy over whether Jesus had any siblings is reignited after an amazing new discovery of an ancient text.
Orangutans join humans and bees in a very exclusive club
Surprising Science
Orangutan mothers wait to sound a danger alarm to avoid tipping off predators to their location
It took a couple of researchers crawling around the Sumatran jungle to discover the phenomenon
This ability may come from a common ancestor
Big think's weekly newsletter.
Get smarter faster from the comfort of your inbox.
See our newsletter privacy policy
here
Most Popular
Most Recent
Big think's weekly newsletter.
Get smarter faster from the comfort of your inbox.
See our newsletter privacy policy
here
© Copyright 2007-2018 & BIG THINK, BIG THINK EDGE,
SMARTER FASTER trademarks owned by The Big Think, Inc. All rights reserved.