When You Feel Like You Have No One to Talk To, It May Be You Do
The Urban Confessional project offers free listening to anyone who has no one to talk to.
16 May, 2016
---
If any of my friends or their friends are lonely, sick, jobless, or need some sort of assistance, companionship, or an extra dose of my personal brand of bristly friendship through the holidays, please contact me directly via FB email.
Happy holidays, everyone.
A friend of mine posted this message on Facebook a few Decembers back, and I was profoundly touched by its wisdom and compassion. I think he was addressing one of our most fundamental needs: The need to share our experience with others.
I'd say this single, simple act lies at the heart of our closest relationships. Long after the romance cools down and the drama ends this, is what couples share more than anything else: What happens in their lives and how they feel about it.
This is obvious to anyone who's spent any prolonged time alone, since when there's no one to talk to, it becomes almost as if your daily events never really happen and like you yourself are untethered to the world, waiting to be blown away. It's a dark and disorienting sensation.
In a growing number of places, including large cities like Los Angeles, New York Sydney, Barcelona, Lima, and Tokyo, you might see someone standing in a crowd holding a sign that says, "Free Listening." These people mean what their signs say: They're there to listen. Not judge. Not record the conversation. Just listen. These people are part of the growing Urban Confessional project.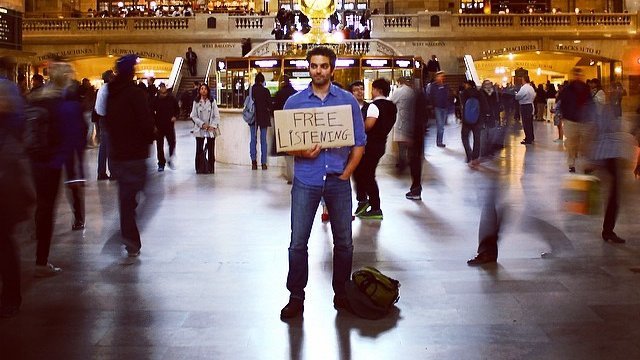 The project was started by actor and creative coach Benjamin Mathes in 2012 as he was looking for volunteer work that could help him recover from a divorce. He got into a conversation, and did some praying, with a homeless man who'd approached him for money, and realized he'd found his way of making a contribution. He recruited some friends to join him out on the streets, and the Urban Confessional project was born. This simple idea turned out to hold a surprising amount of power.
Mathes recently told co.exist, "People almost always respond the same way. They'll say, 'Why are you doing this?' They're totally surprised that somebody would offer to be there for them. My response is always the same: I just say, 'I'm doing it for you.' They're like, 'What's the catch?' I say, 'There's no catch.'"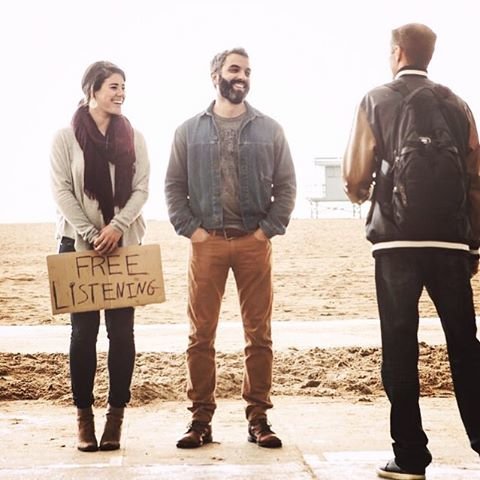 As of now, there are project listeners on six continents, in 13 countries, and 20 U.S. states. Over time, they've accumulated a fair amount of knowledge about how to be a helpful listener and compiled it in their Partner Guide. Their four "Keys to Listening" are:
Imbalanced Conversation
Empathetic Agreement
No Barriers
Respect the Silence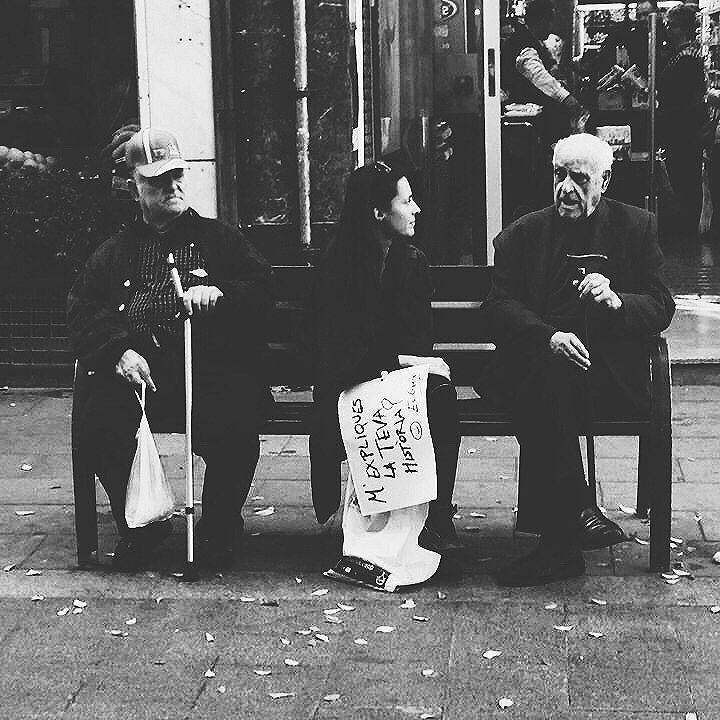 The Urban Confessional project encourages anyone who wants help to join. If you'd rather listen on your own, have a look at their Partner Guide anyway—you'll find some smart thinking on being a supportive, constructive listener. It's good stuff to know.
It's a wonderful idea because it's something anyone can do. We all understand, after all, how much it can help simply to be heard.
Headline image: Urban Confessional Project
Related Articles
Are university safe spaces killing intellectual growth?
Videos
Why you should want your ideological opposites on campus
Universities must be safe—but they cannot be censored
Don't be afraid of being offended. Be afraid of never changing your mind.
Our experience of time may be blinding us to its true nature, say scientists.
Back to the Future.
Surprising Science
Time may not be passing at all, says the Block Universe Theory.
Time travel may be possible.
Your perception of time is likely relative to you and limited.
From questionable shipwrecks to outright attacks, they clearly don't want to be bothered.
Culture & Religion
Many have tried to contact the Sentinelese, to write about them, or otherwise.
But the inhabitants of the 23 square mile island in the Bay of Bengal don't want anything to do with the outside world.
Their numbers are unknown, but either 40 or 500 remain.
Big think's weekly newsletter.
Get smarter faster from the comfort of your inbox.
See our newsletter privacy policy
here
Most Popular
Most Recent
Big think's weekly newsletter.
Get smarter faster from the comfort of your inbox.
See our newsletter privacy policy
here
© Copyright 2007-2018 & BIG THINK, BIG THINK EDGE,
SMARTER FASTER trademarks owned by The Big Think, Inc. All rights reserved.