When Netflix Is Attacked at Cannes, Will Smith Steps Up
Will Smith defends entry of non-theatrical Netflix movies at Cannes.
19 May, 2017
(LOIC VENENACE)
Two of the films in competition at this year's prestigious Cannes Film Festival were produced by and for Netflix. It may be a watershed moment for films, given that the two movies — Okja and The Meyerowitz Stories — were produced for a TV streaming service, and not for a movie theater. At the festival's opening press conference on May 17, renowned Spanish filmmaker and Palme d'Or prize juror Pedro Almodovar read a pre-written statement that said in part, "I personally do not conceive, not only the Palme d'Or, any other prize being given to a film and not being able to see this film on a big screen."
---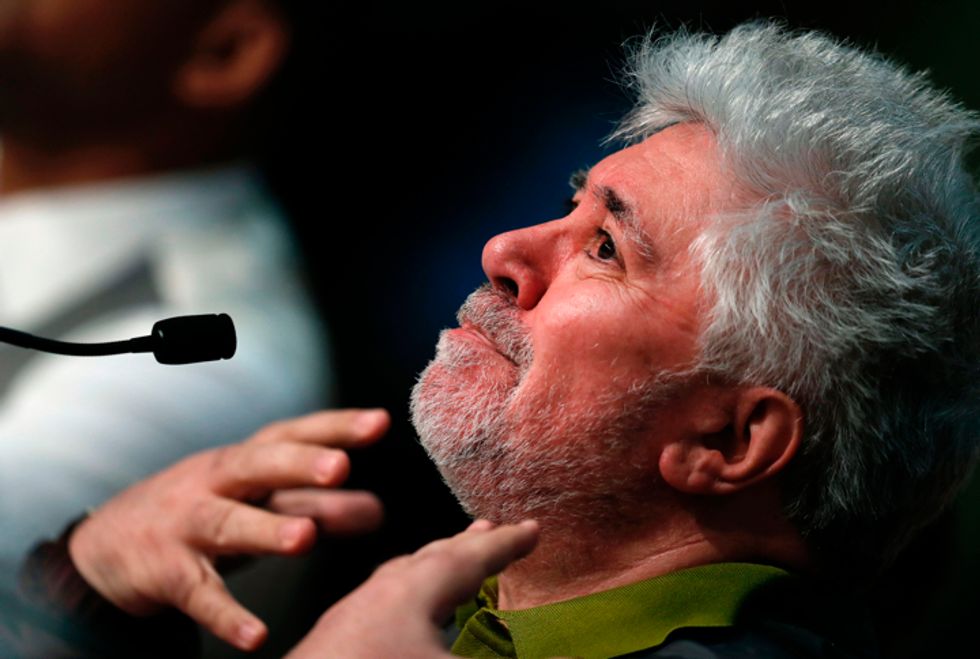 Pedro Almodovar (Laurent Emmanuel)
When Will Smith raised his voice in defense of Netflix a while later, a conversation began that reflects a seismic shift — and for some, a sobering one — in the film industry. Almodovar and Smith were each no doubt reflecting the views of many other people.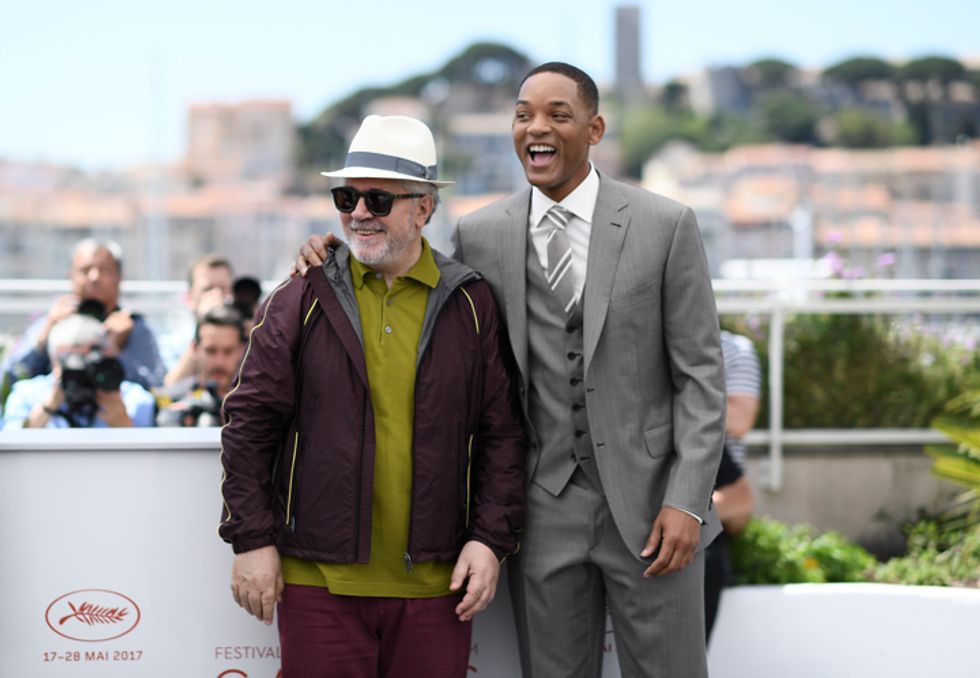 Almodovar and Smith (Anne-Chirstine Poujoulat)
Prior to Almodovar's statement, the mood at the press conference had been completely different. Though Cannes is always the place to see movie stars, few these days have the sheer wattage and charm of Will Smith, who had the room wrapped in the palm of his hand. "West Philadelphia is a long way from Cannes," the star said, noting that, "I was probably 14 years old the last time I watched three movies in one day. Three movies a day is a lot!" Such is the lot of the Cannes festival juror. He also joked that he'd be trying to set a record for most outfits worn at the festival, 32, to top last year's juror Kirsten Dunst's 28.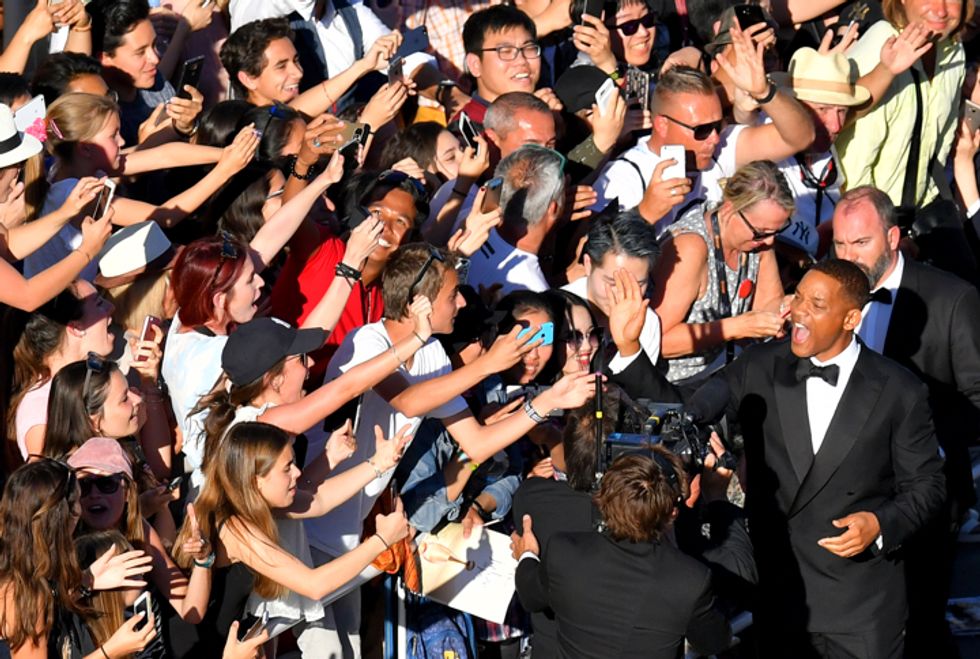 Smith and crowd crush (Loic Venance)
Almodovar claimed his stance doesn't come from being anti-technology, saying, "All this doesn't mean I'm not open to or don't celebrate the new technologies. I do." And yet another statement of his suggests otherwise. "I'll be fighting for one thing that I'm afraid the new generation is not aware of. It's the capacity of the hypnosis of the large screen for the viewer," the filmmaker says. "The size [of the screen] should not be smaller than the chair on which you're sitting. It should not be part of your everyday setting. You must feel small and humble in front of the image that's here." Has he not seen the gargantuan TV screens on which people watch TV these days? Not even going into the home sound systems that support them.
Time and Change
It's a simple fact of life that things change, and one has to feel for someone who's devoted his or her life to an art form in which the public loses interest. Hand-drawn animators spring immediately to mind, as do classical and jazz musicians (actually, musician's of any style that becomes passé). The passing of the white-hot spotlight from one form to another does not in any way diminish the real value of the one left in darkness, but it painful to feel an audience's attention moving on. And it's not that, for example, there isn't still hand-drawn animation being produced. It's just harder to find. And there will likely always long be movie theaters showing films. They may just not be everywhere.
Bowling for Dollars
Of course, with an audience moving on, so goes the money required to produce a film, and in this regard, Almodovar's position makes practical sense. But not entirely. Studios chase the massive jolts of income they can derive from hit movies, and that's a business call having nothing to do with Netflix. The rise of original content on streaming services isn't the cause of the financing issues of smaller films. And according to the Stephen Follows website, producing $100m+ movies requires deep pockets.
So, movies seen on big screens in a dark room account for only a portion of the money they stand to make. Of the roughly $423 million such a film makes on average, only $169 million comes from theatrical release, and the rest ($254 million) from other, smaller-screen venues.
Access Hollywood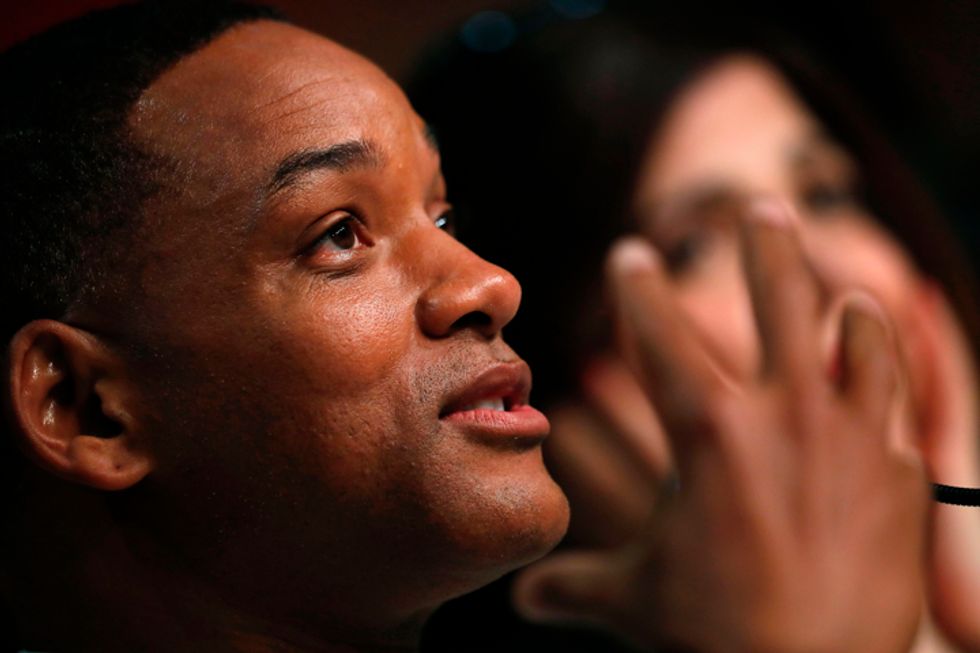 Will Smith (Laurent Emmanuel)
Smith's defense of Netflix at Cannes referred to the access it provides audiences to otherwise unavailable films: "In my house, Netflix has been nothing but an absolute benefit. They get to see films they absolutely wouldn't have seen. Netflix brings a great connectivity. There are movies that are not on a screen within 8,000 miles of them. They get to find those artists."
If that's so for kids living in L.A., imagine what a service like Netflix is doing for those not living in urban or suburban areas with multiple theaters. About 18% of Americans live in rural areas where they're lucky to have even a single theater, and that would be a theater showing only "tentpole" movies starring, well, Will Smith. Just one example of a director whose films never appear in say, Houghton, Michigan would be Pedro Almodovar, Netflix or not. Netflix — either via DVD or streaming service — is the only way many people can see non-blockbuster films.
There's another issue that gives Almodovar's position a whiff of elitism. Going to a theater is expensive, even if you don't buy popcorn and a drink. The average movie ticket price in the U.S these days for an evening show is $8.64. For a family, that's a tab that starts at $25.92. A month of Netflix is $7.99 to $11.99 by comparison, and you can watch as many movies as you want.
Where Do You See Film?
For many who do have access to movies in a theater or on their TV, the decision involves a personal calculus that depends on how much they enjoy watching a movie in a theater or at home. In a theater, there's that huge screen and sound system, but there's also the cost, people talking through the film, phones going off, and sticky floors. At home, you've already paid, and you needn't get dressed, you can watch whenever you want, you can rewind, and your home entertainment system probably doesn't look and sound too shabby. On the other hand, it's a more solitary experience, life has a way of interrupting movies, and the screen is still smaller than movie theater's.
To create wiser adults, add empathy to the school curriculum.
Sponsored by Charles Koch Foundation
Stories are at the heart of learning, writes Cleary Vaughan-Lee, Executive Director for the Global Oneness Project. They have always challenged us to think beyond ourselves, expanding our experience and revealing deep truths.
Vaughan-Lee explains 6 ways that storytelling can foster empathy and deliver powerful learning experiences.
Global Oneness Project is a free library of stories—containing short documentaries, photo essays, and essays—that each contain a companion lesson plan and learning activities for students so they can expand their experience of the world.
Philosophers like to present their works as if everything before it was wrong. Sometimes, they even say they have ended the need for more philosophy. So, what happens when somebody realizes they were mistaken?
Numerous U.S. Presidents invoked the Insurrection Act to to quell race and labor riots.
Photo by Michael Ochs Archives/Getty Images
Politics & Current Affairs
U.S. Presidents have invoked the Insurrection Act on numerous occasions.
The controversial law gives the President some power to bring in troops to police the American people.
The Act has been used mainly to restore order following race and labor riots.
It looks like a busy hurricane season ahead. Probably.
Surprising Science
Before the hurricane season even started in 2020, Arthur and Bertha had already blown through, and Cristobal may be brewing right now.
Weather forecasters see signs of a rough season ahead, with just a couple of reasons why maybe not.
Where's an El Niño when you need one?
Welcome to Hurricane Season 2020. 2020, of course, scoffs at this calendric event much as it has everything else that's normal — meteorologists have already used up the year's A and B storm names before we even got here. And while early storms don't necessarily mean a bruising season ahead, forecasters expect an active season this year. Maybe storms will blow away the murder hornets and 13-year locusts we had planned.
NOAA expects a busy season
According to NOAA's Climate Prediction Center, an agency of the National Weather Service, there's a 60 percent chance that we're embarking upon a season with more storms than normal. There does, however, remain a 30 percent it'll be normal. Better than usual? Unlikely: Just a 10 percent chance.
Where a normal hurricane season has an average of 12 named storms, 6 of which become hurricanes and 3 of which are major hurricanes, the Climate Prediction Center reckons we're on track for 13 to 29 storms, 6 to 10 of which will become hurricanes, and 3 to 6 of these will be category 3, 4, or 5, packing winds of 111 mph or higher.
What has forecasters concerned are two factors in particular.
This year's El Niño ("Little Boy") looks to be more of a La Niña ("Little Girl"). The two conditions are part of what's called the El Niño-Southern Oscillation (ENSO) cycle, which describes temperature fluctuations between the ocean and atmosphere in the east-central Equatorial Pacific. With an El Niño, waters in the Pacific are unusually warm, whereas a La Niña means unusually cool waters. NOAA says that an El Niño can suppress hurricane formation in the Atlantic, and this year that mitigating effect is unlikely to be present.
Second, current conditions in the Atlantic and Caribbean suggest a fertile hurricane environment:
The ocean there is warmer than usual.
There's reduced vertical wind shear.
Atlantic tropical trade winds are weak.
There have been strong West African monsoons this year.
Here's NOAA's video laying out their forecast:
But wait.
ArsTechnica spoke to hurricane scientist Phil Klotzbach, who agrees generally with NOAA, saying, "All in all, signs are certainly pointing towards an active season." Still, he notes a couple of signals that contradict that worrying outlook.
First off, Klotzbach notes that the surest sign of a rough hurricane season is when its earliest storms form in the deep tropics south of 25°N and east of the Lesser Antilles. "When you get storm formations here prior to June 1, it's typically a harbinger of an extremely active season." Fortunately, this year's hurricanes Arthur and Bertha, as well as the maybe-imminent Cristobal, formed outside this region. So there's that.
Second, Klotzbach notes that the correlation between early storm activity and a season's number of storms and intensities, is actually slightly negative. So while statistical connections aren't strongly predictive, there's at least some reason to think these early storms may augur an easy season ahead.
Image source: NOAA
Batten down the hatches early
If 2020's taught us anything, it's how to juggle multiple crises at once, and layering an active hurricane season on top of SARS-CoV-2 — not to mention everything else — poses a special challenge. Warns Treasury Secretary Wilbur Ross, "As Americans focus their attention on a safe and healthy reopening of our country, it remains critically important that we also remember to make the necessary preparations for the upcoming hurricane season." If, as many medical experts expect, we're forced back into quarantine by additional coronavirus waves, the oceanic waves slamming against our shores will best be met by storm preparations put in place in a less last-minute fashion than usual.
Ross adds, "Just as in years past, NOAA experts will stay ahead of developing hurricanes and tropical storms and provide the forecasts and warnings we depend on to stay safe."
Let's hope this, at least, can be counted on in this crazy year.
Technology & Innovation
Got any embarrassing old posts collecting dust on your profile? Facebook wants to help you delete them.
Scroll down to load more…