What You Want to Know About Costa Rica's Renewable Energy Victory
How Costa Rica achieved 100% renewable energy, and what it means.
16 September, 2016
There's been a lot of excitement about Costa Rica's recent announcement that it got 100% of its electricity from clean renewable energy sources for 76 days straight, from the end of June through August. Its total for 2016 so far is 150 days altogether. Costa Rica set a goal of becoming carbon-neutral by 2021, though they've recently pushed that back to 2085.
---
It's great to have some good climate change news for a change — we need the inspiration — but remember how you heard that a thing that seems too good to be true probably isn't? Well, it's not that Costa Rica's claim isn't true, exactly. It's just that it leaves out some critical "buts." The country does have a genuine and exceptional commitment to fighting climate change, so while its story provides a glimmer of good news, it's really just a glimmer.
There's More to the Story Than Power
To begin with, it's Costa Rica's electrical grid that's been running on renewables, but not the transportation system — cars and buses — which accounts for nearly 70% of the country's energy consumption. (Less than 200 hybrid cars that can take advantage of the clean electricity have been imported.) Adding to the carbon dioxide levels are two big cement plants that burn coal and petroleum coke, and air quality is further affected by the many houses that still burn wood for heat.
But About That Clean, Renewable Electricity
Costa Rica has a hydroelectricity infrastructure that's supplied the majority of the country's power since 1989, according to Costa Rican think tank Nivela.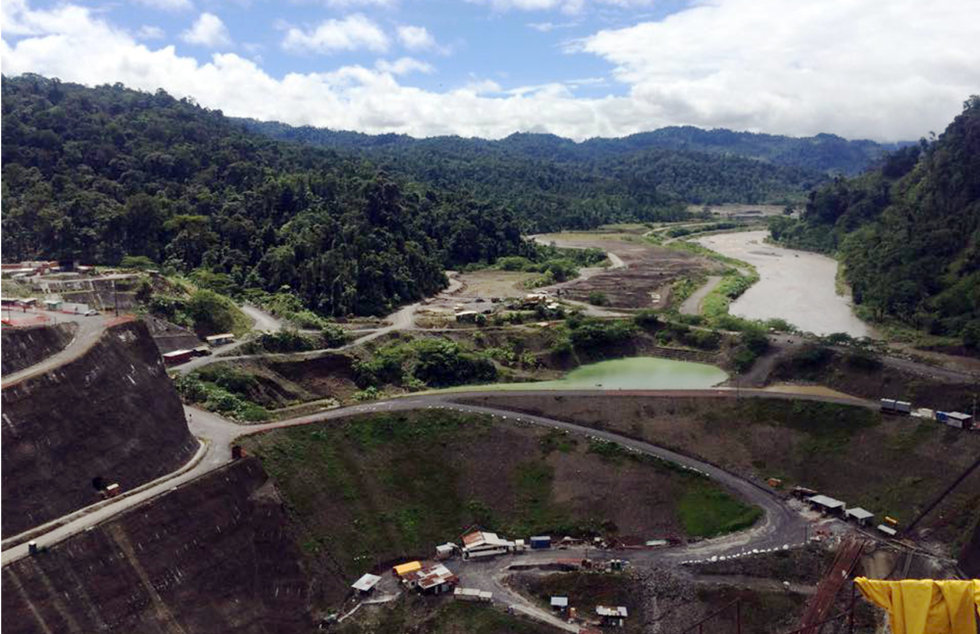 Reventazón DAM (ICE)
Some years this works better than others — the country suffered a major drought in 2014 — and 2015 and 2016 have been unusually rainy, keeping reservoirs full. The downside? The bountiful downpour is likely due to climate change. Paraguay is another country that gets almost all of its power from hydroelectric, thanks to their Itaipú Dam, and Brazil gets over 75% of its power from hydroelectricity.
Another 12.6% of Costa Rica's electricity comes from geothermal plants that pull heat from deep in the earth's crust.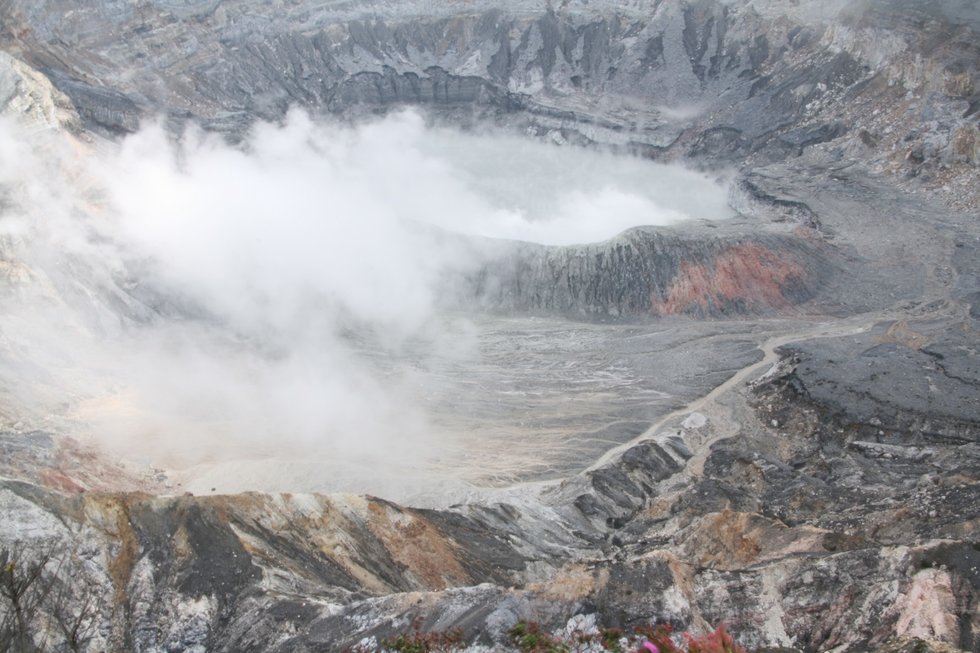 Geothermal resource
Costa Rica gets another 2% of its electrical power from wind turbines, with a little bit of additional energy coming from biomass burning and solar.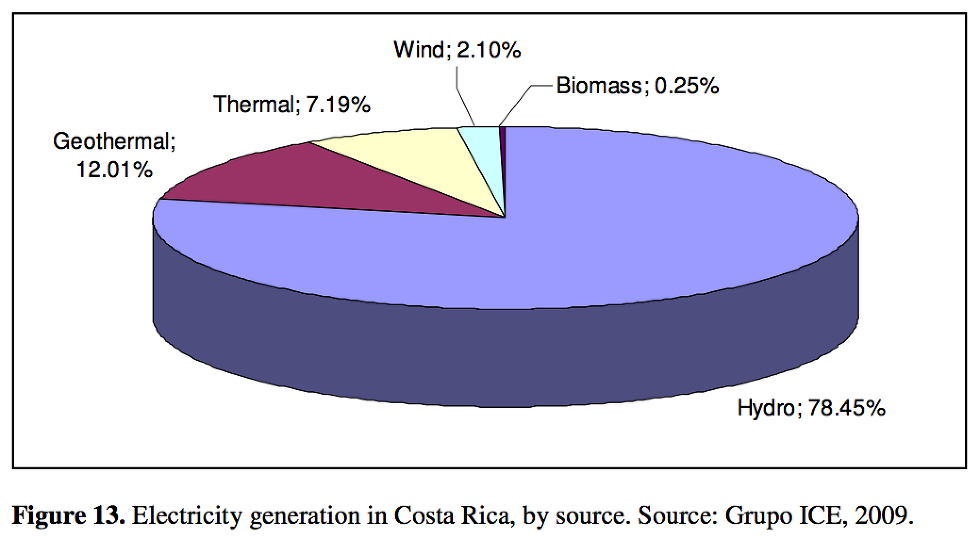 Iceland gets 99% of its electric power from a similar mix of sources: Dammed rivers supply hydroelectric power that meets 70% of demand, and geothermal energy from the collision of the two continental plates the country straddles takes care of the other 30%.
Size Matters
It's great that Costa Rica's doing so well meeting demand with clean energy, but its small size means it can get by with producing far less than many countries. 51,000 square kilometres in size — about half of Kentucky — with only 5 million people and no real heavy industry, demand in 2015 was met with 10,713 gigawatt-hours of electricity. Compare that to about 4 million gigawatt-hours needed in the U.S. during the same year, and you see why Costa Rica has a smaller mountain to climb than many.
In larger countries, producing sufficient hydroelectric and geothermal power may have to wait for technology beyond what we currently have. The destruction required to even attempt to produce the power larger countries need now would be unacceptable, and likely impossible anyway.
Costa Rica's Role
The best way to take the good news from Costa Rica is to count the country among a number of other inspiring nations working diligently to leverage current technology and take advantage of naturally occurring resource opportunities as they arise. Costa Rica joins them at the leading edge of the global effort to safely and non-destructively meet our need for clean, renewable energy.
It's unlikely that there's anything on the planet that is worth the cost of shipping it back
Surprising Science
In the second season of National Geographic Channel's MARS (premiering tonight, 11/12/18,) privatized miners on the red planet clash with a colony of international scientists
Privatized mining on both Mars and the Moon is likely to occur in the next century
The cost of returning mined materials from Space to the Earth will probably be too high to create a self-sustaining industry, but the resources may have other uses at their origin points
Want to go to Mars? It will cost you. In 2016, SpaceX founder Elon Musk estimated that manned missions to the planet may cost approximately $10 billion per person. As with any expensive endeavor, it is inevitable that sufficient returns on investment will be needed in order to sustain human presence on Mars. So, what's underneath all that red dust?
Mining Technology reported in 2017 that "there are areas [on Mars], especially large igneous provinces, volcanoes and impact craters that hold significant potential for nickel, copper, iron, titanium, platinum group elements and more."
Were a SpaceX-like company to establish a commercial mining presence on the planet, digging up these materials will be sure to provoke a fraught debate over environmental preservation in space, Martian land rights, and the slew of microbial unknowns which Martian soil may bring.
In National Geographic Channel's genre-bending narrative-docuseries, MARS, (the second season premieres tonight, November 12th, 9 pm ET / 8 pm CT) this dynamic is explored as astronauts from an international scientific coalition go head-to-head with industrial miners looking to exploit the planet's resources.
Given the rate of consumption of minerals on Earth, there is plenty of reason to believe that there will be demand for such an operation.
"Almost all of the easily mined gold, silver, copper, tin, zinc, antimony, and phosphorus we can mine on Earth may be gone within one hundred years" writes Stephen Petranek, author of How We'll Live on Mars, which Nat Geo's MARS is based on. That grim scenario will require either a massive rethinking of how we consume metals on earth, or supplementation from another source.
Elon Musk, founder of SpaceX, told Petranek that it's unlikely that even if all of Earth's metals were exhausted, it is unlikely that Martian materials could become an economically feasible supplement due to the high cost of fuel required to return the materials to Earth. "Anything transported with atoms would have to be incredibly valuable on a weight basis."
Actually, we've already done some of this kind of resource extraction. During NASA's Apollo missions to the Moon, astronauts used simple steel tools to collect about 842 pounds of moon rocks over six missions. Due to the high cost of those missions, the Moon rocks are now highly valuable on Earth.
Moon rock on display at US Space and Rocket Center, Huntsville, AL (Big Think/Matt Carlstrom)
In 1973, NASA valuated moon rocks at $50,800 per gram –– or over $300,000 today when adjusted for inflation. That figure doesn't reflect the value of the natural resources within the rock, but rather the cost of their extraction.
Assuming that Martian mining would be done with the purpose of bringing materials back to Earth, the cost of any materials mined from Mars would need to include both the cost of the extraction and the value of the materials themselves. Factoring in the price of fuel and the difficulties of returning a Martian lander to Earth, this figure may be entirely cost prohibitive.
What seems more likely, says Musk, is for the Martian resources to stay on the Red Planet to be used for construction and manufacturing within manned colonies, or to be used to support further mining missions of the mineral-rich asteroid belt between Mars and Jupiter.
At the very least, mining on Mars has already produced great entertainment value on Earth: tune into Season 2 of MARS on National Geographic Channel.
It's an asteroid, it's a comet, it's actually a spacecraft?
(ESO/M. Kornmesser)
Surprising Science
'Oumuamua is an oddly shaped, puzzling celestial object because it doesn't act like anything naturally occurring.
The issue? The unexpected way it accelerated near the Sun. Is this our first sign of extraterrestrials?
It's pronounced: oh MOO-uh MOO-uh.
A study started out trying to see the effect of sexist attacks on women authors, but it found something deeper.
Maxpixel
Surprising Science
It's well known that abusive comments online happen to women more than men
Such comments caused a "significant effect for the abusive comment on author credibility and intention to seek news from the author and outlet in the future"
Some news organizations already heavily moderate or even ban comments entirely; this should underscore that effort
Big think's weekly newsletter.
Get smarter faster from the comfort of your inbox.
See our newsletter privacy policy
here
Most Popular
Most Recent
Big think's weekly newsletter.
Get smarter faster from the comfort of your inbox.
See our newsletter privacy policy
here
© Copyright 2007-2018 & BIG THINK, BIG THINK EDGE,
SMARTER FASTER trademarks owned by The Big Think, Inc. All rights reserved.