Big ideas.
Once a week.
Subscribe to our weekly newsletter.
The socio-economic divide between cigarette smokers and non-smokers
Smoking reflects a deep divide in American society.
20 June, 2017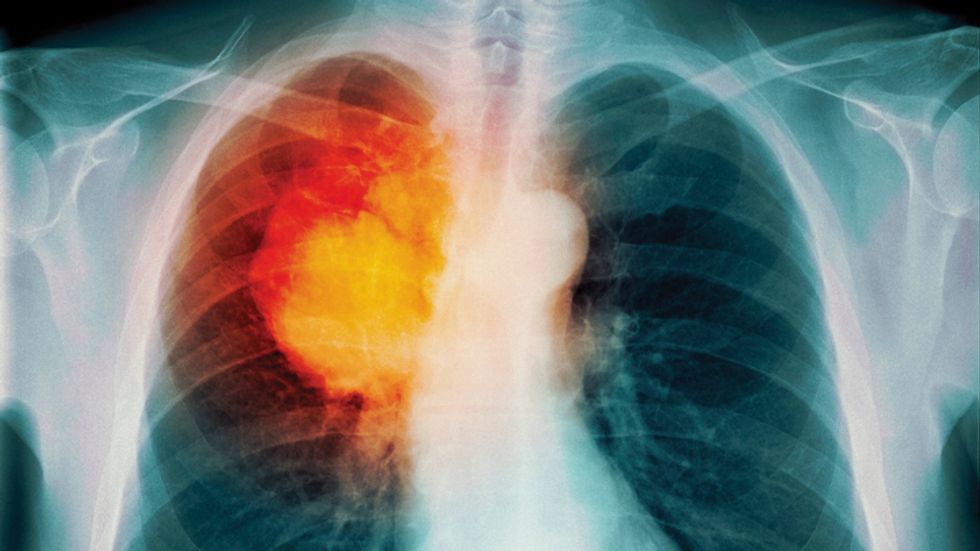 (GENOME MAGAZINE)
It may seem like you barely notice anyone smoking cigarettes any more — a bad habit consigned to the trash heap of history, sent there by a 1966 surgeon general's report. If you're educated and reasonably well-off — and live in suburban or urban area — you're right. The number of people who smoke has dropped considerably among the well-educated. This is great news, right? Troublingly, it's only half the story, and it's a story of privilege. According to new CDC data, the socioeconomic disparity with which America is struggling in so many ways extends to this dangerous habit: Americans of lower socioeconomic status, or SES, are still smoking, and dying in ever-more disproportionate numbers.
---
SES is generally measured using four criteria: education, occupation, income, and wealth. Of these, only occupation does not indicate a greater number of smokers than the general population.
The number of smokers has dropped since 1966, but more than twice the number of people without a high school diploma smoke than those with a college degree.
Smoking among college graduates is down 83%.
Smoking among people who've had some college is down 61%.
Smoking among people with just a high school diploma is down 52%.
Smoking among people without a high school diploma is down 39%.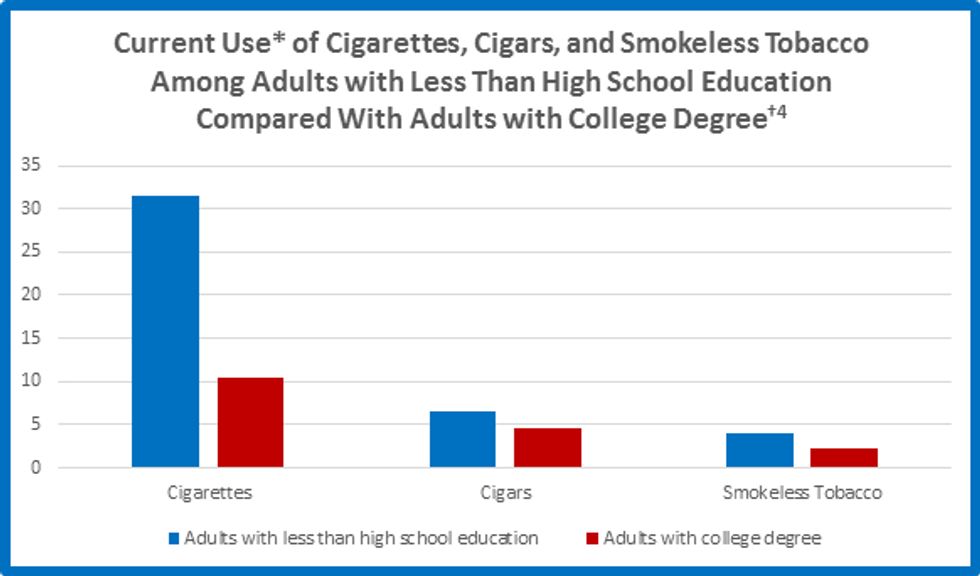 In this graph and the one below, "Current Use" is defined as self-reported consumption of cigarettes, cigars, or smokeless tobacco in the past 30 days (at the time of survey). Data is taken from the National Survey on Drug Use and Health, 2012, and refer to adults aged 18 years and older. (CDC)
If we combine the lack of two other SES factors — income and wealth — and look at the people living below the poverty line, the numbers are also concerning, in another CDC graph: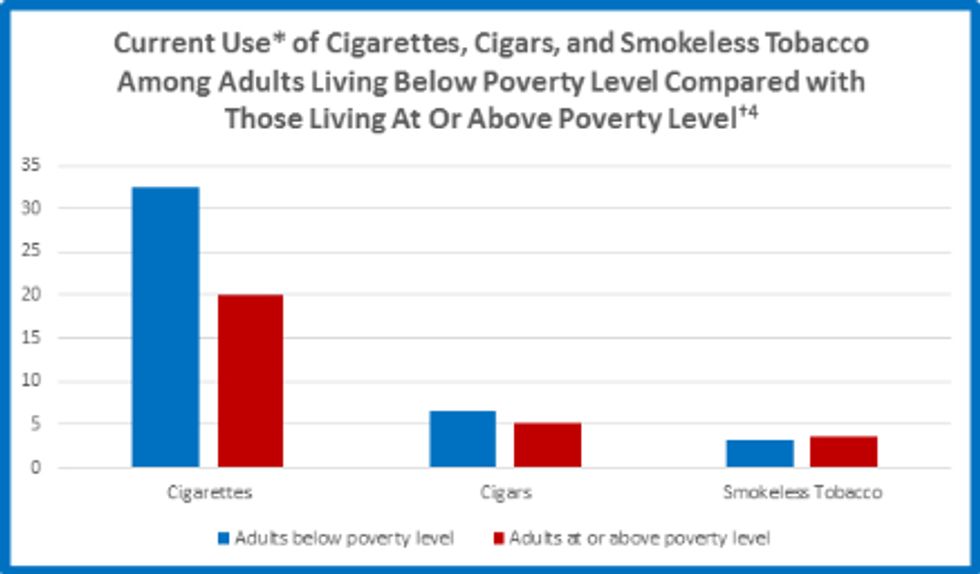 (CDC)
Not only do more folks with low SES smoke, but they do so more heavily, according to the CDC.
People living in poverty smoke cigarettes for a duration of nearly twice as many years as people with a family income of three times the poverty rate.
People with a high school education smoke cigarettes for a duration of more than twice as many years as people with at least a bachelor's degree.
Blue-collar workers are more likely to start smoking cigarettes at a younger age and to smoke more heavily than white-collar workers.
Even for non-smokers, second-hand smoke continues to be a problem, especially for bartenders and wait staff, whose workplaces in poorer areas often lack smoke-free regulations. Blue-collar workers are also more regularly exposed to tobacco smoke at work than white collar workers.
What all this adds up to is that people with less education and less money are more likely to suffer, and die, from lung cancer and other smoking-related illnesses.
"It's like there's two worlds now," Debbie Seals, a volunteer for the American Lung Association, tells the Washington Post. In her hometown of Martinsville, in Virginia's Blue Ridge Mountains, cigarettes are everywhere. When she goes north to visit family in suburban Alexandria, however, they're nowhere to be seen. And as smoking disappears from the more well-off sectors of society, the urgency of the problem also disappears from view, so federal funding of smoking cessation programs is dropping. It's as if the problem is solved, except it's not.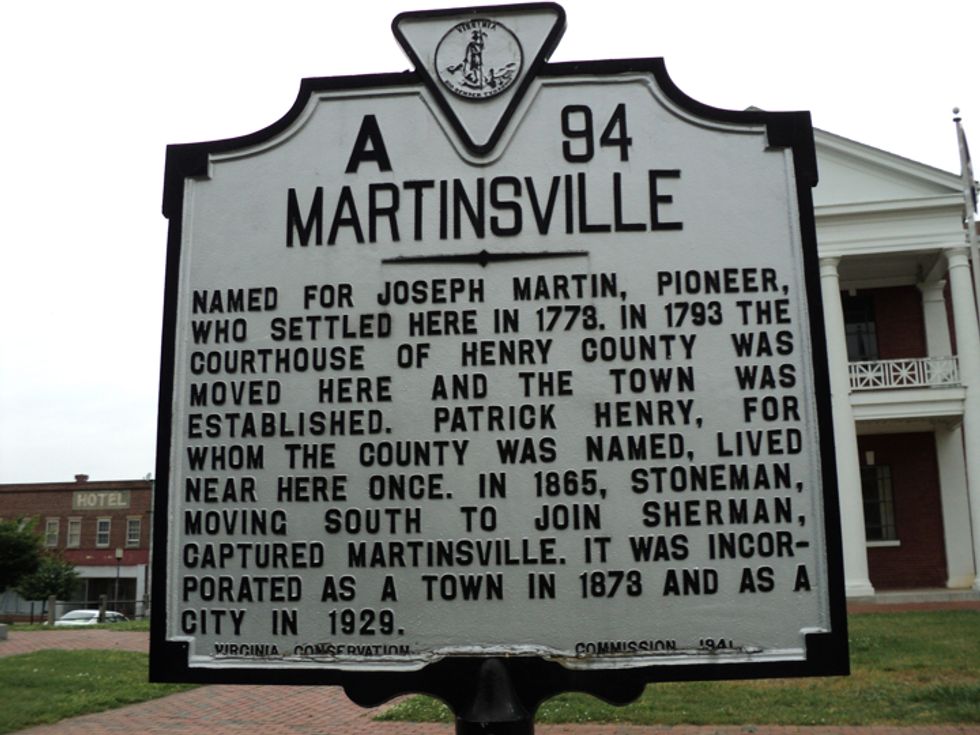 Robin Koval, president of Truth Initiative, tells the Post, "There's this tendency now to blame the ones still smoking. The attitude is: 'You're doing it to yourself. If you were just strong enough, you'd be able to quit.' "
Tobacco companies, though, are now focusing their marketing efforts on Martinsville and communities like it. On one hand it makes sense that these companies are interested in targeting the people most likely to buy their products, but on the other, it reinforces the stark differences in smoking habits among people from different educational and economic strata.
A spokesperson for the largest tobacco company in the U.S. Altria reminded the Post of the $112 billion his and other companies have paid in settlement money to states, blaming local governments for not funneling that money back into local anti-smoking efforts. He also claims poorer communities aren't being targeted.
Truth Initiative, among others, isn't buying it: "It's not a coincidence. It's profiling," according to their ads.
The CDC is also producing ads that discourage smoking.
"Poorer people don't smoke because anything's different or wrong about them," says Koval. "Their communities are not protected like others are." Local governments, especially in the poorer areas of the southern U.S., have been lobbied hard by tobacco companies, and have been less likely to institute disincentives such as the creation of smoke-free areas and the levying of cigarette taxes.
Koval notes that making things even worse is that, "They [poorer smokers] don't have access to good health care and cessation programs. If you have a bull's eye painted on your back, it's harder to get away."
Seals, who teaches smoking-cessation classes, says there's also a deeper reason lower-SES smokers have trouble quitting. "People down here smoke because of the stress in their life. They smoke because of money problems, family problems. It's the one thing they have control over. The one thing that makes them feel better. And you want them to give that up? It's the toughest thing in the world."
--
The father of all giant sea bugs was recently discovered off the coast of Java.
SJADE 2018
Surprising Science
A new species of isopod with a resemblance to a certain Sith lord was just discovered.
It is the first known giant isopod from the Indian Ocean.
The finding extends the list of giant isopods even further.
Humanity knows surprisingly little about the ocean depths. An often-repeated bit of evidence for this is the fact that humanity has done a better job mapping the surface of Mars than the bottom of the sea. The creatures we find lurking in the watery abyss often surprise even the most dedicated researchers with their unique features and bizarre behavior.

A recent expedition off the coast of Java discovered a new isopod species remarkable for its size and resemblance to Darth Vader.
The ocean depths are home to many creatures that some consider to be unnatural.
Bathynomus raksasa specimen (left) next to a closely related supergiant isopod, B. giganteus (right)
Sidabalok CM, Wong HP-S, Ng PKL (ZooKeys 2020)
According to LiveScience, the Bathynomus genus is sometimes referred to as "Darth Vader of the Seas" because the crustaceans are shaped like the character's menacing helmet. Deemed Bathynomus raksasa ("raksasa" meaning "giant" in Indonesian), this cockroach-like creature can grow to over 30 cm (12 inches). It is one of several known species of giant ocean-going isopod. Like the other members of its order, it has compound eyes, seven body segments, two pairs of antennae, and four sets of jaws.
The incredible size of this species is likely a result of deep-sea gigantism. This is the tendency for creatures that inhabit deeper parts of the ocean to be much larger than closely related species that live in shallower waters. B. raksasa appears to make its home between 950 and 1,260 meters (3,117 and 4,134 ft) below sea level.
Perhaps fittingly for a creature so creepy looking, that is the lower sections of what is commonly called The Twilight Zone, named for the lack of light available at such depths.
It isn't the only giant isopod, far from it. Other species of ocean-going isopod can get up to 50 cm long (20 inches) and also look like they came out of a nightmare. These are the unusual ones, though. Most of the time, isopods stay at much more reasonable sizes.
The discovery of this new species was published in ZooKeys. The remainder of the specimens from the trip are still being analyzed. The full report will be published shortly.
What benefit does this find have for science? And is it as evil as it looks?
The discovery of a new species is always a cause for celebration in zoology. That this is the discovery of an animal that inhabits the deeps of the sea, one of the least explored areas humans can get to, is the icing on the cake.
Helen Wong of the National University of Singapore, who co-authored the species' description, explained the importance of the discovery:
"The identification of this new species is an indication of just how little we know about the oceans. There is certainly more for us to explore in terms of biodiversity in the deep sea of our region."
The animal's visual similarity to Darth Vader is a result of its compound eyes and the curious shape of its head. However, given the location of its discovery, the bottom of the remote seas, it may be associated with all manner of horrifically evil Elder Things and Great Old Ones.
Every star we can see, including our sun, was born in one of these violent clouds.
Credit
: NASA / ESA via Getty Images
Surprising Science
This article was originally published on our sister site, Freethink.
An international team of astronomers has conducted the biggest survey of stellar nurseries to date, charting more than 100,000 star-birthing regions across our corner of the universe.
Stellar nurseries: Outer space is filled with clouds of dust and gas called nebulae. In some of these nebulae, gravity will pull the dust and gas into clumps that eventually get so big, they collapse on themselves — and a star is born.
These star-birthing nebulae are known as stellar nurseries.
The challenge: Stars are a key part of the universe — they lead to the formation of planets and produce the elements needed to create life as we know it. A better understanding of stars, then, means a better understanding of the universe — but there's still a lot we don't know about star formation.
This is partly because it's hard to see what's going on in stellar nurseries — the clouds of dust obscure optical telescopes' view — and also because there are just so many of them that it's hard to know what the average nursery is like.
The survey: The astronomers conducted their survey of stellar nurseries using the massive ALMA telescope array in Chile. Because ALMA is a radio telescope, it captures the radio waves emanating from celestial objects, rather than the light.
"The new thing ... is that we can use ALMA to take pictures of many galaxies, and these pictures are as sharp and detailed as those taken by optical telescopes," Jiayi Sun, an Ohio State University (OSU) researcher, said in a press release.
"This just hasn't been possible before."
Over the course of the five-year survey, the group was able to chart more than 100,000 stellar nurseries across more than 90 nearby galaxies, expanding the amount of available data on the celestial objects tenfold, according to OSU researcher Adam Leroy.
New insights: The survey is already yielding new insights into stellar nurseries, including the fact that they appear to be more diverse than previously thought.
"For a long time, conventional wisdom among astronomers was that all stellar nurseries looked more or less the same," Sun said. "But with this survey we can see that this is really not the case."
"While there are some similarities, the nature and appearance of these nurseries change within and among galaxies," he continued, "just like cities or trees may vary in important ways as you go from place to place across the world."
Astronomers have also learned from the survey that stellar nurseries aren't particularly efficient at producing stars and tend to live for only 10 to 30 million years, which isn't very long on a universal scale.
Looking ahead: Data from the survey is now publicly available, so expect to see other researchers using it to make their own observations about stellar nurseries in the future.
"We have an incredible dataset here that will continue to be useful," Leroy said. "This is really a new view of galaxies and we expect to be learning from it for years to come."
Tiny specks of space debris can move faster than bullets and cause way more damage. Cleaning it up is imperative.
Videos
NASA estimates that more than 500,000 pieces of space trash larger than a marble are currently in orbit. Estimates exceed 128 million pieces when factoring in smaller pieces from collisions. At 17,500 MPH, even a paint chip can cause serious damage.
To prevent this untrackable space debris from taking out satellites and putting astronauts in danger, scientists have been working on ways to retrieve large objects before they collide and create more problems.
The team at Clearspace, in collaboration with the European Space Agency, is on a mission to capture one such object using an autonomous spacecraft with claw-like arms. It's an expensive and very tricky mission, but one that could have a major impact on the future of space exploration.
This is the first episode of Just Might Work, an original series by Freethink, focused on surprising solutions to our biggest problems.

Catch more Just Might Work episodes on their channel: https://www.freethink.com/shows/just-might-work
Personal Growth
Metal-like materials have been discovered in a very strange place.
Scroll down to load more…