The U.N. Finds Extreme Poverty and Human Rights In an Unexpected Place
The UN has commissioned a study of extreme poverty in the most of one of the world's wealthiest nations, the United States.
08 December, 2017
"Civilized governments don't say 'go and make it on your own, and if you can't, then bad luck,'" says United Nations envoy Philip Alston. Alston is a New York University law and human rights professor who's been sent on a mission to study the terrible outbreak of extreme poverty in an unexpected location: The United States.
---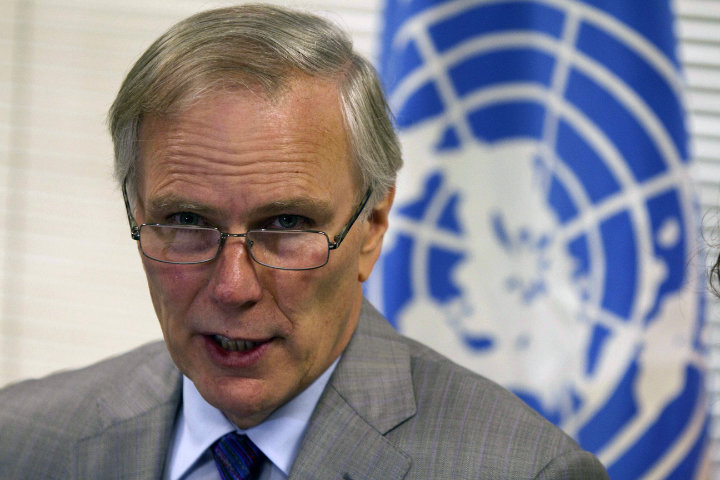 Philip Alston (AFP/STRINGER)
Alston tells Quartz, "some might ask why a UN Special Rapporteur on extreme poverty and human rights would visit a country as rich as the United States. But despite great wealth in the US, there also exists great poverty and inequality." And, he says, speaking to WKMS,  "The United States has been very keen for me and others to investigate human rights issues in other countries, which I have done. Now, it's the turn to look at what's going on in the U.S." 
Poverty is the root of what Alston will be documenting, but its effects drive home the brutal realties increasingly faced by many Americans in 2017. Alston's especially concerned with the human-rights implications as an representative of the UN Human Rights Office of the High Commissioner.
With the massive redistribution of wealth upward in the U.S., the country seems at times determined to hurtle towards third-world status, as its rich get ever richer and life for everyone else gets harder. The last time such wealth inequity was seen in the States was just before the Great Depression.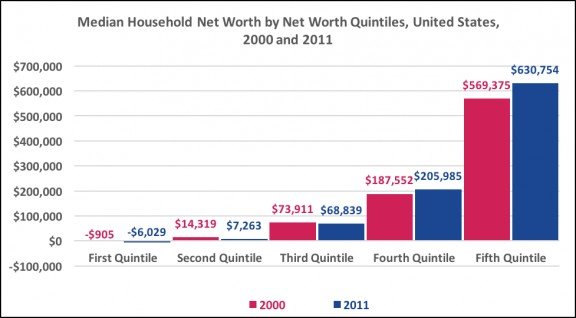 Distribution of Household Wealth in the U.S.: 2000 to 2011 (INEQUALITY.ORG)
Much of the 20th century was about balancing things out to a safer level, but the lessons of the Depression appear to have been forgotten in the last 25 years, when only the richest American families added any worth. 
How has this happened? A case could be made that the wealthy have taken over control of the nation, realizing Theodore Roosevelt's warning, "…ruin in its worst form is inevitable if our national life brings us nothing better than swollen fortunes for the few and the triumph in both politics and business of a sordid and selfish materialism." The tax overhaul currently lurching through Congress along strictly partisan lines is stark, stunning evidence of just such a class stratification that expects the majority of citizens do without necessities — including civil rights, sanitation (which includes clean water), food, health care, education, and any chance at all of upward mobility — to benefit those least in need. The claim that this is to create jobs, after decades of experiment and study have disproved "trickle-down economics," is to engage in the most cynical form of window-dressing.
Alston will be exploring areas of poverty throughout the U.S. including the Ohio Valley, where Jack Frech, who led the Athens County welfare department, says, "In my 40 years, I have never seen a time when families are suffering as much as they are today." He adds, "we now have millions of people with no cash income whatsoever."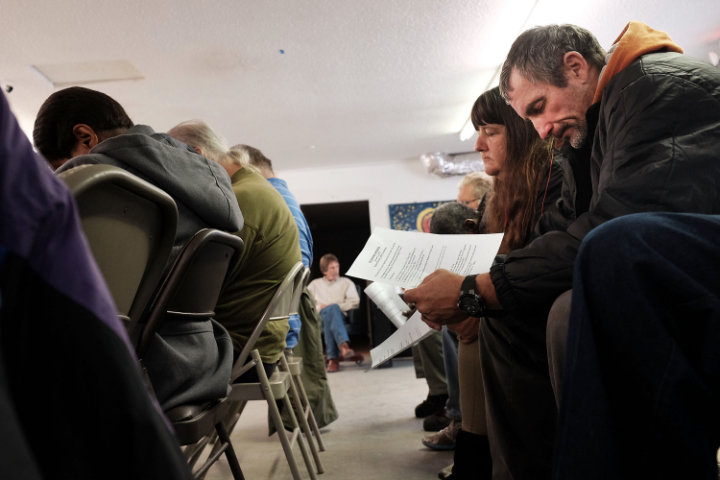 (SPENCER PLATT/STAFF)
A visit to Charleston, West Virginia is also part of his mission. Local ACLU director Joseph Cohen reports that the "Charleston Police Department recently estimated that there are 1,000 homeless people in Charleston, which is a city of less than 50,000 people." That's one out of 50 people, "an unbelievably high proportion of our population that is without the basic necessities of life." West Virginia's Margaret Chapman Pomponio points out that the area is short on OB-GYNs, and that means women have to travel long distances for reproductive support, which is more than an annoyance, "It is not just money lost, but it actually perpetuates an unequal system where the well-heeled are granted access to better health care."
Alston's mission is to:
Identify approaches for removing all obstacles, including institutional ones, to the full enjoyment of human rights for people living in extreme poverty.
Identify, including in cooperation with international financial organizations, the most efficient measures taken at the national, regional and international levels to promote the full enjoyment of human rights of persons living in extreme poverty.
Make recommendations on how persons living in extreme poverty can participate in the process towards the full enjoyment of their human rights and the sustainable improvement of their quality of life, including through empowerment and resource mobilization at all levels.
Study the impact of discrimination and to pay particular attention to the situation of women, children and other vulnerable groups, including persons with disabilities living in extreme poverty.
Develop cooperation with United Nations bodies dealing with the same subject and to continue participating in relevant international conferences on extreme poverty. 
He's concerned about how ineffective, and in danger of getting far worse, the U.S. welfare system is, saying to WKMS, "What I'm seeing so far is that those who are dependent on welfare benefits are enjoying those benefits at an extraordinarily low level. They are really living on the margins, if not below. And if there were really major cuts, then I think it would require a whole rethinking of the entire system because it wouldn't survive."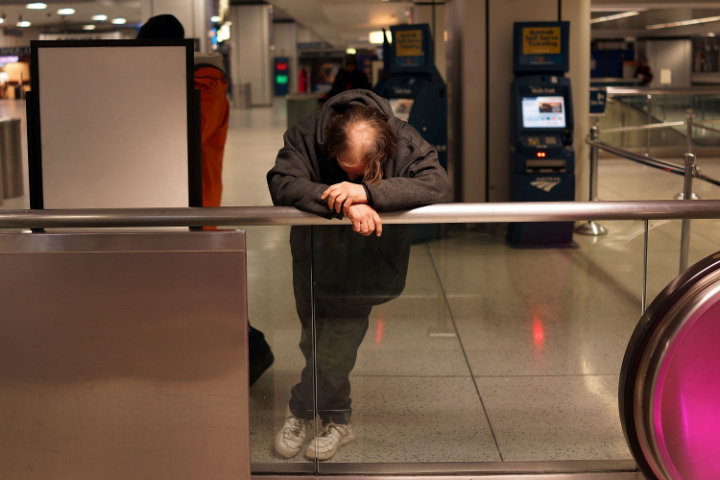 (SPENCER PLATT/STAFF)
Alston also plans visits to California, Alabama, Georgia, and Puerto Rice before he concludes his mission in Washington, D.C. It's an appropriate terminus, given the extreme poverty in a city of well-heeled politicians and lobbyists, and the fact that the growth of poverty in the U.S. has been, and is ever moreso, a political choice. As Alston tells WKMS, "Politicians who say, 'there's nothing I can do about that' are simply wrong."  
"The idea of human rights is that people have basic dignity and that it's the role of the government — yes, the government! — to ensure that no one falls below the decent level."
Jack Frech likes the idea of an international body getting involved in the problem, saying, "Having somebody from outside this country come and take an objective look at how we treat poor people, you know, maybe that will help wake people up in this country to moving in a different direction."
Progressive America would be half as big, but twice as populated as its conservative twin.
Image: Dicken Schrader
Strange Maps
America's two political tribes have consolidated into 'red' and 'blue' nations, with seemingly irreconcilable differences.
Perhaps the best way to stop the infighting is to go for a divorce and give the two nations a country each
Based on the UN's partition plan for Israel/Palestine, this proposal provides territorial contiguity and sea access to both 'red' and 'blue' America
The lawsuit claims the administration violated the First Amendment when it revoked the press credentials of reporter Jim Acosta.
(Photo by Al Drago - Pool/Getty Images)
Politics & Current Affairs
CNN reporter Jim Acosta's press credentials were revoked following a heated exchange with President Donald Trump on November 8.
The network filed a lawsuit against the administration on Tuesday, claiming the administration has violated multiple amendments.
The White House may only revoke the press credentials of journalists for "compelling reasons," not for reasons involving content.
The ability to speak clearly, succinctly, and powerfully is easier than you think
Former U.S. President Barack Obama speaks during a Democratic Congressional Campaign Committee rally at the Anaheim Convention Center on September 8, 2018 in Anaheim, California. (Photo by Barbara Davidson/Getty Images)
Personal Growth
The ability to communicate effectively can make or break a person's assessment of your intelligence, competence, and authenticity.
Big think's weekly newsletter.
Get smarter faster from the comfort of your inbox.
See our newsletter privacy policy
here
Most Popular
Most Recent
Big think's weekly newsletter.
Get smarter faster from the comfort of your inbox.
See our newsletter privacy policy
here
© Copyright 2007-2018 & BIG THINK, BIG THINK EDGE,
SMARTER FASTER trademarks owned by The Big Think, Inc. All rights reserved.