Scientists discover a new kind of neuron that may be unique to humans
Researchers have just discovered a new type of neuron that may be something unique to humans. It's called the rose hip neuron, and its in our cerebral cortexes.
30 August, 2018
Two teams of scientists, one at the Gábor Tamás Lab at University of Szeged in Hungary and another led by Ed Lein at the Allen Institute for Brain Science in Seattle, have jointly announced the discovery of a fascinating and new type of neuron in the outer layer of the cerebral cortex. It seems—at least so far—to be unique to human brains. It's called a 'rose hip' neuron. The identification of these human-only rose-hip neurons is a show-stopper in two different ways.
---
Why rose hip neurons could be a big deal
What's so special about humans?
Rose hips neurons are the only type of neuron that scientists believe is unique to humans, and thus may provide an important clue as to what separates us from other animals. Going forward, it may be that rose hip neurons will be found in other primates—as has happened before with other seemingly human-only structures appearing in other large-brained species—but so far, it's us alone.
The neurons highlight questions about brain studies of mice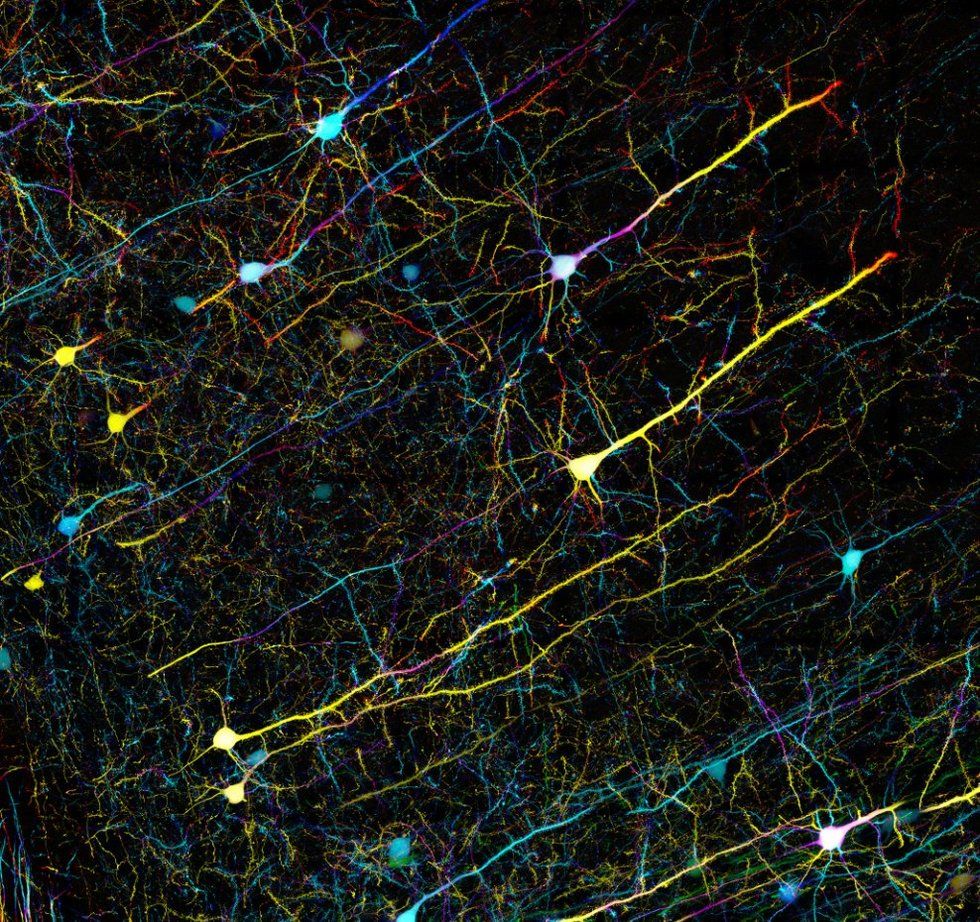 Microscopic view of a mouse's cerebral cortex (ZEISS Microscopy)
The existence of rose hip neurons in human brains also underscores the questions surrounding brain research into human conditions using mice. Their brains most definitely do not have rose hip neurons, nor do they seem to have any other neurons that perform its suspected function.
In addition to concerns about the morality of testing on animals, it's frequently been the case that apparent advancement in brain treatments based on mouse studies fail when applied to human brains. The new discovery undermines the use of mice in these studies as evidence our brains are not sufficiently similar to be useful in research. Tamás points out, "Many of our organs can be reasonably modeled in an animal model. But what sets us apart from the rest of the animal kingdom is the capacity and the output of our brain. That makes us human. So it turns out humanity is very difficult to model in an animal system."
What rose hip neurons are believed to do
The rose hip neuron was discovered at the same time by the two teams looking at the brain in different ways.
The team from the Allen Institute was examining individual neurons' transcriptomes, the set of RNA molecules they contain, one at a time extracted from two donated frozen brains. As Megan Molteni writing for WIRED puts it, "If DNA is like the blueprint for a car, RNA is like the parts list."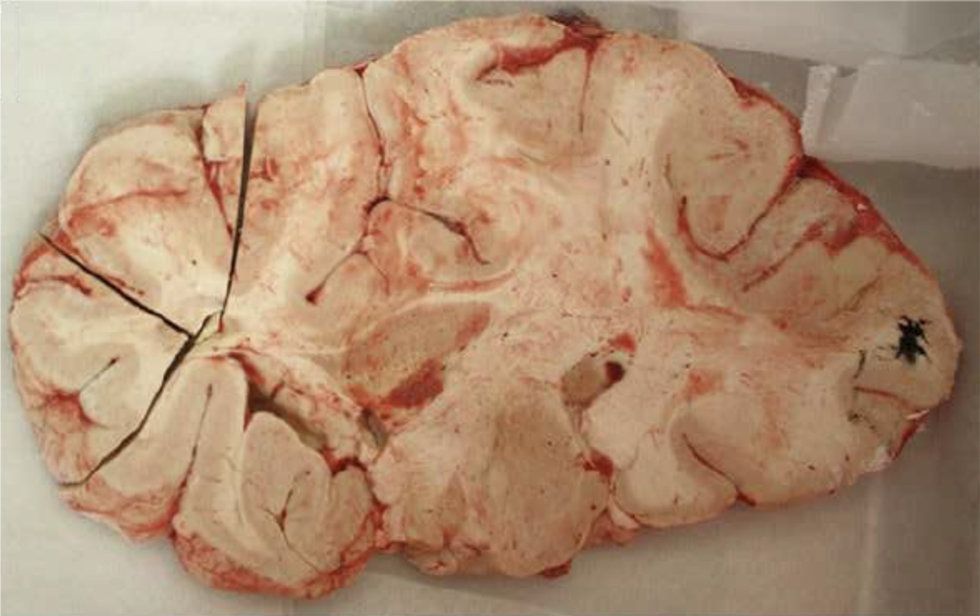 One of two post-mortem human brains studied at the Allen Institute (Allen Institute)
The Hungarian researchers spotted the neurons visually, using dyes in living tissue donated from brain-surgery patients, and mapping responses to different electrical stimuli. Lein says, "In the course of doing these recordings, [Gábor Tamás] started to notice a very distinctive type of cell that, to him, had the shape of a rose after the petals have fallen off. So he called them the 'rose hip' cell." They sequenced the odd-looking structures and found its genetics markers coincided with those from the Allen group, revealing that both teams had found the same thing, but from different angles.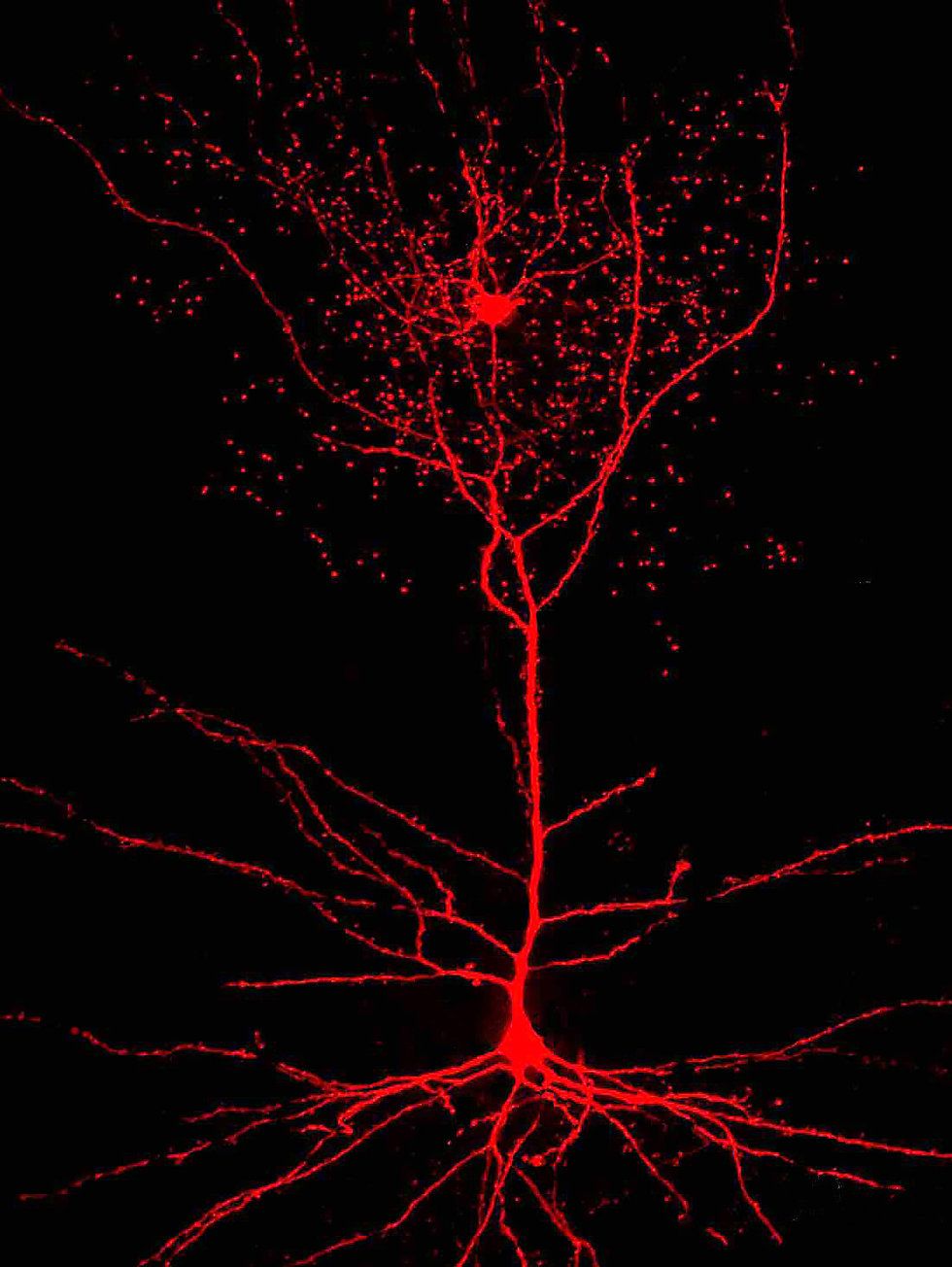 Unique so far
While the researchers have affirmed rose hip neurons appear in none of the lab animals, including lab mice, more tests will be needed to be sure they're unique to humans. According to Lein, "It's too early to say that this is a completely unique cell type because we haven't looked in other species yet. But it really highlights the fact that we need to be careful about assuming that the human brain is just a scaled-up version of a mouse."
Upstreamism advocate Rishi Manchanda calls us to understand health not as a "personal responsibility" but a "common good."
Sponsored by Northwell Health
Upstreamism tasks health care professionals to combat unhealthy social and cultural influences that exist outside — or upstream — of medical facilities.
Patients from low-income neighborhoods are most at risk of negative health impacts.
Thankfully, health care professionals are not alone. Upstreamism is increasingly part of our cultural consciousness.
No, depression is not just a type of 'affluenza' – poor people in conflict zones are more likely candidates
Strange Maps
Often seen as typical of rich societies, depression is actually more prevalent in poor, conflict-ridden countries
More than one in five Afghans is clinically depressed – a sad world record
But are North Koreans really the world's 'fourth least depressed' people?
America isn't immune to attempts to remove books from libraries and schools, here are ten frequent targets and why you ought to go check them out.
Nazis burn books on a huge bonfire of 'anti-German' literature in the Opernplatz, Berlin. (Photo by Keystone/Getty Images)
Culture & Religion
Even in America, books are frequently challenged and removed from schools and public libraries.
Every year, the American Library Association puts on Banned Books Week to draw attention to this fact.
Some of the books they include on their list of most frequently challenged are some of the greatest, most beloved, and entertaining books there are.
Videos
Oumuamua, a quarter-mile long asteroid tumbling through space, is Hawaiian for "scout", or "the first of many".
It was given this name because it came from another solar system.
Some claimed 'Oumuamua was an alien technology, but there's no actual evidence for that.
Big think's weekly newsletter.
Get smarter faster from the comfort of your inbox.
See our newsletter privacy policy
here
Most Popular
Most Recent
Big think's weekly newsletter.
Get smarter faster from the comfort of your inbox.
See our newsletter privacy policy
here
© Copyright 2007-2019 & BIG THINK, BIG THINK EDGE,
SMARTER FASTER trademarks owned by The Big Think, Inc. All rights reserved.