Crows start bird fights with ravens 97% of the time
When crows and ravens fight, it's the smaller crows being the aggressor about 97% of the time. It may be them being protective of their nest or it may be competition, but ravens are the ones being bullied.
09 July, 2018
The more we learning about crows, the more intriguing they get. It's not enough to learn they use tools. It's not enough that they reward kindness with gifts. And it's not enough that they remember faces and can hold a grudge. Now, it turns out, they're on a mission to keep ravens in their place. Never mind that ravens are the larger Corvus. Crows are in charge.
---
The insight comes from the analysis by University of British Columbia's Benjamin G. Freeman and Cornell University's Eliot T. Miller of 2,014 reports submitted by citizen scientists across North America.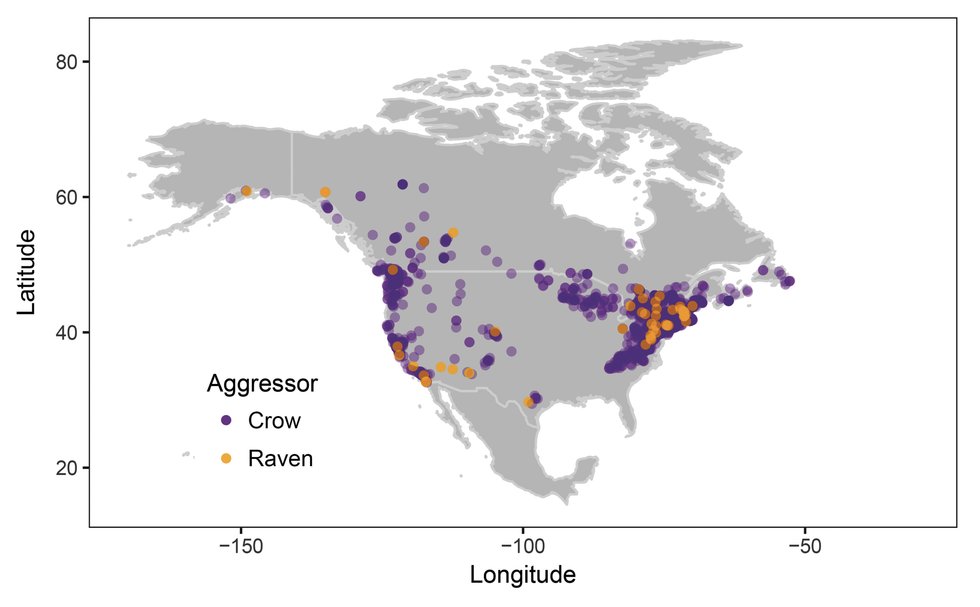 Not picking on someone their own size
Crows, it turns out, were the aggressors in about 97% of all the hostile interactions. The researchers were able to sort 1,704 of the reports into one of three categories for both crows and ravens:
Strength in numbers—where the number of aggressors was greater than the number of those attacked.
Fair fight—where aggressors and the attacked were roughly equal in number.
Outnumbered—where the aggressors were clearly outnumbered by the birds they attacked.

Remembering that crows are smaller than ravens, it makes sense that they most frequently dominated ravens by "mobbing" them. There were very few instances of crows going after a greater number of ravens, though there were a few courageous exceptions, particularly during nesting season, as it turns out.
Why are crows being so aggressive?
One of the data points researchers tracked was the seasonality of the aggression. While crows attacked ravens all year round, they did so especially from March to May, which is crow nesting season, and also during late autumn.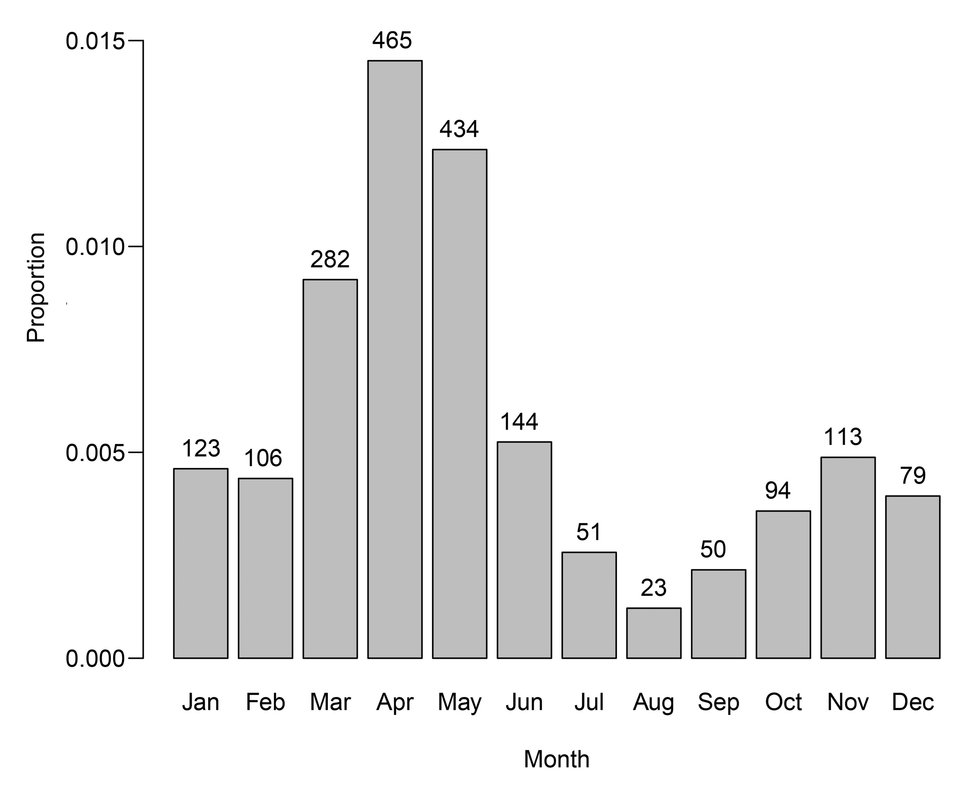 Step away from the nursery
Ravens have been witnessed pillaging crow nests, and the researchers suspect that the uptick in springtime attacks represents crows fending off predators from their vulnerable young. Crows communally tend their chicks and it's easy to imagine the rapid gathering of a mob in response to an incursion by ravens. Ravens, the study notes, are two to three times heavier than crows and far more often a threat to crow chicks than the other way around, though crows do also predate other birds' nests.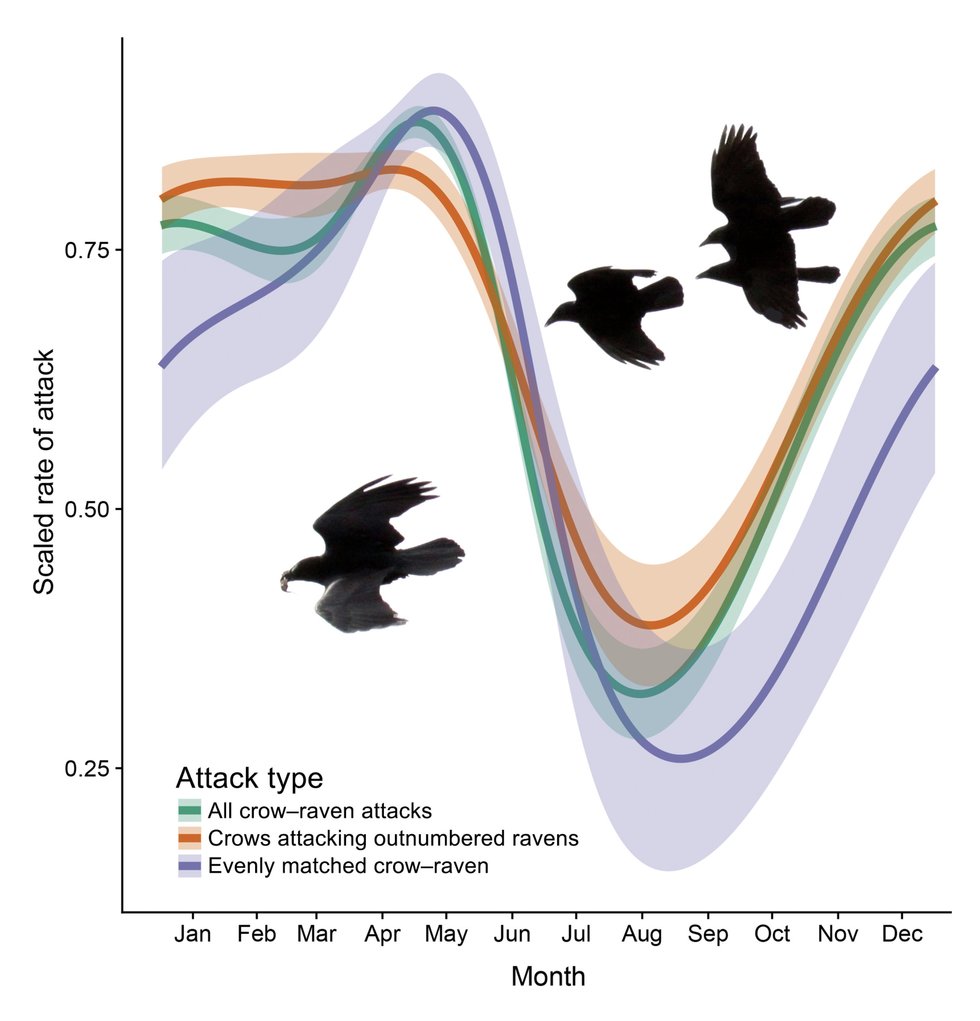 Without wishing to anthropomorphize, the fact that crows are more likely to resort to fair fights and outnumbered attacks during the breeding months may suggest a protective intensity on their part. In the late-autumn attacks, they're more likely to mob their targets. It could also be that with more mouths to feed in the spring, competition for resources is especially compelling, though the researchers favor the first explanation.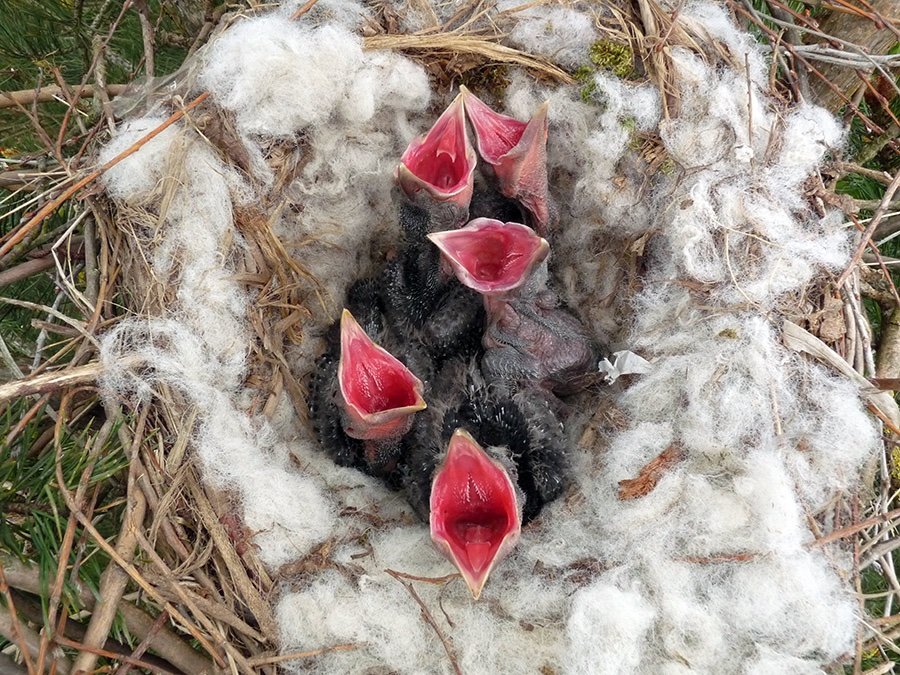 Carrion crows nest .(Credit: NottsExMiner)
Winter's coming
The rise in aggressive behavior in late autumn is a bit of a mystery, though the researchers say, "We speculate that territoriality may be important to explaining why crows attack ravens in winter, either due to resource competition or because crows take a proactive approach to deterring nest predators for the upcoming breeding season."
This latter point seems especially plausible when talking about crows, given their known ability to hold grudges. And given their demonstrated intelligence, the authors wonder if some of their aggressiveness derives from a shrewd long-term strategy: "Future studies should investigate whether frequent crow attacks affect the spatial use or abundance of ravens; that is, whether crows may actually constrain raven populations."
Fascinating birds.
The ability to speak clearly, succinctly, and powerfully is easier than you think
Former U.S. President Barack Obama speaks during a Democratic Congressional Campaign Committee rally at the Anaheim Convention Center on September 8, 2018 in Anaheim, California. (Photo by Barbara Davidson/Getty Images)
Personal Growth
The ability to communicate effectively can make or break a person's assessment of your intelligence, competence, and authenticity.
Researchers discover a link between nonverbal synchronization and relationship success.
Pixabay
Sex & Relationships
Scientists say coordinating movements leads to increased intimacy and sexual desire in a couple.
The improved rapport and empathy was also observed in people who didn't know each other.
Non-verbal clues are very important in the development stages of a relationship.
What defines a dark horse? The all-important decision to pursue fulfillment and excellence.
Big Think Books
When we first set the Dark Horse Project in motion, fulfillment was the last thing on our minds. We were hoping to uncover specific and possibly idiosyncratic study methods, learning techniques, and rehearsal regimes that dark horses used to attain excellence. Our training made us resistant to ambiguous variables that were difficult to quantify, and personal fulfillment seemed downright foggy. But our training also taught us never to ignore the evidence, no matter how much it violated our expectations.
Big think's weekly newsletter.
Get smarter faster from the comfort of your inbox.
See our newsletter privacy policy
here
Most Popular
Most Recent
Big think's weekly newsletter.
Get smarter faster from the comfort of your inbox.
See our newsletter privacy policy
here
© Copyright 2007-2018 & BIG THINK, BIG THINK EDGE,
SMARTER FASTER trademarks owned by The Big Think, Inc. All rights reserved.