Sperm may be uniquely equipped to deliver chemo to cervical cancer cells
Researchers are studying the use of sperm cells as micromotors for delivering chemotherapy to cervical cancer patients.
15 December, 2017
One of the obvious problems with conventional chemotherapy is that it's essentially poison formulated to kill cancer cells without killing the patient. While chemo is often the only available treatment option, it's extremely rough on patients, causing debilitating exhaustion, weakness, and nausea. As a result, it can only be administered in limited doses. In addition, chemo can be diluted by body fluids and be broken down and weakened by enzymes. Now a team of scientists at Leibnitz Institute for Solid State and Materials Research are exploring a new way to aim cancer medications with greater precision directly at tumors while reducing side effects, thus making it safe to administer higher, more effective doses. That new way? Sperm cells.
---
The team, led by Haifeng Xu, is interested in the use of sperm as a delivery mechanism in the female reproductive system, starting with cancer, and in time perhaps addressing other conditions such as ectopic pregnancies and endometriosis. Their research has just been published in ACSNANO. It explains why they're interested in sperm cells as a potential delivery mechanism: "…sperms are excellent candidates to operate in physiological environments, as they do neither express pathogenic proteins nor proliferate to form undesirable colonies, unlike other cells or microorganisms. Overall, this sperm-hybrid micromotor is a biocompatible platform that can be used in gynecological healthcare, treating or detecting cancer or other diseases in the female reproductive system in the future." It also notes, that, of course, "sperms are naturally optimized to efficiently swim in the female reproductive system." 
The team's first experiment targeted mini-cervical cancer tumors in a dish. Sperm cells were infused with doxorubicin hydrochloride (DOX-HCl), a frequently used form of chemo. It collected in the cells' heads, with an average of 15 picograms of DOX-HCl per cell. The researchers then released the sperms into the medium, and they swam toward the tumors, delivering the drug and killing an impressive 87% of their cells in just three days.

The effect of the sperm-delivered chemo on in vitro-grown tumor steroids over three days (ACSNANO)
The second round of tests involved something even more surprising. The team enclosed DOX-HCI sperm cells within minuscule tetrapods — four-armed magnetic harnesses — so the spermbots could be guided to tumors using magnets.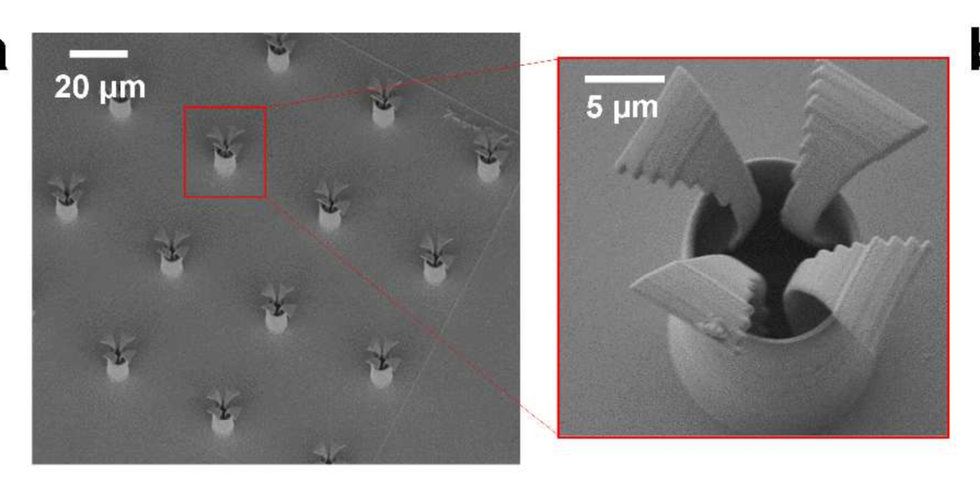 Scanning electron microscopy images of the harnesses (ACSNANO)
In experiments, when a spermbot bumped into a tumor, the impact bent the four arms, causing them to open and loosen their grip on the cells that then carried the DOX-HCI-laced cells into the tumor.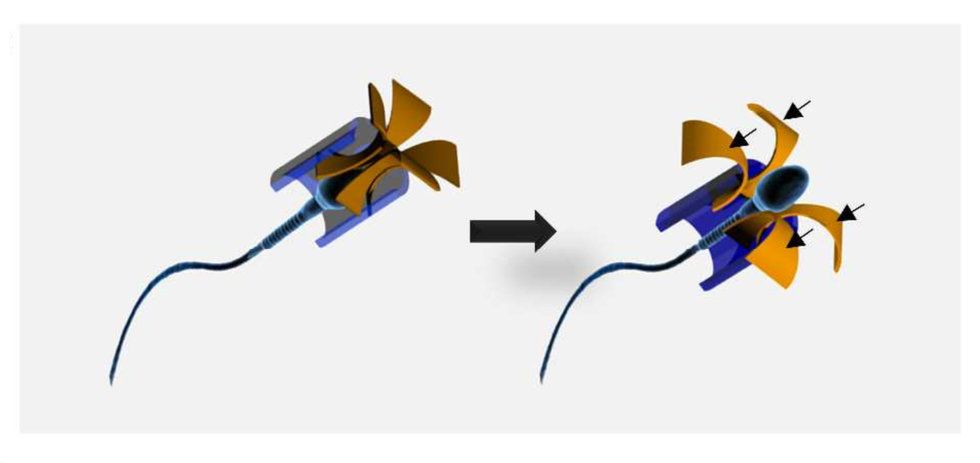 Schematic illustrating the mechanical release mechanism (ACSNANO)
With the sperm providing propulsion and the magnetic tetrapods their guidance system, the researchers see "sperm-hybrid micromotors" as offering intriguing advantages for chemo delivery over synthetic micromotors being developed by others. To start with, sperm's ability to fuse with somatic cells protects medications from dilution and breakdown. Also, they can "swim through complex environments" due to their beating tails and membrane biochemistry that make the female reproductive system a comfortable environment. In addition, can last longer in the body since they're less likely to be in conflict with the patient's immune system due to proteins and prostasomes on sperm cells' membranes.
Step inside the unlikely friendship of a former ACLU president and an ultra-conservative Supreme Court Justice.

Sponsored by Charles Koch Foundation
Former president of the ACLU Nadine Strossen and Supreme Court Justice Antonin Scalia were unlikely friends. They debated each other at events all over the world, and because of that developed a deep and rewarding friendship – despite their immense differences.
Scalia, a famous conservative, was invited to circles that were not his "home territory", such as the ACLU, to debate his views. Here, Strossen expresses her gratitude and respect for his commitment to the exchange of ideas.
"It's really sad that people seem to think that if you disagree with somebody on some issues you can't be mutually respectful, you can't enjoy each other's company, you can't learn from each other and grow in yourself," says Strossen.
The opinions expressed in this video do not necessarily reflect the views of the Charles Koch Foundation, which encourages the expression of diverse viewpoints within a culture of civil discourse and mutual respect.
Scientists make an important discovery for the future of computing.
Pixabay
Surprising Science
Researchers find a new state of matter called "topological superconductivity".
The state can lead to important advancements in quantum computing.
Utilizing special particles that emerge during this state can lead to error-free data storage and blazing calculation speed.
Erik Verlinde has been compared to Einstein for completely rethinking the nature of gravity.
Photo by Willeke Duijvekam
Surprising Science
The Dutch physicist Erik Verlinde's hypothesis describes gravity as an "emergent" force not fundamental.
The scientist thinks his ideas describe the universe better than existing models, without resorting to "dark matter".
While some question his previous papers, Verlinde is reworking his ideas as a full-fledged theory.
As tempting as it may be to run away from emotionally-difficult situations, it's important we confront them head-on.
Videos
Impossible-sounding things are possible in hospitals — however, there are times when we hit dead ends. In these moments, it's important to not run away, but to confront what's happening head-on.
For a lot of us, one of the ways to give meaning to terrible moments is to see what you can learn from them.
Sometimes certain information can "flood" us in ways that aren't helpful, and it's important to figure out what types of data you are able to take in — process — at certain times.