Sperm may be uniquely equipped to deliver chemo to cervical cancer cells
Researchers are studying the use of sperm cells as micromotors for delivering chemotherapy to cervical cancer patients.
15 December, 2017
One of the obvious problems with conventional chemotherapy is that it's essentially poison formulated to kill cancer cells without killing the patient. While chemo is often the only available treatment option, it's extremely rough on patients, causing debilitating exhaustion, weakness, and nausea. As a result, it can only be administered in limited doses. In addition, chemo can be diluted by body fluids and be broken down and weakened by enzymes. Now a team of scientists at Leibnitz Institute for Solid State and Materials Research are exploring a new way to aim cancer medications with greater precision directly at tumors while reducing side effects, thus making it safe to administer higher, more effective doses. That new way? Sperm cells.
---
The team, led by Haifeng Xu, is interested in the use of sperm as a delivery mechanism in the female reproductive system, starting with cancer, and in time perhaps addressing other conditions such as ectopic pregnancies and endometriosis. Their research has just been published in ACSNANO. It explains why they're interested in sperm cells as a potential delivery mechanism: "…sperms are excellent candidates to operate in physiological environments, as they do neither express pathogenic proteins nor proliferate to form undesirable colonies, unlike other cells or microorganisms. Overall, this sperm-hybrid micromotor is a biocompatible platform that can be used in gynecological healthcare, treating or detecting cancer or other diseases in the female reproductive system in the future." It also notes, that, of course, "sperms are naturally optimized to efficiently swim in the female reproductive system." 
The team's first experiment targeted mini-cervical cancer tumors in a dish. Sperm cells were infused with doxorubicin hydrochloride (DOX-HCl), a frequently used form of chemo. It collected in the cells' heads, with an average of 15 picograms of DOX-HCl per cell. The researchers then released the sperms into the medium, and they swam toward the tumors, delivering the drug and killing an impressive 87% of their cells in just three days.

The effect of the sperm-delivered chemo on in vitro-grown tumor steroids over three days (ACSNANO)
The second round of tests involved something even more surprising. The team enclosed DOX-HCI sperm cells within minuscule tetrapods — four-armed magnetic harnesses — so the spermbots could be guided to tumors using magnets.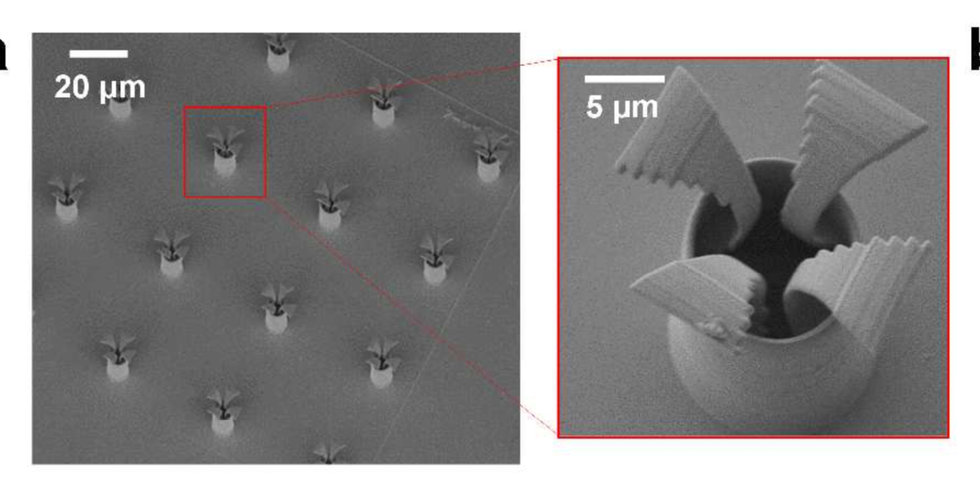 Scanning electron microscopy images of the harnesses (ACSNANO)
In experiments, when a spermbot bumped into a tumor, the impact bent the four arms, causing them to open and loosen their grip on the cells that then carried the DOX-HCI-laced cells into the tumor.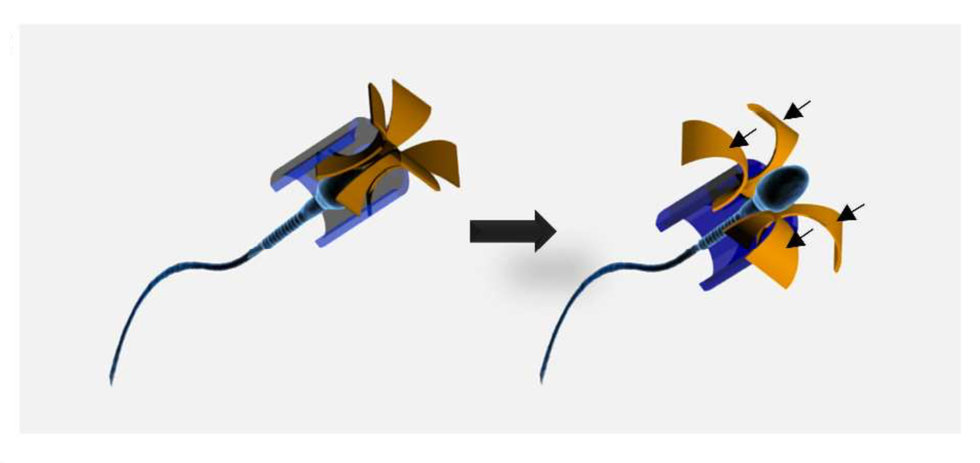 Schematic illustrating the mechanical release mechanism (ACSNANO)
With the sperm providing propulsion and the magnetic tetrapods their guidance system, the researchers see "sperm-hybrid micromotors" as offering intriguing advantages for chemo delivery over synthetic micromotors being developed by others. To start with, sperm's ability to fuse with somatic cells protects medications from dilution and breakdown. Also, they can "swim through complex environments" due to their beating tails and membrane biochemistry that make the female reproductive system a comfortable environment. In addition, can last longer in the body since they're less likely to be in conflict with the patient's immune system due to proteins and prostasomes on sperm cells' membranes.
Malcolm Gladwell teaches "Get over yourself and get to work" for Big Think Edge.
Big Think Edge
Learn to recognize failure and know the big difference between panicking and choking.

At Big Think Edge, Malcolm Gladwell teaches how to check your inner critic and get clear on what failure is.

Subscribe to Big Think Edge before we launch on March 30 to get 20% off monthly and annual memberships.
Big tech is making its opening moves into the health care scene, but its focus on tech-savvy millennials may miss the mark.
Apple COO Jeff Williams discusses Apple Watch Series 4 during an event on September 12, 2018, in Cupertino, California. The watch lets users take electrocardiogram readings. (Photo: NOAH BERGER/AFP/Getty Images)
Sponsored by Northwell Health
Companies like Apple, Amazon, and Google have been busy investing in health care companies, developing new apps, and hiring health professionals for new business ventures.
Their current focus appears to be on tech-savvy millennials, but the bulk of health care expenditures goes to the elderly.
Big tech should look to integrating its most promising health care devise, the smartphone, more thoroughly into health care.
A new study, led by psychologist Jean Twenge, points to the screen as the problem.
A teenager eyes her smartphone as people enjoy a warm day on the day of silence, one day prior to the presidential elections, when candidates and political parties are not allowed to voice their political meaning on April 14, 2018 in Kotor, Montenegro. Citizens from Montenegro, the youngest NATO member, will vote for a new president on Sunday 15 2018. (Photo by Pierre Crom/Getty Images)
Surprising Science
In a new study, adolescents and young adults are experiencing increased rates of depression and suicide attempts.
The data cover the years 2005–2017, tracking perfectly with the introduction of the iPhone and widespread dissemination of smartphones.
Interestingly, the highest increase in depressive incidents was among individuals in the top income bracket.
Here's why universal basic income will hurt the 99%, and make the 1% even richer.
Videos
Universal basic income is a band-aid solution that will not solve wealth inequality, says Rushkoff.
Funneling money to the 99% perpetuates their roles as consumers, pumping money straight back up to the 1% at the top of the pyramid.
Rushkoff suggests universal basic assets instead, so that the people at the bottom of the pyramid can own some means of production and participate in the profits of mega-rich companies.
Big think's weekly newsletter.
Get smarter faster from the comfort of your inbox.
See our newsletter privacy policy
here
Most Popular
Most Recent
Big think's weekly newsletter.
Get smarter faster from the comfort of your inbox.
See our newsletter privacy policy
here
© Copyright 2007-2018 & BIG THINK, BIG THINK EDGE,
SMARTER FASTER trademarks owned by The Big Think, Inc. All rights reserved.