Sperm may be uniquely equipped to deliver chemo to cervical cancer cells
Researchers are studying the use of sperm cells as micromotors for delivering chemotherapy to cervical cancer patients.
15 December, 2017
One of the obvious problems with conventional chemotherapy is that it's essentially poison formulated to kill cancer cells without killing the patient. While chemo is often the only available treatment option, it's extremely rough on patients, causing debilitating exhaustion, weakness, and nausea. As a result, it can only be administered in limited doses. In addition, chemo can be diluted by body fluids and be broken down and weakened by enzymes. Now a team of scientists at Leibnitz Institute for Solid State and Materials Research are exploring a new way to aim cancer medications with greater precision directly at tumors while reducing side effects, thus making it safe to administer higher, more effective doses. That new way? Sperm cells.
---
The team, led by Haifeng Xu, is interested in the use of sperm as a delivery mechanism in the female reproductive system, starting with cancer, and in time perhaps addressing other conditions such as ectopic pregnancies and endometriosis. Their research has just been published in ACSNANO. It explains why they're interested in sperm cells as a potential delivery mechanism: "…sperms are excellent candidates to operate in physiological environments, as they do neither express pathogenic proteins nor proliferate to form undesirable colonies, unlike other cells or microorganisms. Overall, this sperm-hybrid micromotor is a biocompatible platform that can be used in gynecological healthcare, treating or detecting cancer or other diseases in the female reproductive system in the future." It also notes, that, of course, "sperms are naturally optimized to efficiently swim in the female reproductive system." 
The team's first experiment targeted mini-cervical cancer tumors in a dish. Sperm cells were infused with doxorubicin hydrochloride (DOX-HCl), a frequently used form of chemo. It collected in the cells' heads, with an average of 15 picograms of DOX-HCl per cell. The researchers then released the sperms into the medium, and they swam toward the tumors, delivering the drug and killing an impressive 87% of their cells in just three days.

The effect of the sperm-delivered chemo on in vitro-grown tumor steroids over three days (ACSNANO)
The second round of tests involved something even more surprising. The team enclosed DOX-HCI sperm cells within minuscule tetrapods — four-armed magnetic harnesses — so the spermbots could be guided to tumors using magnets.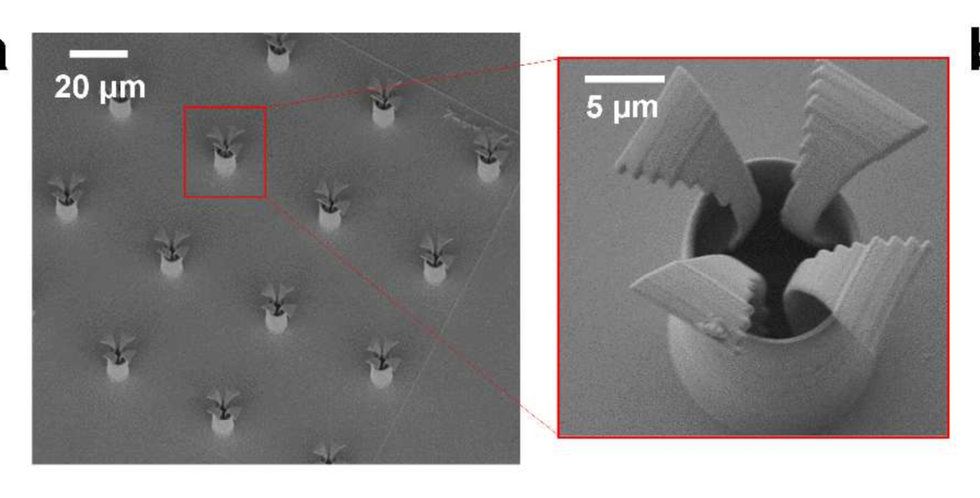 Scanning electron microscopy images of the harnesses (ACSNANO)
In experiments, when a spermbot bumped into a tumor, the impact bent the four arms, causing them to open and loosen their grip on the cells that then carried the DOX-HCI-laced cells into the tumor.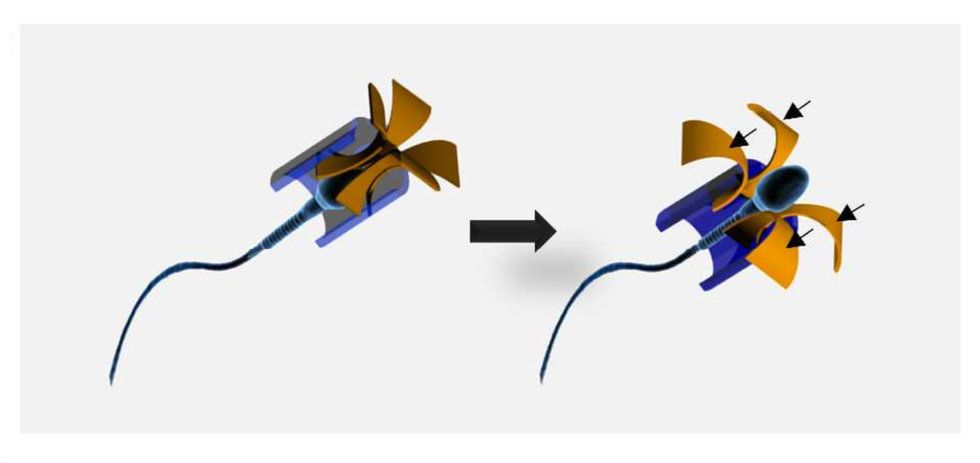 Schematic illustrating the mechanical release mechanism (ACSNANO)
With the sperm providing propulsion and the magnetic tetrapods their guidance system, the researchers see "sperm-hybrid micromotors" as offering intriguing advantages for chemo delivery over synthetic micromotors being developed by others. To start with, sperm's ability to fuse with somatic cells protects medications from dilution and breakdown. Also, they can "swim through complex environments" due to their beating tails and membrane biochemistry that make the female reproductive system a comfortable environment. In addition, can last longer in the body since they're less likely to be in conflict with the patient's immune system due to proteins and prostasomes on sperm cells' membranes.
What can 3D printing do for medicine? The "sky is the limit," says Northwell Health researcher Dr. Todd Goldstein.
Northwell Health
Sponsored by Northwell Health
Medical professionals are currently using 3D printers to create prosthetics and patient-specific organ models that doctors can use to prepare for surgery.
Eventually, scientists hope to print patient-specific organs that can be transplanted safely into the human body.
Northwell Health, New York State's largest health care provider, is pioneering 3D printing in medicine in three key ways.
The periodic table was a lot simpler at the beginning of the universe.
Great ideas in philosophy often come in dense packages. Then there is where the work of Marcus Aurelius.
(Getty Images)
Personal Growth
Meditations is a collection of the philosophical ideas of the Roman Emperor Marcus Aurelius.
Written as a series of notes to himself, the book is much more readable than the dry philosophy most people are used to.
The advice he gave to himself 2,000 years ago is increasingly applicable in our hectic, stressed-out lives.
Can dirt help us fight off stress? Groundbreaking new research shows how.
University of Colorado Boulder
Surprising Science
New research identifies a bacterium that helps block anxiety.
Scientists say this can lead to drugs for first responders and soldiers, preventing PTSD and other mental issues.
The finding builds on the hygiene hypothesis, first proposed in 1989.
Are modern societies trying too hard to be clean, at the detriment to public health? Scientists discovered that a microorganism living in dirt can actually be good for us, potentially helping the body to fight off stress. Harnessing its powers can lead to a "stress vaccine".
Researchers at the University of Colorado Boulder found that the fatty 10(Z)-hexadecenoic acid from the soil-residing bacterium Mycobacterium vaccae aids immune cells in blocking pathways that increase inflammation and the ability to combat stress.
The study's senior author and Integrative Physiology Professor Christopher Lowry described this fat as "one of the main ingredients" in the "special sauce" that causes the beneficial effects of the bacterium.
The finding goes hand in hand with the "hygiene hypothesis," initially proposed in 1989 by the British scientist David Strachan. He maintained that our generally sterile modern world prevents children from being exposed to certain microorganisms, resulting in compromised immune systems and greater incidences of asthma and allergies.
Contemporary research fine-tuned the hypothesis, finding that not interacting with so-called "old friends" or helpful microbes in the soil and the environment, rather than the ones that cause illnesses, is what's detrimental. In particular, our mental health could be at stake.
"The idea is that as humans have moved away from farms and an agricultural or hunter-gatherer existence into cities, we have lost contact with organisms that served to regulate our immune system and suppress inappropriate inflammation," explained Lowry. "That has put us at higher risk for inflammatory disease and stress-related psychiatric disorders."
University of Colorado Boulder
Christopher Lowry
This is not the first study on the subject from Lowry, who published previous work showing the connection between being exposed to healthy bacteria and mental health. He found that being raised with animals and dust in a rural environment helps children develop more stress-proof immune systems. Such kids were also likely to be less at risk for mental illnesses than people living in the city without pets.
Lowry's other work also pointed out that the soil-based bacterium Mycobacterium vaccae acts like an antidepressant when injected into rodents. It alters their behavior and has lasting anti-inflammatory effects on the brain, according to the press release from the University of Colorado Boulder. Prolonged inflammation can lead to such stress-related disorders as PTSD.
The new study from Lowry and his team identified why that worked by pinpointing the specific fatty acid responsible. They showed that when the 10(Z)-hexadecenoic acid gets into cells, it works like a lock, attaching itself to the peroxisome proliferator-activated receptor (PPAR). This allows it to block a number of key pathways responsible for inflammation. Pre-treating the cells with the acid (or lipid) made them withstand inflammation better.
Lowry thinks this understanding can lead to creating a "stress vaccine" that can be given to people in high-stress jobs, like first responders or soldiers. The vaccine can prevent the psychological effects of stress.
What's more, this friendly bacterium is not the only potentially helpful organism we can find in soil.
"This is just one strain of one species of one type of bacterium that is found in the soil but there are millions of other strains in soils," said Lowry. "We are just beginning to see the tip of the iceberg in terms of identifying the mechanisms through which they have evolved to keep us healthy. It should inspire awe in all of us."
Check out the study published in the journal Psychopharmacology.
Big think's weekly newsletter.
Get smarter faster from the comfort of your inbox.
See our newsletter privacy policy
here
Most Popular
Most Recent
Big think's weekly newsletter.
Get smarter faster from the comfort of your inbox.
See our newsletter privacy policy
here
© Copyright 2007-2019 & BIG THINK, BIG THINK EDGE,
SMARTER FASTER trademarks owned by The Big Think, Inc. All rights reserved.