It May Be Your Microbiome Will Become Your Personal Pharmacy
It may be possible to treat eczema with a super-effective ointment made from your own microbes.
02 March, 2017
---
It's estimated the skin condition eczema afflicts some 18 million Americans. Ezcmea is actually a category of skin irritations, the most common of which is atopic dermatitis (AD). "Atopic" means "hereditary," by the way. In any event, the stuff itches at best, and can result in serious irritations and cracked and oozing skin at worst. (Sorry, were you eating?). It's also difficult to get under control. Now a study suggests that it may be possible to prevent AD, or even treat it, using beneficial bacteria already on your own skin.
As we've come to understand our microbiomes , we've realized there's good bacteria — from our point of view, of course — and bad. Staphylococcus aureus would be one of the latter kind, and it's known to aggravate AD. (We don't yet know if it causes it.) Staphylococcus aureus is known as "Golden staph" and is also a precursor to MRSA, the antibiotic-resistant superbug.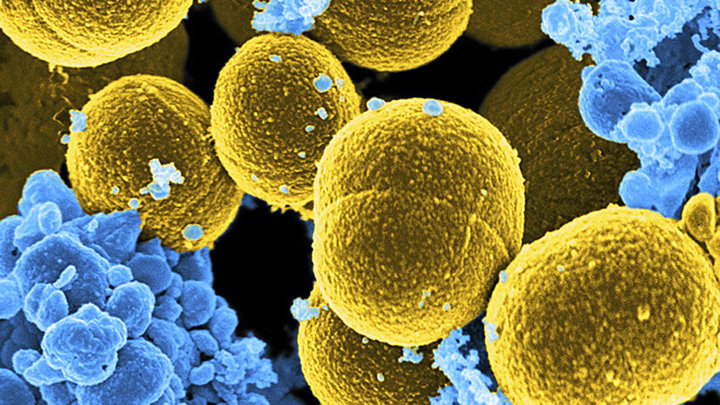 Golden staph (NATIONAL INSTITUTE OF ALLERGY AND INFECTIOUS DISEASE)
Knowing that everyone's skin hosts various types of bacteria, Richard Gallo, dermatology chairman at the University of California, San Diego, wanted to have a closer look at why some people have issues with AD while others don't. He and his team took swabs from 49 people with AD and 30 people with healthy skin.
What they found was that those with healthy skin had greater numbers of two beneficial bacteria called Staphylococcus hominis and Staphylococcus epidermis. These bacteria are known to secrete "antibacterial peptides" that act as natural antibiotics shown in lab cultures and on animal skin to kill Staphylococcus aureus, and even a strain of MRSA, without harming other bacteria. (Man-made antibiotics are blunt instruments that kill off beneficial bacteria at the same time as they attack harmful strains.) As it turns out, there was less of these good bacteria on the skin of people with AD. Gallo told the Associated Press, "People with this type of eczema, for some reason that's not quite known yet, have a lot of bacteria on the skin but it's the wrong type of bacteria. They're not producing the antimicrobials they need."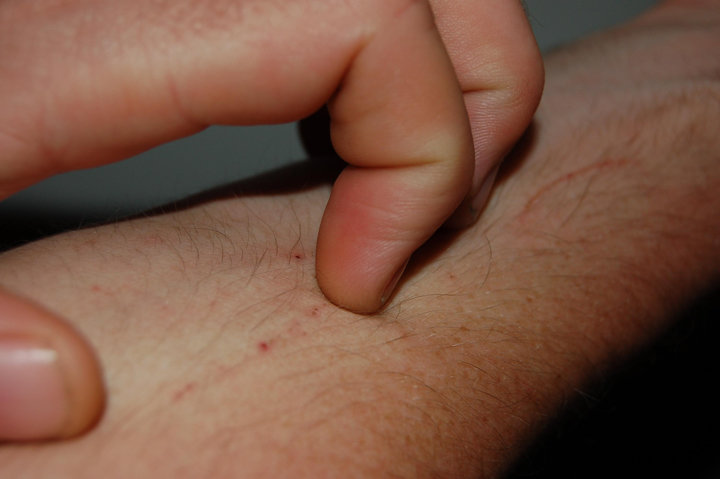 (ORRLING AND TOMER S)
The team identified five volunteers who had Staphylococcus aureus on their skin but hadn't yet developed AD. They collected Staphylococcus hominis and Staphylococcus epidermis from each subject's skin and mixed it together with some over-the-counter moisturizer. The subjects were then instructed to apply their personalized moisturizer on one arm and regular cream on the other. By the next day, with three of the five subjects, the tweaked moisturizer had killed off most of the Staphylococcus aureus; for the other two, it had eliminated it altogether. ""We're encouraged that we see the Staph aureus, which we know makes the disease worse, go away," Gallo said.
It's still unknown whether a similar approach will help patients who've already developed AD, and what the approach's long-term affects would be, but next-step clinical trials are underway.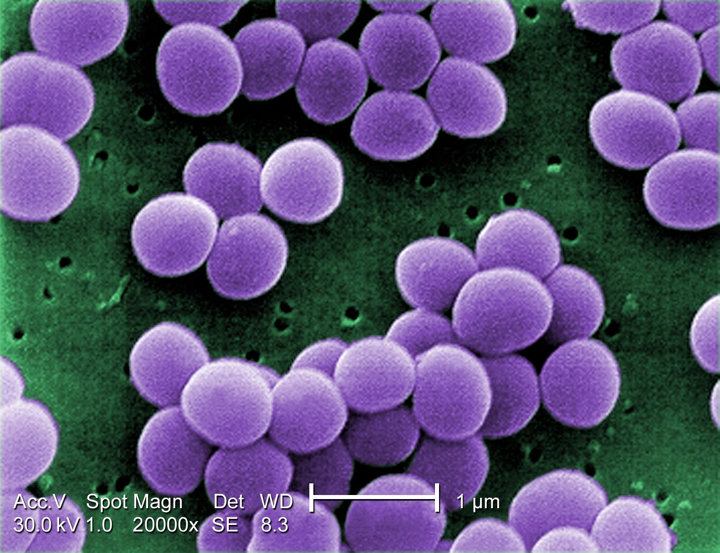 More Staphylococcus aureus
Researchers discover a link between nonverbal synchronization and relationship success.
Pixabay
Sex & Relationships
Scientists say coordinating movements leads to increased intimacy and sexual desire in a couple.
The improved rapport and empathy was also observed in people who didn't know each other.
Non-verbal clues are very important in the development stages of a relationship.
Humans evolved to live in the cold through a number of environmental and genetic factors.
Image source: Wikimedia Commons
Surprising Science
According to some relatively new research, many of our early human cousins preceded Homo sapien migrations north by hundreds of thousands or even millions of years.
Cross-breeding with other ancient hominids gave some subsets of human population the genes to contend and thrive in colder and harsher climates.
Behavioral and dietary changes also helped humans adapt to cold climates.
The comics titan worked for more than half a century to revolutionize and add nuance to the comics industry, and he built a vast community of fans along the way.
(Photo: GABRIEL BOUYS/AFP/Getty Images)
Culture & Religion
Lee died shortly after being rushed to an L.A. hospital. He had been struggling with multiple illnesses over the past year, reports indicate.
Since the 1950s, Lee has been one of the most influential figures in comics, helping to popularize heroes that expressed a level of nuance and self-doubt previously unseen in the industry.
Lee, who's later years were marked by some financial and legal tumult, is survived by his daughter, Joan Celia "J.C." Lee.
Big think's weekly newsletter.
Get smarter faster from the comfort of your inbox.
See our newsletter privacy policy
here
Most Popular
Most Recent
Big think's weekly newsletter.
Get smarter faster from the comfort of your inbox.
See our newsletter privacy policy
here
© Copyright 2007-2018 & BIG THINK, BIG THINK EDGE,
SMARTER FASTER trademarks owned by The Big Think, Inc. All rights reserved.