Icelandic Study Suggests That Maybe We Are Getting Dumber
A new genetic study sees us getting gently stupider over time.
20 January, 2017
---
While the movie Idiocracy isn't a great one, its concept is genius: A man of average intelligence goes to sleep for 200 years and awakens to find himself (by far) the smartest person on earth. This is largely due to how quickly, carelessly, and prolifically stupid people reproduce, and how much more strategically — and thus less often — smart ones do.
Certainly, to many of us, it feels like the world is getting dumber.
Just-published research from deCODE, a genetics firm in Reykjavik, Iceland, suggests that Idiocracy might have had it about right. Thankfully, though, the dumbening won't be happening so precipitously, with a drop in the average IQ of only about 0.04 points per decade. The concern is about what this could mean over time.
The deCODE team's conclusion is based on a database of about 100,000 Icelandic people covering a 65-year period. The researchers were looking for changes in the prevalence of gene variants that correspond to a desire for educational attainment. They did find a slight decline in their occurrence during that time range.
Still, it's important to see the finding in context. Study leader Kari Stefansson notes that improvements in education could overwhelm and obliterate the apparent subtle genetic effect — after all, IQ levels rose between 1932 and 1978 by nearly 14 points.
There's also some evidence to the contrary. A 2014 study found that while educated American women have a lower fertility rate (2.09 children) than women without a high-school diploma (2.24 children), those with advanced degrees have more kids (1.96) than those with undergraduate (1.88) degrees. Oddly, the lowest reproductive rate occurs among women with some college education but no degree (1.78 children).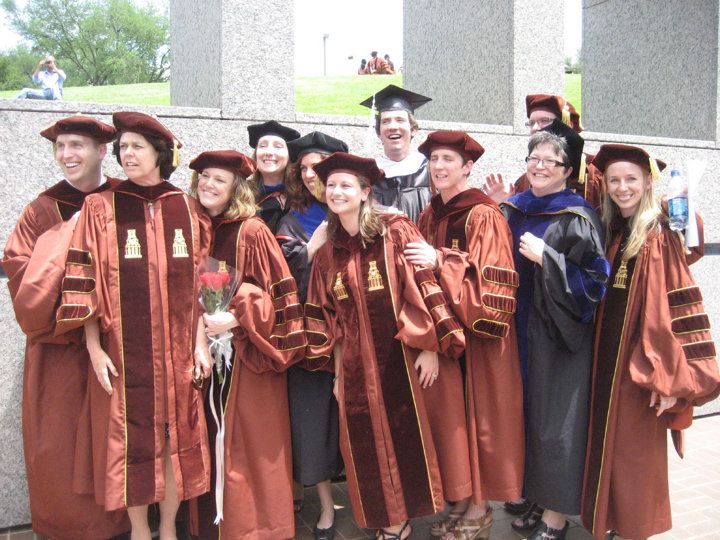 Doctoral graduates (JENN DEERING-DAVIS)
It's not entirely clear that genes are the driving factor in what makes educated people reproduce less. While a study by Melinda Mills of Oxford has found that while genes may affect when a woman has a child, she says it's probably not that large a factor in deciding if: "The education we have, when we have children and how many, is largely socially and environmentally determined. It overrides the genetic effect."
In Idiocracy's portrayal of dumbness gone wild, it's culture that seems to be the culprit, and most experts agree. The new study also presents a danger, according to Ewan Birney, director of the European Bioinformatics Institute in Cambridge, that some will misunderstand its conclusion as meaning that genes determine an individual's capacity for learning. "This is not right, and I cannot emphasize this enough," Birney told The Guardian.
Ultimately, the results of deCODE's research are more interesting than dispositive, an example of the intriguing trends that can be hiding in large genetic databases. We'll be seeing more and more of these sorts of analyses as the records of more and more people are aggregated in the future.
What can 3D printing do for medicine? The "sky is the limit," says Northwell Health researcher Dr. Todd Goldstein.
Northwell Health
Sponsored by Northwell Health
Medical professionals are currently using 3D printers to create prosthetics and patient-specific organ models that doctors can use to prepare for surgery.
Eventually, scientists hope to print patient-specific organs that can be transplanted safely into the human body.
Northwell Health, New York State's largest health care provider, is pioneering 3D printing in medicine in three key ways.
Big Think Edge
Push Past Negative Self-Talk: Give Yourself the Proper Fuel to Attack the World, with David Goggins, Former NAVY SealIf you've ever spent 5 minutes trying to meditate, you know something most people don't realize: that our minds are filled, much of the time, with negative nonsense. Messaging from TV, from the news, from advertising, and from difficult daily interactions pulls us mentally in every direction, insisting that we focus on or worry about this or that. To start from a place of strength and stability, you need to quiet your mind and gain control. For former NAVY Seal David Goggins, this begins with recognizing all the negative self-messaging and committing to quieting the mind. It continues with replacing the negative thoughts with positive ones.
If you don't want to know anything about your death, consider this your spoiler warning.
Culture & Religion
For centuries cultures have personified death to give this terrifying mystery a familiar face.
Modern science has demystified death by divulging its biological processes, yet many questions remain.
Studying death is not meant to be a morbid reminder of a cruel fate, but a way to improve the lives of the living.
Big Think Edge
Master Execution: How to Get from Point A to Point B in 7 Steps, with Rob Roy, Retired Navy SEALUsing the principles of SEAL training to forge better bosses, former Navy SEAL and founder of the Leadership Under Fire series Rob Roy, a self-described "Hammer", makes people's lives miserable in the hopes of teaching them how to be a tougher—and better—manager. "We offer something that you are not going to get from reading a book," says Roy. "Real leaders inspire, guide and give hope."Anybody can make a decision when everything is in their favor, but what happens in turbulent times? Roy teaches leaders, through intense experiences, that they can walk into any situation and come out ahead. In this lesson, he outlines seven SEAL-tested steps for executing any plan—even under extreme conditions or crisis situations.
Big think's weekly newsletter.
Get smarter faster from the comfort of your inbox.
See our newsletter privacy policy
here
Most Popular
Most Recent
Big think's weekly newsletter.
Get smarter faster from the comfort of your inbox.
See our newsletter privacy policy
here
© Copyright 2007-2019 & BIG THINK, BIG THINK EDGE,
SMARTER FASTER trademarks owned by The Big Think, Inc. All rights reserved.