Icelandic Study Suggests That Maybe We Are Getting Dumber
A new genetic study sees us getting gently stupider over time.
20 January, 2017
---
While the movie Idiocracy isn't a great one, its concept is genius: A man of average intelligence goes to sleep for 200 years and awakens to find himself (by far) the smartest person on earth. This is largely due to how quickly, carelessly, and prolifically stupid people reproduce, and how much more strategically — and thus less often — smart ones do.
[Warning: Language]
(20 CENTURY FOX)
Certainly, to many of us, it feels like the world is getting dumber.
Just-published research from deCODE, a genetics firm in Reykjavik, Iceland, suggests that Idiocracy might have had it about right. Thankfully, though, the dumbening won't be happening so precipitously, with a drop in the average IQ of only about 0.04 points per decade. The concern is about what this could mean over time.
The deCODE team's conclusion is based on a database of about 100,000 Icelandic people covering a 65-year period. The researchers were looking for changes in the prevalence of gene variants that correspond to a desire for educational attainment. They did find a slight decline in their occurrence during that time range.
Still, it's important to see the finding in context. Study leader Kari Stefansson notes that improvements in education could overwhelm and obliterate the apparent subtle genetic effect — after all, IQ levels rose between 1932 and 1978 by nearly 14 points.
There's also some evidence to the contrary. A 2014 study found that while educated American women have a lower fertility rate (2.09 children) than women without a high-school diploma (2.24 children), those with advanced degrees have more kids (1.96) than those with undergraduate (1.88) degrees. Oddly, the lowest reproductive rate occurs among women with some college education but no degree (1.78 children).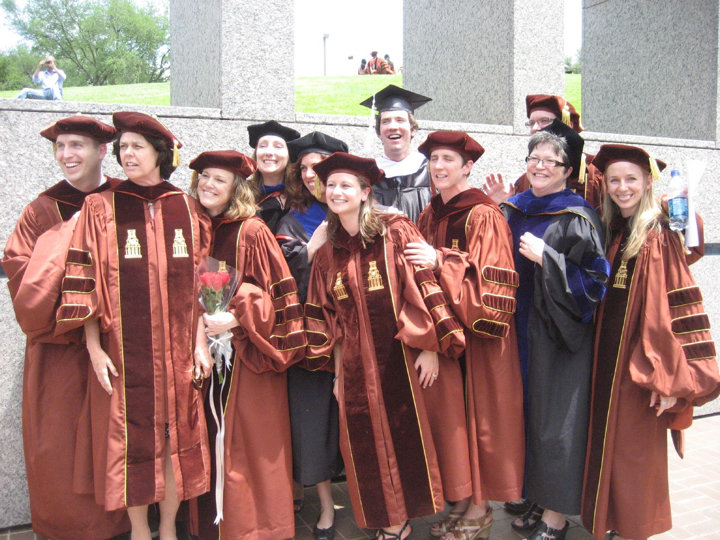 Doctoral graduates (JENN DEERING-DAVIS)
It's not entirely clear that genes are the driving factor in what makes educated people reproduce less. While a study by Melinda Mills of Oxford has found that while genes may affect when a woman has a child, she says it's probably not that large a factor in deciding if: "The education we have, when we have children and how many, is largely socially and environmentally determined. It overrides the genetic effect."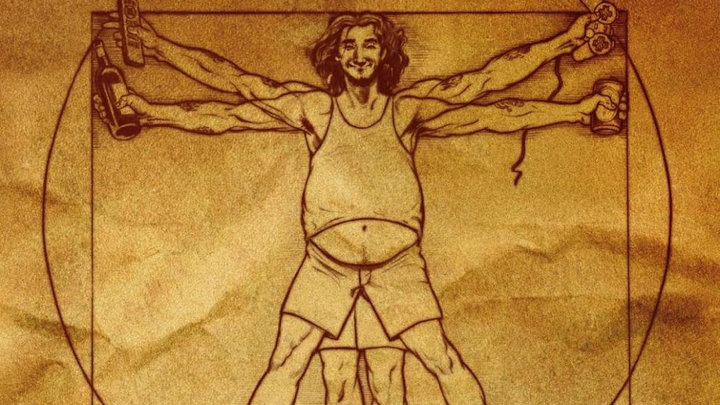 Michaelangelo weeps. (20 CENTURY FOX)
In Idiocracy's portrayal of dumbness gone wild, it's culture that seems to be the culprit, and most experts agree. The new study also presents a danger, according to Ewan Birney, director of the European Bioinformatics Institute in Cambridge, that some will misunderstand its conclusion as meaning that genes determine an individual's capacity for learning. "This is not right, and I cannot emphasize this enough," Birney told The Guardian.
Ultimately, the results of deCODE's research are more interesting than dispositive, an example of the intriguing trends that can be hiding in large genetic databases. We'll be seeing more and more of these sorts of analyses as the records of more and more people are aggregated in the future.
Related Articles
Why self-control makes your life better, and how to get more of it.
Buddhist monks of all nations mediate in Thailand. Monks are well known for their self-discipline and restrictive lifestyle. Is it possible that this leads them to happiness?
(Photo by Geem Drake/SOPA Images/LightRocket via Getty Images)

Personal Growth
Research demonstrates that people with higher levels of self-control are happier over both the short and long run.
Higher levels of self-control are correlated with educational, occupational, and social success.
It was found that the people with the greatest levels of self-control avoid temptation rather than resist it at every turn.
Ready your Schrödinger's Cat Jokes.
Quantum entanglement. Conceptual artwork of a pair of entangled quantum particles or events (left and right) interacting at a distance. Quantum entanglement is one of the consequences of quantum theory. Two particles will appear to be linked across space and time, with changes to one of the particles (such as an observation or measurement) affecting the other one. This instantaneous effect appears to be independent of both space and time, meaning that, in the quantum realm, effect may precede cause.
Technology & Innovation
For a time, quantum computing was more theory than fact.
That's starting to change.
New quantum computer designs look like they might be scalable.
Quantum computing has existed in theory since the 1980's. It's slowly making its way into fact, the latest of which can be seen in a paper published in Nature called, "Deterministic teleportation of a quantum gate between two logical qubits."

To ensure that we're all familiar with a few basic terms: in electronics, a 'logic gate' is something that takes in one or more than one binary inputs and produces a single binary output. To put it in reductive terms: if you produce information that goes into a chip in your computer as a '0,' the logic gate is what sends it out the other side as a '1.'

A quantum gate means that the '1' in question here can — roughly speaking — go back through the gate and become a '0' once again. But that's not quite the whole of it.
A qubit is a single unit of quantum information. To continue with our simple analogy: you don't have to think about computers producing a string of information that is either a zero or a one. A quantum computer can do both, simultaneously. But that can only happen if you build a functional quantum gate.

That's why the results of the study from the folks at The Yale Quantum Institute saying that they were able to create a quantum gate with a "process fidelity" of 79% is so striking. It could very well spell the beginning of the pathway towards realistic quantum computing.
The team went about doing this through using a superconducting microwave cavity to create a data qubit — that is, they used a device that operates a bit like a organ pipe or a music box but for microwave frequencies. They paired that data qubit with a transmon — that is, a superconducting qubit that isn't as sensitive to quantum noise as it otherwise could be, which is a good thing, because noise can destroy information stored in a quantum state. The two are then connected through a process called a 'quantum bus.'
That process translates into a quantum property being able to be sent from one location to the other without any interaction between the two through something called a teleported CNOT gate, which is the 'official' name for a quantum gate. Single qubits made the leap from one side of the gate to the other with a high degree of accuracy.
Above: encoded qubits and 'CNOT Truth table,' i.e., the read-out.
The team then entangled these bits of information as a way of further proving that they were literally transporting the qubit from one place to somewhere else. They then analyzed the space between the quantum points to determine that something that doesn't follow the classical definition of physics occurred.

They conclude by noting that "... the teleported gate … uses relatively modest elements, all of which are part of the standard toolbox for quantum computation in general. Therefore ... progress to improve any of the elements will directly increase gate performance."
In other words: they did something simple and did it well. And that the only forward here is up. And down. At the same time.
These modern-day hermits can sometimes spend decades without ever leaving their apartments.
700,000 Japanese people are thought to be hikikomori, modern-day hermits who never leave their apartments (BEHROUZ MEHRI/AFP/Getty Images).
Mind & Brain
A hikikomori is a type of person in Japan who locks themselves away in their bedrooms, sometimes for years.
This is a relatively new phenomenon in Japan, likely due to rigid social customs and high expectations for academic and business success.
Many believe hikikomori to be a result of how Japan interprets and handles mental health issues.
Big think's weekly newsletter.
Get smarter faster from the comfort of your inbox.
See our newsletter privacy policy
here
Most Popular
Most Recent
Big think's weekly newsletter.
Get smarter faster from the comfort of your inbox.
See our newsletter privacy policy
here
© Copyright 2007-2018 & BIG THINK, BIG THINK EDGE,
SMARTER FASTER trademarks owned by The Big Think, Inc. All rights reserved.