Icelandic Study Suggests That Maybe We Are Getting Dumber
A new genetic study sees us getting gently stupider over time.
20 January, 2017
---
While the movie Idiocracy isn't a great one, its concept is genius: A man of average intelligence goes to sleep for 200 years and awakens to find himself (by far) the smartest person on earth. This is largely due to how quickly, carelessly, and prolifically stupid people reproduce, and how much more strategically — and thus less often — smart ones do.
Certainly, to many of us, it feels like the world is getting dumber.
Just-published research from deCODE, a genetics firm in Reykjavik, Iceland, suggests that Idiocracy might have had it about right. Thankfully, though, the dumbening won't be happening so precipitously, with a drop in the average IQ of only about 0.04 points per decade. The concern is about what this could mean over time.
The deCODE team's conclusion is based on a database of about 100,000 Icelandic people covering a 65-year period. The researchers were looking for changes in the prevalence of gene variants that correspond to a desire for educational attainment. They did find a slight decline in their occurrence during that time range.
Still, it's important to see the finding in context. Study leader Kari Stefansson notes that improvements in education could overwhelm and obliterate the apparent subtle genetic effect — after all, IQ levels rose between 1932 and 1978 by nearly 14 points.
There's also some evidence to the contrary. A 2014 study found that while educated American women have a lower fertility rate (2.09 children) than women without a high-school diploma (2.24 children), those with advanced degrees have more kids (1.96) than those with undergraduate (1.88) degrees. Oddly, the lowest reproductive rate occurs among women with some college education but no degree (1.78 children).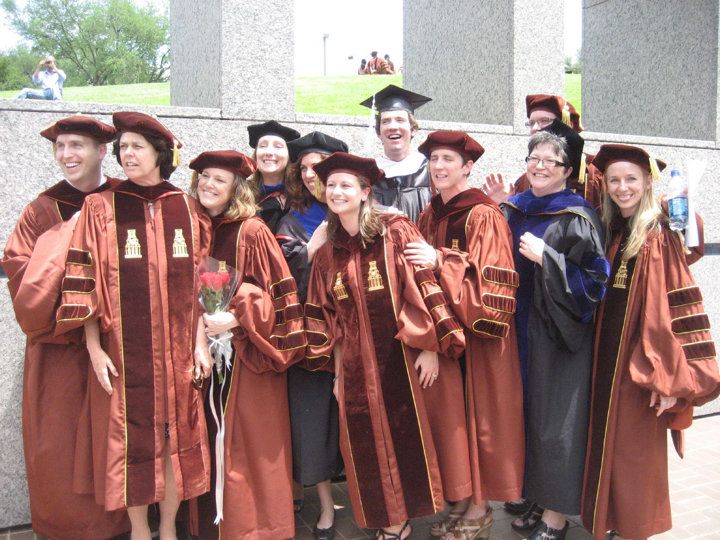 Doctoral graduates (JENN DEERING-DAVIS)
It's not entirely clear that genes are the driving factor in what makes educated people reproduce less. While a study by Melinda Mills of Oxford has found that while genes may affect when a woman has a child, she says it's probably not that large a factor in deciding if: "The education we have, when we have children and how many, is largely socially and environmentally determined. It overrides the genetic effect."
In Idiocracy's portrayal of dumbness gone wild, it's culture that seems to be the culprit, and most experts agree. The new study also presents a danger, according to Ewan Birney, director of the European Bioinformatics Institute in Cambridge, that some will misunderstand its conclusion as meaning that genes determine an individual's capacity for learning. "This is not right, and I cannot emphasize this enough," Birney told The Guardian.
Ultimately, the results of deCODE's research are more interesting than dispositive, an example of the intriguing trends that can be hiding in large genetic databases. We'll be seeing more and more of these sorts of analyses as the records of more and more people are aggregated in the future.
Step inside the unlikely friendship of a former ACLU president and an ultra-conservative Supreme Court Justice.

Sponsored by Charles Koch Foundation
Former president of the ACLU Nadine Strossen and Supreme Court Justice Antonin Scalia were unlikely friends. They debated each other at events all over the world, and because of that developed a deep and rewarding friendship – despite their immense differences.
Scalia, a famous conservative, was invited to circles that were not his "home territory", such as the ACLU, to debate his views. Here, Strossen expresses her gratitude and respect for his commitment to the exchange of ideas.
"It's really sad that people seem to think that if you disagree with somebody on some issues you can't be mutually respectful, you can't enjoy each other's company, you can't learn from each other and grow in yourself," says Strossen.
The opinions expressed in this video do not necessarily reflect the views of the Charles Koch Foundation, which encourages the expression of diverse viewpoints within a culture of civil discourse and mutual respect.
Learn how to redesign your job for maximum reward.
Videos
Broaching the question "What is my purpose?" is daunting – it's a grandiose idea, but research can make it a little more approachable if work is where you find your meaning. It turns out you can redesign your job to have maximum purpose.
There are 3 ways people find meaning at work, what Aaron Hurst calls the three elevations of impact. About a third of the population finds meaning at an individual level, from seeing the direct impact of their work on other people. Another third of people find their purpose at an organizational level. And the last third of people find meaning at a social level.
"What's interesting about these three elevations of impact is they enable us to find meaning in any job if we approach it the right way. And it shows how accessible purpose can be when we take responsibility for it in our work," says Hurst.
Erik Verlinde has been compared to Einstein for completely rethinking the nature of gravity.
Photo by Willeke Duijvekam
Surprising Science
The Dutch physicist Erik Verlinde's hypothesis describes gravity as an "emergent" force not fundamental.
The scientist thinks his ideas describe the universe better than existing models, without resorting to "dark matter".
While some question his previous papers, Verlinde is reworking his ideas as a full-fledged theory.
TuSimple, an autonomous trucking company, has also engaged in test programs with the United States Postal Service and Amazon.
Technology & Innovation
This week, UPS announced that it's working with autonomous trucking startup TuSimple on a pilot project to deliver cargo in Arizona using self-driving trucks.
UPS has also acquired a minority stake in TuSimple.
TuSimple hopes its trucks will be fully autonomous — without a human driver — by late 2020, though regulatory questions remain.