Big ideas.
Once a week.
Subscribe to our weekly newsletter.
How the Almost-Blind Spider Sees the World By Playing Its Web
Researchers discover the ways in which spiders tune and play their webs as a way to control their worlds.
07 September, 2016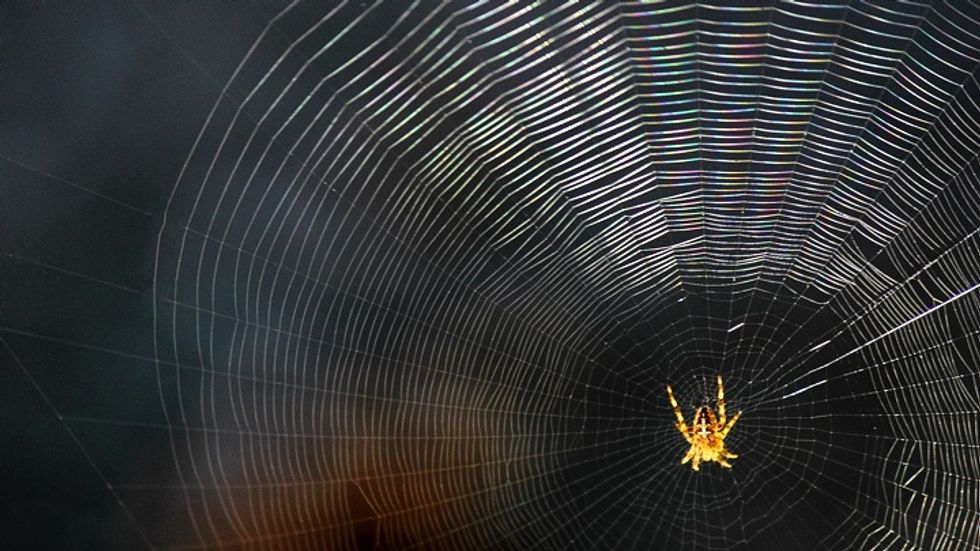 Web (JORGE CANCELA)
Armed with a sense of pitch at least as advanced as our finest musicians, it turns out that spiders masterfully tune and re-tune their webs as a way of using it to "hear" the world around them.
---
Scientists got their first inklings of this when Oxford University's Silk Group revealed in 2014 their finding that spiders tune the frequency at which their silk strands vibrate. Now a new study jointly released by Oxford and Universidad Carlos III de Madrid confirms the incredible complexity and sophistication of spiders' tuning capabilities.
Spiders are nearly blind, and sensors in their legs feel vibrations conveyed by the fibers from which their webs are spun. We've long understood that they can trace the vibrations back to prey ensured in their webs.
But that now seems to be just the beginning, and the way a strand vibrates apparently conveys other information as well. A strand's pitch is determined by its thickness, length, and tension, or how tightly it's being pulled — just like the strings of a guitar, for example — and the Silk Group found that spiders can control these attributes. Oxford lecturer Beth Mortimer told NPR, "The spider can actually pluck or bounce the silk strings, and it can monitor the echoes that come back so it can locate objects."
The new study benefits from the interdisciplinary background of the team that produced it. Silk was measured in the lab using high-powered lasers to pick up the most infinitesimal vibrations. That data then served as the basis of computer models that allowed researchers to experiment with virtual silks. They examined the types of subtle modifications to the silks that spiders produce, and simulated various observed spider behaviors to understand their effect on the silk's vibrations. The conclude that, in addition to tuning, the spiders interact with the silk by touching it in certain ways to affect how it "rings."
Researchers began to see the hyper-sensitive web as an instrument the spider plays — and carefully "listens" to — to make sense of its world. The "music" produced by the web tells the spider about much more than its upcoming meals. It tips it off to the movements of an approaching predator, and it may even provide the spider a first "look" at a prospective mate.
Here's a great video NPR made when the Oxford Silk Group's 2014 report came out.
"You dream about these kinds of moments when you're a kid," said lead paleontologist David Schmidt.
Surprising Science
The triceratops skull was first discovered in 2019, but was excavated over the summer of 2020.
It was discovered in the South Dakota Badlands, an area where the Triceratops roamed some 66 million years ago.
Studying dinosaurs helps scientists better understand the evolution of all life on Earth.
A team of scientists managed to install onto a smartphone a spectrometer that's capable of identifying specific molecules — with cheap parts you can buy online.
Technology & Innovation
Spectroscopy provides a non-invasive way to study the chemical composition of matter.
These techniques analyze the unique ways light interacts with certain materials.
If spectrometers become a common feature of smartphones, it could someday potentially allow anyone to identify pathogens, detect impurities in food, and verify the authenticity of valuable minerals.
The quality of smartphone cameras has increased exponentially over the past decade. Today's smartphone cameras can not only capture photos that rival those of stand-alone camera systems but also offer practical applications, like heart-rate measurement, foreign-text translation, and augmented reality.
What's the next major functionality of smartphone cameras? It could be the ability to identify chemicals, drugs, and biological molecules, according to a new study published in the Review of Scientific Instruments.
The study describes how a team of scientists at Texas A&M turned a common smartphone into a "pocket-sized" Raman and emission spectral detector by modifying it with just $50 worth of extra equipment. With the added hardware, the smartphone was able to identify chemicals in the field within minutes.
The technology could have a wide range of applications, including diagnosing certain diseases, detecting the presence of pathogens and dangerous chemicals, identifying impurities in food, and verifying the authenticity of valuable artwork and minerals.
Raman and fluorescence spectroscopy
Raman and fluorescence spectroscopies are techniques for discerning the chemical composition of materials. Both strategies exploit the fact that light interacts with certain types of matter in unique ways. But there are some differences between the two techniques.
As the name suggests, fluorescence spectroscopy measures the fluorescence — that is, the light emitted by a substance when it absorbs light or other electromagnetic radiation — of a given material. It works by shining light on a material, which excites the electrons within the molecules of the material. The electrons then emit fluorescent light toward a filter that measures fluorescence.
The particular spectra of fluorescent light that's emitted can help scientists detect small concentrations of particular types of biological molecules within a material. But some biomolecules, such as RNA and DNA, don't emit fluorescent light, or they only do so at extremely low levels. That's where Raman spectroscopy comes into play.
Raman spectroscopy involves shooting a laser at a sample and observing how the light scatters. When light hits molecules, the atoms within the molecules vibrate and photons get scattered. Most of the scattered light is of the same wavelength and color as the original light, so it provides no information. But a tiny fraction of the light gets scattered differently; that is, the wavelength and color are different. Known as Raman scattering, this is extremely useful because it provides highly precise information about the chemical composition of the molecule. In other words, all molecules have a unique Raman "fingerprint."
Creating an affordable, pocket-sized spectrometer
To build the spectrometer, the researchers connected a smartphone to a laser and a series of plastic lenses. The smartphone camera was placed facing a transmission diffraction grating, which splits incoming light into its constituent wavelengths and colors. After a laser is fired into a sample, the scattered light is diffracted through this grating, and the smartphone camera analyzes the light on the other side.
Schematic diagram of the designed system.Credit: Dhankhar et al.
To test the spectrometer, the researchers analyzed a range of sample materials, including carrots and bacteria. The laser used in the spectrometer emits a wavelength that's readily absorbed by the pigments in carrots and bacteria, which is why these materials were chosen.

The results showed that the smartphone spectrometer was able to correctly identify the materials, but it wasn't quite as effective as the best commercially available Raman spectrometers. The researchers noted that their system might be improved by using specific High Dynamic Range (HDR) smartphone camera applications.
Ultimately, the study highlights how improving the fundamentals of a technology, like smartphone cameras, can lead to a surprisingly wide range of useful applications.
"This inexpensive yet accurate recording pocket Raman system has the potential of being an integral part of ubiquitous cell phones that will make it possible to identify chemical impurities and pathogens, in situ within minutes," the researchers concluded.
How morally developed are you?
Personal Growth
Lawrence Kohlberg's experiments gave children a series of moral dilemmas to test how they differed in their responses across various ages.
He identified three separate stages of moral development from the egoist to the principled person.
Some people do not progress through all the stages of moral development, which means they will remain "morally undeveloped."
Has your sense of right and wrong changed over the years? Are there things that you see as acceptable today that you'd never dream of doing when you were younger? If you spend time around children, do you notice how starkly different their sense of morality is? How black and white, or egocentric, or oddly rational it can be?
These were questions that Lawrence Kohlberg asked, and his "stages of moral development" dominates a lot of moral psychology today.
The Heinz Dilemma
Kohlberg was curious to see how and why children differed in their ethical judgements, and so he gave roughly 60 children, across a variety of ages, a series of moral dilemmas. They were all given open-ended questions to explain their answers in order to minimize the risk of leading them to a certain response.
For instance, one of the better-known dilemmas involved an old man called Heinz who needed an expensive drug for his dying wife. Heinz only managed to raise half the required money, which the pharmacists wouldn't accept. Unable to afford it, he has only three options. What should he do?
(a) Not steal it because it's breaking the law.
(b) Steal it, and go to jail for breaking the law.
(c) Steal it, but be let off a prison sentence.
What option would you choose?
Stages of Moral Development
Credit: FABRICE COFFRINI via Getty Images
From the answers he got, Kohlberg identified three definite levels or stages of our moral development.

Pre-conventional stage. This is characterized by an ego-centric attitude that seeks pleasure and to prevent pain. The primary motivation is to avoid punishment or claim a reward. In this stage of moral development, "good" is defined as whatever is beneficial to oneself. "Bad" is the opposite. For instance, a young child might share their food with a younger sibling not from kindness or some altruistic impulse but because they know that they'll be praised by their parents (or, perhaps, have their food taken away from them).
In the pre-conventional stage, there is no inherent sense of right and wrong, per se, but rather "good" is associated with reward and "bad" is associated with punishment. At this stage, children are sort of like puppies.
If you spend time around children, do you notice how starkly different their sense of morality is? How black and white, or egocentric, or oddly rational it can be?
Conventional stage. This stage reflects a growing sense of social belonging and hence a higher regard for others. Approval and praise are seen as rewards, and behavior is calibrated to please others, obey the law, and promote the good of the family/tribe/nation. In the conventional stage, a person comes to see themselves as part of a community and that their actions have consequences.
Consequently, this stage is much more rule-focused and comes along with a desire to be seen as good. Image, reputation, and prestige matter the most in motivating good behavior — we want to fit into our community.
Post-conventional stage. In this final stage, there is much more self-reflection and moral reasoning, which gives people the capacity to challenge authority. Committing to principles is considered more important than blindly obeying fixed laws. Importantly, a person comes to understand the difference between what is "legal" and what is "right." Ideas such as justice and fairness start to mature. Laws or rules are no longer equated to morality but might be seen as imperfect manifestations of larger principles.
A lot of moral philosophy is only possible in the post-conventional stage. Theories like utilitarianism or Immanuel Kant's duty-focused ethics ask us to consider what's right or wrong in itself, not just because we get a reward or look good to others. Aristotle perhaps sums it up best when he wrote, "I have gained this from philosophy: that I do without being commanded what others do only from fear of the law."
How morally developed are you?
Kohlberg identified these stages as a developmental progression from early infancy all the way to adulthood, and they map almost perfectly onto Jean Piaget's psychology of child development. For instance, the pre-conventional stage usually lasts from birth to roughly nine years old, the conventional occurs mainly during adolescence, and the post-conventional goes into adulthood.
What's important to note, though, is that this is not a fatalistic timetable to which all humans adhere. Kohlberg thought, for instance, that some people never progress or mature. It's quite possible, maybe, for someone to have no actual moral compass at all (which is sometimes associated with psychopathy).
More commonly, though, we all know people who are resolutely bound to the conventional stage, where they care only for their image or others' judgment. Those who do not develop beyond this stage are usually stubbornly, even aggressively, strict in following the rules or the law. Prepubescent children can be positively authoritarian when it comes to obeying the rules of a board game, for instance.
So, what's your answer to the Heinz dilemma? Where do you fall on Kohlberg's moral development scale? Is he right to view it is a progressive, hierarchical maturing, where we have "better" and "worse" stages? Or could it be that as we grow older, we grow more immoral?
Jonny Thomson teaches philosophy in Oxford. He runs a popular Instagram account called Mini Philosophy (@philosophyminis). His first book is Mini Philosophy: A Small Book of Big Ideas.
Mind & Brain
Dunbar's number is a popular estimate for the maximum size of social groups. But new research suggests that it's a fictitious number based on flimsy data and bad theory.
Scroll down to load more…