How pulling just one all-nighter wreaks havoc on your blood
People who occasionally pull all-nighters are at greater risk for diabetes and other illnesses, and a new study identifies blood proteins as being behind the problem.
23 May, 2018
We recently reported on a study that concluded the main threat to the health of night owls was the blowback they get from "day larks." However, there's apparently a big difference between preferring to simply stay up late and pulling an all-nighter, especially on an irregular basis. A University of Colorado (CU Boulder) and Women's Hospital (BWH) in Boston study of 270,000 people published last February in Diabetes Care found that people who occasionally stay up all night are far more likely to contract Type 2 diabetes—the schedule is also implicated in a higher incidence of cardiovascular disease and cancer. Now, a new study from UC Boulder may have discovered at least part of the reason why: even a single all-nighter messes with your blood chemistry.
---
This makes sense in light of the new CU boulder findings. Its authors enlisted six healthy males in their 20s who spent six days and nights in a setting where their meals, activity, sleep and, light were controlled. For the first two days, the experiment mimicked a normal schedule. The men were then moved to a reverse schedule of sleeping eight hours a day and being active eight hours a night.
Throughout the study, the researchers analyzed the levels and time-of-day-behaviors of 1,129 blood proteins. Study lead author Christopher Depner tells CU Boulder Today, "By the second day of the misalignment we were already starting to see proteins that normally peak during the day peaking at night and vice versa." They ultimately identified 129 proteins whose rhythms were being disrupted by the scheduling.
One of these was glucagon, which manages the release of sugar from the liver into the bloodstream. Glucagon usually hits its highest levels during the day, but for the subjects awake at night, that flipped—not only did the peaks occur at night, but even more concerning was that those peaks indicated abnormally high levels of the protein. This could be what's leading to the increase in diabetes.
The experiment also revealed that the night shifters burned 10% fewer calories during activity, perhaps due to the higher levels of fibroblast growth factor 19 observed—this protein is believed to influence the way in which energy is expended. With weight gain associated with Type 2 diabetes, this could also be a contributing factor.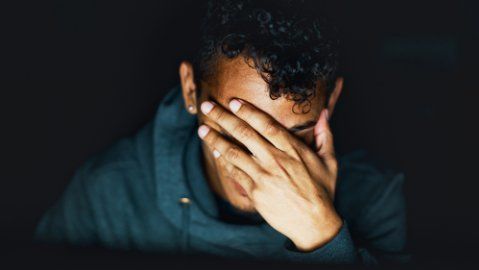 Another interesting finding was that 30 blood proteins are creatures—if we can use that word—of habit, with most of them reaching their highest levels between 2 pm and 9 pm. This suggests that more accurate blood testing for these proteins could be achieved by considering their natural timing when drawing blood. An even more significant takeaway is, "If we know the proteins that the clock regulates, we can adjust the timing of treatments to be in line with those proteins," says Depner.
As for the people most identified as being at risk in these studies, when handed unavoidable irregular night work the best defense, says Celine Vetter of CU Boulder, is to eat right, exercise, and make sure to get plenty of sleep when you can. There's also at least one recent study that suggests you can make up lost ground by sleeping in on weekends.
As religious diversity increases in the United States, we must learn to channel religious identity into interfaith cooperation.
Sponsored by Charles Koch Foundation
Religious diversity is the norm in American life, and that diversity is only increasing, says Eboo Patel.
Using the most painful moment of his life as a lesson, Eboo Patel explains why it's crucial to be positive and proactive about engaging religious identity towards interfaith cooperation.
The opinions expressed in this video do not necessarily reflect the views of the Charles Koch Foundation, which encourages the expression of diverse viewpoints within a culture of civil discourse and mutual respect.
"Having a high level of patience often isn't something that comes naturally; instead, it is something that improves over time"
Personal Growth
You're waiting for the elevator at the office, sitting in a meeting that's late to start, or checking your phone with the hope that a co-worker finally responds to your email.
Here's why you might eat greenhouse gases in the future.
Technology & Innovation
The company's protein powder, "Solein," is similar in form and taste to wheat flour.
Based on a concept developed by NASA, the product has wide potential as a carbon-neutral source of protein.
The man-made "meat" industry just got even more interesting.
When it comes to sniffing out whether a source is credible or not, even journalists can sometimes take the wrong approach.
Sponsored by Charles Koch Foundation
We all think that we're competent consumers of news media, but the research shows that even journalists struggle with identifying fact from fiction.
When judging whether a piece of media is true or not, most of us focus too much on the source itself. Knowledge has a context, and it's important to look at that context when trying to validate a source.
The opinions expressed in this video do not necessarily reflect the views of the Charles Koch Foundation, which encourages the expression of diverse viewpoints within a culture of civil discourse and mutual respect.