The most dangerous jobs in the U.S. by race, gender, and state
The latest data from the U.S. Bureau of Labor statistics reveal a rise in workplace fatalities, including how people are dying, and where they're dying.
31 July, 2018
Between 2015 and 2016, fatal workplace injuries increased by 7%, an alarming statistic. The 5,190 workplace deaths in 2016 weren't all in one career sector or geographical area, either. Some of it is a 23% increase in workplace violence, now the Number Two cause of workplace fatalities in 2016. Overdoses on the job are on the rise, too, with a 32% increase in 2016, and an increase of about 25% each year in fatalities since 2012. Injury Claim Coach has pulled 2015 and 2016 data from the Bureau of Labor Statistics (BLS) and organized it into a series of visualizations that tell the story.
---
What kind injuries are we talking about?
In 2015, the BLS listed workplace fatalities grouped into six categories, with transportation incidents taking the lion's share at 43% of the total.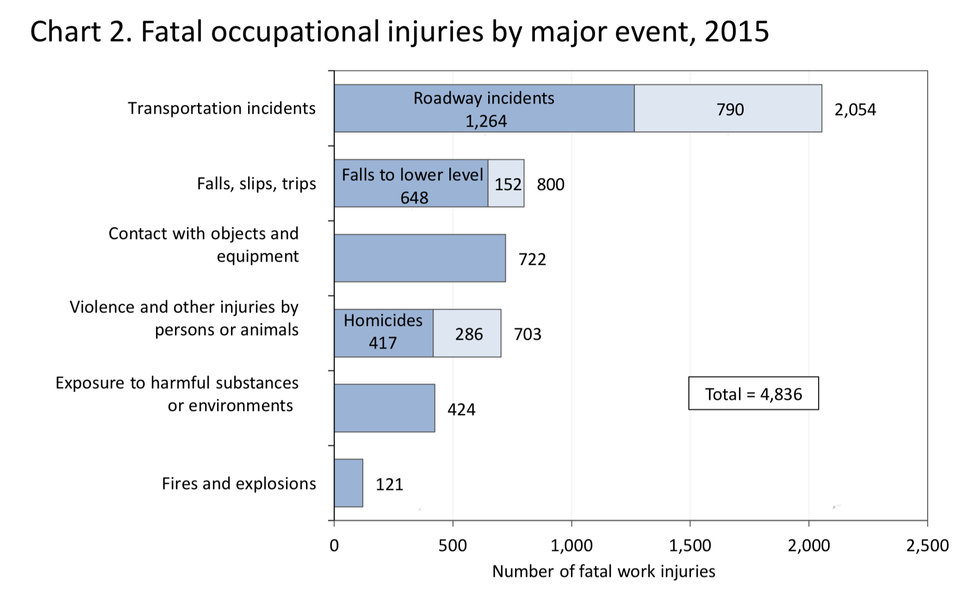 (Source: U.S. Bureau of Labor Statistics)
In the Injury Claim Coach infographics, these categories are represented by the following symbols.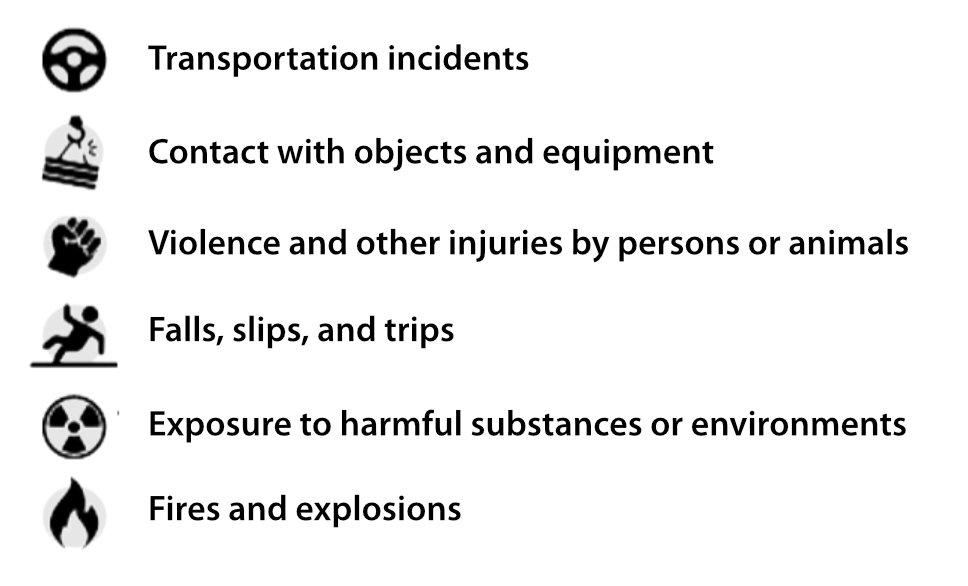 All infographics below are by Injury Claim Coach.
The leading states for each injury category
Here are the states where the majority of each of these types of injuries tend to occur.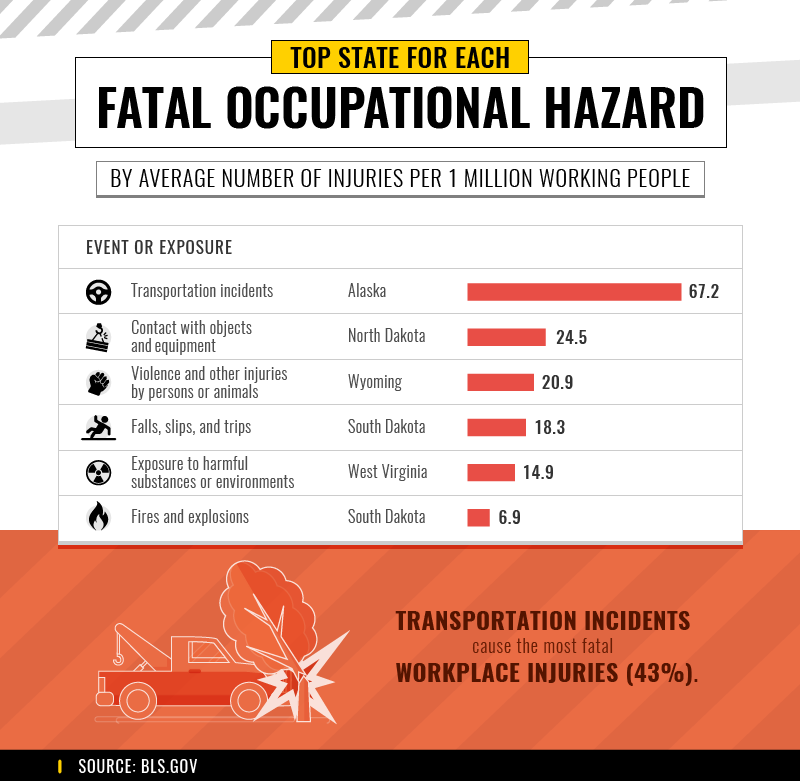 Who gets injured
Male vs female
Watching all of the news reports about workplace shootings doesn't make an important point clearly enough: Women are more than twice as likely to die in these incidents. One in five of the fatalities for women in 2014 were due to homicide, as opposed to less than 1 in 10 for men.
Overall, however, men are 12 times more likely to die at work, mostly due to performing the most dangerous occupations, which we'll get to in a bit.
Here are the top 10 high-risk states for both men and women.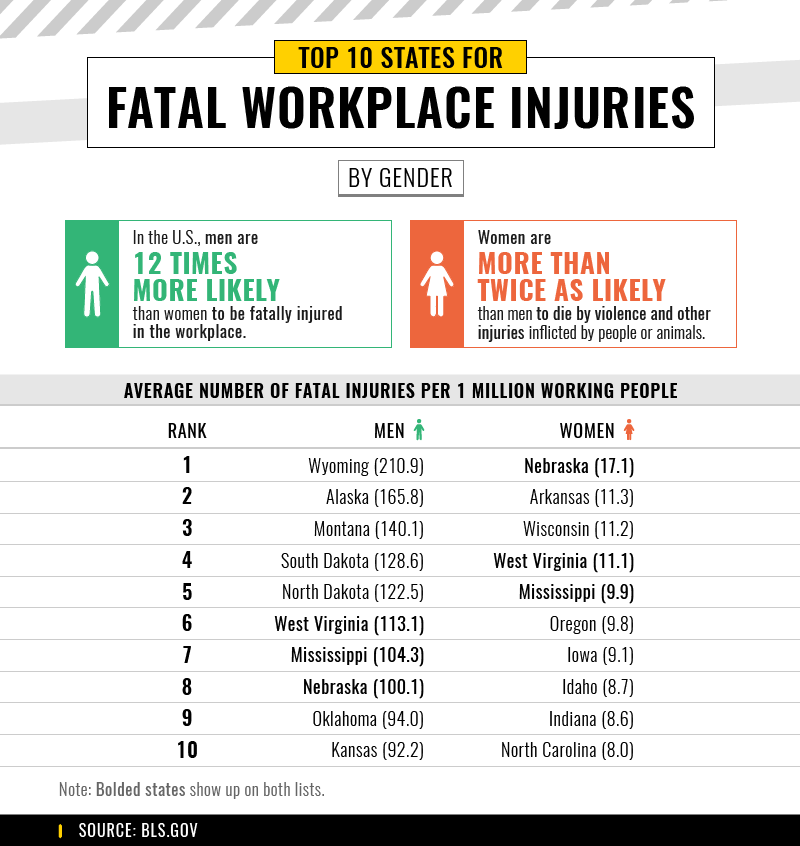 By race or ethnicity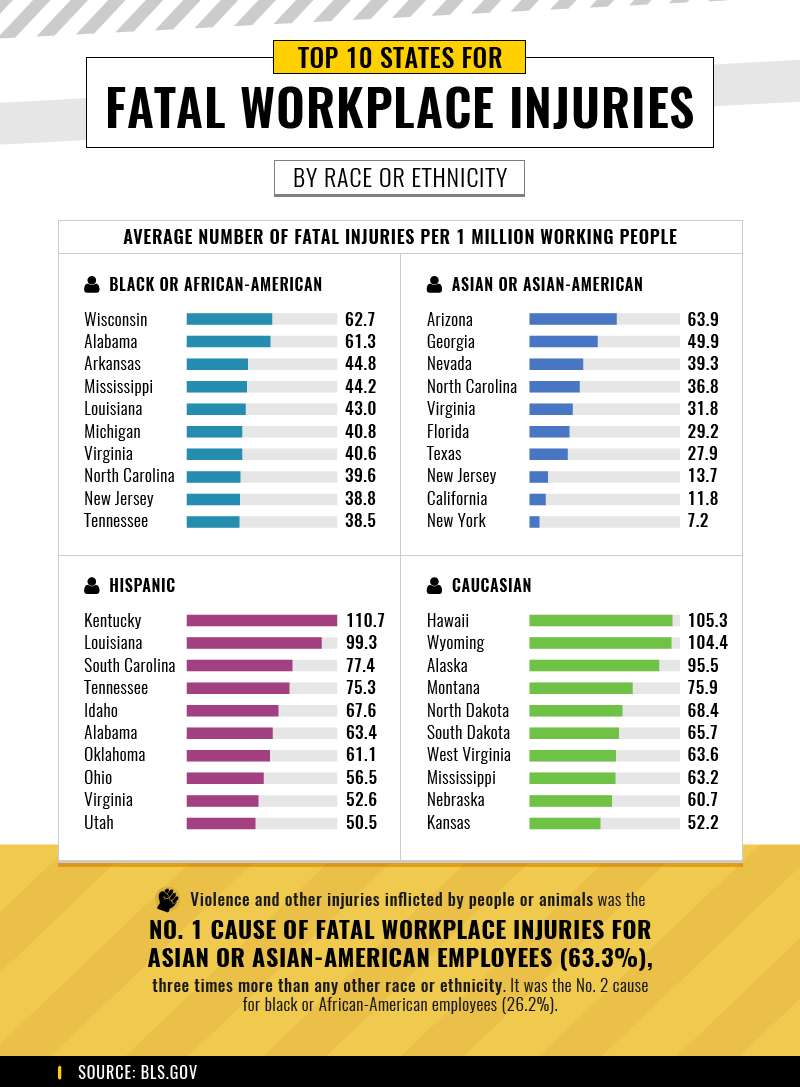 These are the most dangerous states for each race or ethnicity group. Violence is an issue that also kills many Asian and Asian American workers: nearly two out of each three deaths. It's also the second most common way that African-American employees die at work.
Violence by paw, claw, and hoof
So, you may have noticed that violence statistics include acts committed by non-humans. This is mostly the case with cattle, horse, and other farm creatures. Dogs and stinging insects—hornets, wasps, bees—are also frequent killers.
The most dangerous jobs
Overall
Truck drivers were far and away at the most risk of dying while clocked-in during 2016. You wouldn't think of management, the number two deadly gig, as a more dangerous occupation than, say, logging, listed here as only number 13, but it apparently is, along with administrative and waste services.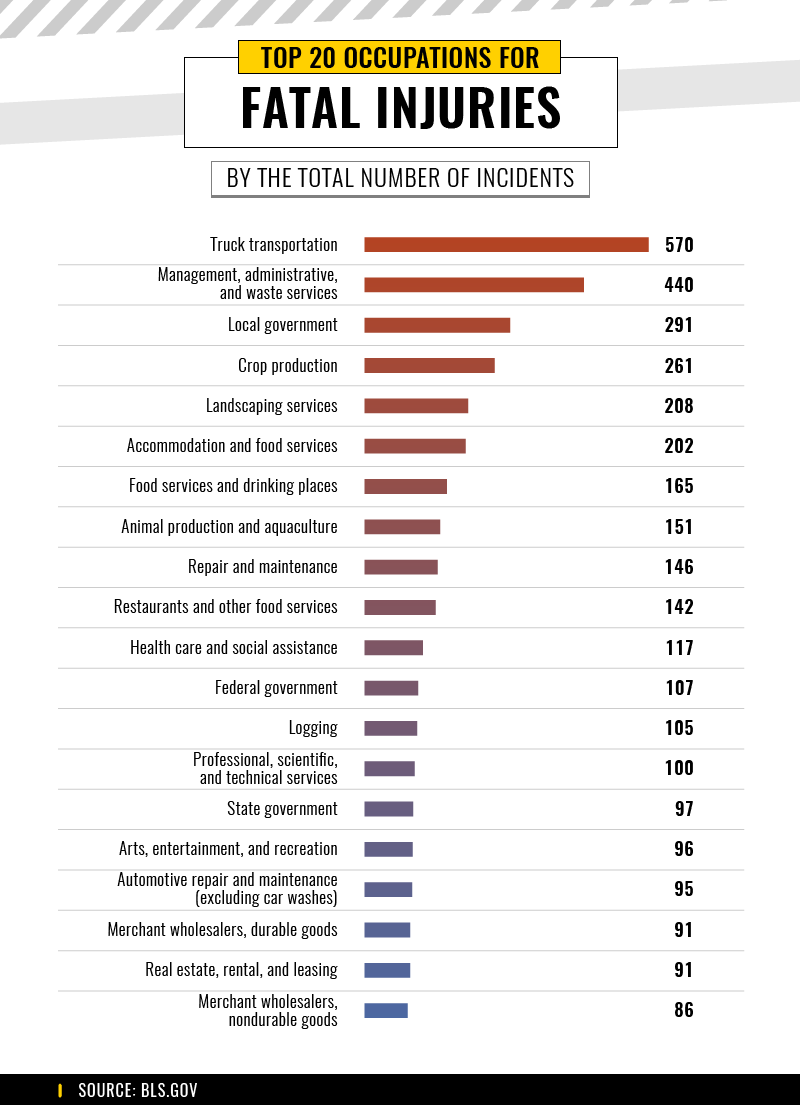 The danger level associated with each job depends on where you are, however. For instance, you don't want to be in service if you work in Maine. Ditto getting into management in Indiana. Construction's dicey in most states.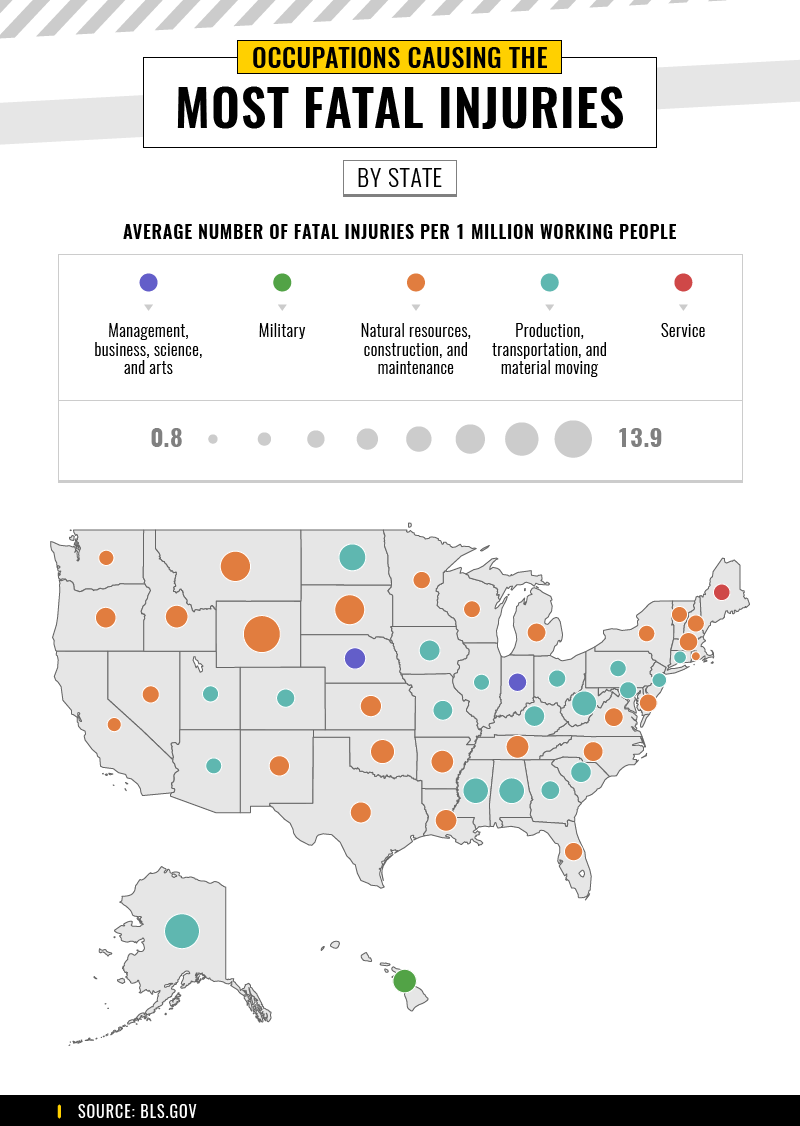 Dangerous jobs by injury category
Construction tops the list in three injury groups. It's a pretty dangerous career. As we said earlier, transportation incidents are the most deadly, so movers and transport operators, AKA truckers, are at even more serious risk.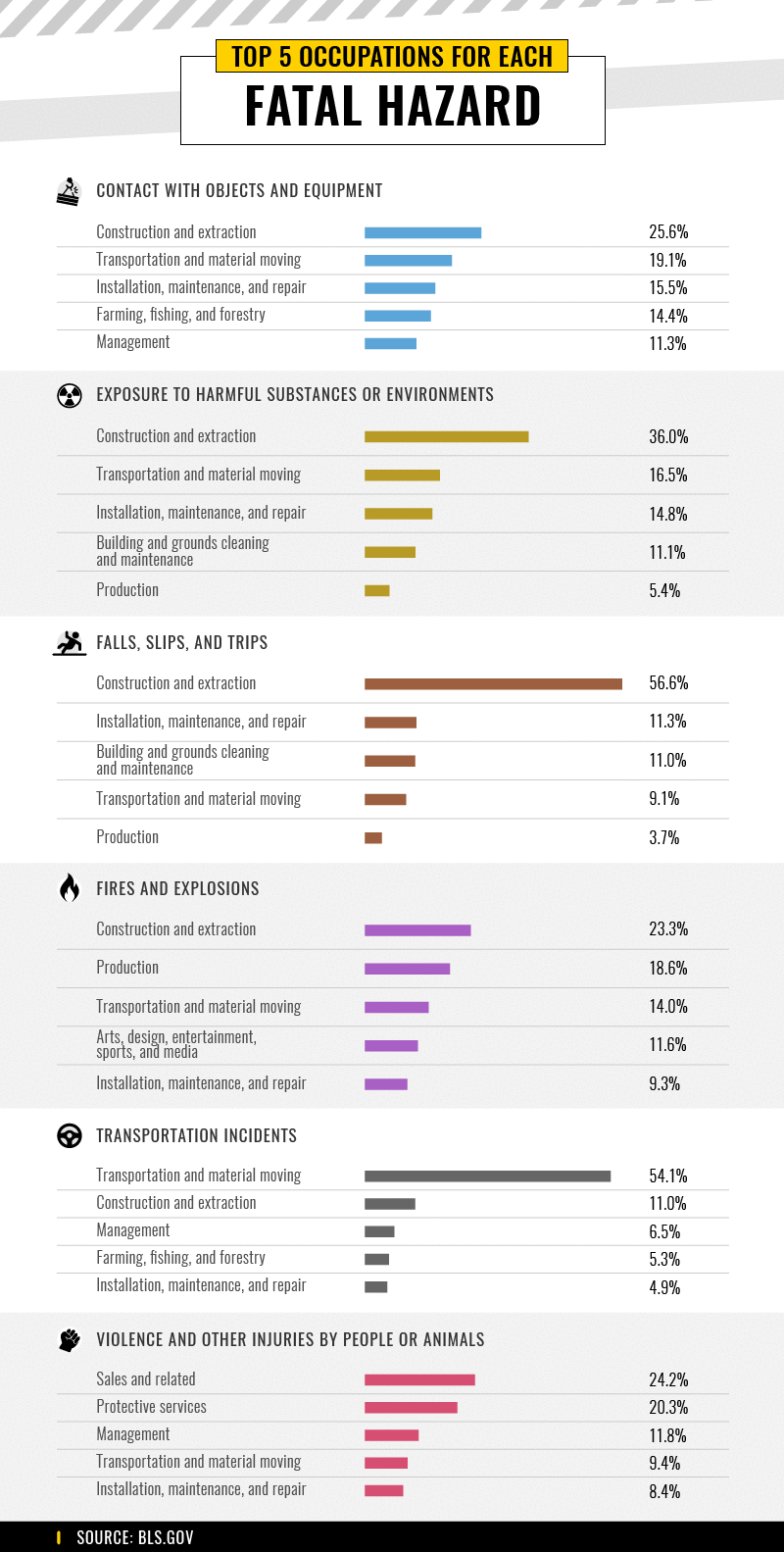 So where is all this dying happening?
Good news, Connecticut. Sorry about this, Wyoming and Hawaii: The number of job deaths per one million workers in your states is the highest in the nation. And those big, wide-open states—with all those highways for transportation mishaps—seem to be the pretty risky, too.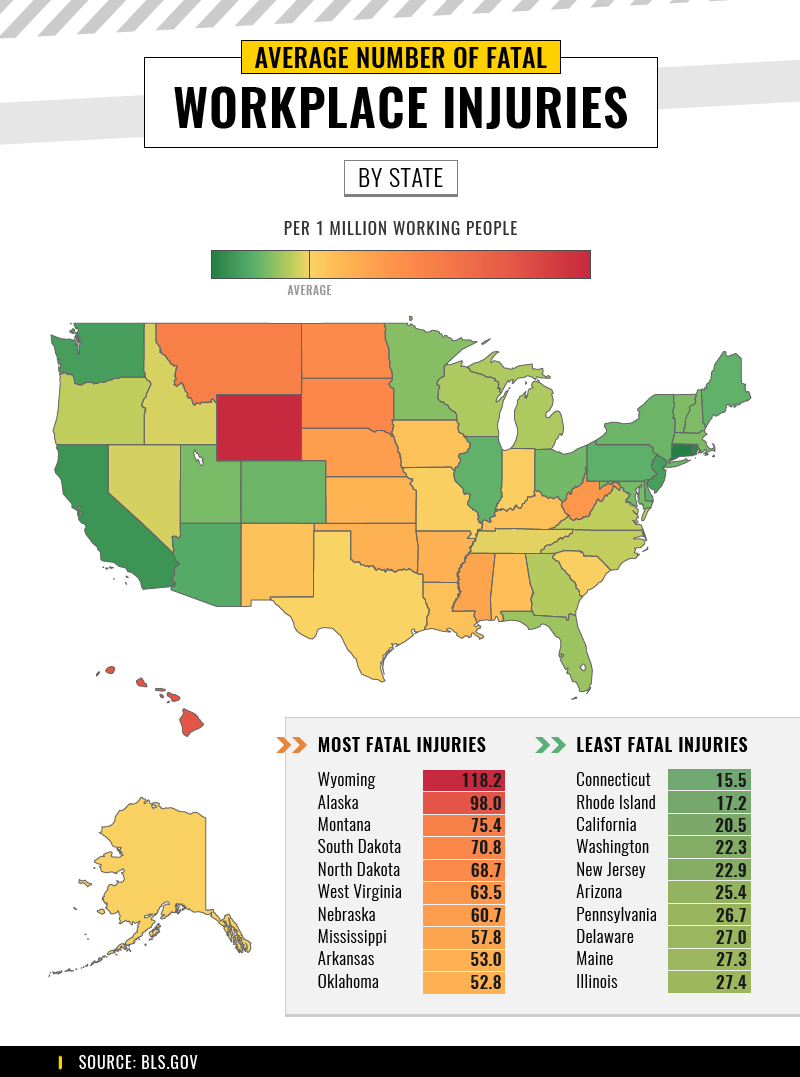 Good career choices
You'd be crazy, of course, to choose a career based on its safety record. It's much better to try to find something you love—or at least don't very much mind—doing. In any event, working safely is something everyone should take care to do.
Still, a career as a merchant wholesaler of nondurable goods s looking better and better.
New research identifies an unexpected source for some of earth's water.
Surprising Science
A lot of Earth's water is asteroidal in origin, but some of it may come from dissolved solar nebula gas.
Our planet hides majority of its water inside: two oceans in the mantle and 4–5 in the core.
New reason to suspect that water is abundant throughout the universe.
Progressive America would be half as big, but twice as populated as its conservative twin.
Image: Dicken Schrader
Strange Maps
America's two political tribes have consolidated into 'red' and 'blue' nations, with seemingly irreconcilable differences.
Perhaps the best way to stop the infighting is to go for a divorce and give the two nations a country each
Based on the UN's partition plan for Israel/Palestine, this proposal provides territorial contiguity and sea access to both 'red' and 'blue' America
SpaceX plans to launch about 12,000 internet-providing satellites into orbit over the next six years.
Technology & Innovation
SpaceX plans to launch 1,600 satellites over the next few years, and to complete its full network over the next six.
Blanketing the globe with wireless internet-providing satellites could have big implications for financial institutions and people in rural areas.
Some are concerned about the proliferation of space debris in Earth's orbit.
Big think's weekly newsletter.
Get smarter faster from the comfort of your inbox.
See our newsletter privacy policy
here
Most Popular
Most Recent
Big think's weekly newsletter.
Get smarter faster from the comfort of your inbox.
See our newsletter privacy policy
here
© Copyright 2007-2018 & BIG THINK, BIG THINK EDGE,
SMARTER FASTER trademarks owned by The Big Think, Inc. All rights reserved.