Earthquakes Have to Do with One Very Specific Part of Fracking
Meet the Cornell scientist who figured out the link between fracking disposal wells and Oklahoma's earthquakes.
26 February, 2017
---
There aren't supposed to be earthquake swarms in Oklahoma, and they were happening all the time. In 2016, there were 632 magnitude 3+ or higher temblors. In 2015, there were 903, 579 in 2014, and 109 in 2013. To say this got the attention of scientists is putting it mildly.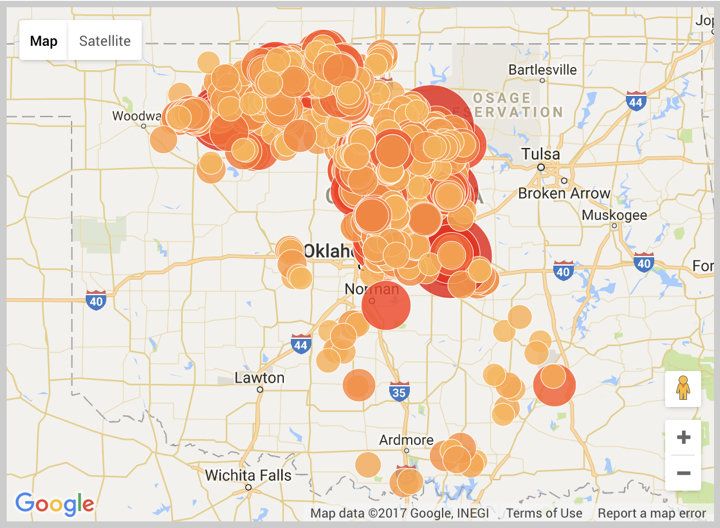 The Richter 3+ quakes since 2010. (EARTHQUAKES.OK.GOV)
Seismologist Katie Keranen of Cornell University was teaching at the time in Oklahoma. As an expert in high-resolution imaging of faults and seismicity, she was uniquely qualified to help investigate the earthquakes swarms that were occurring in many areas in which unconventional methods of oil and gas extraction — fracking — are taking place. An immediate suspect was the water that's injected back into the earth after fracking.
Fracking's the process by which energy companies release natural gas trapped miles beneath the surface in shale. They get to the gas by drilling a well vertically or on an angle from 1 to 2 miles down. At this point, drilling continues horizontally as far as a mile or more. Once the well is in place, a liquid mixture called "slickwater"" is forced down into the shale at very high pressures to fracture the shale, opening fissures from which the gas can escape. The slickwater's pumped out, and then the natural gas.
This slickwater is mostly just water, but 0.5% to 2% of it is comprised of unknown additives that energy companies don't reveal. Each considers this their proprietary "secret sauce," so it's hard to know for sure what's in it. We know that there can be salts, acids, alchohols, detergents, lubricants, and disinfectants. There are also "proppants," clumps of ceramic bits and/or sand that get pushed into the fissures to to prop them open.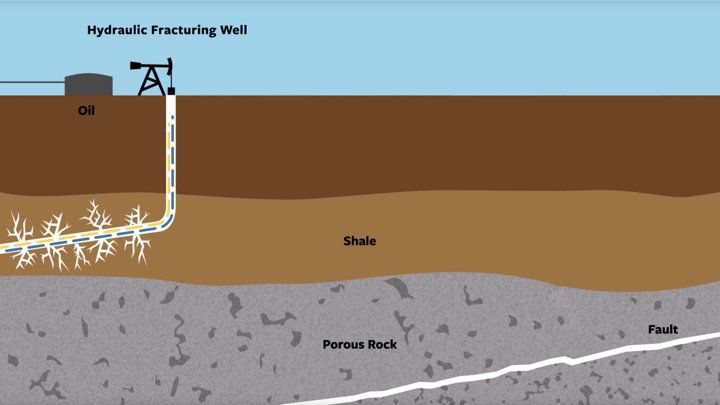 (CORNELL)
When the slickwater returns to the surface, it can carry with it "formation water" — a salty brine released from fractures in the shale that may contain high levels of poisonous radon — as well as other contaminants, such as heavy metals, hydrocarbons, radioactive materials, and other nasty stuff. Studies of drinking-water quality near fracking sites have revealed dangerous levels of methane and other poisons. The wells can also release highly toxic benzene, ethylbenzene, toluene and n-hexane into the air.
But we're talking about the earthquakes. And they have to do with what happens to the recovered slickwater: Companies inject it into disposal wells that push it down deep into the ground. And we're talking a lot of water. According to geology professor Todd Halihan, speaking with The New Yorker, "We're talking about billions of barrels, and it has to go somewhere."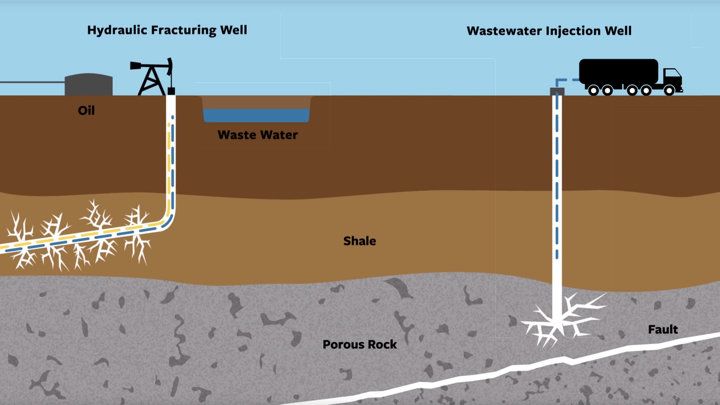 (CORNELL)
Keranen and her team, following up on their suspicions, placed seismological sensors near disposal wells and began collecting data and using computer modeling to figure out where the water was ending up. They were interested in seeing if those locations, where the introduced water would be increasing pressure underground, corresponded to the earthquake locations. They did.
"When that pressure rises against a fault, you can basically trigger the fault to slip, and that's an earthquake," says Keranen.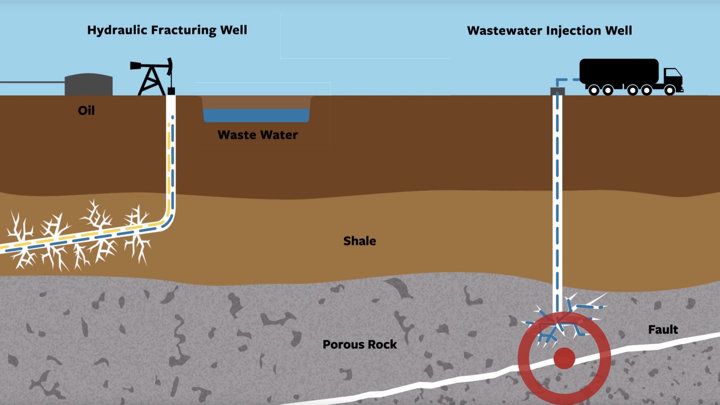 (CORNELL)
She published her findings in 2014 in Science in a article whose title stated the case plainly: "Sharp increase in central Oklahoma seismicity since 2008 induced by massive wastewater injection." Keranen was one of the first scientists to demonstrate the link between wastewater injection and earthquakes, and there's general agreement in the scientific community that she's got it right. Several earthquake-experiencing states — Pennsylvania, Arkansas, Colorado, Kansas, and Texas — have found that earthquakes stopped where they shut down, or reduced the amount of water injected into, disposal wells.
Of course, there remains resistance to Keranen's findings from the companies benefiting from fracking, but little by little, they're coming around. People are trying to find a less- destructive way to deal with water from fracking.
Keranen and her students are continuing to place sensors in the ground and pore carefully over the resulting data to see if they can get better at predicting earthquakes, the Holy Grail of seismology. In particular, they're trying to establish a meaningful correspondence between small temblors and subsequent large quakes.
What can 3D printing do for medicine? The "sky is the limit," says Northwell Health researcher Dr. Todd Goldstein.
Northwell Health
Sponsored by Northwell Health
Medical professionals are currently using 3D printers to create prosthetics and patient-specific organ models that doctors can use to prepare for surgery.
Eventually, scientists hope to print patient-specific organs that can be transplanted safely into the human body.
Northwell Health, New York State's largest health care provider, is pioneering 3D printing in medicine in three key ways.
The periodic table was a lot simpler at the beginning of the universe.
The controversial herbicide is everywhere, apparently.
Surprising Science
U.S. PIRG tested 20 beers and wines, including organics, and found Roundup's active ingredient in almost all of them.
A jury on August 2018 awarded a non-Hodgkin's lymphoma victim $289 million in Roundup damages.
Bayer/Monsanto says Roundup is totally safe. Others disagree.
Can dirt help us fight off stress? Groundbreaking new research shows how.
University of Colorado Boulder
Surprising Science
New research identifies a bacterium that helps block anxiety.
Scientists say this can lead to drugs for first responders and soldiers, preventing PTSD and other mental issues.
The finding builds on the hygiene hypothesis, first proposed in 1989.
Are modern societies trying too hard to be clean, at the detriment to public health? Scientists discovered that a microorganism living in dirt can actually be good for us, potentially helping the body to fight off stress. Harnessing its powers can lead to a "stress vaccine".
Researchers at the University of Colorado Boulder found that the fatty 10(Z)-hexadecenoic acid from the soil-residing bacterium Mycobacterium vaccae aids immune cells in blocking pathways that increase inflammation and the ability to combat stress.
The study's senior author and Integrative Physiology Professor Christopher Lowry described this fat as "one of the main ingredients" in the "special sauce" that causes the beneficial effects of the bacterium.
The finding goes hand in hand with the "hygiene hypothesis," initially proposed in 1989 by the British scientist David Strachan. He maintained that our generally sterile modern world prevents children from being exposed to certain microorganisms, resulting in compromised immune systems and greater incidences of asthma and allergies.
Contemporary research fine-tuned the hypothesis, finding that not interacting with so-called "old friends" or helpful microbes in the soil and the environment, rather than the ones that cause illnesses, is what's detrimental. In particular, our mental health could be at stake.
"The idea is that as humans have moved away from farms and an agricultural or hunter-gatherer existence into cities, we have lost contact with organisms that served to regulate our immune system and suppress inappropriate inflammation," explained Lowry. "That has put us at higher risk for inflammatory disease and stress-related psychiatric disorders."
University of Colorado Boulder
Christopher Lowry
This is not the first study on the subject from Lowry, who published previous work showing the connection between being exposed to healthy bacteria and mental health. He found that being raised with animals and dust in a rural environment helps children develop more stress-proof immune systems. Such kids were also likely to be less at risk for mental illnesses than people living in the city without pets.
Lowry's other work also pointed out that the soil-based bacterium Mycobacterium vaccae acts like an antidepressant when injected into rodents. It alters their behavior and has lasting anti-inflammatory effects on the brain, according to the press release from the University of Colorado Boulder. Prolonged inflammation can lead to such stress-related disorders as PTSD.
The new study from Lowry and his team identified why that worked by pinpointing the specific fatty acid responsible. They showed that when the 10(Z)-hexadecenoic acid gets into cells, it works like a lock, attaching itself to the peroxisome proliferator-activated receptor (PPAR). This allows it to block a number of key pathways responsible for inflammation. Pre-treating the cells with the acid (or lipid) made them withstand inflammation better.
Lowry thinks this understanding can lead to creating a "stress vaccine" that can be given to people in high-stress jobs, like first responders or soldiers. The vaccine can prevent the psychological effects of stress.
What's more, this friendly bacterium is not the only potentially helpful organism we can find in soil.
"This is just one strain of one species of one type of bacterium that is found in the soil but there are millions of other strains in soils," said Lowry. "We are just beginning to see the tip of the iceberg in terms of identifying the mechanisms through which they have evolved to keep us healthy. It should inspire awe in all of us."
Check out the study published in the journal Psychopharmacology.
Big think's weekly newsletter.
Get smarter faster from the comfort of your inbox.
See our newsletter privacy policy
here
Most Popular
Most Recent
Big think's weekly newsletter.
Get smarter faster from the comfort of your inbox.
See our newsletter privacy policy
here
© Copyright 2007-2019 & BIG THINK, BIG THINK EDGE,
SMARTER FASTER trademarks owned by The Big Think, Inc. All rights reserved.