Earthquakes Have to Do with One Very Specific Part of Fracking
Meet the Cornell scientist who figured out the link between fracking disposal wells and Oklahoma's earthquakes.
26 February, 2017
---
There aren't supposed to be earthquake swarms in Oklahoma, and they were happening all the time. In 2016, there were 632 magnitude 3+ or higher temblors. In 2015, there were 903, 579 in 2014, and 109 in 2013. To say this got the attention of scientists is putting it mildly.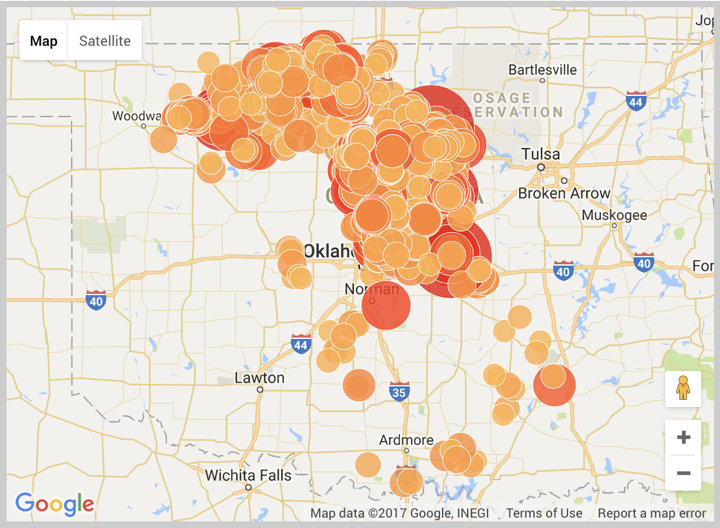 The Richter 3+ quakes since 2010. (EARTHQUAKES.OK.GOV)
Seismologist Katie Keranen of Cornell University was teaching at the time in Oklahoma. As an expert in high-resolution imaging of faults and seismicity, she was uniquely qualified to help investigate the earthquakes swarms that were occurring in many areas in which unconventional methods of oil and gas extraction — fracking — are taking place. An immediate suspect was the water that's injected back into the earth after fracking. 
Fracking's the process by which energy companies release natural gas trapped miles beneath the surface in shale. They get to the gas by drilling a well vertically or on an angle from 1 to 2 miles down. At this point, drilling continues horizontally as far as a mile or more. Once the well is in place, a liquid mixture called "slickwater"" is forced down into the shale at very high pressures to fracture the shale, opening fissures from which the gas can escape. The slickwater's pumped out, and then the natural gas.
This slickwater is mostly just water, but 0.5% to 2% of it is comprised of unknown additives that energy companies don't reveal. Each considers this their proprietary "secret sauce," so it's hard to know for sure what's in it. We know that there can be salts, acids, alchohols, detergents, lubricants, and disinfectants. There are also "proppants," clumps of ceramic bits and/or sand that get pushed into the fissures to to prop them open.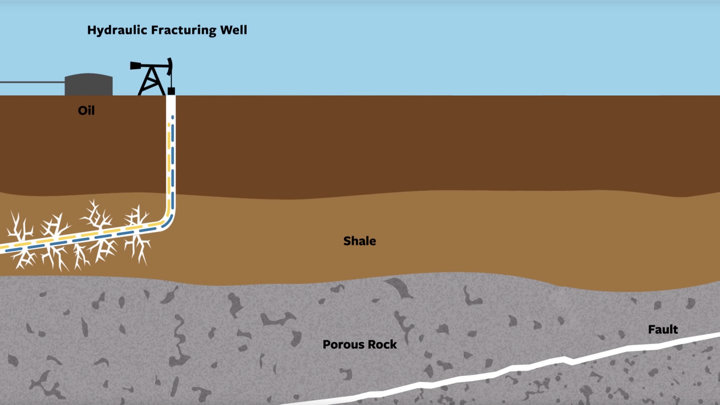 (CORNELL)
When the slickwater returns to the surface, it can carry with it "formation water" — a salty brine released from fractures in the shale that may contain high levels of poisonous radon — as well as other contaminants, such as heavy metals, hydrocarbons, radioactive materials, and other nasty stuff. Studies of drinking-water quality near fracking sites have revealed dangerous levels of methane and other poisons. The wells can also release highly toxic benzene, ethylbenzene, toluene and n-hexane into the air.
But we're talking about the earthquakes. And they have to do with what happens to the recovered slickwater: Companies inject it into disposal wells that push it down deep into the ground. And we're talking a lot of water. According to geology professor Todd Halihan, speaking with The New Yorker, "We're talking about billions of barrels, and it has to go somewhere."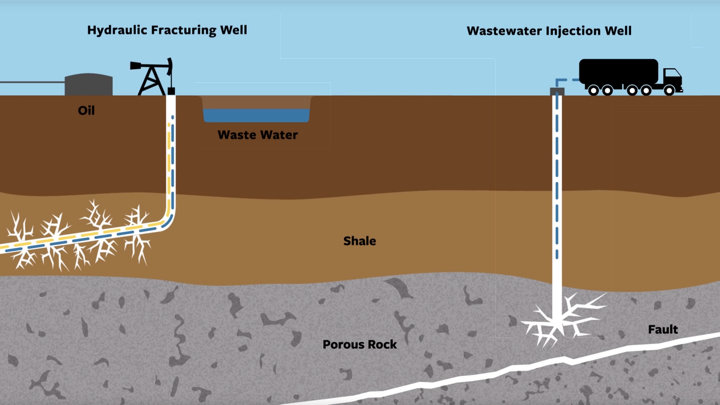 (CORNELL)
Keranen and her team, following up on their suspicions, placed seismological sensors near disposal wells and began collecting data and using computer modeling to figure out where the water was ending up. They were interested in seeing if those locations, where the introduced water would be increasing pressure underground, corresponded to the earthquake locations. They did.
"When that pressure rises against a fault, you can basically trigger the fault to slip, and that's an earthquake," says Keranen.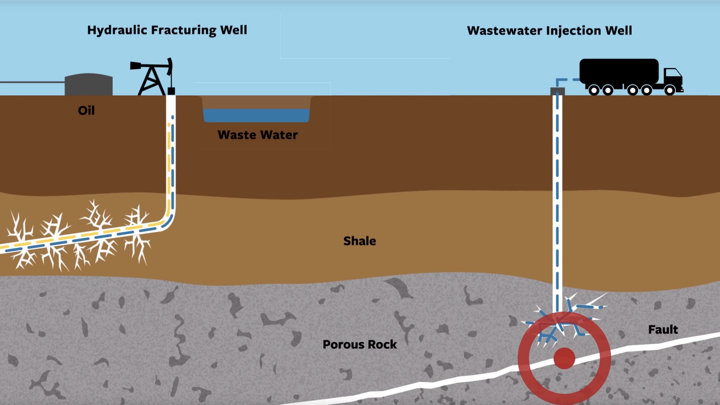 SCREENSHOT3 (CORNELL)
She published her findings in 2014 in Science in a article whose title stated the case plainly: "Sharp increase in central Oklahoma seismicity since 2008 induced by massive wastewater injection." Keranen was one of the first scientists to demonstrate the link between wastewater injection and earthquakes, and there's general agreement in the scientific community that she's got it right. Several earthquake-experiencing states — Pennsylvania, Arkansas, Colorado, Kansas, and Texas — have found that earthquakes stopped where they shut down, or reduced the amount of water injected into, disposal wells.
Of course, there remains resistance to Keranen's findings from the companies benefiting from fracking, but little by little, they're coming around. People are trying to find a less- destructive way to deal with water from fracking.
Keranen and her students are continuing to place sensors in the ground and pore carefully over the resulting data to see if they can get better at predicting earthquakes, the Holy Grail of seismology. In particular, they're trying to establish a meaningful correspondence between small temblors and subsequent large quakes.
Here's the science of black holes, from supermassive monsters to ones the size of ping-pong balls.
Videos
There's more than one way to make a black hole, says NASA's Michelle Thaller. They're not always formed from dead stars. For example, there are teeny tiny black holes all around us, the result of high-energy cosmic rays slamming into our atmosphere with enough force to cram matter together so densely that no light can escape.
CERN is trying to create artificial black holes right now, but don't worry, it's not dangerous. Scientists there are attempting to smash two particles together with such intensity that it creates a black hole that would live for just a millionth of a second.
Thaller uses a brilliant analogy involving a rubber sheet, a marble, and an elephant to explain why different black holes have varying densities. Watch and learn!
Bonus fact: If the Earth became a black hole, it would be crushed to the size of a ping-pong ball.
From time-traveling billiard balls to information-destroying black holes, the world's got plenty of puzzles that are hard to wrap your head around.
Big Think
Surprising Science
While it's one of the best on Earth, the human brain has a lot of trouble accounting for certain problems.
We've evolved to think of reality in a very specific way, but there are plenty of paradoxes out there to suggest that reality doesn't work quite the way we think it does.
Considering these paradoxes is a great way to come to grips with how incomplete our understanding of the universe really is.
In a breakthrough for nuclear fusion research, scientists at China's Experimental Advanced Superconducting Tokamak (EAST) reactor have produced temperatures necessary for nuclear fusion on Earth.
Credit: EAST Team
Surprising Science
The EAST reactor was able to heat hydrogen to temperatures exceeding 100 million degrees Celsius.
Nuclear fusion could someday provide the planet with a virtually limitless supply of clean energy.
Still, scientists have many other obstacles to pass before fusion technology becomes a viable energy source.
Big think's weekly newsletter.
Get smarter faster from the comfort of your inbox.
See our newsletter privacy policy
here
Most Popular
Most Recent
Big think's weekly newsletter.
Get smarter faster from the comfort of your inbox.
See our newsletter privacy policy
here
© Copyright 2007-2018 & BIG THINK, BIG THINK EDGE,
SMARTER FASTER trademarks owned by The Big Think, Inc. All rights reserved.