Astronomers find galaxy unchanged since early universe
Galaxy NGC 1277 is revealed as a relic galaxy that's barely changed since it formed 10 billion years ago, giving scientists a rare chance to look into the past.
13 June, 2018
Hubble finds relic galaxy NCG 1277 (Credit: NASA, ESA, M. Beasley, and P. Kehusmaa)
When Michael Beasley and Ignacio Trujillo of Instituto de Astrofísica de Canarias wrote a proposal meant to get them some observation time on the Hubble Space Telescope, they had a pretty good idea of what they'd see: a "relic galaxy" largely unchanged from the time it formed. Such pristine exemplars of the deep past are quite rare, estimated to consist of only about one in a thousand galaxies. The two thought they had a good candidate in the Perseid cluster's NGC 1277, and it turns out they were right.
---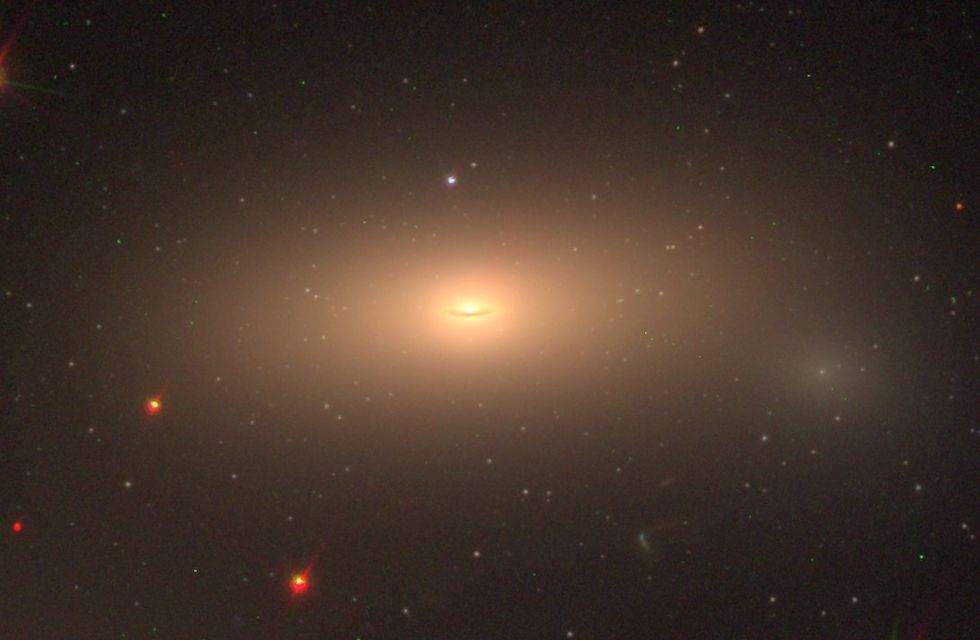 Galaxy NGC 1277 (Credit: NASA, ESA, and M. Beasley)
How the relic was spotted
The scientists were tipped off by the relative redness of NGC 1277's globular clusters, which are groups of stars. These typically come in two colors. Red globular clusters are formed at a galaxy's birth, are nearer the center of the galaxy, and have higher concentrations of helium. Blue globular clusters are the bits of smaller galaxies that have been absorbed by the larger one over time. The fact that NGC 1277 has so little in the way of blue clusters suggests that it's remained essentially unchanged from its initial state. Our own Milky Way has a mix of red and blue globular clusters resulting from our ongoing cannibalization of other galaxies we encounter as we move through space.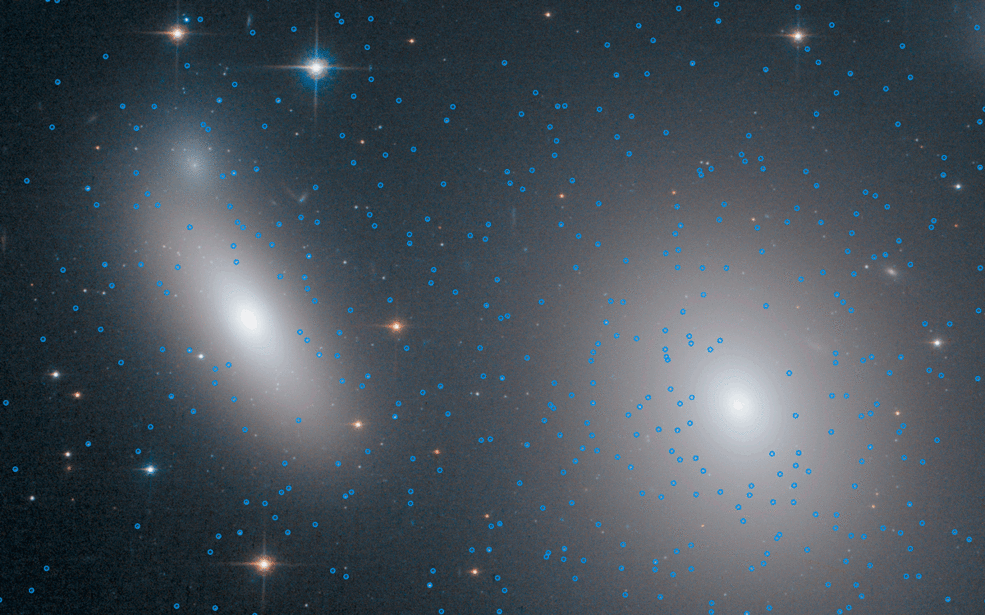 NGC 1277, on the left, has few blue globular clusters near its heart. NGC 1278, on the other hand, has plenty. (Credit: NASA, ESA, and Z. Levay)
A major peek at the past
NGC 1277 offers scientists an extraordinary opportunity to learn more about the nature of galaxies when they're young, even if NGC 1277 itself is 10 billion years old. As NASA puts it, the galaxy's in a state of "arrested development." "I've been studying globular clusters in galaxies for a long time, and this is the first time I've ever seen this," says Beasley, noting, "this is the first time a galaxy so massive has been observed with so few blue globular clusters." It's also (relatively) nearby—about 240 million light years away—making it an even more valuable find. "We can explore such original galaxies in full detail and probe the conditions of the early universe," says Trujillo.
Right in the neighborhood
NGC 1277 is located in the Perseid cluster, which contains more than a thousand galaxies, some no doubt smaller than NGC 1277, but scientists think that NGC 1277 is simply moving too fast at two million miles per hour to absorb any galaxies it's racing through. It's only about a quarter the size of our own galaxy but has twice as many stars, so there's plenty to look at.

Here's how to get to NGC 1277. (NASA Video)
Beasley and Trujillo have identified 10 other possible relic galaxies in addition to NGC 1277. With the upcoming launch of the James Webb Space Telescope in 2019, they expect to be able to get a closer look at their find and be able to track the ways its globular clusters move. They also hope to be able to figure out the amount of dark matter the galaxy contains.
Universities claim to prepare students for the world. How many actually do it?
Sponsored by Charles Koch Foundation
Many university mission statements do not live up to their promise, writes Ben Nelson, founder of Minerva, a university designed to develop intellect over content memorization.
The core competencies that students need for success—critical thinking, communication, problem solving, and cross-cultural understanding, for example—should be intentionally taught, not left to chance.
These competencies can be summed up with one word: wisdom. True wisdom is the ability to apply one's knowledge appropriately when faced with novel situations.
This is what the world will look like, 250 million years from now
On Pangaea Proxima, Lagos will be north of New York, and Cape Town close to Mexico City
Surprising Science
To us humans, the shape and location of oceans and continents seems fixed. But that's only because our lives are so short.
A new study may help us better understand how children build social cognition through caregiver interaction.
Personal Growth
Scientists speculate imitation helps develop social cognition in babies.
A new study out of Lund University shows that six-month-olds look and smile more at imitating adults.
Researchers hope the data will spur future studies to discover what role caregiver imitation plays in social cognition development.
Researchers at UT Southwestern noted a 47 percent increase in blood flow to regions associated with memory.
Photo: Johannes Eisele/AFP via Getty Images
Surprising Science
Researchers at UT Southwestern observed a stark improvement in memory after cardiovascular exercise.
The year-long study included 30 seniors who all had some form of memory impairment.
The group of seniors that only stretched for a year did not fair as well in memory tests.
Videos
According to a man that knows more than 20 languages, the key is to start in the middle.
Scroll down to load more…