Almost Half of What's In a Chromosome Is Still a Mystery
Scientists discover that up to 47% of chromosomes isn't chromatins after all.
23 November, 2016
---
While it's true that every chromosome contains some of 25,000 genes, it now turns out to be the case that this is only a little more than half the story. Computer modeling has revealed that up to 47% of each chromosome is an enigmatic sheath-like substance called the "chromosome periphery," something about which little is known. That's because it's almost impossible to get a good look at actual chromosomes.
Chromosomes were discovered in 1882 and still remain puzzling, largely because they're not visible within a cell's nucleus unless we happen to be watching as a cell is dividing, through mitosis or meiosis. During cell division, chromosomes become "supercoiled" and can be seen under a microscope.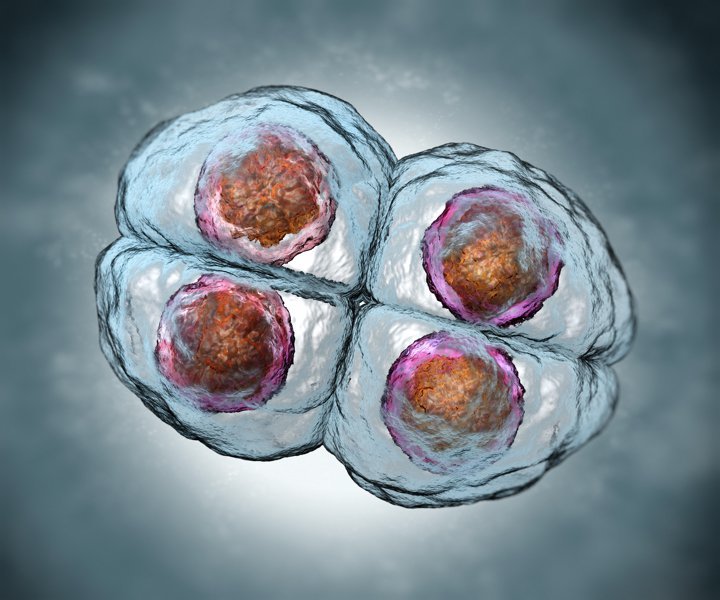 Mitosis (TATIANA SHEPELEVA)
Observing chromosomes in this one very specific state has shown that they're comprised of DNA along with histone proteins, or chromatin. While scientists have caught glimpses of the chromosome periphery in the past, they haven't been able to deduce much about it. After all, they've never gotten a good look at chromosomes when they're not dividing, which is to say much of the time. 
Now scientists at University of Edinburgh in Scotland have invented a way of modeling all 46 human chromosomes in high-resolution 3D. Their system is called 3D-CLEM, and it uses light and electron microscopy to source data for highly accurate models of these tiny objects.
A member of the team, Daniel Booth, told phys.org, "Defining the structure of all 46 human chromosomes for the first time has forced us to reconsider the idea that they are composed almost exclusively of chromatin — an assumption that has gone largely unchallenged for almost 100 years."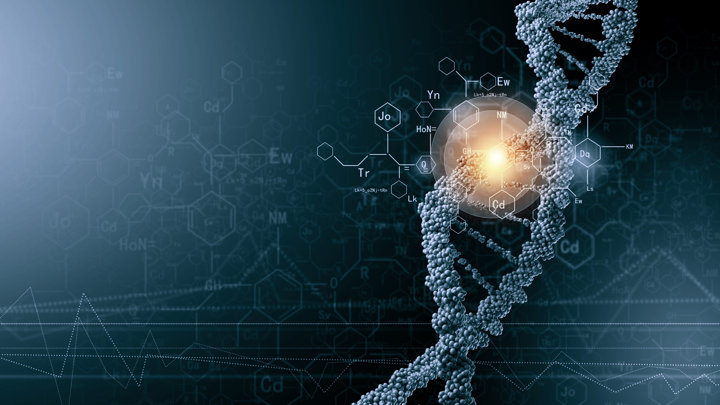 Artist's conception of DNA (SERGEI NIVENS)
It looks like chromatin do make up from 53% to 70% of chromosomes, but the rests is the mysterious chromosome periphery. Earlier research by Booth suggests that the chromosome periphery requires the presence of the protein Ki-67 that's believed to act as a surfactant that keeps chromosomes from clumping together. This would assign the chromosome periphery a critical job in managing cell division without errors, errors that could result in birth defects and cancer.
Giving our solar system a "slap in the face"
Surprising Science
A stream of galactic debris is hurtling at us, pulling dark matter along with it
It's traveling so quickly it's been described as a hurricane of dark matter
Scientists are excited to set their particle detectors at the onslffaught
Bernardo Kastrup proposes a new ontology he calls "idealism" built on panpsychism, the idea that everything in the universe contains consciousness. He solves problems with this philosophy by adding a new suggestion: The universal mind has dissociative identity disorder.
We're all one mind in "idealism." (Credit: Alex Grey)
Mind & Brain
There's a reason they call it the "hard problem." Consciousness: Where is it? What is it? No one single perspective seems to be able to answer all the questions we have about consciousness. Now Bernardo Kastrup thinks he's found one. He calls his ontology idealism, and according to idealism, all of us and all we perceive are manifestations of something very much like a cosmic-scale dissociative identity disorder (DID). He suggests there's an all-encompassing universe-wide consciousness, it has multiple personalities, and we're them.
Once again, our circadian rhythm points the way.
Photo: Victor Freitas / Unsplash
Surprising Science
Seven individuals were locked inside a windowless, internetless room for 37 days.
While at rest, they burned 130 more calories at 5 p.m. than at 5 a.m.
Morning time again shown not to be the best time to eat.
Big think's weekly newsletter.
Get smarter faster from the comfort of your inbox.
See our newsletter privacy policy
here
Most Popular
Most Recent
Big think's weekly newsletter.
Get smarter faster from the comfort of your inbox.
See our newsletter privacy policy
here
© Copyright 2007-2018 & BIG THINK, BIG THINK EDGE,
SMARTER FASTER trademarks owned by The Big Think, Inc. All rights reserved.