Almost Half of What's In a Chromosome Is Still a Mystery
Scientists discover that up to 47% of chromosomes isn't chromatins after all.
23 November, 2016
---
While it's true that every chromosome contains some of 25,000 genes, it now turns out to be the case that this is only a little more than half the story. Computer modeling has revealed that up to 47% of each chromosome is an enigmatic sheath-like substance called the "chromosome periphery," something about which little is known. That's because it's almost impossible to get a good look at actual chromosomes.
Chromosomes were discovered in 1882 and still remain puzzling, largely because they're not visible within a cell's nucleus unless we happen to be watching as a cell is dividing, through mitosis or meiosis. During cell division, chromosomes become "supercoiled" and can be seen under a microscope.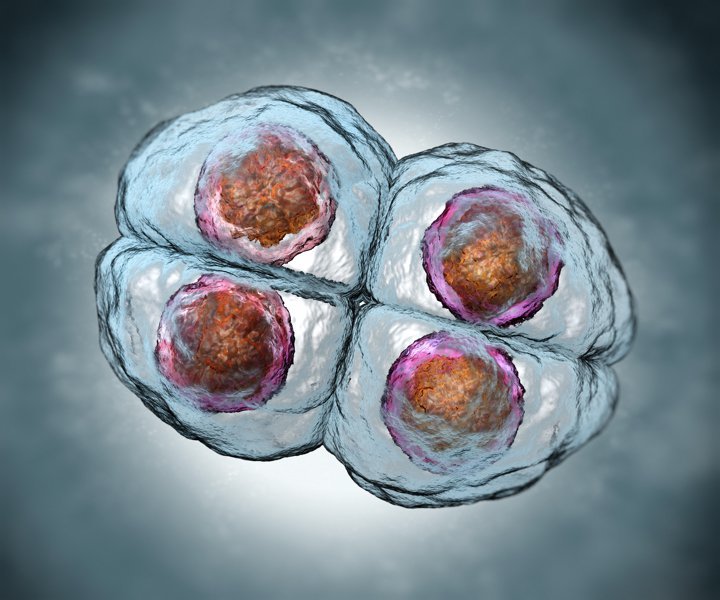 Mitosis (TATIANA SHEPELEVA)
Observing chromosomes in this one very specific state has shown that they're comprised of DNA along with histone proteins, or chromatin. While scientists have caught glimpses of the chromosome periphery in the past, they haven't been able to deduce much about it. After all, they've never gotten a good look at chromosomes when they're not dividing, which is to say much of the time. 
Now scientists at University of Edinburgh in Scotland have invented a way of modeling all 46 human chromosomes in high-resolution 3D. Their system is called 3D-CLEM, and it uses light and electron microscopy to source data for highly accurate models of these tiny objects.
A member of the team, Daniel Booth, told phys.org, "Defining the structure of all 46 human chromosomes for the first time has forced us to reconsider the idea that they are composed almost exclusively of chromatin — an assumption that has gone largely unchallenged for almost 100 years."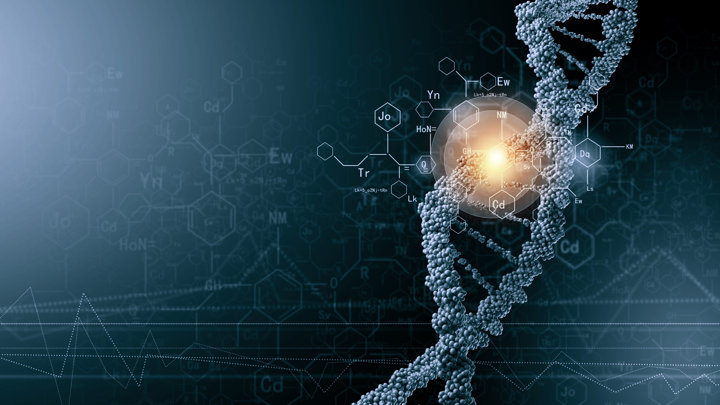 Artist's conception of DNA (SERGEI NIVENS)
It looks like chromatin do make up from 53% to 70% of chromosomes, but the rests is the mysterious chromosome periphery. Earlier research by Booth suggests that the chromosome periphery requires the presence of the protein Ki-67 that's believed to act as a surfactant that keeps chromosomes from clumping together. This would assign the chromosome periphery a critical job in managing cell division without errors, errors that could result in birth defects and cancer.
Related Articles
Scientists have developed new ways of understanding how the biological forces of death drive important life processes.
Surprising Science
Researchers have found new ways on how decomposing plants and animals contribute to the life cycle.
After a freak mass herd death of 300 reindeer, scientists were able to study a wide range of the decomposition processes.
Promoting the necrobiome research will open up new areas of inquiry and even commerce.
What do we see from watching birds move across the country?
E. Fleischer
Surprising Science
A total of eight billion birds migrate across the U.S. in the fall.
The birds who migrate to the tropics fair better than the birds who winter in the U.S.
Conservationists can arguably use these numbers to encourage the development of better habitats in the U.S., especially if temperatures begin to vary in the south.
Explore how alcohol affects your brain, from the first sip at the bar to life-long drinking habits.
(Photo by Angie Garrett/Wikimedia Commons)
Mind & Brain
Alcohol is the world's most popular drug and has been a part of human culture for at least 9,000 years.
Alcohol's effects on the brain range from temporarily limiting mental activity to sustained brain damage, depending on levels consumed and frequency of use.
Understanding how alcohol affects your brain can help you determine what drinking habits are best for you.
Big think's weekly newsletter.
Get smarter faster from the comfort of your inbox.
See our newsletter privacy policy
here
Most Popular
Most Recent
Big think's weekly newsletter.
Get smarter faster from the comfort of your inbox.
See our newsletter privacy policy
here
© Copyright 2007-2018 & BIG THINK, BIG THINK EDGE,
SMARTER FASTER trademarks owned by The Big Think, Inc. All rights reserved.