Almost Half of What's In a Chromosome Is Still a Mystery
Scientists discover that up to 47% of chromosomes isn't chromatins after all.
23 November, 2016
Artist's conception of DNA (ESB PROFESSIONALS)
---
While it's true that every chromosome contains some of 25,000 genes, it now turns out to be the case that this is only a little more than half the story. Computer modeling has revealed that up to 47% of each chromosome is an enigmatic sheath-like substance called the "chromosome periphery," something about which little is known. That's because it's almost impossible to get a good look at actual chromosomes.
Chromosomes were discovered in 1882 and still remain puzzling, largely because they're not visible within a cell's nucleus unless we happen to be watching as a cell is dividing, through mitosis or meiosis. During cell division, chromosomes become "supercoiled" and can be seen under a microscope.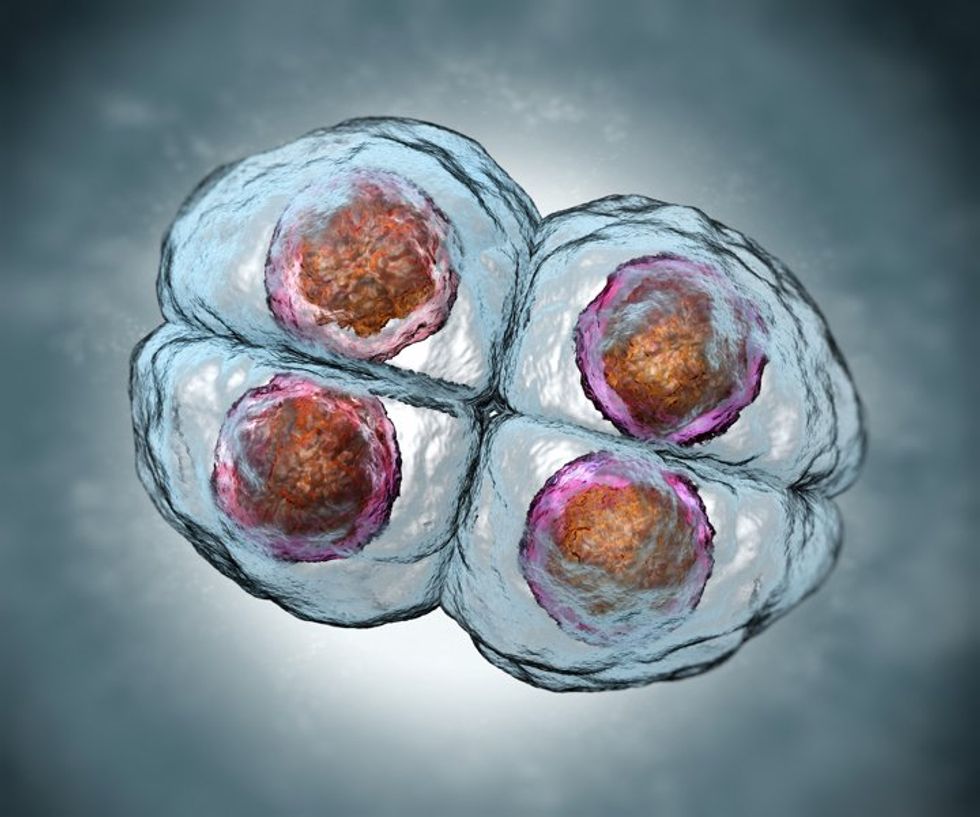 Mitosis (TATIANA SHEPELEVA)
Observing chromosomes in this one very specific state has shown that they're comprised of DNA along with histone proteins, or chromatin. While scientists have caught glimpses of the chromosome periphery in the past, they haven't been able to deduce much about it. After all, they've never gotten a good look at chromosomes when they're not dividing, which is to say much of the time. 
Now scientists at University of Edinburgh in Scotland have invented a way of modeling all 46 human chromosomes in high-resolution 3D. Their system is called 3D-CLEM, and it uses light and electron microscopy to source data for highly accurate models of these tiny objects.
A member of the team, Daniel Booth, told phys.org, "Defining the structure of all 46 human chromosomes for the first time has forced us to reconsider the idea that they are composed almost exclusively of chromatin — an assumption that has gone largely unchallenged for almost 100 years."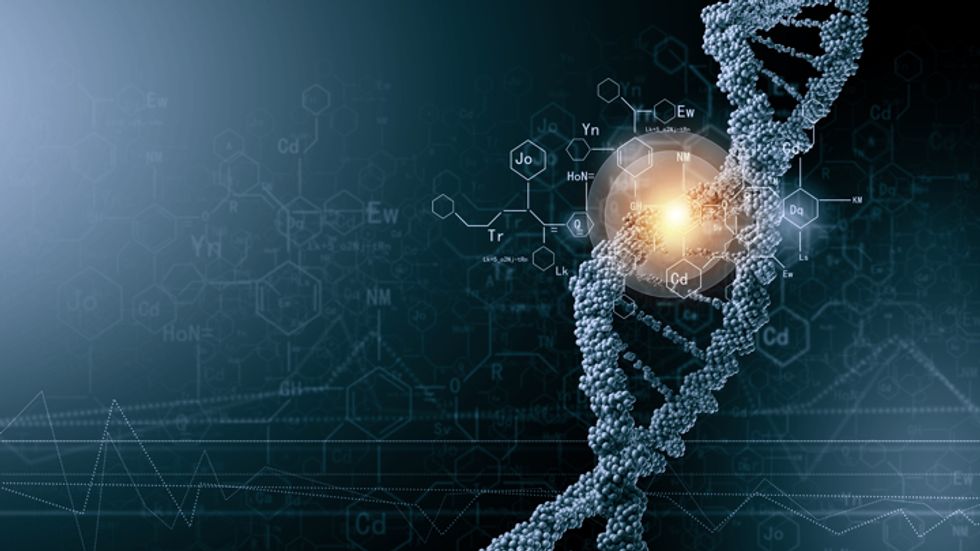 Artist's conception of DNA (SERGEI NIVENS)
It looks like chromatin do make up from 53% to 70% of chromosomes, but the rests is the mysterious chromosome periphery. Earlier research by Booth suggests that the chromosome periphery requires the presence of the protein Ki-67 that's believed to act as a surfactant that keeps chromosomes from clumping together. This would assign the chromosome periphery a critical job in managing cell division without errors, errors that could result in birth defects and cancer.
Universities claim to prepare students for the world. How many actually do it?
Sponsored by Charles Koch Foundation
Many university mission statements do not live up to their promise, writes Ben Nelson, founder of Minerva, a university designed to develop intellect over content memorization.
The core competencies that students need for success—critical thinking, communication, problem solving, and cross-cultural understanding, for example—should be intentionally taught, not left to chance.
These competencies can be summed up with one word: wisdom. True wisdom is the ability to apply one's knowledge appropriately when faced with novel situations.
This is what the world will look like, 250 million years from now
On Pangaea Proxima, Lagos will be north of New York, and Cape Town close to Mexico City
Surprising Science
To us humans, the shape and location of oceans and continents seems fixed. But that's only because our lives are so short.
A new study may help us better understand how children build social cognition through caregiver interaction.
Personal Growth
Scientists speculate imitation helps develop social cognition in babies.
A new study out of Lund University shows that six-month-olds look and smile more at imitating adults.
Researchers hope the data will spur future studies to discover what role caregiver imitation plays in social cognition development.
Researchers at UT Southwestern noted a 47 percent increase in blood flow to regions associated with memory.
Photo: Johannes Eisele/AFP via Getty Images
Surprising Science
Researchers at UT Southwestern observed a stark improvement in memory after cardiovascular exercise.
The year-long study included 30 seniors who all had some form of memory impairment.
The group of seniors that only stretched for a year did not fair as well in memory tests.
Videos
According to a man that knows more than 20 languages, the key is to start in the middle.
Scroll down to load more…