Alice, Bob, and Eve Are Neural Networks. And They Have Secrets.
Google's Deep Brain team watched neural nets learn to develop their own encryption.
01 November, 2016
---
Google's Deep Brain team has been working on artificial intelligence from a variety of angles. Last May, for example, their Magenta project attempted to teach AI how to create art and music.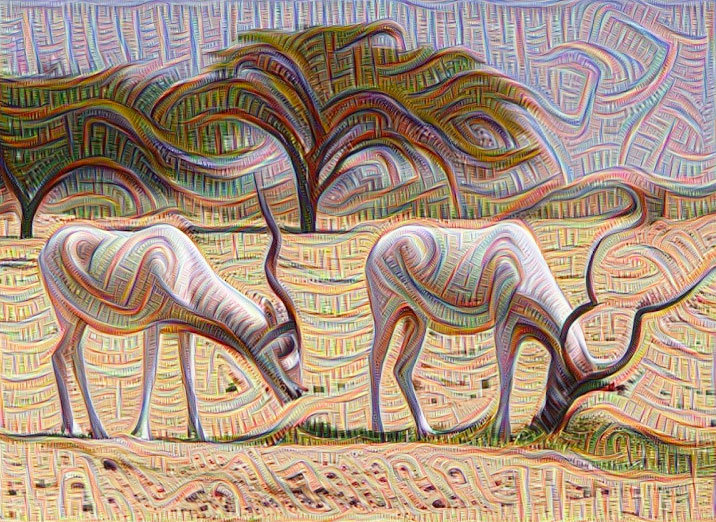 Magenta art (GOOGLE)
A lot of what the team does is fairly abstruse to the non-scientist, but they've just announced something we can all understand, and it's a doozy: Two Deep Brain scientists, Martín Abadi and David Andersen, recently tasked two neural nets with keeping a secret from a third. What they found was that "neural networks can learn to protect the confidentiality of their data from other neural networks: they discover forms of encryption and decryption, without being taught specific algorithms for these purposes." 
Neural nets — artificial-neuron-based systems — aren't designed for cryptography, so Abadi and Andersen had been curious to see if neural nets could teach themselves to master it.
The neural nets were named Alice, Bob, and Eve. In the experiment, Alice was set the task of sending Bob message only he could read. (I'm going to use human pronouns here instead of the more correct "it" to make this easier to follow.) The two neural nets shared a numeric encryption key to use. Eve had no key, and was left to her own devices to figure out the message.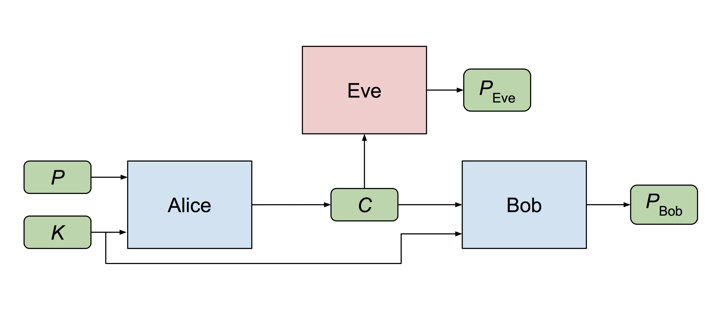 In this diagram, P is the original message and K is the key Alice and Bob shared. C is the encrypted message Alice produced, which is received by Bob and Eve, who each attempted to decipher it. (GOOGLE)
At first Eve was pretty good at it, but as Alice and Bob got more clever during 15,000 attempts, Eve's failure rate remained consistently as Bob and Alice's communication began to consistently succeed.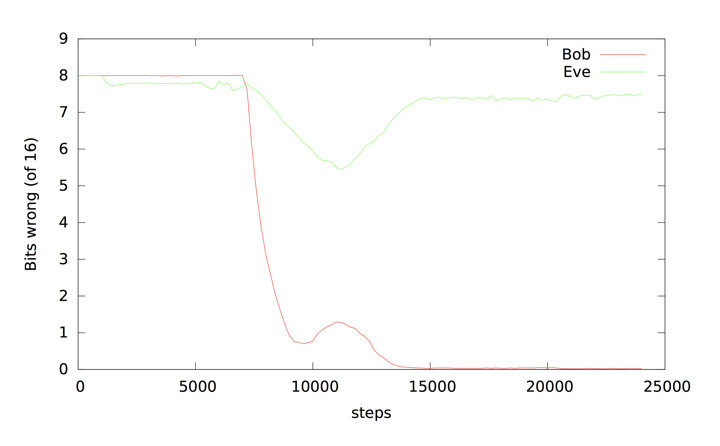 (GOOGLE)
Alice and Bob got into some interestingly odd encryption tricks that leveraged calculations that human-generated encryption schemes don't use. Much like the different logic with which Google's AlphaGo surprised and defeated human Go master Fan-Hui last January, Alice and Bob did things to hide their messages that might never occur to a human.
While it's easy to see that AI-devised encryption might ensure the integrity of machine-to-machine communications during secure multi-device operations, it's also a little worrisome. Alice and Bob are the first neural nets who've kept secrets from their programmers. That we know of.
In a breakthrough for nuclear fusion research, scientists at China's Experimental Advanced Superconducting Tokamak (EAST) reactor have produced temperatures necessary for nuclear fusion on Earth.
Credit: EAST Team
Surprising Science
The EAST reactor was able to heat hydrogen to temperatures exceeding 100 million degrees Celsius.
Nuclear fusion could someday provide the planet with a virtually limitless supply of clean energy.
Still, scientists have many other obstacles to pass before fusion technology becomes a viable energy source.
Military recruits are supposed to be assessed to see whether they're fit for service. What happens when they're not?
Politics & Current Affairs
During the Vietnam War, Robert McNamara began a program called Project 100,000.
The program brought over 300,000 men to Vietnam who failed to meet minimum criteria for military service, both physically and mentally.
Project 100,000 recruits were killed in disproportionate numbers and fared worse after their military service than their civilian peers, making the program one of the biggest—and possibly cruelest—mistakes of the Vietnam War.
The 116th Congress is set to break records in term of diversity among its lawmakers, though those changes are coming almost entirely from Democrats.
(Photo: MANDEL NGAN/AFP/Getty Images)
Politics & Current Affairs
Women and nonwhite candidates made record gains in the 2018 midterms.
In total, almost half of the newly elected Congressional representatives are not white men.
Those changes come almost entirely from Democrats; Republican members-elect are all white men except for one woman.
Big think's weekly newsletter.
Get smarter faster from the comfort of your inbox.
See our newsletter privacy policy
here
Most Popular
Most Recent
Big think's weekly newsletter.
Get smarter faster from the comfort of your inbox.
See our newsletter privacy policy
here
© Copyright 2007-2018 & BIG THINK, BIG THINK EDGE,
SMARTER FASTER trademarks owned by The Big Think, Inc. All rights reserved.