The Risks of Hunger. It Makes You Take More Risks.
22 July, 2013
You know those nature documentaries, the ones where hungry polar bears risk their lives attacking dangerous walruses, or starving lions put their lives on the line attacking fierce horned cape buffalo? Well, that's you too, when the animal in you signals that your energy tank is running low and it's time to fill up. Hunger, it turns out, makes us more than just cranky. It makes us risk takers.
---
And not just for food. A 2010 study titled Metabolic State Alters Economic Decision Making in Humans Under Risk found that the hungrier we are, the more risk we are willing to take with money. Men in the study who were purposefully starved made riskier choices about a financial gamble. Well-fed subjects made much less riskier choices.
You don't need a degree in psychology to figure out why this makes sense. We need energy to survive. The lack of food - energy – triggers biochemical changes that tell us, or the polar bear, or the lion…time to lay it all on the line, because if you don't eat soon, it could be the end of the line.
What's intriguing about the study above, and other studies that find the same thing in animals, including a new one of fruit flies from the Max Planck Institute (yup, fruit flies take more risks when they are hungry too), is what they suggest about cognition and free will. As with so many findings in research on human decision making, the biological processes of the human animal that subconsciously trigger many of our behaviors appear to be largely running the show. Our conscious purposeful analytical thinking is not nearly as in charge as we think it is. The implication of this is that our faith in reason and rationality is foolish, and when it comes to risk, it can be dangerously foolish.
The study about how hunger affected financial gambles tracked the blood hormone levels in the subjects. Levels of ghrelin, which triggers hunger, and leptin, which sends signals about the body's energy reserves (fat storage in cells), varied notably between starved and well-fed subjects. These hormonal signals go to lots of places, including parts of the brain associated with decision making. Those signals set off a cascade of responses in networks of brain cells that in turn trigger other hormonal responses which help trigger how we behave.
In fact, the study of fruit flies dug deep inside this neurophysical chain reaction and even identified a single neuron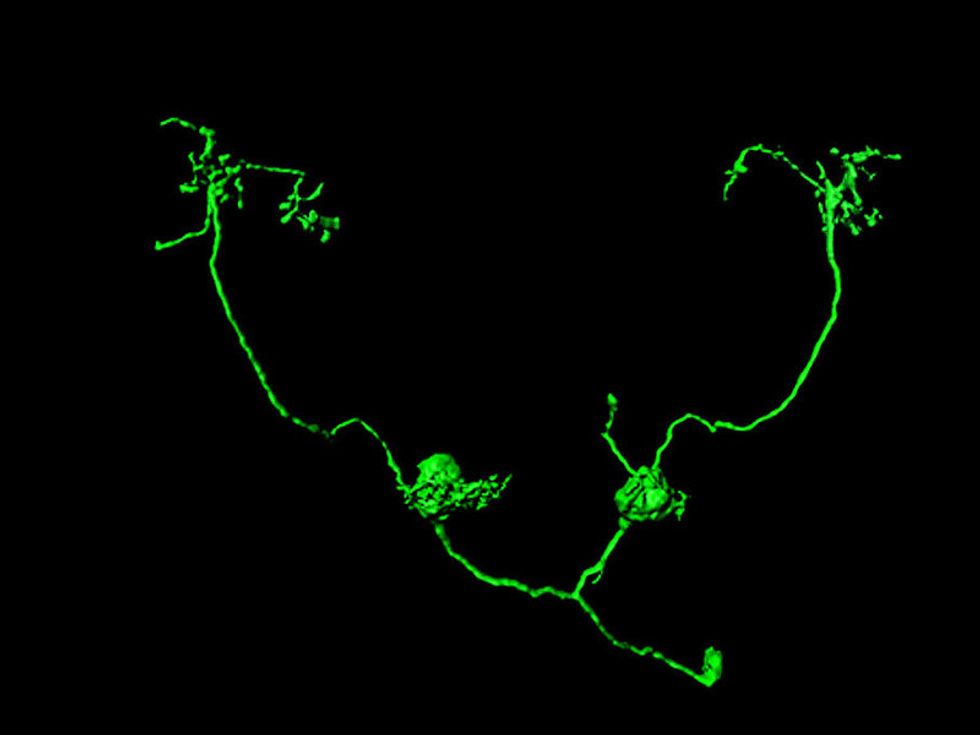 that helps the fruit flies overlook danger (essentially by ignoring the signal about elevated carbon dioxide levels, a sign that some air-breathing predator may be around) when they're hungry. We're not fruit flies, of course, but there are certainly cells and pathways and chemicals in us that do the same sorts of things. The way hunger affects our decision making also occurs at this subconscious primary cellular level, far below the level of conscious purposeful reasoning.
It's not as though reason and 'thinking' and conscious purposeful rational decision making play no role. Of course they do. We're not fruit flies. But hunger, and risk, are just two examples that prove the wisdom of what Ambrose Bierce suggested in the Devil's Dictionary; the brain is only the organ with which we think we think. Many of our judgments and behaviors are not a matter of conscious choice. There are more serious limits on our free will than many of us realize, and that has profound implications across many facets of society; law, economics, democracy. (Think about what this says about our abilities to make thoughtful choices about our laws, and leaders!) It certainly bears dramatically on our health and safety.
Hunger is just one sort of threat signal. Terrorism, crime, climate change, industrial chemicals that freak us out…they all trigger similar subconscious instinctive hormonal and cellular responses that shape our perceptions of risk and our choices and behaviors about how to protect ourselves…hormonal and cellular responses that are so powerful and innate that conscious reason can not entirely overcome them - when it plays a role in decision making at all. At the most basic level, this is why we sometimes fear some things too much, and some things too little, and why our perceptions of risk may feel right but may not match the facts, mistakes that can produce dangerous individual and societal choices, creating new and significant risks.
That's the Risk Perception Gap I write about so much, the danger of getting risk wrong and doing risky things as a result. It's a danger we need to recognize, that we have to accept is an inherent part of the human condition, and a danger that produces risks that need to be studied and managed every bit as much as the dangers of climate change or industrial chemicals or crime themselves.
Meanwhile, I think I'll go have some chocolate ice cream and a bowl of Cheetohs. Yeah, I know I'm overweight, but hey…I'm hungry.
(photo credit: mytrektravel.blogspot.com/)
To create wiser adults, add empathy to the school curriculum.
Sponsored by Charles Koch Foundation
Stories are at the heart of learning, writes Cleary Vaughan-Lee, Executive Director for the Global Oneness Project. They have always challenged us to think beyond ourselves, expanding our experience and revealing deep truths.
Vaughan-Lee explains 6 ways that storytelling can foster empathy and deliver powerful learning experiences.
Global Oneness Project is a free library of stories—containing short documentaries, photo essays, and essays—that each contain a companion lesson plan and learning activities for students so they can expand their experience of the world.
This is what the world will look like, 250 million years from now
On Pangaea Proxima, Lagos will be north of New York, and Cape Town close to Mexico City
Surprising Science
To us humans, the shape and location of oceans and continents seems fixed. But that's only because our lives are so short.
As a doctor, I am reminded every day of the fragility of the human body, how closely mortality lurks just around the corner.
Photo by Alex Boyd on Unsplash
Personal Growth
'Despite all our medical advances,' my friend Jason used to quip, 'the mortality rate has remained constant – one per person.'
Tyson dives into the search for alien life, dark matter, and the physics of football.
Videos
Astrophysicist Neil deGrasse Tyson joins us to talk about one of our favorite subjects: space.
In the three-chaptered video, Tyson speaks about the search for alien life inside and outside of the Goldilocks Zone, why the term "dark matter" should really be called "dark gravity," and how the rotation of the Earth may have been the deciding factor in a football game.
These fascinating space facts, as well as others shared in Tyson's books, make it easier for everyone to grasp complex ideas that are literally out of this world.
Politics & Current Affairs
SpaceX's momentous Crew Dragon launch is a sign of things to come for the space industry, and humanity's future.
Scroll down to load more…