Big ideas.
Once a week.
Subscribe to our weekly newsletter.
Europe Drops Chief Science Adviser. Don't Like the Facts? Kill the Messenger.
Facing several controversies involving scientific complexity, the European government created a Chief Science Adviser to provide independent objective expertise and input into policy making. when some groups didn't like what the science said about genetically modified food, they objected to the whole idea of independent science advice to government. The EU government has caved to public pressure and abandoned the Chief Science Adviser function. We should ALL be scared by a move away from evidence-based policy making, toward a solely values-based approach.
13 November, 2014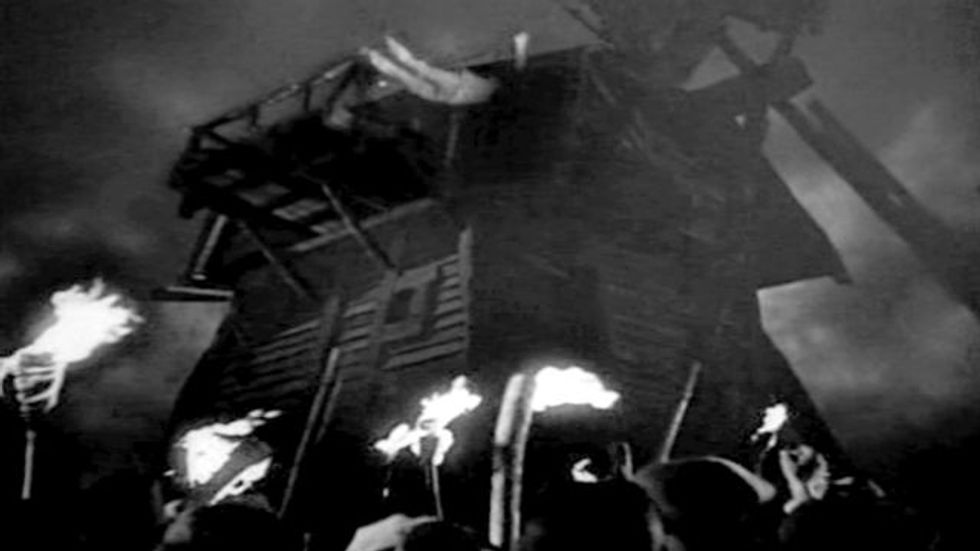 In the movie version of Frankenstein, the terrified mob rushes out of the town square in a torch-lit frenzy screaming "Kill the Monster. Kill the Monster." The monster, of course, had been misperceived as a threat, but no matter. In their passion, there was no reasoning with the mob. What they saw as a threat WAS a threat, and had to die. The townsfolk surround the windmill and, with the monster trapped inside, burn it to the ground.
---
Fast forward to a frightening day yesterday in the real world, in Europe. As the eyes of all of Europe's science journalists were on the European Space Agency's Philae lander touching down on comet Rosetta, a phenomenal science success, the EU government quietly scrapped the position of Chief Science Advisor, a resounding science embarrassment, and a precedent that should scare people everywhere.
The Chief Science Advisor (CSA) position had been created some years ago in the face of controversial issues like climate change, genetically modified organisms (GMOs), and the testing of industrial chemicals, issues that involved scientific details beyond the expertise of the politicians charged with sorting them out and making the best choices for society. The CSA was like that geek friend who you ask to read those complicated science reports and studies and tell you what they say….only for the EU government.
The office was not involved in policy making, just in giving the policy makers a read on what the science said. But of course what the science says on climate change or GMOs points toward some obvious policy conclusions; climate change is real and we'd better do something…thousands of studies on GMOS have found no harm to human health (and only a few questionable studies have hinted otherwise) so there is no need for a blanket Precautionary Principle ban on all applications of agricultural biotechnology. The problem is, those conclusions threatened the values of GMO opponents. Their answer? "Kill the Monster!"
Not the monster of the evidence, of course. Kill the messenger, the CSA. Environmental groups, noting specific concern about the GMO issue, called on the EU government to abandon the entire idea of an independent science adviser, after the CSA reported what every independent national science advisory board in the world has found; the science is about as clear on GMOs as it is on climate change…there is no reliable evidence that GMOS harm human health.
The GMO opponents tried to couch their complaint in broader terms, arguing that a Chief Science Adviser concentrated too much power in one office. But let's be honest. They just didn't like what the facts said. So Kill The Monster, misunderstood as a threat but really only an independent objective voice for the evidence.
The EU, run by politicians after all, has responded by taking the torch to the CSA, and essentially letting the frightened mob rule. At least so far. New European Commission President Jean-Claude Juncker says he believes in science advice, but just wants to figure out a new way to get it. But the GMO opponents who set this fire have made it clear that the only advice they want the government to get is from them and other public advocacy groups. And how independent is that?
Not at all, of course. Every advocacy group, on every issue, sees the facts through the prisms of their own values and perspectives. To which they are entitled, of course, as they are entitled to voice those views in democratic debate. But the whole idea of the CSA was to provide science information to policy makers FREE of those values-based distortions, so that in addition to all the public input that has always had a voice, and should, policy makers could have a bit more objective a view of what the facts themselves actually are.
So with the ashes of the windmill still smoldering, let's consider what this means. We all fight over issues by invoking our interpretation of the 'science'. Advocates on all sides of the GMO issue, and the climate change issue, and nuclear power and industrial chemicals and guns and abortion and a host of other issues, all invoke 'the facts' to make their values-based case.
We ALL see the facts through the lenses of how we FEEL about those facts. Me too. We can't help it. It's how human cognition works. But do we want policy made based solely on the battle over whose values win, or would we also hope that in addition to that part of democracy, that policy makers look objectively at the evidence for guidance about what will do society the most good? The latter, of course.
But with the abandonment of the CSA, which did not replace public input but just added  more objective information to what policy makers had to work with, the European government – at least so far – is deferring to the bright torch lights and angry voices of the passionate-but-less-than-objective public.
And to understand just how scary that is, consider that along with the anti-GMO groups cheering the European decision to abandon (for now) independent science advice, are those who deny climate change who also didn't like what the science said on that issue. See the problem here?
Our values must have a voice at the policy-making table. But the powerfully emotional and instinctive way human cognition works produces perceptions that sometimes fly dramatically in the face of the facts. As right as our feelings feel, and as important as they are for our sense of safety, we need to honestly accept that in addition to our passions, policy making must also be informed by a more objective voice. That was the idea of the CSA. For the moment, in Europe, that common sense idea lies in ashes.
For two other thoughtful perspectives on this, see the Guardian's Juncker Axes Europe's Chief Scientific Adviser and this blog commentary from Mark Lynas: EU Scraps Science Advisor Role. Now are your happy Greenpeace?
Why mega-eruptions like the ones that covered North America in ash are the least of your worries.
Image: USGS - public domain
Strange Maps
The supervolcano under Yellowstone produced three massive eruptions over the past few million years.
Each eruption covered much of what is now the western United States in an ash layer several feet deep.
The last eruption was 640,000 years ago, but that doesn't mean the next eruption is overdue.
The end of the world as we know it
Panoramic view of Yellowstone National Park
Image: Heinrich Berann for the National Park Service – public domain
Of the many freak ways to shuffle off this mortal coil – lightning strikes, shark bites, falling pianos – here's one you can safely scratch off your worry list: an outbreak of the Yellowstone supervolcano.
As the map below shows, previous eruptions at Yellowstone were so massive that the ash fall covered most of what is now the western United States. A similar event today would not only claim countless lives directly, but also create enough subsidiary disruption to kill off global civilisation as we know it. A relatively recent eruption of the Toba supervolcano in Indonesia may have come close to killing off the human species (see further below).
However, just because a scenario is grim does not mean that it is likely (insert topical political joke here). In this case, the doom mongers claiming an eruption is 'overdue' are wrong. Yellowstone is not a library book or an oil change. Just because the previous mega-eruption happened long ago doesn't mean the next one is imminent.
Ash beds of North America
Ash beds deposited by major volcanic eruptions in North America.
Image: USGS – public domain
This map shows the location of the Yellowstone plateau and the ash beds deposited by its three most recent major outbreaks, plus two other eruptions – one similarly massive, the other the most recent one in North America.
Huckleberry Ridge
The Huckleberry Ridge eruption occurred 2.1 million years ago. It ejected 2,450 km3 (588 cubic miles) of material, making it the largest known eruption in Yellowstone's history and in fact the largest eruption in North America in the past few million years.
This is the oldest of the three most recent caldera-forming eruptions of the Yellowstone hotspot. It created the Island Park Caldera, which lies partially in Yellowstone National Park, Wyoming and westward into Idaho. Ash from this eruption covered an area from southern California to North Dakota, and southern Idaho to northern Texas.
Mesa Falls
About 1.3 million years ago, the Mesa Falls eruption ejected 280 km3 (67 cubic miles) of material and created the Henry's Fork Caldera, located in Idaho, west of Yellowstone.
It was the smallest of the three major Yellowstone eruptions, both in terms of material ejected and area covered: 'only' most of present-day Wyoming, Colorado, Kansas and Nebraska, and about half of South Dakota.
Lava Creek
The Lava Creek eruption was the most recent major eruption of Yellowstone: about 640,000 years ago. It was the second-largest eruption in North America in the past few million years, creating the Yellowstone Caldera.
It ejected only about 1,000 km3 (240 cubic miles) of material, i.e. less than half of the Huckleberry Ridge eruption. However, its debris is spread out over a significantly wider area: basically, Huckleberry Ridge plus larger slices of both Canada and Mexico, plus most of Texas, Louisiana, Arkansas, and Missouri.
Long Valley
This eruption occurred about 760,000 years ago. It was centered on southern California, where it created the Long Valley Caldera, and spewed out 580 km3 (139 cubic miles) of material. This makes it North America's third-largest eruption of the past few million years.
The material ejected by this eruption is known as the Bishop ash bed, and covers the central and western parts of the Lava Creek ash bed.
Mount St Helens
The eruption of Mount St Helens in 1980 was the deadliest and most destructive volcanic event in U.S. history: it created a mile-wide crater, killed 57 people and created economic damage in the neighborhood of $1 billion.
Yet by Yellowstone standards, it was tiny: Mount St Helens only ejected 0.25 km3 (0.06 cubic miles) of material, most of the ash settling in a relatively narrow band across Washington State and Idaho. By comparison, the Lava Creek eruption left a large swathe of North America in up to two metres of debris.

The difference between quakes and faults
The volume of dense rock equivalent (DRE) ejected by the Huckleberry Ridge event dwarfs all other North American eruptions. It is itself overshadowed by the DRE ejected at the most recent eruption at Toba (present-day Indonesia). This was one of the largest known eruptions ever and a relatively recent one: only 75,000 years ago. It is thought to have caused a global volcanic winter which lasted up to a decade and may be responsible for the bottleneck in human evolution: around that time, the total human population suddenly and drastically plummeted to between 1,000 and 10,000 breeding pairs.
Image: USGS – public domain
So, what are the chances of something that massive happening anytime soon? The aforementioned mongers of doom often claim that major eruptions occur at intervals of 600,000 years and point out that the last one was 640,000 years ago. Except that (a) the first interval was about 200,000 years longer, (b) two intervals is not a lot to base a prediction on, and (c) those intervals don't really mean anything anyway. Not in the case of volcanic eruptions, at least.
Earthquakes can be 'overdue' because the stress on fault lines is built up consistently over long periods, which means quakes can be predicted with a relative degree of accuracy. But this is not how volcanoes behave. They do not accumulate magma at constant rates. And the subterranean pressure that causes the magma to erupt does not follow a schedule.
What's more, previous super-eruptions do not necessarily imply future ones. Scientists are not convinced that there ever will be another big eruption at Yellowstone. Smaller eruptions, however, are much likelier. Since the Lava Creek eruption, there have been about 30 smaller outbreaks at Yellowstone, the last lava flow being about 70,000 years ago.
As for the immediate future (give or take a century): the magma chamber beneath Yellowstone is only 5 percent to 15 percent molten. Most scientists agree that is as un-alarming as it sounds. And that its statistically more relevant to worry about death by lightning, shark, or piano.
Strange Maps #1041
Got a strange map? Let me know at strangemaps@gmail.com.

The potential of CRISPR technology is incredible, but the threats are too serious to ignore.
Videos
CRISPR (Clustered Regularly Interspaced Short Palindromic Repeats) is a revolutionary technology that gives scientists the ability to alter DNA. On the one hand, this tool could mean the elimination of certain diseases. On the other, there are concerns (both ethical and practical) about its misuse and the yet-unknown consequences of such experimentation.
"The technique could be misused in horrible ways," says counter-terrorism expert Richard A. Clarke. Clarke lists biological weapons as one of the potential threats, "Threats for which we don't have any known antidote." CRISPR co-inventor, biochemist Jennifer Doudna, echos the concern, recounting a nightmare involving the technology, eugenics, and a meeting with Adolf Hitler.
Should this kind of tool even exist? Do the positives outweigh the potential dangers? How could something like this ever be regulated, and should it be? These questions and more are considered by Doudna, Clarke, evolutionary biologist Richard Dawkins, psychologist Steven Pinker, and physician Siddhartha Mukherjee.
Measuring a person's movements and poses, smart clothes could be used for athletic training, rehabilitation, or health-monitoring.
Technology & Innovation
In recent years there have been exciting breakthroughs in wearable technologies, like smartwatches that can monitor your breathing and blood oxygen levels.
But what about a wearable that can detect how you move as you do a physical activity or play a sport, and could potentially even offer feedback on how to improve your technique?
And, as a major bonus, what if the wearable were something you'd actually already be wearing, like a shirt of a pair of socks?
That's the idea behind a new set of MIT-designed clothing that use special fibers to sense a person's movement via touch. Among other things, the researchers showed that their clothes can actually determine things like if someone is sitting, walking, or doing particular poses.
The group from MIT's Computer Science and Artificial Intelligence Lab (CSAIL) says that their clothes could be used for athletic training and rehabilitation. With patients' permission, they could even help passively monitor the health of residents in assisted-care facilities and determine if, for example, someone has fallen or is unconscious.
The researchers have developed a range of prototypes, from socks and gloves to a full vest. The team's "tactile electronics" use a mix of more typical textile fibers alongside a small amount of custom-made functional fibers that sense pressure from the person wearing the garment.
According to CSAIL graduate student Yiyue Luo, a key advantage of the team's design is that, unlike many existing wearable electronics, theirs can be incorporated into traditional large-scale clothing production. The machine-knitted tactile textiles are soft, stretchable, breathable, and can take a wide range of forms.
"Traditionally it's been hard to develop a mass-production wearable that provides high-accuracy data across a large number of sensors," says Luo, lead author on a new paper about the project that is appearing in this month's edition of Nature Electronics. "When you manufacture lots of sensor arrays, some of them will not work and some of them will work worse than others, so we developed a self-correcting mechanism that uses a self-supervised machine learning algorithm to recognize and adjust when certain sensors in the design are off-base."
The team's clothes have a range of capabilities. Their socks predict motion by looking at how different sequences of tactile footprints correlate to different poses as the user transitions from one pose to another. The full-sized vest can also detect the wearers' pose, activity, and the texture of the contacted surfaces.
The authors imagine a coach using the sensor to analyze people's postures and give suggestions on improvement. It could also be used by an experienced athlete to record their posture so that beginners can learn from them. In the long term, they even imagine that robots could be trained to learn how to do different activities using data from the wearables.
"Imagine robots that are no longer tactilely blind, and that have 'skins' that can provide tactile sensing just like we have as humans," says corresponding author Wan Shou, a postdoc at CSAIL. "Clothing with high-resolution tactile sensing opens up a lot of exciting new application areas for researchers to explore in the years to come."
The paper was co-written by MIT professors Antonio Torralba, Wojciech Matusik, and Tomás Palacios, alongside PhD students Yunzhu Li, Pratyusha Sharma, and Beichen Li; postdoc Kui Wu; and research engineer Michael Foshey.
The work was partially funded by Toyota Research Institute.
Reprinted with permission of MIT News. Read the original article.

Personal Growth
How imagining the worst case scenario can help calm anxiety.
Scroll down to load more…