Why It's a Tragedy that Americans Don't Use All of Their (Very Limited) Vacation Time
Despite all those weeks sunning themselves and enjoying breaks from work, the French are among the most productive workers in the world. Americans could be, too.
23 December, 2015
---
It's the most wonderful time of the year. But as Saint Nick and his elves tie those last few bows and polish the sleigh, and as President Barack Obama begins his annual family vacation in Hawaii, it's worth recalling how rare a day off is for many American workers. Most Europeans get 20 or more paid vacation days a year. In Austria, Portugal, and Spain, workers have 22 days; in France, it's a minimum of 30. (That's six weeks off!) By comparison, Americans look like indentured servants. If you scan to the far right of the graph below, you'll notice that there are exactly zero days of mandated paid days off for workers in the United States.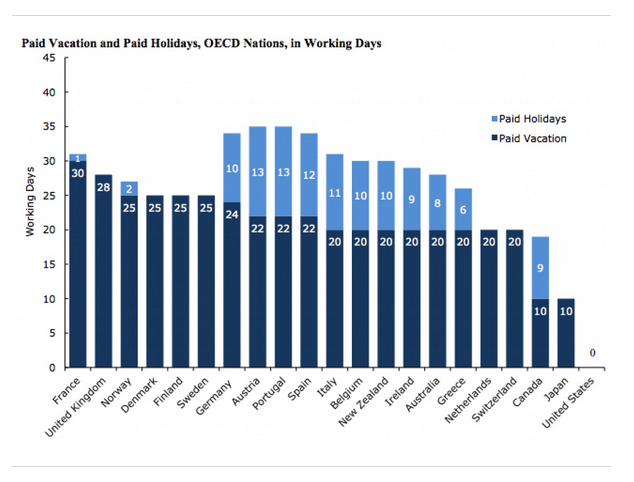 But it's one thing not to guarantee paid vacation, you might say. That just means there's no law requiring it. Most American workers get some vacation anyway, right? Well, yes. But maybe fewer than you thought. As Rebecca Ray, Milla Sanes, and John Schmitt explain in their Center for Economic and Policy Research report, "Almost one in four Americans has no paid vacation (23 percent) and no paid holidays (23 percent)." That adds up to about 26 million workers with no days off. And it's the lowest-paid Americans who are the most bereft. Half of low-wage workers have no paid vacation. And those low-wage workers who do have paid vacation have a lot less of it than workers making more money:
"Even when low-wage, part-time, and small-business employees do receive paid vacations, they typically receive far fewer paid days off than higher-wage, full-time, employees in larger establishments. For example, low-wage workers with a vacation benefit received only nine days of paid vacation per year in 2012, compared to 16 days of paid vacation for high-wage workers with paid vacations. If we look at all workers — those who receive paid vacations and those who don't ― the vacation gap between low-wage and high-wage workers is even larger: only four days for low-wage workers, compared to 14 days for high-wage workers."
These vacation gaps add insult to penury, contributing to America's worsening economic inequality. But there is another curious development to take note of: Workers who do receive paid vacation benefits don't always use the days. Nearly half of Americans let at least some of their paid days lie fallow, throwing away opportunities for rest, relaxation, or travel.
This is bad, and not just for the individuals who lack time off or fail to take it. Workers who don't get time off are sicker, less productive and less imaginative than employees with paid vacation days. Despite all those weeks sunning themselves and enjoying breaks from work, the French are among the most productive workers in the world. Likewise for the Germans, who receive not only a minimum of 20 days of vacation, but also 10 paid holidays a year. According to a recent study, Americans' penchant for working themselves to the bone carries negative economic effects:
"In 2013, more than four in 10 (42 percent) employees finished the year with unused time off. For the entire workforce, this underutilization of leave totals 429 million unused days. If workers took more of their earned leave, the economy would benefit from 1.2 million new jobs and an additional $52 billion in earned income. Furthermore, this additional economic activity would generate more than $21 billion in taxes, including $11.4 billion in federal, $4.1 billion in state, and $5.5 billion in local taxes. If employees would take just one more day of earned leave each year, the economy would benefit to the tune of $73 billion."
So if you were planning to work through another holiday, think again. Take a day off. Take a week off, if your employer lets you. Do it for yourself. Or if you're not the self-pampering type, do it because it's good for the economy. In either case, put your feet up already. Happy holidays!
--
Steven V. Mazie is Professor of Political Studies at Bard High School Early College-Manhattan and Supreme Court correspondent for The Economist. He holds an A.B. in Government from Harvard College and a Ph.D. in Political Science from the University of Michigan. He is author, most recently, of American Justice 2015: The Dramatic Tenth Term of the Roberts Court.
Image credit: shutterstock.com
Follow Steven Mazie on Twitter: @stevenmazie
What can 3D printing do for medicine? The "sky is the limit," says Northwell Health researcher Dr. Todd Goldstein.
Northwell Health
Sponsored by Northwell Health
Medical professionals are currently using 3D printers to create prosthetics and patient-specific organ models that doctors can use to prepare for surgery.
Eventually, scientists hope to print patient-specific organs that can be transplanted safely into the human body.
Northwell Health, New York State's largest health care provider, is pioneering 3D printing in medicine in three key ways.
Torn between absolutism on the left and the right, classical liberalism—with its core values of compassion and incremental progress whereby the once-radical becomes the mainstream—is in need of a good defense. And Adam Gopnik is its lawyer.
Think Again Podcasts
Liberalism as "radical pragmatism"
Intersectionality and civic discourse
How "a thousand small sanities" tackled drunk driving, normalized gay marriage, and could control gun violence
As Game of Thrones ends, a revealing resolution to its perplexing geography.
Strange Maps
The fantasy world of Game of Thrones was inspired by real places and events.
But the map of Westeros is a good example of the perplexing relation between fantasy and reality.
Like Britain, it has a Wall in the North, but the map only really clicks into place if you add Ireland.
The lost practice of face-to-face communication has made the world a more extreme place.
Videos
The world was saner when we spoke face-to-face, argues John Cameron Mitchell. Not looking someone in the eye when you talk to them raises the potential for miscommunication and conflict.
Social media has been an incredible force for activism and human rights, but it's also negatively affected our relationship with the media. We are now bombarded 24/7 with news that either drives us to anger or apathy.
Sitting behind a screen makes polarization worse, and polarization is fertile ground for conspiracy theories and fascism, which Cameron describes as irrationally blaming someone else for your problems.
Big think's weekly newsletter.
Get smarter faster from the comfort of your inbox.
See our newsletter privacy policy
here
Most Popular
Most Recent
Big think's weekly newsletter.
Get smarter faster from the comfort of your inbox.
See our newsletter privacy policy
here
© Copyright 2007-2019 & BIG THINK, BIG THINK EDGE,
SMARTER FASTER trademarks owned by The Big Think, Inc. All rights reserved.