Why It's a Tragedy that Americans Don't Use All of Their (Very Limited) Vacation Time
Despite all those weeks sunning themselves and enjoying breaks from work, the French are among the most productive workers in the world. Americans could be, too.
23 December, 2015
---
It's the most wonderful time of the year. But as Saint Nick and his elves tie those last few bows and polish the sleigh, and as President Barack Obama begins his annual family vacation in Hawaii, it's worth recalling how rare a day off is for many American workers. Most Europeans get 20 or more paid vacation days a year. In Austria, Portugal, and Spain, workers have 22 days; in France, it's a minimum of 30. (That's six weeks off!) By comparison, Americans look like indentured servants. If you scan to the far right of the graph below, you'll notice that there are exactly zero days of mandated paid days off for workers in the United States.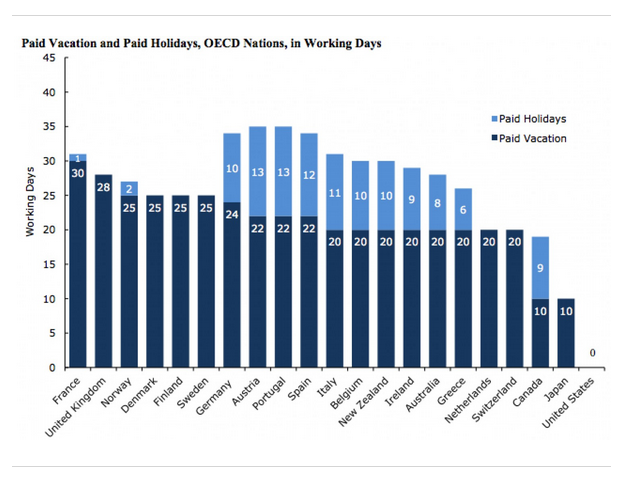 But it's one thing not to guarantee paid vacation, you might say. That just means there's no law requiring it. Most American workers get some vacation anyway, right? Well, yes. But maybe fewer than you thought. As Rebecca Ray, Milla Sanes, and John Schmitt explain in their Center for Economic and Policy Research report, "Almost one in four Americans has no paid vacation (23 percent) and no paid holidays (23 percent)." That adds up to about 26 million workers with no days off. And it's the lowest-paid Americans who are the most bereft. Half of low-wage workers have no paid vacation. And those low-wage workers who do have paid vacation have a lot less of it than workers making more money:
"Even when low-wage, part-time, and small-business employees do receive paid vacations, they typically receive far fewer paid days off than higher-wage, full-time, employees in larger establishments. For example, low-wage workers with a vacation benefit received only nine days of paid vacation per year in 2012, compared to 16 days of paid vacation for high-wage workers with paid vacations. If we look at all workers — those who receive paid vacations and those who don't ― the vacation gap between low-wage and high-wage workers is even larger: only four days for low-wage workers, compared to 14 days for high-wage workers."
These vacation gaps add insult to penury, contributing to America's worsening economic inequality. But there is another curious development to take note of: Workers who do receive paid vacation benefits don't always use the days. Nearly half of Americans let at least some of their paid days lie fallow, throwing away opportunities for rest, relaxation, or travel.
This is bad, and not just for the individuals who lack time off or fail to take it. Workers who don't get time off are sicker, less productive and less imaginative than employees with paid vacation days. Despite all those weeks sunning themselves and enjoying breaks from work, the French are among the most productive workers in the world. Likewise for the Germans, who receive not only a minimum of 20 days of vacation, but also 10 paid holidays a year. According to a recent study, Americans' penchant for working themselves to the bone carries negative economic effects:
"In 2013, more than four in 10 (42 percent) employees finished the year with unused time off. For the entire workforce, this underutilization of leave totals 429 million unused days. If workers took more of their earned leave, the economy would benefit from 1.2 million new jobs and an additional $52 billion in earned income. Furthermore, this additional economic activity would generate more than $21 billion in taxes, including $11.4 billion in federal, $4.1 billion in state, and $5.5 billion in local taxes. If employees would take just one more day of earned leave each year, the economy would benefit to the tune of $73 billion."
So if you were planning to work through another holiday, think again. Take a day off. Take a week off, if your employer lets you. Do it for yourself. Or if you're not the self-pampering type, do it because it's good for the economy. In either case, put your feet up already. Happy holidays!
--
Steven V. Mazie is Professor of Political Studies at Bard High School Early College-Manhattan and Supreme Court correspondent for The Economist. He holds an A.B. in Government from Harvard College and a Ph.D. in Political Science from the University of Michigan. He is author, most recently, of American Justice 2015: The Dramatic Tenth Term of the Roberts Court.
Image credit: shutterstock.com
Follow Steven Mazie on Twitter: @stevenmazie
Former president of the ACLU Nadine Strossen discusses whether our society should always defend free speech rights, even for groups who would oppose such rights.
Sponsored by Charles Koch Foundation
Former ACLU president Nadine Strossen understands that protecting free speech rights isn't always a straightforward proposition.
In this video, Strossen describes the reasoning behind why the ACLU defended the free speech rights of neo-Nazis in Skokie, Illinois, 1977.
The opinions expressed in this video do not necessarily reflect the views of the Charles Koch Foundation, which encourages the expression of diverse viewpoints within a culture of civil discourse and mutual respect.
Going back to the moon will give us fresh insights about the creation of our solar system.
Videos
July 2019 marks the 50th anniversary of the moon landing — Apollo 11.
Today, we have a strong scientific case for returning to the moon: the original rock samples that we took from the moon revolutionized our view of how Earth and the solar system formed. We could now glean even more insights with fresh, nonchemically-altered samples.
NASA plans to send humans to a crater in the South Pole of the moon because it's safer there, and would allow for better communications with people back on Earth.
Pugs and bulldogs are incredibly trendy, but experts have massive animal welfare concerns about these genetically manipulated breeds. 
Photo by terriermandotcom.blogspot.com
popular
Pugs, Frenchies, boxers, shih-tzus and other flat-faced dog breeds have been trending for at least the last decade.
Higher visibility (usually in a celebrity's handbag), an increase in city living (smaller dogs for smaller homes), and possibly even the fine acting of Frank the Pug in 1997's Men in Black may be the cause.
These small, specialty pure breeds are seen as the pinnacle of cuteness – they have friendly personalities, endearing odd looks, and are perfect for Stranger Things video montages.
Jokesters and serious Area 51 raiders would be met with military force.
Politics & Current Affairs
Facebook joke event to "raid Area 51" has already gained 1,000,000 "going" attendees.
The U.S. Air Force has issued an official warning to potential "raiders."
If anyone actually tries to storm an American military base, the use of deadly force is authorized.