Why Is the United States the "No-Vacation Nation"?
18 December, 2014
---
As we approach the Christmas and New Years holidays, and as our president begins his two-week vacation in Hawaii, it's worth remembering how rare a day off is for many American workers. In fact, as a recent report puts it, the United States "is the only advanced economy in the world that does not guarantee its workers paid vacation." Most European countries provide a minimum of 20 paid vacation days a year—the coveted 4 weeks that only the luckiest American workers will enjoy in their careers. Austria, Portugal and Spain offer 22 days of paid vacation every year, while France gooses the number up to 30.
Here is the sad story in pictures. (Note the tiny "0" for the United States on the far right of the x-axis.)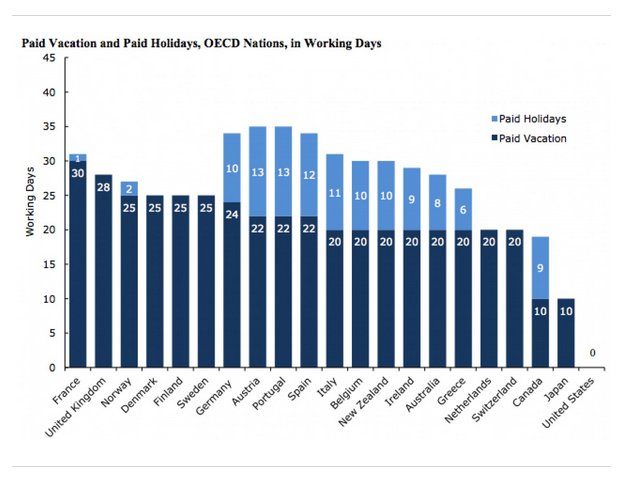 But it's one thing not to guarantee paid vacation, you might say. That just means there's no law requiring it. Most American workers get some vacation anyway, right? Well, yes. But maybe fewer than you thought. As Rebecca Ray, Milla Sanes and John Schmitt explain in their Center for Economic and Policy Research report, "almost one in four Americans has no paid vacation (23 percent) and no paid holidays (23 percent)." That adds up to about 26 million workers with no days off. And it's the lowest-paid Americans who are the most bereft. Half of low-wage workers have no paid vacation. And those low-wage workers who do have paid vacation have a lot less of it than workers making more money:
Even when low-wage, part-time, and small-business employees do receive paid vacations, they typically receive far fewer paid days off than higher-wage, full-time, employees in larger establishments. For example, low-wage workers with a vacation benefit received only nine days of paid vacation per year in 2012, compared to 16 days of paid vacation for high-wage workers with paid vacations. If we look at all workers ― those who receive paid vacations and those who don't―the vacation gap between low-wage and high-wage workers is even larger: only four days for low-wage workers, compared to 14 days for high- wage workers.
These vacation gaps add insult to penury, contributing to America's worsening economic inequality. But there is another curious development to take note of: workers who do receive paid vacation benefits don't always use the days. Nearly half of Americans let at least some of their paid days lie fallow, throwing away opportunities for rest, relaxation or travel.
Why is the culture of vacation so weak in the United States? The phenomenon seems to stem from a combination of stingy employers, weak laws and an American free-market sensibility that counsels against government interference with the mutual arrangements employers reach with their employees. Whatever the reason America comes in dead last in paid vacation, the policy is probably counterproductive. Workers who have no opportunity for time off are sicker, less productive and less imaginative than employees with paid vacation days. Despite all those weeks sunning themselves and enjoying breaks from work, the French are among the most productive workers in the world. Likewise for the Germans, who receive not only a minimum of 20 days of vacation but also 10 paid holidays a year.
Something to chew on when you're enjoying a break from your work routine next week—unless, of course, you don't have the time off. If you can't get away yourself, you can always accept President Obama's invitation "to sit back, relax, and follow along on his 2014 Hawaii Vacation": vicarious vacationing at its best.
Image credit: Shutterstock.com
Big Think Edge
The meaning of the word 'confidence' seems obvious. But it's not the same as self-esteem.
Confidence isn't just a feeling on your inside. It comes from taking action in the world.
Join Big Think Edge today and learn how to achieve more confidence when and where it really matters.
If you're lacking confidence and feel like you could benefit from an ego boost, try writing your life story.
Personal Growth
In truth, so much of what happens to us in life is random – we are pawns at the mercy of Lady Luck. To take ownership of our experiences and exert a feeling of control over our future, we tell stories about ourselves that weave meaning and continuity into our personal identity.
What do the inventions of the future look like?
(Photo Credit: Rick Guidice/NASA)
Technology & Innovation
Self-sustaining space colonies and unlimited fusion energy would bring humanity to a new point in our evolution.
Flying cars and robot butlers could be the next paradigm shift in our tech appetite for change.
Death and consensus reality might soon become obsolete.
A space memorial company plans to launch the ashes of "Pikachu," a well-loved Tabby, into space.
GoFundMe/Steve Munt
Culture & Religion
Steve Munt, Pikachu's owner, created a GoFundMe page to raise money for the mission.
If all goes according to plan, Pikachu will be the second cat to enter space, the first being a French feline named Felicette.
It might seem frivolous, but the cat-lovers commenting on Munt's GoFundMe page would likely disagree.
Big think's weekly newsletter.
Get smarter faster from the comfort of your inbox.
See our newsletter privacy policy
here
Most Popular
Most Recent
Big think's weekly newsletter.
Get smarter faster from the comfort of your inbox.
See our newsletter privacy policy
here
© Copyright 2007-2019 & BIG THINK, BIG THINK EDGE,
SMARTER FASTER trademarks owned by The Big Think, Inc. All rights reserved.