Why Is the United States the "No-Vacation Nation"?
18 December, 2014
---
As we approach the Christmas and New Years holidays, and as our president begins his two-week vacation in Hawaii, it's worth remembering how rare a day off is for many American workers. In fact, as a recent report puts it, the United States "is the only advanced economy in the world that does not guarantee its workers paid vacation." Most European countries provide a minimum of 20 paid vacation days a year—the coveted 4 weeks that only the luckiest American workers will enjoy in their careers. Austria, Portugal and Spain offer 22 days of paid vacation every year, while France gooses the number up to 30.
Here is the sad story in pictures. (Note the tiny "0" for the United States on the far right of the x-axis.)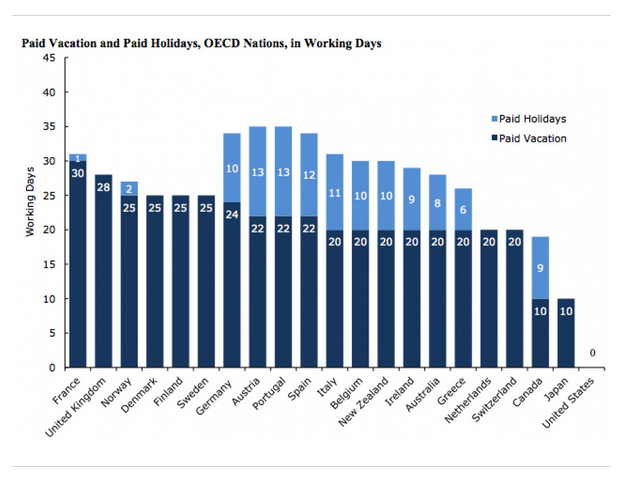 But it's one thing not to guarantee paid vacation, you might say. That just means there's no law requiring it. Most American workers get some vacation anyway, right? Well, yes. But maybe fewer than you thought. As Rebecca Ray, Milla Sanes and John Schmitt explain in their Center for Economic and Policy Research report, "almost one in four Americans has no paid vacation (23 percent) and no paid holidays (23 percent)." That adds up to about 26 million workers with no days off. And it's the lowest-paid Americans who are the most bereft. Half of low-wage workers have no paid vacation. And those low-wage workers who do have paid vacation have a lot less of it than workers making more money:
Even when low-wage, part-time, and small-business employees do receive paid vacations, they typically receive far fewer paid days off than higher-wage, full-time, employees in larger establishments. For example, low-wage workers with a vacation benefit received only nine days of paid vacation per year in 2012, compared to 16 days of paid vacation for high-wage workers with paid vacations. If we look at all workers ― those who receive paid vacations and those who don't―the vacation gap between low-wage and high-wage workers is even larger: only four days for low-wage workers, compared to 14 days for high- wage workers.
These vacation gaps add insult to penury, contributing to America's worsening economic inequality. But there is another curious development to take note of: workers who do receive paid vacation benefits don't always use the days. Nearly half of Americans let at least some of their paid days lie fallow, throwing away opportunities for rest, relaxation or travel.
Why is the culture of vacation so weak in the United States? The phenomenon seems to stem from a combination of stingy employers, weak laws and an American free-market sensibility that counsels against government interference with the mutual arrangements employers reach with their employees. Whatever the reason America comes in dead last in paid vacation, the policy is probably counterproductive. Workers who have no opportunity for time off are sicker, less productive and less imaginative than employees with paid vacation days. Despite all those weeks sunning themselves and enjoying breaks from work, the French are among the most productive workers in the world. Likewise for the Germans, who receive not only a minimum of 20 days of vacation but also 10 paid holidays a year.
Something to chew on when you're enjoying a break from your work routine next week—unless, of course, you don't have the time off. If you can't get away yourself, you can always accept President Obama's invitation "to sit back, relax, and follow along on his 2014 Hawaii Vacation": vicarious vacationing at its best.
Image credit: Shutterstock.com
What can 3D printing do for medicine? The "sky is the limit," says Northwell Health researcher Dr. Todd Goldstein.
Northwell Health
Sponsored by Northwell Health
Medical professionals are currently using 3D printers to create prosthetics and patient-specific organ models that doctors can use to prepare for surgery.
Eventually, scientists hope to print patient-specific organs that can be transplanted safely into the human body.
Northwell Health, New York State's largest health care provider, is pioneering 3D printing in medicine in three key ways.
The periodic table was a lot simpler at the beginning of the universe.
The controversial herbicide is everywhere, apparently.
Surprising Science
U.S. PIRG tested 20 beers and wines, including organics, and found Roundup's active ingredient in almost all of them.
A jury on August 2018 awarded a non-Hodgkin's lymphoma victim $289 million in Roundup damages.
Bayer/Monsanto says Roundup is totally safe. Others disagree.
Can dirt help us fight off stress? Groundbreaking new research shows how.
University of Colorado Boulder
Surprising Science
New research identifies a bacterium that helps block anxiety.
Scientists say this can lead to drugs for first responders and soldiers, preventing PTSD and other mental issues.
The finding builds on the hygiene hypothesis, first proposed in 1989.
Are modern societies trying too hard to be clean, at the detriment to public health? Scientists discovered that a microorganism living in dirt can actually be good for us, potentially helping the body to fight off stress. Harnessing its powers can lead to a "stress vaccine".
Researchers at the University of Colorado Boulder found that the fatty 10(Z)-hexadecenoic acid from the soil-residing bacterium Mycobacterium vaccae aids immune cells in blocking pathways that increase inflammation and the ability to combat stress.
The study's senior author and Integrative Physiology Professor Christopher Lowry described this fat as "one of the main ingredients" in the "special sauce" that causes the beneficial effects of the bacterium.
The finding goes hand in hand with the "hygiene hypothesis," initially proposed in 1989 by the British scientist David Strachan. He maintained that our generally sterile modern world prevents children from being exposed to certain microorganisms, resulting in compromised immune systems and greater incidences of asthma and allergies.
Contemporary research fine-tuned the hypothesis, finding that not interacting with so-called "old friends" or helpful microbes in the soil and the environment, rather than the ones that cause illnesses, is what's detrimental. In particular, our mental health could be at stake.
"The idea is that as humans have moved away from farms and an agricultural or hunter-gatherer existence into cities, we have lost contact with organisms that served to regulate our immune system and suppress inappropriate inflammation," explained Lowry. "That has put us at higher risk for inflammatory disease and stress-related psychiatric disorders."
University of Colorado Boulder
Christopher Lowry
This is not the first study on the subject from Lowry, who published previous work showing the connection between being exposed to healthy bacteria and mental health. He found that being raised with animals and dust in a rural environment helps children develop more stress-proof immune systems. Such kids were also likely to be less at risk for mental illnesses than people living in the city without pets.
Lowry's other work also pointed out that the soil-based bacterium Mycobacterium vaccae acts like an antidepressant when injected into rodents. It alters their behavior and has lasting anti-inflammatory effects on the brain, according to the press release from the University of Colorado Boulder. Prolonged inflammation can lead to such stress-related disorders as PTSD.
The new study from Lowry and his team identified why that worked by pinpointing the specific fatty acid responsible. They showed that when the 10(Z)-hexadecenoic acid gets into cells, it works like a lock, attaching itself to the peroxisome proliferator-activated receptor (PPAR). This allows it to block a number of key pathways responsible for inflammation. Pre-treating the cells with the acid (or lipid) made them withstand inflammation better.
Lowry thinks this understanding can lead to creating a "stress vaccine" that can be given to people in high-stress jobs, like first responders or soldiers. The vaccine can prevent the psychological effects of stress.
What's more, this friendly bacterium is not the only potentially helpful organism we can find in soil.
"This is just one strain of one species of one type of bacterium that is found in the soil but there are millions of other strains in soils," said Lowry. "We are just beginning to see the tip of the iceberg in terms of identifying the mechanisms through which they have evolved to keep us healthy. It should inspire awe in all of us."
Check out the study published in the journal Psychopharmacology.
Big think's weekly newsletter.
Get smarter faster from the comfort of your inbox.
See our newsletter privacy policy
here
Most Popular
Most Recent
Big think's weekly newsletter.
Get smarter faster from the comfort of your inbox.
See our newsletter privacy policy
here
© Copyright 2007-2019 & BIG THINK, BIG THINK EDGE,
SMARTER FASTER trademarks owned by The Big Think, Inc. All rights reserved.