What Your Commute Indicates About Your Wealth
The less money you have, the more time you probably spend getting to your job. Christine Quinn, a candidate for mayor of New York City, wants to smooth out the curve.
26 July, 2013
---
The less money you have, the more time you probably spend getting to your job. In New York City, this is truer than ever, as Jim O'Grady of WNYC reports:
During Mayor Bloomberg's three terms, it became especially expensive to rent or buy a home in Manhattan and neighborhoods close to it. Over the last 10 years, most of the growth in commuting to well-paying jobs in Manhattan has occurred in Manhattan itself -- and in places like Williamsburg and Greenpoint, Downtown and Brownstone Brooklyn. 
That development has pushed some New Yorkers of limited means to neighborhoods further from Manhattan, where most of the jobs are located. And increasing numbers of New Yorkers are traveling within or between the outer boroughs to get to work, often using a Manhattan-centric transportation system that is not well suited to getting them where they need to go.
Mayoral candidate Christine Quinn, again leading the polls thanks to Anthony Weiner's self-destructive sexting compulsion, is making commute times into a central campaign issue. She promises to take action that would result in a one-hour cap by 2023 on one-way commuting for residents of the five boroughs. How? Here are some of her proposals:
She said she'd fight to wrest control of the MTA from Albany, and called for the mayor to be given the power to appoint the president of New York City Transit, the MTA agency that controls the city's subways and buses...
Quinn also called for more buses. Instead of building new, costly subways, she said the city should expand its Select Bus Service, adding 10 new routes over the next four years...
Quinn also called for an expansion of ferry service, with new stops in Brooklyn at Atlantic Avenue and in Red Hook, in Astoria, Queens, on Roosevelt Island, as well at East 91st Street in Manhattan and Ferry Point Park in The Bronx.
More buses, more ferries, a tighter mayoral clamp on the MTA...all of these measures may help. But the problem of income inequality in the New York City is not likely to go away even when Staten Island residents can get to their midtown Manhattan jobs in under 60 minutes. As this incredibly cool interactive infographic at the New Yorker shows, the texture of the city's extreme inequalities is readily mappable. Here is the map for the train I ride: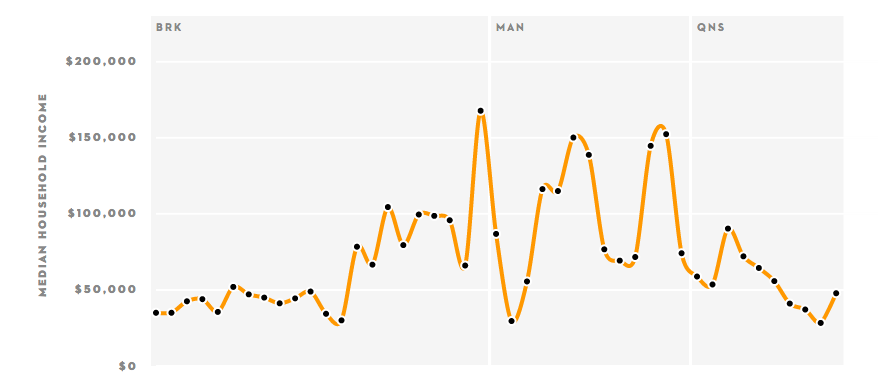 The graph's low points are in the outer reaches of Brooklyn and Queens, while the peaks are in the fashionable Dumbo neighborhood of Brooklyn (along the waterfront facing Manhattan), at Union Square and on the Upper East Side. Notice too the wild gyrations of household income within Manhattan. The lowest point on the graph is at Delancey St. on the Lower East Side. In this census tract on the border of Chinatown and in the heart of many of the city's housing projects, median household income is only $29,554.
Despite the disturbing picture of inequality these graphs paint, and I'd recommend tooling around the page yourself, one countervailing fact must be pointed out: cities that lack effective public transportation entrench poverty to a much greater extent than do cities like New York, where 98 percent of the population lives in neighborhoods where you do not need a car to get around.
The Russian-built FEDOR was launched on a mission to help ISS astronauts.
Atheism doesn't offer much beyond non-belief, can Secular Humanism fill the gaps?
Culture & Religion
Atheism is increasingly popular, but the lack of an organized community around it can be problematic.
The decline in social capital once offered by religion can cause severe problems.
Secular Humanism can offer both community and meaning, but it has also attracted controversy.
Picking up where we left off a year ago, a conversation about the homeostatic imperative as it plays out in everything from bacteria to pharmaceutical companies—and how the marvelous apparatus of the human mind also gets us into all kinds of trouble.
Think Again Podcasts
"Prior to nervous systems: no mind, no consciousness, no intention in the full sense of the term. After nervous systems, gradually we ascend to this possibility of having to this possibility of having minds, having consciousness, and having reasoning that allows us to arrive at some of these very interesting decisions."

"We are fragile culturally and socially…but life is fragile to begin with. All that it takes is a little bit of bad luck in the management of those supports, and you're cooked…you can actually be cooked—with global warming!"