The Trouble With Kindergarten
The joys of childhood take a backseat to "preparation for college and career."
02 May, 2014
---
An elementary school in Elwood, New York infuriated parents and inspired an online petition this week when it cancelled an end-of-year kindergarten show in order to prepare its six-year-olds for "college and career." Snatching an annual performance rite from Kindergarteners to get them up to snuff academically may seem like a mockery of the Common Core curriculum worthy of the Onion, but it's no joke. Here is the letter (click on it to expand), signed by interim principal Ellen Best-Laimit and the school's four kindergarten teachers: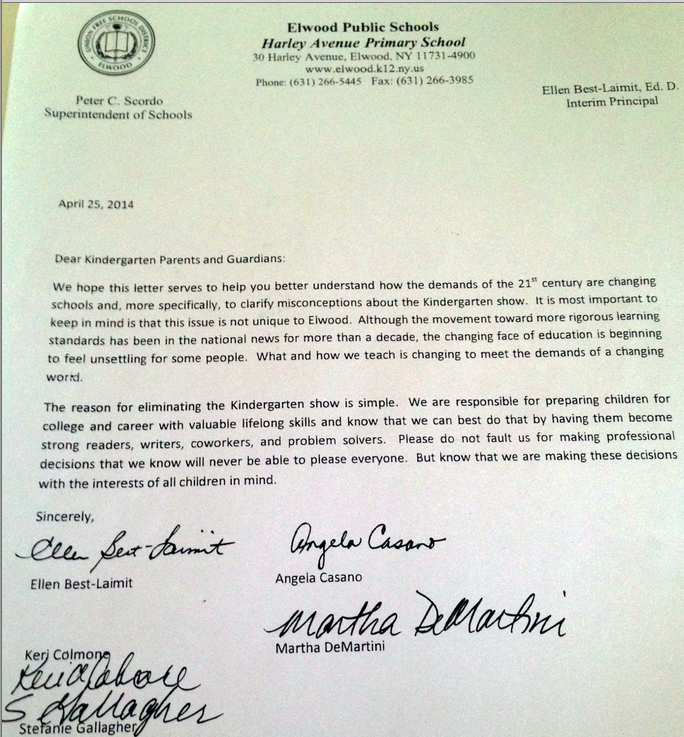 In response to parents' complaints, Superintendent Peter Scordo released a statement digging in his heels:
Our educators believe that the traditional kindergarten performance requires multiple days away from classroom work for preparation and execution, and together with the lost instructional time this year due to poor weather, is not the best use of the limited time we have with our youngest learners.
So there you have it. In lieu of performing in the school play before delighted audiences on May 14 and 15—developing their imaginations, their creative souls and their confidence as public speakers—the six-year-olds of Elwood will be doing their part to make sure thirteen years down the line they ready for Freshman Comp. Ah, the joys of childhood in the age of the Common Core.
Thankfully, not all is rotten in the kindergarten classroom. My two children have had significantly better experiences in their Brooklyn public schools, with lots of arts enrichment and, yes, holiday and end-of-year performances (not to mention celebratory flash mobs). But kindergarten standards are much more academic than they once were, and teacher evaluations hinge on observable data. A friend tells me of a classroom where the kids were asked to fill out a log before choice time ("I'm going to play fireman"; "I'm going to build a house with blocks") to ensure the event generated assessable data points. All this and more prompted our elder daughter's wonderful teacher to abandon K for pre-K a few years ago.
But even many pre-kindergarten classrooms in New York, Elena Nitecki and Mi-Hyun Chung write, crowd out play and choice-based learning because teachers feel it is their duty to "get through the content." The travesty is that play is actually the most effective medium in which young children acquire literacy skills.  
This troubling trend of pushing pre-kindergarten children beyond what is developmentally appropriate to prepare them for kindergarten is in direct contrast to what kindergarten is really meant to be—a "child's garden," as Froebel (1899) originally conceived. The PKCC [Pre-Kindergarten Common Core as implemented in New York State] can be balanced with developmentally appropriate expectations for emergent literacy, including play, if the standards are approached as expectations that be integrated within a child- centered, play-based curriculum. Teachers of young children should value the hallmark of the early childhood years—play, a powerful vehicle to refine social, cognitive, physical, and language skills. To balance the PKCC with play, teachers should build on children's interests and existing pre-literacy skills and knowledge in a meaningful way through play. After all, literacy is best developed within the context of a child's natural language of play.
This does not mean that kindergarten should be an everything-goes romper room. As one kindergarten teacher in Brooklyn told me, "learning should happen with a balance of 'academic' subjects, play (structured and unstructured), exposure to the arts, and time for socialization. It is a very important year in terms of setting up the foundations for success in school in both the academic aspect and especially in the social aspect." It's the balance this teacher speaks of—a basic sense of proportion in pondering what young children should be engaged in—that seems so out of whack in the Long Island school's decision to, in effect, cancel Christmas.
Image credit: Shutterstock.com
Big Think
Sponsored by Lumina Foundation
Upvote/downvote each of the videos below!

As you vote, keep in mind that we are looking for a winner with the most engaging social venture pitch - an idea you would want to invest in.
Lumina Foundation and Big Think have partnered to bring this entrepreneurial competition to life, and we hope you'll participate! We have narrowed down the competition to four finalists and will be announcing an audience's choice award and a judges' choice award in May.
The creator of the winning video — chosen by Big Think's audience, the Lumina Foundation, and an independent panel of experts (bios below) — will be flown to New York for a taping in the Big Think studio as a way to further promote their vision for a new, disruptive idea in post-secondary education.
Thank you to all of the contestants who spent time submitting applications, and best of luck to our final four competitors.
Finalist: Greater Commons - Todd McLeod
Greater Commons, founded by Todd McLeod and Andrew Cull, is an organization that helps people live happier, more successful and fulfilling lives through agile learning. The current education system is inefficient and exclusionary, in which many students who end up earning a degree, if at all, enter a career not related to their field of study. Greater Commons solves this problem and gap in post-high school secondary education in a variety of ways. Passionately and diligently, Great Commons helps others obtain skills, knowledge, wisdom, motivation, and inspiration so that they may live better lives.
Finalist: PeerFoward - Keith Frome
PeerForward is an organization dedicated to increasing the education and career success rates of students in low-income schools and communities by mobilizing the power of positive peer influence. PeerForward works with partner schools to select influential students as a part of a team, systemizing the "peer effect." Research in the fields of sociology of schools, social-emotional learning, adult-youth partnerships, and civic education demonstrates that students can have a positive effect on the academic outcomes of their peers. PeerForward is unique through its systemic solutions to post-secondary education.
Finalist: Cogniss - Leon Young
Cogniss combines technology and best practice knowledge to enable anyone to innovate and share solutions that advance lifelong learning. Cogniss is the only platform to integrate neuroscience, through which it solves the problem of access by providing a low-code platform that enables both developers and non-developers to build sophisticated education apps fast, and at a much lower cost. It addresses the uneven quality of edtech solutions by embedding research-based learning design into its software. App creators can choose from a rich set of artificial intelligence, game, social and data analytics, and gamification to build their perfect customized solution.
Finalist: Practera - Nikki James
Practera's mission is to create a world where everyone can learn through experience. Today's workplaces are increasingly dynamic and diverse, however, costly and time-consuming experiential learning is not always able to offer the right opportunities at scale. Many students graduate without developing the essential skills for their chosen career. Practera's team of educators and technologists see this problem as an opportunity to transform the educational experience landscape, through a CPL pedagogical framework and opportunities to apply students' strengths through active feedback.
Thank you to our judges!
Our expert judges are Lorna Davis, Dan Rosensweig, and Stuart Yasgur.
Lorna Davis is the Senior Advisor to Danone CEO and is a Global Ambassador for the B Corp movement. Lorna has now joined B-Lab, the non-for-profit that supports the B Corporation movement on an assignment to support the journey of large multi nationals on the path to using business as a force of good.
Dan Rosensweig joined Chegg in 2010 with a vision for transforming the popular textbook rental service into a leading provider of digital learning services for high school and college students. As Chairman and CEO of Chegg, Dan commits the company to fulfilling its mission of putting students first and helping them save time, save money and get smarter.

Stuart Yasgur leads Ashoka's Social Financial Services globally. At Ashoka, Stuart works with others to initiate efforts that have mobilized more than $500 million in funding for social entrepreneurs, engaged the G20 through the Toronto, Seoul and Los Cabos summits and helped form partnerships with leading financial institutions and corporations.
Again, thank you to our incredible expert judges.
Upstreamism advocate Rishi Manchanda calls us to understand health not as a "personal responsibility" but a "common good."
Sponsored by Northwell Health
Upstreamism tasks health care professionals to combat unhealthy social and cultural influences that exist outside — or upstream — of medical facilities.
Patients from low-income neighborhoods are most at risk of negative health impacts.
Thankfully, health care professionals are not alone. Upstreamism is increasingly part of our cultural consciousness.
The Bajau people's nomadic lifestyle has given them remarkable adaptions, enabling them to stay underwater for unbelievable periods of time. Their lifestyle, however, is quickly disappearing.
Wikimedia Commons
Culture & Religion
The Bajau people travel in small flotillas throughout the Phillipines, Malaysia, and Indonesia, hunting fish underwater for food.
Over the years, practicing this lifestyle has given the Bajau unique adaptations to swimming underwater. Many find it straightforward to dive up to 13 minutes 200 feet below the surface of the ocean.
Unfortunately, many disparate factors are erasing the traditional Bajau way of life.
Big think's weekly newsletter.
Get smarter faster from the comfort of your inbox.
See our newsletter privacy policy
here
Most Popular
Most Recent
Big think's weekly newsletter.
Get smarter faster from the comfort of your inbox.
See our newsletter privacy policy
here
© Copyright 2007-2019 & BIG THINK, BIG THINK EDGE,
SMARTER FASTER trademarks owned by The Big Think, Inc. All rights reserved.