The Highly Dubious Science Behind the Brain-Training Craze
The cognitive equivalent of snacking on Twinkies dipped in whey protein to prepare for a triathalon.
20 March, 2016
---
Two months ago, Lumosity, the "brain-training company" whose ads you've probably seen on the web or heard on the radio or TV, was forced to pay $2 million as part of a settlement with the Federal Trade Commission (FTC), which had accused the company of baselessly touting the benefits of its product. The judgment against Lumosity in January was actually much bigger—$50 million—but the sum was reduced because the company could not afford to pay that much. Subscribers who faithfully played its memory and concentration games and were shelling out $14.95/month (or $299.95 for "lifetime" access) got some relief, and Lumosity was forced to notify auto-renewing members of the settlement and make it easier for them to cancel.
What was so problematic about the way Lumosity was pitching its services? The company "preyed on consumers' fears about age-related cognitive decline," the FTC charged, "suggesting their games could stave off memory loss, dementia, and even Alzheimer's disease." Just one problem: "Lumosity simply did not have the science to back up its ads."
Consider the cognitive goodies Lumosity was promising in this ad, for example: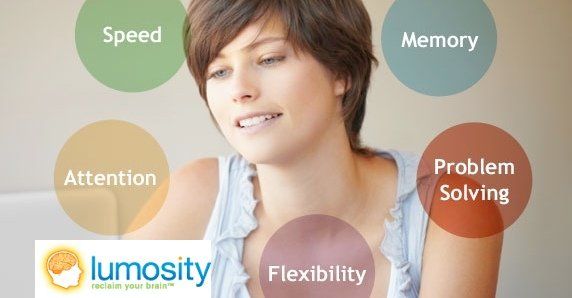 And take in the apparently non-tongue-in-cheek suggestion in this ad that sorting through online flashcards just might turn you into an NBA superstar: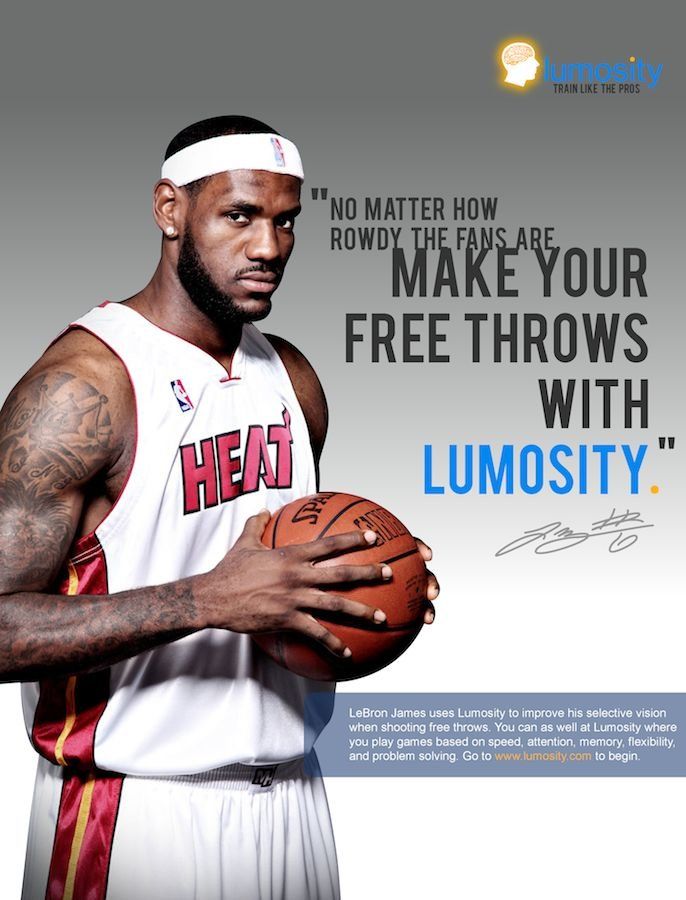 This Be Like Lebron pitch is a dead-serious version of the much lighter and more affectionate Gatorade ad featuring Michael Jordan ("Be Like Mike") from 1992:
And for a dose of syrupy deception, listen closely to the bubbly actor playing a customer called 'Emily" in this TV spot:
Notice Emily's starry-eyed swoon that Lumosity is "based on neuro-science" and the narrator's explanation that the website employs the mysterious-sounding "science of neuroplasticity" to help subscribers "build a better brain." Don't worry, there's nothing Frankenstein-y going on, the spot reassures us brightly. The website will rewire your noggin "in a way that just feels like games." Yes, games! Fun stuff! No sweat! It's the cognitive equivalent of snacking on Twinkies dipped in whey protein to prepare for a triathalon.
There's nothing wrong with having fun on the Internet, and we can safely stipulate that Lumosity's challenging games are more valuable than, say, Candy Crush or Cow Evolution, two mindless pastimes that straphangers eat up during their morning commutes. But the brain-training craze that has gripped web users over the past few years should give us pause. It's disturbing how easily people can be taken in with obviously exaggerated claims about how devoting themselves to a series of games can improve intellectual functioning. The sad irony is that the people who spend good money on these programs could in fact use something of a mental tune-up—but the lessons of rational thinking they need are nowhere to be found in the curriculum.
--
Steven V. Mazie is Professor of Political Studies at Bard High School Early College-Manhattan and Supreme Court correspondent for The Economist. He holds an A.B. in Government from Harvard College and a Ph.D. in Political Science from the University of Michigan. He is author, most recently, of American Justice 2015: The Dramatic Tenth Term of the Roberts Court.
Image credit: Shutterstock.com
Follow Steven Mazie on Twitter: @stevenmazie
What can 3D printing do for medicine? The "sky is the limit," says Northwell Health researcher Dr. Todd Goldstein.
Northwell Health
Sponsored by Northwell Health
Medical professionals are currently using 3D printers to create prosthetics and patient-specific organ models that doctors can use to prepare for surgery.
Eventually, scientists hope to print patient-specific organs that can be transplanted safely into the human body.
Northwell Health, New York State's largest health care provider, is pioneering 3D printing in medicine in three key ways.
An ordained Lama in a Tibetan Buddhist lineage, Lama Rod grew up a queer, black male within the black Christian church in the American south. Navigating all of these intersecting, evolving identities has led him to a life's work based on compassion for self and others.
Think Again Podcasts
"What I'm interested in is deep, systematic change. What I understand now is that real change doesn't happen until change on the inside begins to happen."
"Masculinity is not inherently toxic. Patriarchy is toxic. We have to let that energy go so we can stop forcing other people to do emotional labor for us."
We were gaining three IQ points per decade for many, many years. Now, that's going backward. Could this explain some of our choices lately?
The Flynn effect appears to be in retrograde. (Credit: Shutterstock/Big Think)
popular
There's a new study out of Norway that indicates our—well, technically, their—IQs are shrinking, to the tune of about seven IQ points per generation.
Here's why generalists triumph over specialists in the new era of innovation.
Videos
Since the explosion of the knowledge economy in the 1990s, generalist inventors have been making larger and more important contributions than specialists.
One theory is that the rise of rapid communication technologies allowed the information created by specialists to be rapidly disseminated, meaning generalists can combine information across disciplines to invent something new.
Here, David Epstein explains how Nintendo's Game Boy was a case of "lateral thinking with withered technology." He also relays the findings of a fascinating study that found the common factor of success among comic book authors.
Big think's weekly newsletter.
Get smarter faster from the comfort of your inbox.
See our newsletter privacy policy
here
Most Popular
Most Recent
Big think's weekly newsletter.
Get smarter faster from the comfort of your inbox.
See our newsletter privacy policy
here
© Copyright 2007-2019 & BIG THINK, BIG THINK EDGE,
SMARTER FASTER trademarks owned by The Big Think, Inc. All rights reserved.