The Highly Dubious Science Behind the Brain-Training Craze
The cognitive equivalent of snacking on Twinkies dipped in whey protein to prepare for a triathalon.
20 March, 2016
---
Two months ago, Lumosity, the "brain-training company" whose ads you've probably seen on the web or heard on the radio or TV, was forced to pay $2 million as part of a settlement with the Federal Trade Commission (FTC), which had accused the company of baselessly touting the benefits of its product. The judgment against Lumosity in January was actually much bigger—$50 million—but the sum was reduced because the company could not afford to pay that much. Subscribers who faithfully played its memory and concentration games and were shelling out $14.95/month (or $299.95 for "lifetime" access) got some relief, and Lumosity was forced to notify auto-renewing members of the settlement and make it easier for them to cancel.
What was so problematic about the way Lumosity was pitching its services? The company "preyed on consumers' fears about age-related cognitive decline," the FTC charged, "suggesting their games could stave off memory loss, dementia, and even Alzheimer's disease." Just one problem: "Lumosity simply did not have the science to back up its ads."
Consider the cognitive goodies Lumosity was promising in this ad, for example: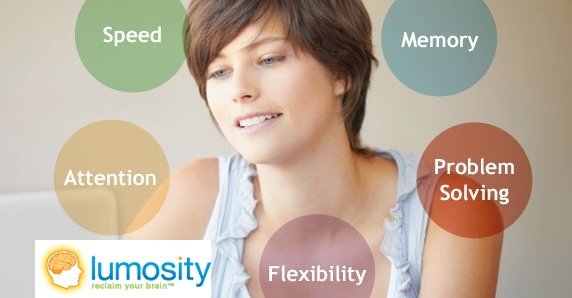 And take in the apparently non-tongue-in-cheek suggestion in this ad that sorting through online flashcards just might turn you into an NBA superstar: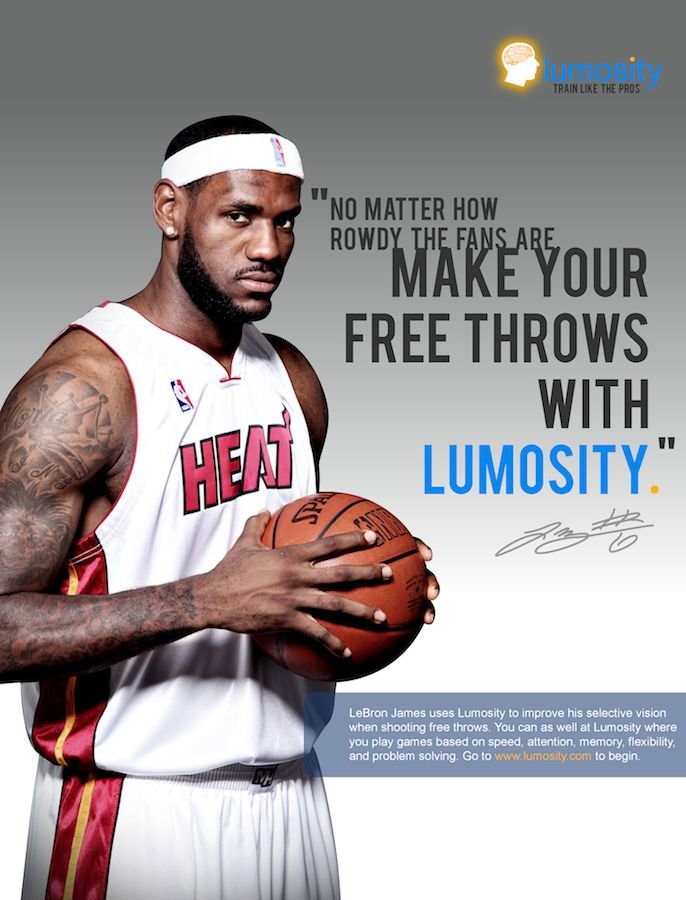 This Be Like Lebron pitch is a dead-serious version of the much lighter and more affectionate Gatorade ad featuring Michael Jordan ("Be Like Mike") from 1992:
And for a dose of syrupy deception, listen closely to the bubbly actor playing a customer called 'Emily" in this TV spot:
Notice Emily's starry-eyed swoon that Lumosity is "based on neuro-science" and the narrator's explanation that the website employs the mysterious-sounding "science of neuroplasticity" to help subscribers "build a better brain." Don't worry, there's nothing Frankenstein-y going on, the spot reassures us brightly. The website will rewire your noggin "in a way that just feels like games." Yes, games! Fun stuff! No sweat! It's the cognitive equivalent of snacking on Twinkies dipped in whey protein to prepare for a triathalon.
There's nothing wrong with having fun on the Internet, and we can safely stipulate that Lumosity's challenging games are more valuable than, say, Candy Crush or Cow Evolution, two mindless pastimes that straphangers eat up during their morning commutes. But the brain-training craze that has gripped web users over the past few years should give us pause. It's disturbing how easily people can be taken in with obviously exaggerated claims about how devoting themselves to a series of games can improve intellectual functioning. The sad irony is that the people who spend good money on these programs could in fact use something of a mental tune-up—but the lessons of rational thinking they need are nowhere to be found in the curriculum.
--
Steven V. Mazie is Professor of Political Studies at Bard High School Early College-Manhattan and Supreme Court correspondent for The Economist. He holds an A.B. in Government from Harvard College and a Ph.D. in Political Science from the University of Michigan. He is author, most recently, of American Justice 2015: The Dramatic Tenth Term of the Roberts Court.
Image credit: Shutterstock.com
Follow Steven Mazie on Twitter: @stevenmazie
Malcolm Gladwell teaches "Get over yourself and get to work" for Big Think Edge.
Big Think Edge
Learn to recognize failure and know the big difference between panicking and choking.

At Big Think Edge, Malcolm Gladwell teaches how to check your inner critic and get clear on what failure is.

Subscribe to Big Think Edge before we launch on March 30 to get 20% off monthly and annual memberships.
Can sensitive coral reefs survive another human generation?
Videos
Coral reefs may not be able to survive another human decade because of the environmental stress we have placed on them, says author David Wallace-Wells. He posits that without meaningful changes to policies, the trend of them dying out, even in light of recent advances, will continue.
The World Wildlife Fund says that 60 percent of all vertebrate mammals have died since just 1970. On top of this, recent studies suggest that insect populations may have fallen by as much as 75 percent over the last few decades.
If it were not for our oceans, the planet would probably be already several degrees warmer than it is today due to the emissions we've expelled into the atmosphere.
Research has shown that men today have less testosterone than they used to. What's happening?
Sex & Relationships
Several studies have confirmed that testosterone counts in men are lower than what they used to be just a few decades ago.
While most men still have perfectly healthy testosterone levels, its reduction puts men at risk for many negative health outcomes.
The cause of this drop in testosterone isn't entirely clear, but evidence suggests that it is a multifaceted result of modern, industrialized life.
Michael Dowling, Northwell Health's CEO, believes we're entering the age of smart medicine.
Sponsored by Northwell Health
The United States health care system has much room for improvement, and big tech may be laying the foundation for those improvements.
Technological progress in medicine is coming from two fronts: medical technology and information technology.
As information technology develops, patients will become active participants in their health care, and value-based care may become a reality.
Big think's weekly newsletter.
Get smarter faster from the comfort of your inbox.
See our newsletter privacy policy
here
Most Popular
Most Recent
Big think's weekly newsletter.
Get smarter faster from the comfort of your inbox.
See our newsletter privacy policy
here
© Copyright 2007-2018 & BIG THINK, BIG THINK EDGE,
SMARTER FASTER trademarks owned by The Big Think, Inc. All rights reserved.