Is Your Pension Safe? Check this Map
Some states are in particularly bad shape, but it would be dangerous to assume that all is well with public-employee pensions anywhere in America.
23 July, 2013
---
If you are one of six or so million state or federal employees in the United States, recent events may be getting you a little worried about your retirement security. The potentially devastating fallout for pensioners in bankrupt Detroit is dominating the airwaves. Here is an excerpt from a New York Times article yesterday:
Vera Proctor, 63, who retired in 2010 after 39 years as a 911 operator and supervisor, said she worried that at her age and with her poor health, it would be difficult to find a new job to make up for any reductions to her pension payments.
"Where's the nearest street corner where I can sell bottles of water?" Ms. Proctor asked wryly. "That's what it's going to come down to. We're not going to have anything."
Michael Wells, 65, retired in 2011 after working at the Detroit Public Library for 34 years. He said he still owed close to $100,000 on his house in Detroit, which was appraised recently at $25,000. "I'm totally underwater here," said Mr. Wells, who is one of the plaintiffs in a union-backed lawsuit to stop the city from filing for bankruptcy and from reducing pension payments.
He said he viewed the pension as part of the overall pay he was promised. "It's deferred income," he said. "Had I not had a pension, perhaps I would have gotten several dollars an hour more and that would be O.K. I would have taken that money and invested it in some kind of mutual fund or stock."
These are nightmarish scenarios for Detroit's 21,000 pensioners, who stand to lose up to 90 percent of the pensions they were promised and have been expecting. Yesterday, I shared some of my personal pension anxiety in a post at the Economist. But how concerned you are should depend on the state in which you reside. According to this data, 21 states have worrisomely underfunded pension funds while 29 are in pretty good shape.   
This map gives you a quick snapshot of the states in particular trouble: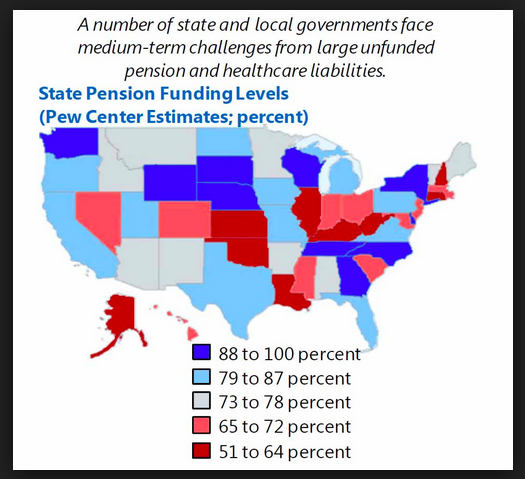 If you're a public employee living in a melon or red-tinted state, you have strong reason for concern. But don't feel smug, blue-staters: you'll notice that Michigan seemed pretty safe when this data was compiled just two years ago. Given the apparently misguided math actuaries have been using to calculate the contributions states must contribute to pension funds in order to fulfill their obligations, it would be dangerous to assume that all is well with public-employee pensions anywhere in America.
Here's the science of black holes, from supermassive monsters to ones the size of ping-pong balls.
Videos
There's more than one way to make a black hole, says NASA's Michelle Thaller. They're not always formed from dead stars. For example, there are teeny tiny black holes all around us, the result of high-energy cosmic rays slamming into our atmosphere with enough force to cram matter together so densely that no light can escape.
CERN is trying to create artificial black holes right now, but don't worry, it's not dangerous. Scientists there are attempting to smash two particles together with such intensity that it creates a black hole that would live for just a millionth of a second.
Thaller uses a brilliant analogy involving a rubber sheet, a marble, and an elephant to explain why different black holes have varying densities. Watch and learn!
Bonus fact: If the Earth became a black hole, it would be crushed to the size of a ping-pong ball.
Protected animals are feared to be headed for the black market.
(VL.ru)
Politics & Current Affairs
Russian news network discovers 101 black-market whales.
Orcas and belugas are seen crammed into tiny pens.
Marine parks continue to create a high-price demand for illegal captures.
In a breakthrough for nuclear fusion research, scientists at China's Experimental Advanced Superconducting Tokamak (EAST) reactor have produced temperatures necessary for nuclear fusion on Earth.
Credit: EAST Team
Surprising Science
The EAST reactor was able to heat hydrogen to temperatures exceeding 100 million degrees Celsius.
Nuclear fusion could someday provide the planet with a virtually limitless supply of clean energy.
Still, scientists have many other obstacles to pass before fusion technology becomes a viable energy source.
Big think's weekly newsletter.
Get smarter faster from the comfort of your inbox.
See our newsletter privacy policy
here
Most Popular
Most Recent
Big think's weekly newsletter.
Get smarter faster from the comfort of your inbox.
See our newsletter privacy policy
here
© Copyright 2007-2018 & BIG THINK, BIG THINK EDGE,
SMARTER FASTER trademarks owned by The Big Think, Inc. All rights reserved.