Could a State Judge Ignore a Supreme Court Decision Upholding Gay Marriage?
29 January, 2015
---
I won't make you wait: the answer is no. But Article IV, section 2 of the Constitution, which spells that out, is apparently no obstacle for Roy Moore, the Chief Justice of the Alabama Supreme Court. On Tuesday, Judge Moore wrote a letter to the Alabama governor saying he would thumb his nose at last week's federal court ruling that overturned his state's ban on same-sex marriage. He pledged to do the same if the United States Supreme Court recognizes marriage equality for gays and lesbians when it rules on the issue this June.
Judge Moore's letter has already drawn an ethics complaint. This isn't unfamiliar territory for the stubborn jurist. In 2003, Moore was dismissed from the bench after he refused to follow a federal judge's order to remove a two-and-a-half-ton Ten Commandments monument he had erected in the state courthouse. "To acknowledge God cannot be a violation of the Canons of Ethics," Moore insisted at the time. "Without God there can be no ethics." Undeterred, Moore waged two unsuccessful campaigns for governor before running for chief justice again in 2012. The people of Alabama reinstated him to his old seat.
In his latest bout of judicial civil disobedience, Moore opened the letter this way: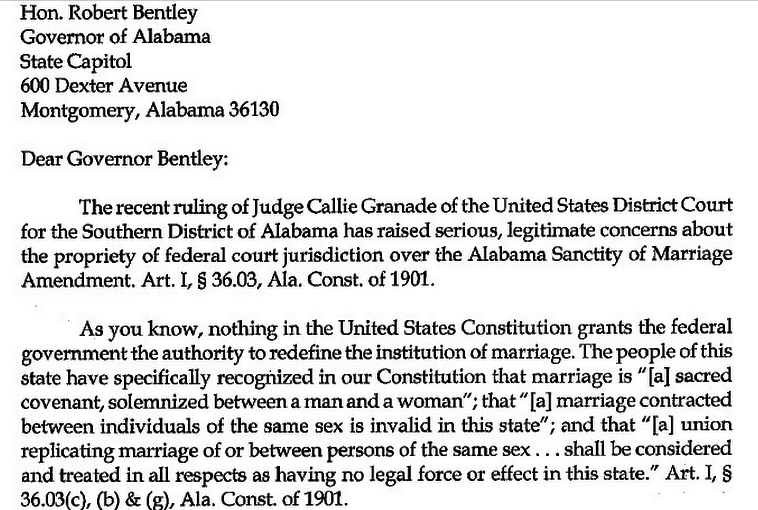 "The laws of this state," Moore went on to write, "have always recognized the Biblical admonition stated by our Lord" that only men and women should "cleave" together as "one flesh." And Moore cites a secular source for his position as well: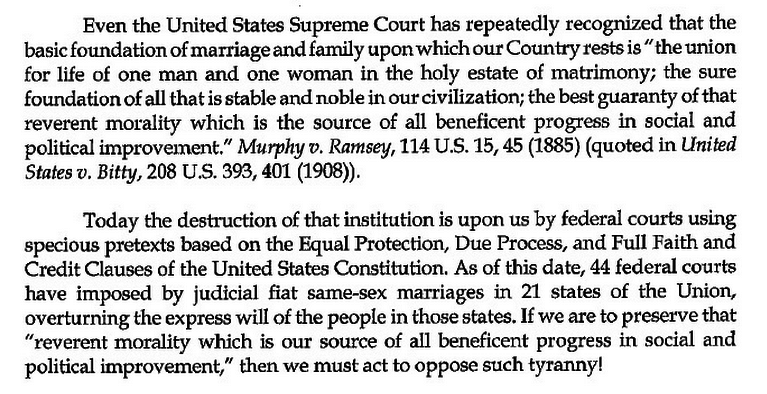 That's right: Moore cited a Supreme Court case decided over a century ago to solidify his belief that gay marriage is anathema to the Constitution. No mention of United States v Windsor, the 2013 decision striking down the core of the Defense of Marriage Act, a law defining marriage along heterosexual lines. And no acknowledgement that the Equal Protection and Due Process Clauses he pooh-poohed as a source of the right to marriage equality are the exact constitutional phrases the Supreme Court turned to in 1967 when it decided that laws against inter-racial marriage were invalid.
But the real problem with Judge Moore's adolescent stance has nothing to do with his position on same-sex marriage. The trouble with his letter is, as the Southern Poverty Law Center puts it in its complaint, one of basic insubordination:
Chief Justice Moore has himself taken an oath to uphold the federal constitution, even if there are other sources of authority he agrees with or prefers. This is simply "Constitutional Law 101"—a principle that every first-year law student at every law school in every state in the Union would grasp instantly. Chief Justice Moore's express rejection of this foundational principle evidences either a lack of faithfulness to a principle of law that is beyond dispute or an utter lack of competence that renders him subject to discipline. 
If Moore's reaction to the federal court ruling is an early taste of how conservative states will respond to a possible Supreme Court decision this summer providing gays and lesbians across the country with a right to wed, we are in for some tumult in the years ahead. Judge Moore may have more chutzpah than the average cranky state official, but he is not, apparently, the only one with plans to try to scuttle a gay-friendly Supreme Court ruling. One would hope that however the justices rule in June, everyone will keep a copy of the Constitution close at hand. 
Image credit: Shutterstock.com
Big Think
Sponsored by Lumina Foundation
Upvote/downvote each of the videos below!

As you vote, keep in mind that we are looking for a winner with the most engaging social venture pitch - an idea you would want to invest in.
From time-traveling billiard balls to information-destroying black holes, the world's got plenty of puzzles that are hard to wrap your head around.
Big Think
Surprising Science
While it's one of the best on Earth, the human brain has a lot of trouble accounting for certain problems.
We've evolved to think of reality in a very specific way, but there are plenty of paradoxes out there to suggest that reality doesn't work quite the way we think it does.
Considering these paradoxes is a great way to come to grips with how incomplete our understanding of the universe really is.
Tragedy in art, from Ancient Greece to Breaking Bad, resists all our efforts to tie reality up in a neat bow, to draw some edifying lesson from it. Instead it confronts us with our own limitations, leaving us scrabbling in the rubble of certainty to figure out what's next.
Think Again Podcasts
Why democracy has been unpopular with philosophers
Tragedy's reminder that the past isn't finished with us
…and why we need art in the first place
Big think's weekly newsletter.
Get smarter faster from the comfort of your inbox.
See our newsletter privacy policy
here
Most Popular
Most Recent
Big think's weekly newsletter.
Get smarter faster from the comfort of your inbox.
See our newsletter privacy policy
here
© Copyright 2007-2019 & BIG THINK, BIG THINK EDGE,
SMARTER FASTER trademarks owned by The Big Think, Inc. All rights reserved.