Big ideas.
Once a week.
Subscribe to our weekly newsletter.
We can halve most forms of violence by 2030. Here's how.
A second step is to determine where violence concentrates and who is most at risk.
30 October, 2019
Justin Sullivan/Getty Images
Violence has always been one of humanity's most serious global challenges. This is because for most of history, we were natural born killers.
---
Hundreds of millions of men, women and children have been killed or maimed by armed conflict, crime, extremism and sexual and gender-based violence.
Not only does violence exact a massive social and economic toll, it also corrodes democratic institutions and undermines fundamental human rights. There is also a risk of certain forms of collective violence escalating in the coming decade, not least with the stresses imposed by climate change and the risks posed by new technologies.
Yet far from the chilling headlines, progress has been made over the past half century in preventing and reducing many types of violence. While promising, the comparatively recent drop in violence is no guarantee that it will continue well into the 21st century. But with targeted interventions and sustained financing - especially in cities - most forms of violence could diminish further still. This is, in fact, one of the central aspirations of Sustainable Development Goal 16 on peace, security and justice. The world has a real opportunity to halve violence by 2030. Achieving this will require taking stock of where we are and taking decisions about where we want to go. This is precisely what bold initiatives such as the Pathfinders Partnership seek to achieve.
At the outset, it is important to reflect on just how many people are affected by violence. While difficult to measure with precision, as many as 600,000 people - including almost 100,000 women and girls - die around the world each year as a result of conflict, crime, extremist and extrajudicial violence. Millions more suffer physical and psychological injuries associated with warfare, criminality, and sexual and gender-based violence. Over 40 million people are displaced by violence - including 26 million refugees. If no steps are taken to change our present course, it is not at all certain that these trends will improve in the next decade. Yet if measures are taken to reverse these tendencies, literally hundreds of thousands of lives and trillions of dollars in reconstruction, reparations, productivity losses and insurance claims could be saved.
Homicide rates around the world, according to UNODC
Image: UNODC
The first step to effectively reducing violence by 2030 is to have a clear sense of how it is distributed in time and space. Take the case of lethal violence. There is a misperception that more people die violently in war zones than in countries at peace. While total levels of violence oscillate from year to year, it turns out that the reverse is true. The UN Office for Drugs and Crime estimates that the ratio is roughly 5:1. Put simply, many more people are dying violently as a result of organized and interpersonal crime in countries like Brazil, Colombia and Mexico than in internal conflicts in countries such as Afghanistan, Syria and Yemen. This is not to say that one type of lethal violence is more important than the other, but rather to ensure a more fact-based diagnosis.
A second step is to determine where violence concentrates and who is most at risk. A considerable proportion of all violence - that is, deaths, injuries and extreme violations - is concentrated in cities. These tendencies are likely to increase steadily given the inexorable urbanization of every region on earth. Cities in Latin America and the Caribbean - already one of the world's most urbanized regions - feature some of the highest levels of lethal and non-lethal violence. It is home to 43 of the world's 50 most violent cities. Meanwhile, most conflict and terrorist-related deaths are concentrated in a handful of countries in Central Asia, the African Sahel, North Africa and the Middle East. Irrespective of where it occurs, young males are most at risk of perpetrating or being victimized, although women and girls experience horrific forms of violence ranging from femicide to rape and abuse.
The third step is to acknowledge the risk factors that give rise to various types of violence. Although violence is multi-factoral, a number of recurring risks stand out. For example, social and economic inequality is high on the list, as are concentrated poverty, rapid unregulated urbanization, a high level of youth unemployment, and weak security and justice institutions that lead to soaring levels of impunity. Other situational factors loom large, including exposure to narcotics and alcohol and the availability of arms. Many of these factors cluster in urban settings, especially in neighbourhoods exhibiting concentrated disadvantage, social disorganization, and low levels of social cohesion.
If violence is to be genuinely diminished, it is important to acknowledge its many "hidden" forms that are routinely excluded from the international agenda. Some governments are reluctant to discuss them on the grounds that they are considered an internal domestic matter. For example, there are more than 10 million people in prisons around the world, a significant proportion of whom are in pre-trial detention and living in inhumane conditions. There are also thousands of people who are missing - "disappeared" - not least union leaders, indigenous rights defenders, human rights activists and journalists.
The only way to make a serious dent in violence is by acknowledging its full scope and scale together with the factors that drive it. This must be accompanied by sustained investment in reducing the risks and improving the protection of affected areas and populations, and investing in solutions with a positive track record. In the US, for example, research suggests that a focus on reducing lethal violence in the 40 cities with the highest rates of homicide could save more than 12,000 lives a year. In Latin America, reducing homicide in just the seven most violent countries over the next 10 years would save more than 365,000 lives.
With targeted interventions, especially in cities, hundreds of thousands of lives each year could be saved
Image: Our World in Data
What are our next steps?
First, countries and cities should set out violence reduction plans with clear targets and performance indicators over the next decade. Effective data-harvesting systems to track trends, investment in in-house monitoring and analytical capacities to interpret results, routine supervision, ongoing training and professional development, and constant evaluation are all critical. This requires political leaders who are prepared to plan across electoral cycles and business and civil society champions who are willing to invest time, energy and resources to improve their communities.
Next, governments need to develop comprehensive approaches to preventing and reducing violence. This means investing in prevention - including the risk factors that give rise to violence. It also means building in peace architectures that can channel grievances non-violently. Ideally, governments can combine specific adaptations in policing practice with prevention and protection measures tailored particularly for at-risk places and people - from young out-of-work males to vulnerable women and children. This requires the creation of partnerships across institutional and bureaucratic silos – between state and city authorities, but also across different public entities. Central to success are strong partnerships with universities, research institutes, and businesses that can help identify evidence-based pathways for improvement.
What is the Annual Meeting of the Global Future Councils?
Another key ingredient of success is staying power. The most successful interventions take time to have a lasting effect. Consider São Paulo, for example, a city that has registered sharp reductions in its murder rate in recent years. Metropolitan São Paulo's homicide rate fell from 49.2 per 100,000 in 2001 to just 5.5 per 100,000 between 2001 and 2018, making it one of the safest large cities in Brazil. In 1991, the city of Medellín in Colombia registered a homicide rate of 381 per 100,000—among the highest ever recorded anywhere. Today it is 21 per 100,000, below that of Detroit, Baltimore or New Orleans. It is challenging to maintain support given electoral cycles and economic volatility, but when interventions are terminated prematurely, the positive effects typically vanish just as quickly.
It will take unprecedented global partnerships to reduce violence by 50% over the next 10 years. But there are grounds for optimism. For the first time, the UN and World Bank have united behind a common framework for preventing conflict. UN entities such as the Office for Drugs and Crime (UNODC) and the World Health Organization (WHO) have made commitments to reduce violence. UN Women has announced a Spotlight Initiative to end violence against women and UNICEF has joined forces with others to advance INSPIRE strategies to help governments improve safety for all. Another promising initiative is the global campaign to end violence against children, which has already raised close to $38 million, strengthening the work of 49 partners in at least 37 countries. At the city scale, UN-Habitat is promoting safer cities and a coalition of mayors have launched the Peace in Our Cities campaign to localize SDG 16 commitments. Yet much more needs to be done.
The world has an opportunity to dramatically reduce some of the most egregious forms of violence over the next decade. To do this, we will need the same kind of energy and dedication that was mobilized to eradicate other killers like smallpox. We know what works, and what does not. There is no excuse not to deliver a safer world.
Reprinted with permission of the World Economic Forum. Read the original article.
Some evidence attributes a certain neurological phenomenon to a near death experience.
Credit: Petr Kratochvil. PublicDomainPictures.net.
Surprising Science
Time of death is considered when a person has gone into cardiac arrest. This is the cessation of the electrical impulse that drive the heartbeat. As a result, the heart locks up. The moment the heart stops is considered time of death. But does death overtake our mind immediately afterward or does it slowly creep in?
Some scientists have studied near death experiences (NDEs) to try to gain insights into how death overcomes the brain. What they've found is remarkable, a surge of electricity enters the brain moments before brain death. One 2013 study out of the University of Michigan, which examined electrical signals inside the heads of rats, found they entered a hyper-alert state just before death.
Scientists are beginning to think an NDE is caused by reduced blood flow, coupled with abnormal electrical behavior inside the brain. So the stereotypical tunnel of white light might derive from a surge in neural activity. Dr. Sam Parnia is the director of critical care and resuscitation research, at NYU Langone School of Medicine, in New York City. He and colleagues are investigating exactly how the brain dies.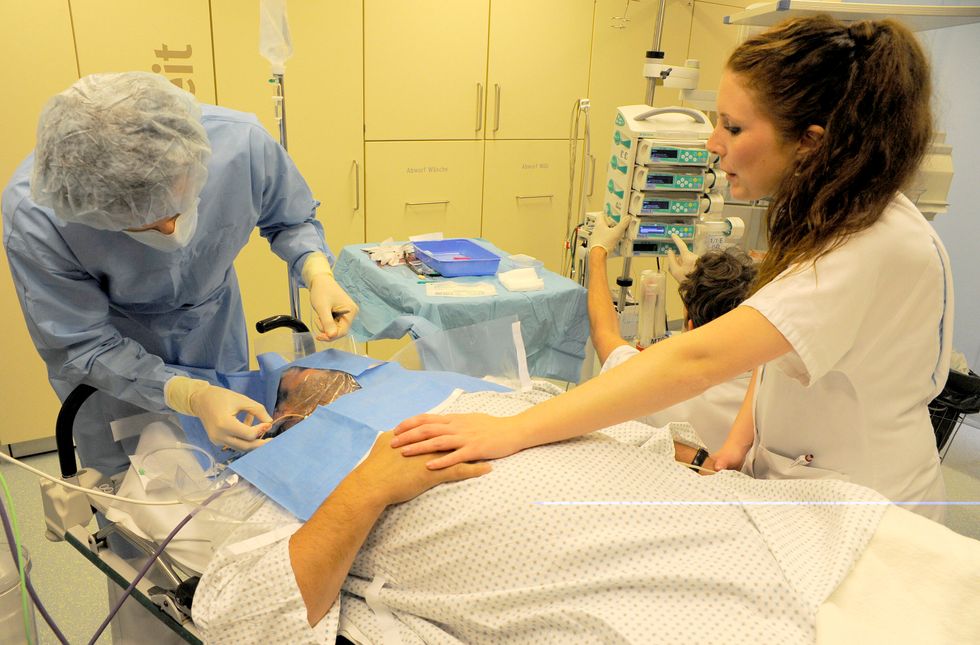 Our cerebral cortex is likely active 2–20 seconds after cardiac arrest. Credit: Getty Images.
In previous work, he's conducted animal studies looking at the moments before and after death. He's also investigated near death experiences. "Many times, those who have had such experiences talk about floating around the room and being aware of the medical team working on their body," Dr. Parnia told Live Science. "They'll describe watching doctors and nurses working and they'll describe having awareness of full conversations, of visual things that were going on, that would otherwise not be known to them."
Medical staff confirm this, he said. So how could those who were technically dead be cognizant of what's happening around them? Even after our breathing and heartbeat stops, we're conscious for about 2–20 seconds, Dr. Parnia says. That's how long the cerebral cortex is thought to last without oxygen. This is the thinking and decision-making part of the brain. It's also responsible for deciphering the information gathered from our senses.
According to Parnia during this period, "You lose all your brain stem reflexes — your gag reflex, your pupil reflex, all that is gone." Brain waves from the cerebral cortex soon become undetectable. Even so, it can take hours for our thinking organ to fully shut down.
Usually, when the heart stops beating, someone performs CPR (cardiopulmonary resuscitation). This will provide about 15% of the oxygen needed to perform normal brain function. "If you manage to restart the heart, which is what CPR attempts to do, you'll gradually start to get the brain functioning again," Parnia said. "The longer you're doing CPR, those brain cell death pathways are still happening — they're just happening at a slightly slower rate."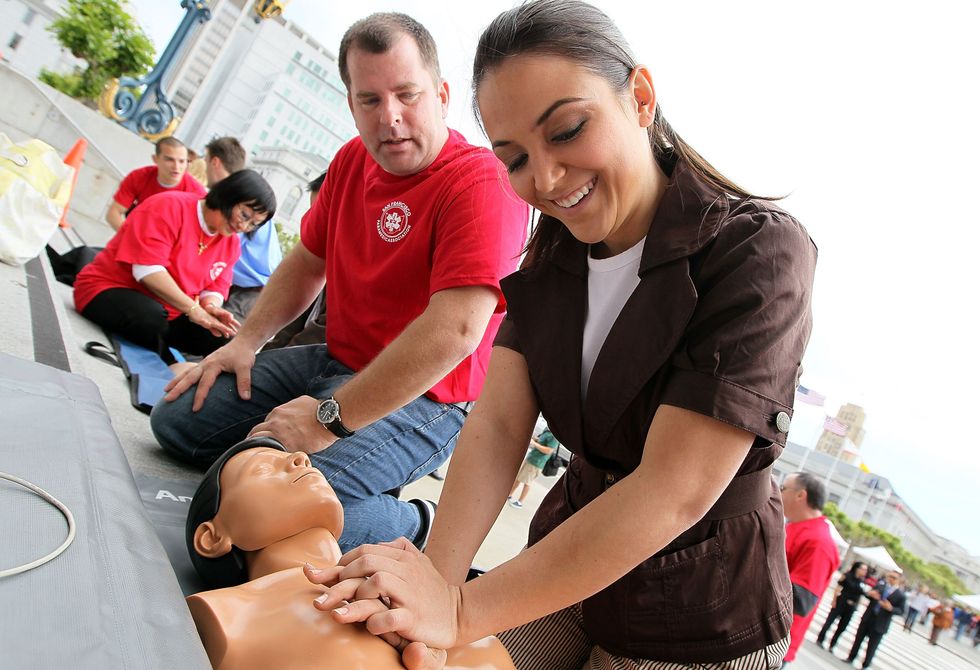 CPR may help retain some brain function for longer. Credit: Getty Images.
Dr. Parnia's latest, ongoing study looks at large numbers of Europeans and Americans who have experienced cardiac arrest and survived. "In the same way that a group of researchers might be studying the qualitative nature of the human experience of 'love,'" he said, "we're trying to understand the exact features that people experience when they go through death, because we understand that this is going to reflect the universal experience we're all going to have when we die."
One of the objectives is to observe how the brain acts and reacts during cardiac arrest, through the process of death, and during revival. How much oxygen exactly does it take to reboot the brain? How is the brain affected after revival? Learning where the lines are drawn might improve resuscitation techniques, which could save countless lives per year.
"At the same time, we also study the human mind and consciousness in the context of death," Parnia said, "to understand whether consciousness becomes annihilated or whether it continues after you've died for some period of time — and how that relates to what's happening inside the brain in real time."
For more on the scientific perspective on a near death experience, click here:
The experience of life flashing before one's eyes has been reported for well over a century, but where's the science behind it?
Mind & Brain
At the age of 16, when Tony Kofi was an apprentice builder living in Nottingham, he fell from the third story of a building. Time seemed to slow down massively, and he saw a complex series of images flash before his eyes.
As he described it, "In my mind's eye I saw many, many things: children that I hadn't even had yet, friends that I had never seen but are now my friends. The thing that really stuck in my mind was playing an instrument". Then Tony landed on his head and lost consciousness.
When he came to at the hospital, he felt like a different person and didn't want to return to his previous life. Over the following weeks, the images kept flashing back into his mind. He felt that he was "being shown something" and that the images represented his future.
Later, Tony saw a picture of a saxophone and recognized it as the instrument he'd seen himself playing. He used his compensation money from the accident to buy one. Now, Tony Kofi is one of the UK's most successful jazz musicians, having won the BBC Jazz awards twice, in 2005 and 2008.
Though Tony's belief that he saw into his future is uncommon, it's by no means uncommon for people to report witnessing multiple scenes from their past during split-second emergency situations. After all, this is where the phrase "my life flashed before my eyes" comes from.
But what explains this phenomenon? Psychologists have proposed a number of explanations, but I'd argue the key to understanding Tony's experience lies in a different interpretation of time itself.
When life flashes before our eyes
The experience of life flashing before one's eyes has been reported for well over a century. In 1892, a Swiss geologist named Albert Heim fell from a precipice while mountain climbing. In his account of the fall, he wrote is was "as if on a distant stage, my whole past life [was] playing itself out in numerous scenes".
More recently, in July 2005, a young woman called Gill Hicks was sitting near one of the bombs that exploded on the London Underground. In the minutes after the accident, she hovered on the brink of death where, as she describes it: "my life was flashing before my eyes, flickering through every scene, every happy and sad moment, everything I have ever done, said, experienced".
In some cases, people don't see a review of their whole lives, but a series of past experiences and events that have special significance to them.
Explaining life reviews
Perhaps surprisingly, given how common it is, the "life review experience" has been studied very little. A handful of theories have been put forward, but they're understandably tentative and rather vague.
For example, a group of Israeli researchers suggested in 2017 that our life events may exist as a continuum in our minds, and may come to the forefront in extreme conditions of psychological and physiological stress.
Another theory is that, when we're close to death, our memories suddenly "unload" themselves, like the contents of a skip being dumped. This could be related to "cortical disinhibition" – a breaking down of the normal regulatory processes of the brain – in highly stressful or dangerous situations, causing a "cascade" of mental impressions.
But the life review is usually reported as a serene and ordered experience, completely unlike the kind of chaotic cascade of experiences associated with cortical disinhibition. And none of these theories explain how it's possible for such a vast amount of information – in many cases, all the events of a person's life – to manifest themselves in a period of a few seconds, and often far less.
Thinking in 'spatial' time
An alternative explanation is to think of time in a "spatial" sense. Our commonsense view of time is as an arrow that moves from the past through the present towards the future, in which we only have direct access to the present. But modern physics has cast doubt on this simple linear view of time.
Indeed, since Einstein's theory of relativity, some physicists have adopted a "spatial" view of time. They argue we live in a static "block universe" in which time is spread out in a kind of panorama where the past, the present and the future co-exist simultaneously.
The modern physicist Carlo Rovelli – author of the best-selling The Order of Time – also holds the view that linear time doesn't exist as a universal fact. This idea reflects the view of the philosopher Immanuel Kant, who argued that time is not an objectively real phenomenon, but a construct of the human mind.
This could explain why some people are able to review the events of their whole lives in an instant. A good deal of previous research – including my own – has suggested that our normal perception of time is simply a product of our normal state of consciousness.
In many altered states of consciousness, time slows down so dramatically that seconds seem to stretch out into minutes. This is a common feature of emergency situations, as well as states of deep meditation, experiences on psychedelic drugs and when athletes are "in the zone".
The limits of understanding
But what about Tony Kofi's apparent visions of his future? Did he really glimpse scenes from his future life? Did he see himself playing the saxophone because somehow his future as a musician was already established?
There are obviously some mundane interpretations of Tony's experience. Perhaps, for instance, he became a saxophone player simply because he saw himself playing it in his vision. But I don't think it's impossible that Tony did glimpse future events.
If time really does exist in a spatial sense – and if it's true that time is a construct of the human mind – then perhaps in some way future events may already be present, just as past events are still present.
Admittedly, this is very difficult to make sense of. But why should everything make sense to us? As I have suggested in a recent book, there must be some aspects of reality that are beyond our comprehension. After all, we're just animals, with a limited awareness of reality. And perhaps more than any other phenomenon, this is especially true of time.

Steve Taylor, Senior Lecturer in Psychology, Leeds Beckett University
This article is republished from The Conversation under a Creative Commons license. Read the original article.
Might as well face it, you're addicted to love.
Sex & Relationships
Many writers have commented on the addictive qualities of love. Science agrees.
The reward system of the brain reacts similarly to both love and drugs
Someday, it might be possible to treat "love addiction."
Since people started writing, they've written about love. The oldest love poem known dates back to the 21st century BCE. For most of that time, writers also apparently have been of two (or more) minds about it, announcing that love can be painful, impossible to quit, or even addictive — while also mentioning how nice it is.
The idea of love as an addiction is one that is both familiar and unsettling. Surely it can't be the case that our mutual love with our partner — a thing that can produce euphoria, consumes a great deal of our time, and which we fear losing — can be compared to a drug habit? But indeed, many scientists have turned their attention to the idea of "love addiction" and how your brain on drugs might resemble your brain in love.
Love and other drugs
In a 2017 article published in the journal Philosophy, Psychiatry, & Psychology, a team of neuroethicists considered the idea that love is addicting and held the idea up to science for scrutiny.
They point out that the leading model of addiction rests on the notion of a drug causing the brain to release an unnatural level of reward chemicals, such as dopamine, effectively hijacking the brain's reward system. This phenomenon isn't strictly limited to drugs, though they are more effective at this process than other things. Rats can get a similar rush from sugar as from cocaine, and they can have terrible withdrawal symptoms when the sugar crash kicks in.
On the structural level, there is a fair amount of overlap between the parts of the brain that handle love and pair-bonding and the parts that deal with addiction and reward processing. When inside an MRI machine and asked to think about the person they love romantically, the reward centers of people's brains light up like Broadway.
Love as an addiction
These facts lead the authors to consider two ideas, dubbed the "narrow" and "broad" views of love as an addiction.
The narrow view holds that addiction is the result of abnormal brain processes that simply don't exist in non-addicts. Under this paradigm, "food-seeking or love-seeking behaviors are not truly the result of addiction, no matter how addiction-like they may outwardly appear." It could be that abnormal processes cause the brain's reward system to misfire when exposed to love and to react to it excessively.
If this model is accurate, love addiction would be a rare thing — one study puts it around five to ten percent of the population — but could be considered a disorder similar to others and caused by faulty wiring in the brain. As with other addictions, this malfunction of the reward system could lead to an inability to fully live a typical life, difficulty having healthy relationships, and a number of other negative consequences.
The broad view looks at addiction differently, perhaps even radically.
It begins with the idea that addiction exists on a spectrum of motivations. All of our appetites, including those for food and water, exist on this spectrum and activate similar parts of the brain when satisfied. We can have appetites for anything that taps into our reward system, including food, gambling, sex, drugs, and love. For most people most of the time, our appetites are fairly temperate, if recurring. I might be slightly "addicted" to food — I do need some a few times per day — but that "addiction" doesn't have any negative effects on my health.
An appetite for cocaine, however, is rarely temperate and usually dangerous. Likewise, a person's appetite for love could reach addiction levels, and a person could be considered "hooked" on relationships (or on a particular person). This would put love addiction at the extreme end of the spectrum.
None of this is to say that the authors think that love is bad for you just because it can resemble an addiction. Love addiction is not the same as cocaine addiction at the neurological level: important differences, like how long it takes for the desire for another "hit" to occur, do exist. Rather, the authors see this as an opportunity to reconsider our approach to addiction in general and to think about how we can help the heartsick when they just can't seem to get over their last relationship.
Is "love addiction" a treatable disorder?
Hypothetically, a neurological basis for an addiction to love could point toward interventions that "correct" for it. If the narrow view of addiction is accurate, perhaps some people will be able to seek treatment for love addiction in the same way that others seek help to quit smoking. If the broad view of addiction is correct, the treatment of love addiction would be unlikely as it may be difficult to properly identify where the cutoff of acceptability on a spectrum should be.
Either way, since love is generally held in high regard by all cultures and doesn't quite seem to be in the same category as a bad cocaine habit in terms of social undesirability, the authors doubt we'll be treating anyone for "love addiction" anytime soon.
Politics & Current Affairs
A brief passage from a recent UN report describes what could be the first-known case of an autonomous weapon, powered by artificial intelligence, killing in the battlefield.
Scroll down to load more…