Facebook removes Proud Boys pages for "hate speech"
Several members of the far-right group were recently arrested after getting into a fight with protesters in New York City.
31 October, 2018
Proud Boys founder Gavin McInnes (Photo by Stephanie Keith/Getty Images)
The Proud Boys is a far-right group of "Western chauvinists" that have been linked to multiple instances of politically motivated violence, including clashes with the leftist group Antifa.
Facebook suggested the pages trafficked in "organized hate speech."
The bans come several months after multiple media platforms removed pages belonging to Alex Jones, another popular far-right figure.
---
Facebook has banned accounts and pages associated with the Proud Boys, a far-right group of self-described "Western chauvinists," for trafficking in "organized hate speech."
Business Insider reports that Proud Boys accounts were also removed from Instagram. The removals come two weeks after several Proud Boys were arrested after fighting with protesters in New York City.
Thank you those who've submitted info regarding the violent incident which took place on 10-12-18 in the UES. As we further the investigation, we urge additional victims/complainants/witnesses to come forward. If you have info, call CrimeStoppers, 800-577-TIPS pic.twitter.com/amUhGvCJLg
— Chief Dermot F. Shea (@NYPDDetectives) October 15, 2018
​The "purge" of far-right voices from social media
Facebook's removal of Proud Boys pages comes about three months after it banned pages belonging to Alex Jones and his far-right website Infowars. Jones also had pages removed from YouTube, Apple, LinkedIn, Spotify and other platforms.

Jones and some other far-right figures branded the bans as censorship—a purge of conservative voices by the liberal media.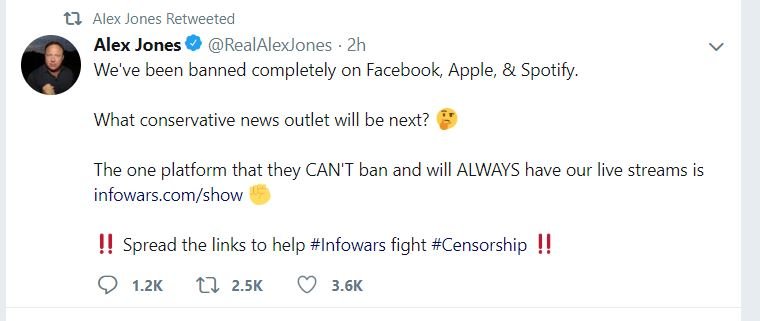 Meanwhile, Facebook said that Jones, and now the Proud Boys, had violated its policies and was therefore subject to being removed from its platform. In any case, Facebook is a publicly traded company that's under no obligation whatsoever to provide unencumbered free speech rights to anyone.
What's interesting is that Facebook has long made it a point to portray itself as a basically editorially neutral tech company, "not a media company," as CEO Mark Zuckerberg once said. The motivation behind this classification is that Facebook can deflect responsibility from making tough editorial decisions if it's only considered to be a neutral tech platform.
But in recent months, the company has been increasingly exercising its publisher discretion—both in highly publicized cases like the Alex Jones bans and in court.
In a 2018 lawsuit against Facebook, an app startup alleged that Facebook developed a "malicious and fraudulent scheme" to weaponize users' data and force rival companies out of business. Sonal Mehta, a lawyer for Facebook, suggested that Facebook is like traditional media companies, a characterization that doesn't quite fit with past descriptions from company spokespeople.
"The publisher discretion is a free speech right irrespective of what technological means is used. A newspaper has a publisher function whether they are doing it on their website, in a printed copy or through the news alerts."
Universities claim to prepare students for the world. How many actually do it?
Sponsored by Charles Koch Foundation
Many university mission statements do not live up to their promise, writes Ben Nelson, founder of Minerva, a university designed to develop intellect over content memorization.
The core competencies that students need for success—critical thinking, communication, problem solving, and cross-cultural understanding, for example—should be intentionally taught, not left to chance.
These competencies can be summed up with one word: wisdom. True wisdom is the ability to apply one's knowledge appropriately when faced with novel situations.
This is what the world will look like, 250 million years from now
On Pangaea Proxima, Lagos will be north of New York, and Cape Town close to Mexico City
Surprising Science
To us humans, the shape and location of oceans and continents seems fixed. But that's only because our lives are so short.
SpaceX's momentous Crew Dragon launch is a sign of things to come for the space industry, and humanity's future.
Photo:Joe Raedle/Getty Images
Politics & Current Affairs
SpaceX was founded in 2002 and was an industry joke for many years. Eighteen years later, it is the first private company to launch astronauts to the International Space Station.
Today, SpaceX's Crew Dragon launched NASA astronauts Bob Behnken and Doug Hurley to the ISS. The journey will take about 19 hours.
Dylan Taylor, chairman and CEO of Voyager Space Holdings, looks at SpaceX's journey from startup to a commercial space company with the operating power of a nation-state.
A new study may help us better understand how children build social cognition through caregiver interaction.
Personal Growth
Scientists speculate imitation helps develop social cognition in babies.
A new study out of Lund University shows that six-month-olds look and smile more at imitating adults.
Researchers hope the data will spur future studies to discover what role caregiver imitation plays in social cognition development.
Surprising Science
Researchers at UT Southwestern noted a 47 percent increase in blood flow to regions associated with memory.
Scroll down to load more…