---
Mama, Don't Let Your Babies Grow Up To Deny Evolution
If adults want to deny evolution, sure. That's fine. Whatever. But those adults better not make their kids follow in step because we as society need them to be better. Bill Nye, everyone's favorite Science Guy, explains the importance of promoting evolution education for America's future voters and lawmakers.
My Man, Sir Isaac Newton
Are you at least 26 years-old? If so, you are older than Isaac Newton was when he invented calculus... on a dare! (If you're younger than 26, better hurry up.) Big Think expert and overall cool guy Neil deGrasse Tyson explains why Newton is the greatest physicist who ever and likely will ever live.
Will Mankind Destroy Itself?
Theoretical physicist Michio Kaku sees two major trends today. One eventually leads to a multicultural, scientific, tolerant society that will expand beyond Earth in the name of human progress. The other trend leads to fundamentalism, monoculturalism, and -- eventually -- civilizational ruin. Whichever of these two trends wins out will determine the fate of mankind. No pressure, everyone.
Ricky Gervais on the Principles of Comedy
Comedy isn't just about making people laugh, says actor Ricky Gervais. It's about making people think. And while different forms of comedy require different approaches, the crux of any good performance will always be rhythm.
Reading the Bible (Or the Koran, Or the Torah) Will Make You an Atheist
Author and magician Penn Jillette was asked to leave his Christian youth group by a pastor who told his parents: "He's no longer learning about the Bible from me. He is now converting everyone in the class to atheism." The reason? Jillette did his homework and was turned off by the hostilities of the text. It can be intimidating to come out as an atheist, especially in a religious community. Jillette found that having "out" atheist role models helped him feel unalone.
Henry Rollins: The One Decision that Changed My Life Forever
Punk legend Henry Rollins describes the biggest turning point in his life: the moment he decided to leave his job as manager of a Häagen-Dazs store and eventually become the lead singer of Black Flag. It was the courage to take a risk, plus a whole lot of luck, that got Rollins to where he is today.
5 Programming Languages Everyone Should Know
Java is "heavyweight, verbose, and everyone loves to hate it," but programmer Larry Wall still thinks you should know it. In this video, he offers suggestions for people interested in learning languages, as well as suggestions for those significantly less invested in computer programming.
The Importance of Unbelief
If you assume there's no afterlife, Stephen Fry says, you'll likely have a fuller, more interesting "now" life. The actor and comedian details the positive influence philosophers have had on his life, as well as his journey of understanding both what he believes and why he believes it.
Why be happy when you could be interesting?
We don't really want what we think we desire, says philosopher Slavoj Žižek.
James Gleick on the Common Character Traits of Geniuses
This video is part of a series on female genius, in proud collaboration with 92Y's 7 Days of Genius Festival.
---
The personalities of Isaac Newton and Richard Feynman were, on one level, extremely different. Biographer and former New York Times reporter James Gleick says Newton was argumentative, had few friends, and likely died a virgin. Feynman, on the other hand, loved dancing and going to parties, and had many friends in the scientific community. But in regards to their working habits, both men were solitary and had the ability to concentrate with a sort of intensity that is hard for mortals to grasp. At bottom, Gleick says geniuses tend to have a yearning for solitude which, though fruitful for their professional work, made the task of daily living more burdensome.
The Importance of Doing Useless Things
From poetry and ballet to mathematics and being clever, life is laden with frivolous pursuits that hold no bearing on our ability to survive. Yet, insists Richard Dawkins, if it weren't for the development of these impractical activities, we wouldn't be here.
Why monogamy is ridiculous
Dan Savage: the idea that one instance of infidelity should ruin a relationship is a new—and misguided—notion.
Dan Harris: Hack Your Brain's Default Mode With Meditation
Dan Harris explains the neuroscience behind meditation, but reminds us that the ancient practice isn't magic and likely won't send one floating into the cosmic ooze. He predicts that the exercise will soon become regularly scheduled maintenance, as commonplace as brushing your teeth or eating your veggies. Harris, an ABC News correspondent, was turned on to mediation after a live, on-air panic attack. His latest book is 10% Happier: How I Tamed the Voice in My Head, Reduced Stress Without Losing My Edge, and Found Self-Help That Actually Works--A True Story.
How Intellectuals Betrayed the Poor
For 40 years academics were duped into idolizing the idea of unfettered markets, says Cornel West, and now our society is paying a terrible price.
Why Some Races Outperform Others
A psychologist explains the latest research into education disparity.
Why It's So Hard for Scientists to Believe in God
Some scientists see religion as a threat to the scientific method that should be resisted. But faith "is really asking a different set of questions," says Collins.
Why Facebook Isn't Free
Internet pioneer Jaron Lanier argues that free technologies like Facebook come with a hidden and heavy cost – the livelihoods of their consumers.
How to Tell if You're a Writer
For John Irving, the need for a daily ration of solitude was his strongest "pre-writing" moment as a child.
Your Behavior Creates Your Gender
Nobody is born one gender or the other, says the philosopher. "We act and walk and speak and talk in ways that consolidate an impression of being a man or being a woman."
Are You a Liberal Snob? Take The Quiz
Charles Mrray designed this quiz to have a salutary effect on bringing to people's attention the degree to which they live in a bubble that seals them off from an awful lot of their fellow American citizens.
Why You Should Watch Filth
John Waters defends the creation and consumption of obscene films, and recommends some of his personal favorites.
What Are You Worth? Getting Past Status Anxiety.
Writer Alain De Botton says that status anxiety is more pernicious and destructive than most of us can imagine, and recommends getting out of the game altogether.
Sheila Heen on the Psychology of Happiness and Feedback
Sheila Heen, a Partner at Triad Consulting Group and a lecturer on Law at Harvard Law School, explains the psychology behind feedback and criticism. Heen is co-author of "Thanks for the Feedback: The Science and Art of Receiving Feedback Well."
Are You a Psychopath? Take the Test.
Psychologist Kevin Dutton presents the classic psychological test known as "the trolley problem" with a variation. Take the test and measure you response on the psychopathic spectrum.
Here's How to Catch a Liar, If You Really Want To
It's very complex as to whether or not we really want to catch a liar. We think we do. What if we find out that both of our presidential candidates are lying? Then what do we do? I'm not saying they are; I never comment on anyone in office or running for office. Only after they're out that they're fair game. . . . Clinton said, "I didn't have sex with that woman" and then gave her name. "That woman" is putting her at a distance from himself.
Why I Came Out at Age 81
As a teenager in the '40s, James Randi "would have gotten stoned" for being gay. But when he outed himself to the world in 2010, the reaction was "wonderful."
More playlists
I've lived much of my life with anxiety and depression, including the negative feelings – shame and self-doubt – that seduced me into believing the stigma around mental illness: that people knew I wasn't good enough; that they would avoid me because I was different or unstable; and that I had to find a way to make them like me.
---
It took me some time – I'm a classic late bloomer – but just before I turned 60, I discovered that sharing my story by drawing could be an effective way to both alleviate my symptoms and combat that stigma.
Mental health disorders are complicated. There are 22 sections of criteria and codes in the Diagnostic and Statistical Manual of Mental Disorders – and that's just for anxiety. Meanwhile, the psychiatric literature on depression is enormous, with hundreds of scholarly articles and books published in the past two years alone.
One thing we seem to know for certain is that, somehow, anxiety and depression made it through the evolutionary process.
"Since antiquity," writes William Styron in "Darkness Made Visible: A Memoir of Madness," "in the tortured lament of Job, in the choruses of Sophocles and Aeschylus – chroniclers of the human spirit have been wrestling with a vocabulary that might give proper expression to the desolation of melancholia."
My first anxiety attacks happened early in life. By the time I was 13, I knew the signs: quickened breathing and an increased heart rate, blurry vision, sweaty palms, and sudden fight or flight impulses. Once, when on deck to bat in Little League, I became so panicked I dropped my bat and fled the ball field. I rode my bike all the way home, barely able to see five feet in front of me.
Growing up, I also spent countless hours drawing. I drew or scribbled on every scrap of paper I could find, and I copied those funny characters that appeared on the back of each week's issue of TV Guide. While I took one art class in high school, I was mostly self-taught. I always knew I loved to draw, but I never wondered why. It was just something I did.
As I grew older, I continued to suffer from panic attacks and depressive episodes, which I managed to hide from others. I eventually became a theater professor at Penn State University, where I still teach today. In addition to teaching history and literature, I make autobiographical solo performance pieces. But in 2014, my sister died after spending two years in a vegetative state due to a traumatic brain injury. It was as if the one thread capable of unraveling my entire life was pulled.
Drawing became almost an obsession.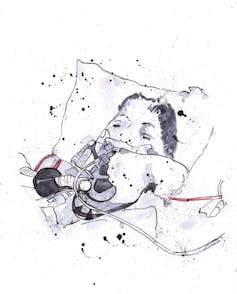 'Sister Sam.' (William Doan, CC BY-ND)
I did over 200 drawings of my sister and eventually created a play and solo performance piece titled "Drifting." I visually archived her journey to death. In the midst of this, I started what became the Anxiety Project, which now contains over 500 drawings and two performance pieces. I didn't really think too much about its purpose. I just knew I had to make drawings about anxiety and depression.
I made a lot of this work without any initial plans to share it. I was just trying to survive. As I slowly began to share some of the work, there was a strange mix of relief from sharing my feelings and dread that the work would ultimately fail to mean anything to others, or that people would think I was crazy for making this kind of work. (These same feelings have cropped up while writing this article.)
And then I pretty much crashed. I still couldn't emerge from my grief or separate it from my ongoing struggles with anxiety and depression.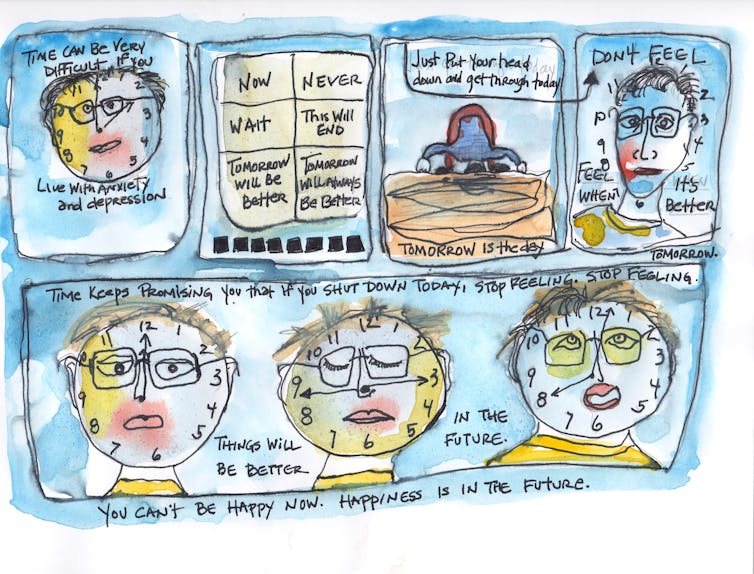 'Time Lies.' (William Doan, CC BY-ND)
I was in trouble. And I knew I had to get help. So I started to tell my wife and family the truth – that this struggle went beyond the death of my sister, that for most of my life, I had been in an almost constant battle with anxiety and depression, and that I was afraid I was finally losing and might go crazy. I found an excellent therapist. I started doing the hard work of living with my anxiety and depression honestly and openly, which, for me, includes taking an antidepressant. Acknowledging and accepting the need for medication was perhaps the most difficult stigma to face. I felt like a failure. Getting past that feeling took some time.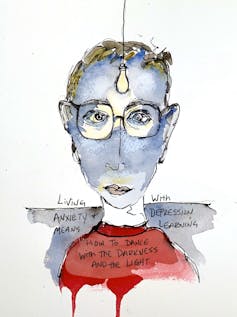 'Dark/Light.' (William Doan, CC BY-ND)
Living openly with my anxiety and depression has helped me better understand my drawing and creative work as efforts to make meaning out of the volcanic feelings of fear and despair – and the almost catatonic shutdowns that could happen inside me at any time.
This new understanding eventually led me to become intentional about drawing as a way to imagine myself as mentally healthy, rather than define myself by my mental illness. I drew upon the work of artists like Frederick Franck and his books "The Zen of Seeing" and "The Awakened Eye," which outline simple meditative approaches to drawing.
I work almost solely in ink- and water-based mediums because of the gestural and fluid ways I can translate feelings into lines and movement of color. I draw every day, and sometimes I'll simply draw what I see – birds, flowers, landscapes, people, myself – to stay grounded in the here and now.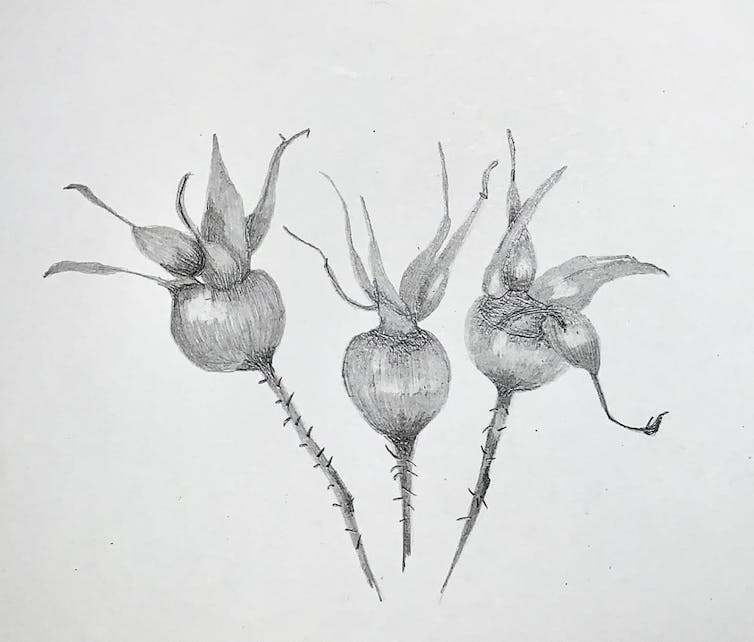 'RoseHips Meditation.' (William Doan, CC BY-ND)
Sharing what it's like to live with anxiety and depression feels like undressing in front of strangers, but I thought it might help decrease stigma, which nearly 90% of people with mental health problems say has a negative effect on their lives.
As I learned more about the connection between drawing, wellness and stigma, it turns out that I was onto something.
In 2016, psychologist Jennifer Drake and her team of researchers studied the benefits of drawing over four consecutive days, and discovered that the simple daily act has benefits. "You can get a positive effect with just 15 minutes of drawing," she concludes. "Drawing to distract is a simple and powerful way to elevate mood, at least in the short term." Meanwhile, researchers across many scientific fields have explored the ways art making can combat stigma about mental illness.
As Jenny Lawson writes in "Furiously Happy: A Funny Book About Horrible Things," "When you come out of the grips of a depression there is an incredible relief, but not one you feel allowed to celebrate. Instead, the feeling of victory is replaced with anxiety that it will happen again, and with shame and vulnerability when you see how your illness affected your family, your work, everything left untouched while you struggled to survive."
For me, it was the kind of shame that shepherds you right into the waiting arms of the stigma around mental illness. I needed to find a way through – for myself and, hopefully, for others.
Art became the way.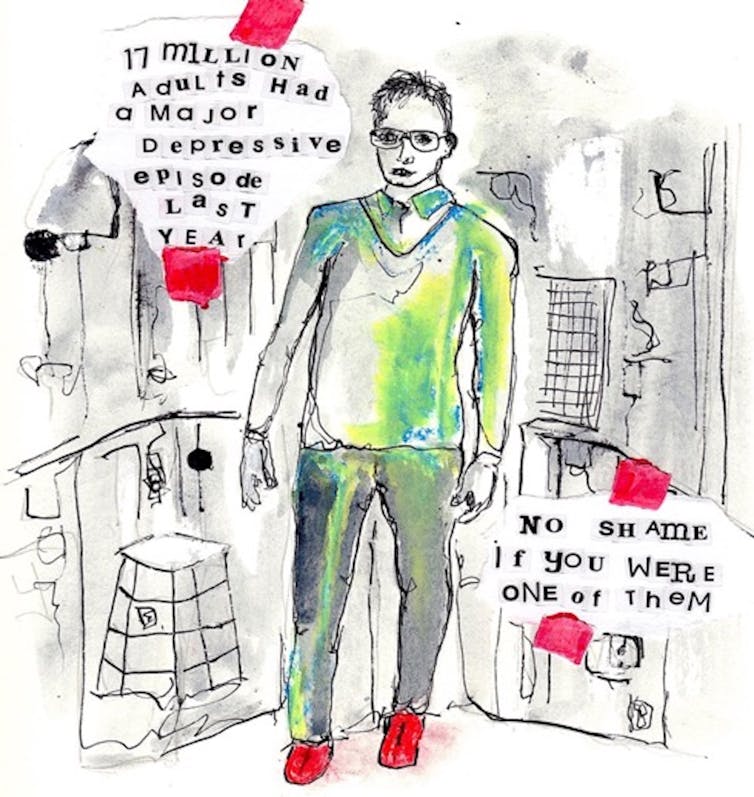 '17 million.' (William Doan, CC BY-ND)
William Doan, Professor of Theatre, Pennsylvania State University.
This article is republished from The Conversation under a Creative Commons license. Read the original article.