Your Nutrition May Be at Risk Thanks to Climate Change
Hundreds of millions globally could be impacted in a significant way.
20 September, 2017
When it comes to climate change, we've taken into account less arable land, more flooding, less reliable weather, and how all of this might affect crop yields. But what scientists are now finding is that dramatic, atmospheric changes are effecting how plants operate internally. Today, food crops are getting more carbon dioxide.
---
As a result, they're manufacturing more sugars and carbs and producing fewer nutrients. That means over time, our food becomes less nutritious. In the near future we might gorge ourselves, and still come up malnourished.
Before the industrial revolution, our atmosphere was about 280 parts per million carbon dioxide. Last year, the planet surpassed 400 parts per million. Scientists say if nothing dramatic changes, we're likely to reach 550 parts per million within the next 50 years or so. Though climate change may still be a hot button issue for some, the fact that there is far more CO2 in the atmosphere doesn't seem to be disputed.
We've known that for the last 50-70 years that the vitamin, mineral, and protein contents of certain vegetables has been dropping. Agricultural researchers have said that since we've been breeding the same crops for greater and greater yields, nutrition has fallen to the wayside for so long, it was bound to drop. But this doesn't account how significant a decline took place. A groundbreaking 2002 study out of Princeton University was the first to link CO2 in the atmosphere with less nutritious food crops.
It was authored by mathematician Irakli Loladze who first noticed this phenomenon in a biologist's lab. Zooplankton populations suffered after they fed upon green algae which had gotten more sunlight than they normally would out in the wild. Although the algae grew much faster, they also traded producing nutrients for carbohydrates. As a result, the zooplankton population suffered. Although they engorged themselves, they received less of the nutrients they needed. The mathematician wondered if the same thing could happen to us.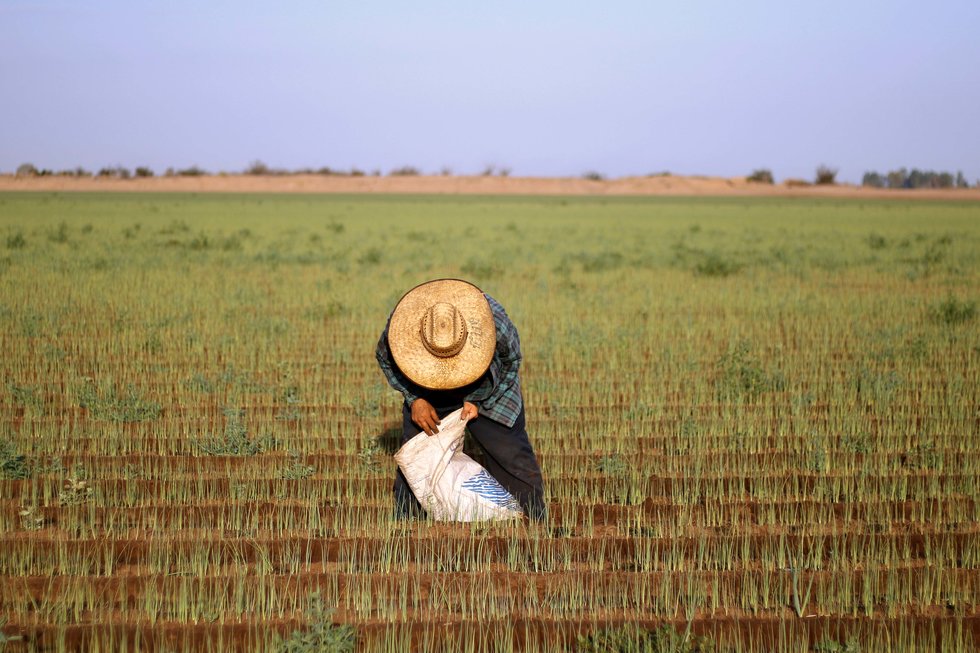 The nutritional value of many crops has been dropping for decades. Getty Images.
A 2004 study supported these findings and brought the issue to the forefront. Here, researchers found that a variety of fruits and vegetables had been losing iron, vitamin C, calcium, and protein, a decline that's been occurring since 1950. Though impactful, according to a recent Politico report, few scientists in the agricultural, nutritional, or health spheres have been aware of this encroaching problem, until recently.
A 2014 Harvard study conducted over six years on fields in Japan, Australia, and the US, served up a dire warning. It found that around 150 million people in 18 different countries could face a protein deficiency, due to a 5% drop in dietary protein in staple crops like wheat and rice, by 2050.
The study compared crops grown in the field to those grown in lab-like conditions, where crops were ensconced in carbon dioxide via sprayers, which kept them at between 546 and 586 parts per million. That's where scientists think our atmosphere will be at in forty to sixty years. Wheat saw 9.3% less zinc, an essential nutrient to health. While wheat, peas, and rice saw reduced protein levels.
This is the first study to evaluate the risk climate change poses to the nutritiousness of our food supply. The results were published in the journal Environmental Health Perspectives. Samuel Myers authored the study. He's a senior research analyst at Department of Environmental Health, part of Harvard's T.H. Chan School of Public Health.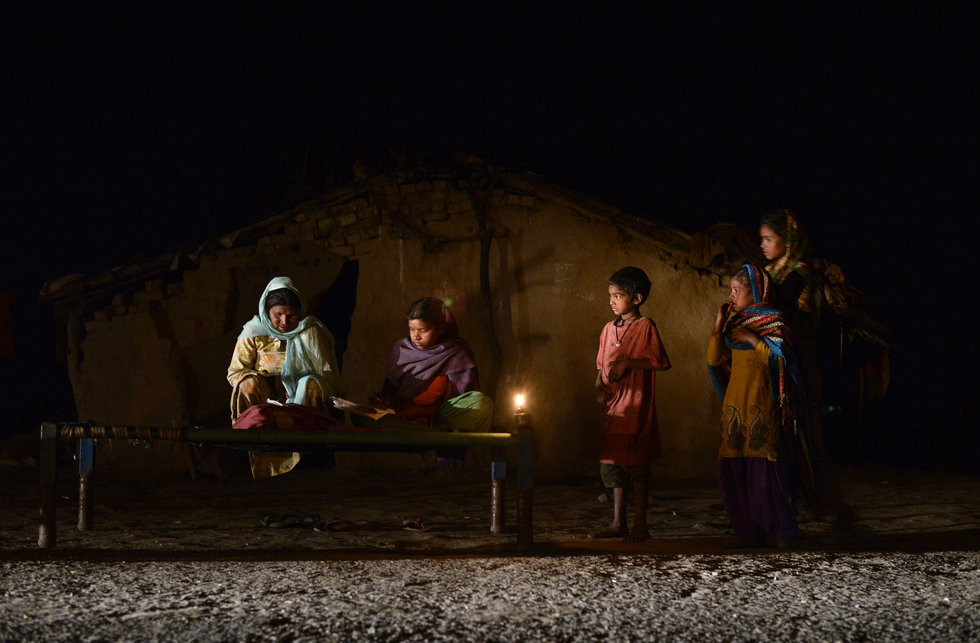 Over a billion of the world's most vulnerable will be further at risk. Getty Images.
Myers and colleagues looked at UN data including demographics and income inequality measures, and combined these figures with their experiments with crops. As a result, the protein content of staples are predicted to decrease as follows: rice 7.6%, wheat 7.8%, potatoes 6.4%, and barley 14.1%.  The hardest hit places would be South Asia and Sub-Saharan Africa, places where protein deficiency is already a substantial problem. In India authors point out, the diet might lose 5.3% of its protein, affecting 53 million people.
A paper alongside this one, published last summer in the journal GeoHealth, found climate change will also likely reduce iron content in staple food crops. This could increase iron deficiency globally. Iron is expected to drop 3.8% due to global warming. Here, those in South Asia and North Africa are the most at risk of anemia, particularly children under five and women of childbearing age. 1.4 billion children ages 1-4 and women of childbearing age are thought to be at risk.
According to Myers,
Strategies to maintain adequate diets need to focus on the most vulnerable countries and populations, and thought must be given to reducing vulnerability to nutrient deficiencies through supporting more diverse and nutritious diets, enriching the nutritional content of staple crops, and breeding crops less sensitive to these CO2 effects. And, of course, we need to dramatically reduce global CO2 emissions as quickly as possible.
Why can't we address climate change? Well, turns out we're bad at thinking about it. To find out why, click here: 
Pfizer's partnerships strengthen their ability to deliver vaccines in developing countries.
Susan Silbermann, Global President of Pfizer Vaccines, looks on as a health care worker administers a vaccine in Rwanda. Photo: Courtesy of Pfizer.
Community healthcare workers face many challenges in their work, including often traveling far distances to see their clients
Pfizer is helping to drive the UN's sustainable development goals through partnerships.
Pfizer partnered with AMP and the World Health Organization to develop a training program for healthcare workers.
Sponsored
The famed author headed to the pond thanks to Indian philosophy.
Image: Public Domain / Shutterstock / Big Think
Personal Growth
The famed author was heavily influenced by Indian literature, informing his decision to self-exile on Walden Pond.
He was introduced to these texts by his good friend's father, William Emerson.
Yoga philosophy was in America a century before any physical practices were introduced.
Progressive America would be half as big, but twice as populated as its conservative twin.
Image: Dicken Schrader
Strange Maps
America's two political tribes have consolidated into 'red' and 'blue' nations, with seemingly irreconcilable differences.
Perhaps the best way to stop the infighting is to go for a divorce and give the two nations a country each
Based on the UN's partition plan for Israel/Palestine, this proposal provides territorial contiguity and sea access to both 'red' and 'blue' America
A little goes a long way.
Photo: Shutterstock / Big Think
Personal Growth
A recent study from the Department of Health and Human Services found that 80 percent of Americans don't exercise enough.
Small breaks from work add up, causing experts to recommend short doses of movement rather than waiting to do longer workouts.
Rethinking what exercise is can help you frame how you move throughout your day.
Big think's weekly newsletter.
Get smarter faster from the comfort of your inbox.
See our newsletter privacy policy
here
Most Popular
Most Recent
Big think's weekly newsletter.
Get smarter faster from the comfort of your inbox.
See our newsletter privacy policy
here
© Copyright 2007-2018 & BIG THINK, BIG THINK EDGE,
SMARTER FASTER trademarks owned by The Big Think, Inc. All rights reserved.