Yale Researchers Find That Autism Genes Helped Us to Become Smarter
The study might also help us to identify the prodigy gene, should it exist.
15 March, 2017
Those with autism face distinct challenges. These usually have to do with certain social deficits. That might be why the results of a new study appear a bit puzzling. Genes linked to autism spectrum disorders (ASD) were actually preserved through the process of evolution, Yale researchers concluded. These genes actually made us smarter. 
---
If you find these results strange, consider the large numbers of scientists and engineers known to have Asperger's syndrome. There are autistic savants as well, as the movie Rain Man can attest, which was based on a true story. Or perhaps you've seen the work of mind-blowing artist Stephen Wiltshire, who can draw panoramic scenes of whole cities with perfect detail, from his memory alone.
This was a genome-wide study, zeroing in on gene variants associated with ASD. Researchers examined 5,000 cases of autism and analyzed the genome of each participant. They focused on evolutionary gene selection, particularly on which genes were positively selected. One clue which led researchers to these findings was that, more genes associated with autism were preserved by evolution than would have been through sheer randomness.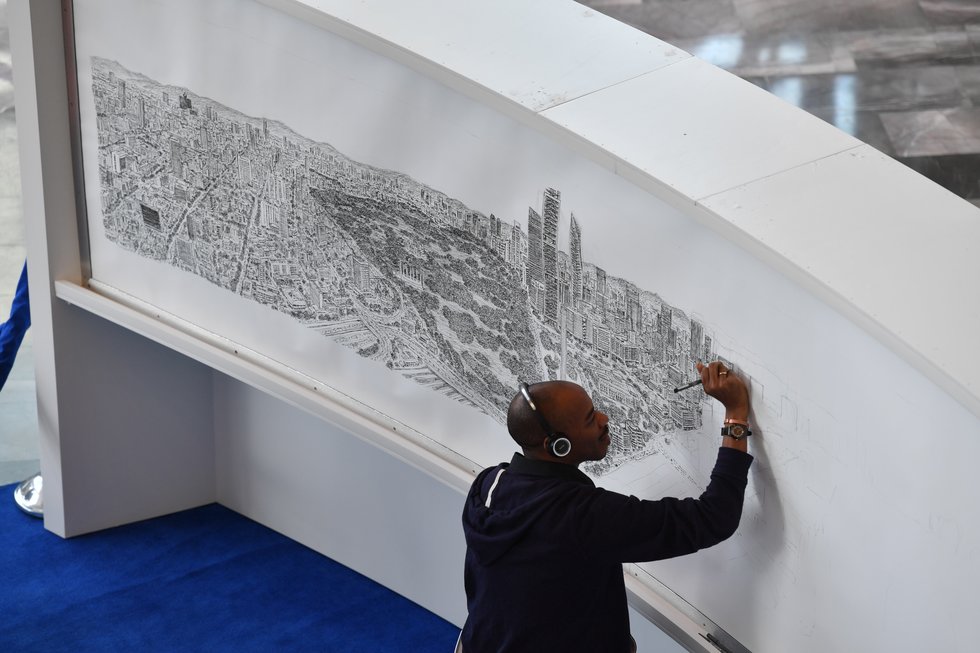 British autistic savant Stephen Wiltshire. Getty Images.
That's not all. Through molecular testing, scientists discovered that such genes were associated with more neuronal connections and the prodigious growth of new neurons. The more neurons or connections a person has within their brain, the greater their intellectual performance. Those genes which negatively impact reproduction are usually axed from the genome, as per the laws of natural selection. Some gene variants have a muted effect. These can be positive or negative. Variants which aid survival are usually carried forth, and passed down through the generations. It's thought that many of the genes related to ASD are of this variety.
Professor Joel Gelernter was the study's co-author. He is a professor of psychiatry, genetics, and neuroscience, at the Yale School of Medicine. He said, "It might be difficult to imagine why the large number of gene variants that together give rise to traits like ASD are retained in human populations — why aren't they just eliminated by evolution?" He went on, "The idea is that during evolution these variants that have positive effects on cognitive function were selected, but at a cost — in this case an increased risk of autism spectrum disorders."
This isn't the only study linking higher intellectual aptitude with ASD. A 2015 Ohio State University study found that geniuses and their autistic relatives share a particular genetic feature. A certain peak on chromosome 1 increases the likelihood either of autism or an advanced intellect. One theory is that geniuses may have a certain gene that protects them against ASD. Theoretically, a drug mimicking the protein produced by that gene could tamp down or even eliminate autistic behaviors. But researchers haven't discovered a prodigy gene, thus far.  
To see one autistic savant in action, click here: 
Related Articles
Explore how alcohol affects your brain, from the first sip at the bar to life-long drinking habits.
(Photo by Angie Garrett/Wikimedia Commons)
Mind & Brain
Alcohol is the world's most popular drug and has been a part of human culture for at least 9,000 years.
Alcohol's effects on the brain range from temporarily limiting mental activity to sustained brain damage, depending on levels consumed and frequency of use.
Understanding how alcohol affects your brain can help you determine what drinking habits are best for you.
If you want to know what makes a Canadian lynx a Canadian lynx a team of DNA sequencers has figured that out.
Surprising Science
A team at UMass Amherst recently sequenced the genome of the Canadian lynx.
It's part of a project intending to sequence the genome of every vertebrate in the world.
Conservationists interested in the Canadian lynx have a new tool to work with.
Artwork: Guillaume le Clerc / Wikimedia Commons
13th-century fantastical depiction of an elephant.
It is easy to see how one can look at 66,000 genomic sequences stored away as being the analogous equivalent of the Svalbard Global Seed Vault. It is a potential tool for future conservationists.
But what are the practicalities of sequencing the genome of a lynx beyond engaging with broad bioethical questions? As the animal's habitat shrinks and Earth warms, the Canadian lynx is demonstrating less genetic diversity. Cross-breeding with bobcats in some portions of the lynx's habitat also represents a challenge to the lynx's genetic makeup. The two themselves are also linked: warming climates could drive Canadian lynxes to cross-breed with bobcats.
John Organ, chief of the U.S. Geological Survey's Cooperative Fish and Wildlife units, said to MassLive that the results of the sequencing "can help us look at land conservation strategies to help maintain lynx on the landscape."
What does DNA have to do with land conservation strategies? Consider the fact that the food found in a landscape, the toxins found in a landscape, or the exposure to drugs can have an impact on genetic activity. That potential change can be transmitted down the generative line. If you know exactly how a lynx's DNA is impacted by something, then the environment they occupy can be fine-tuned to meet the needs of the lynx and any other creature that happens to inhabit that particular portion of the earth.
Given that the Trump administration is considering withdrawing protection for the Canadian lynx, a move that caught scientists by surprise, it is worth having as much information on hand as possible for those who have an interest in preserving the health of this creature—all the way down to the building blocks of a lynx's life.
The exploding popularity of the keto diet puts a less used veggie into the spotlight.
Purple cauliflower. (Photo: Shutterstock)
Surprising Science
The cauliflower is a vegetable of choice if you're on the keto diet.
The plant is low in carbs and can replace potatoes, rice and pasta.
It can be eaten both raw and cooked for different benefits.
Big think's weekly newsletter.
Get smarter faster from the comfort of your inbox.
See our newsletter privacy policy
here
Most Popular
Most Recent
Big think's weekly newsletter.
Get smarter faster from the comfort of your inbox.
See our newsletter privacy policy
here
© Copyright 2007-2018 & BIG THINK, BIG THINK EDGE,
SMARTER FASTER trademarks owned by The Big Think, Inc. All rights reserved.