Yale Researchers Find That Autism Genes Helped Us to Become Smarter
The study might also help us to identify the prodigy gene, should it exist.
15 March, 2017
Those with autism face distinct challenges. These usually have to do with certain social deficits. That might be why the results of a new study appear a bit puzzling. Genes linked to autism spectrum disorders (ASD) were actually preserved through the process of evolution, Yale researchers concluded. These genes actually made us smarter. 
---
If you find these results strange, consider the large numbers of scientists and engineers known to have Asperger's syndrome. There are autistic savants as well, as the movie Rain Man can attest, which was based on a true story. Or perhaps you've seen the work of mind-blowing artist Stephen Wiltshire, who can draw panoramic scenes of whole cities with perfect detail, from his memory alone.
This was a genome-wide study, zeroing in on gene variants associated with ASD. Researchers examined 5,000 cases of autism and analyzed the genome of each participant. They focused on evolutionary gene selection, particularly on which genes were positively selected. One clue which led researchers to these findings was that, more genes associated with autism were preserved by evolution than would have been through sheer randomness.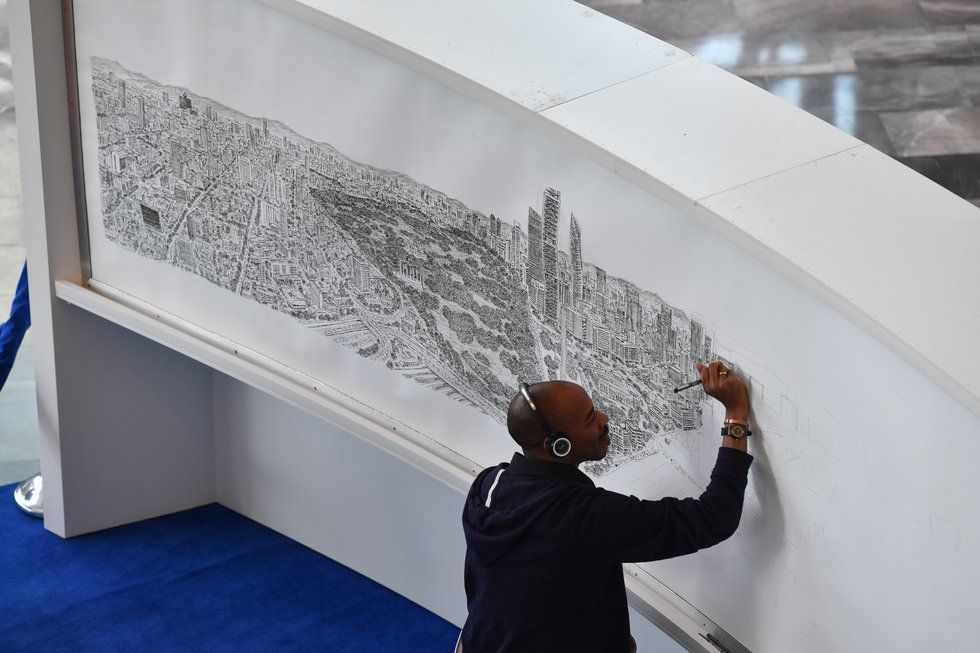 British autistic savant Stephen Wiltshire. Getty Images.
That's not all. Through molecular testing, scientists discovered that such genes were associated with more neuronal connections and the prodigious growth of new neurons. The more neurons or connections a person has within their brain, the greater their intellectual performance. Those genes which negatively impact reproduction are usually axed from the genome, as per the laws of natural selection. Some gene variants have a muted effect. These can be positive or negative. Variants which aid survival are usually carried forth, and passed down through the generations. It's thought that many of the genes related to ASD are of this variety.
Professor Joel Gelernter was the study's co-author. He is a professor of psychiatry, genetics, and neuroscience, at the Yale School of Medicine. He said, "It might be difficult to imagine why the large number of gene variants that together give rise to traits like ASD are retained in human populations — why aren't they just eliminated by evolution?" He went on, "The idea is that during evolution these variants that have positive effects on cognitive function were selected, but at a cost — in this case an increased risk of autism spectrum disorders."
This isn't the only study linking higher intellectual aptitude with ASD. A 2015 Ohio State University study found that geniuses and their autistic relatives share a particular genetic feature. A certain peak on chromosome 1 increases the likelihood either of autism or an advanced intellect. One theory is that geniuses may have a certain gene that protects them against ASD. Theoretically, a drug mimicking the protein produced by that gene could tamp down or even eliminate autistic behaviors. But researchers haven't discovered a prodigy gene, thus far.  
To see one autistic savant in action, click here: 
As religious diversity increases in the United States, we must learn to channel religious identity into interfaith cooperation.
Sponsored by Charles Koch Foundation
Religious diversity is the norm in American life, and that diversity is only increasing, says Eboo Patel.
Using the most painful moment of his life as a lesson, Eboo Patel explains why it's crucial to be positive and proactive about engaging religious identity towards interfaith cooperation.
The opinions expressed in this video do not necessarily reflect the views of the Charles Koch Foundation, which encourages the expression of diverse viewpoints within a culture of civil discourse and mutual respect.
Ask very silly questions to spur very serious innovation.
Videos
To get really innovative solutions to complex problems, you need to abandon logic, says Dan Seewald.
Asking provocative and ridiculous 'what if?' questions pushes us down lateral paths of thinking versus the vertical or logical path. The latter approach is practical but it doesn't break new ground.
Breaking with tradition through lateral thinking allows us to solve really serious problems, from climate change to political turmoil. Or, as Dan Seewald explains, it could just help you solve all your laundry headaches.
If you don't want to know anything about your death, consider this your spoiler warning.
Culture & Religion
For centuries cultures have personified death to give this terrifying mystery a familiar face.
Modern science has demystified death by divulging its biological processes, yet many questions remain.
Studying death is not meant to be a morbid reminder of a cruel fate, but a way to improve the lives of the living.
When it comes to sniffing out whether a source is credible or not, even journalists can sometimes take the wrong approach.
Sponsored by Charles Koch Foundation
We all think that we're competent consumers of news media, but the research shows that even journalists struggle with identifying fact from fiction.
When judging whether a piece of media is true or not, most of us focus too much on the source itself. Knowledge has a context, and it's important to look at that context when trying to validate a source.
The opinions expressed in this video do not necessarily reflect the views of the Charles Koch Foundation, which encourages the expression of diverse viewpoints within a culture of civil discourse and mutual respect.