Big ideas.
Once a week.
Subscribe to our weekly newsletter.
Why Can't We Use the Placebo Effect to Heal the Sick?
Studies have shown that the placebo effect can be used to alleviate pain and other symptoms. Yet, how to harness it in an ethical manner has been difficult to discern.
26 June, 2016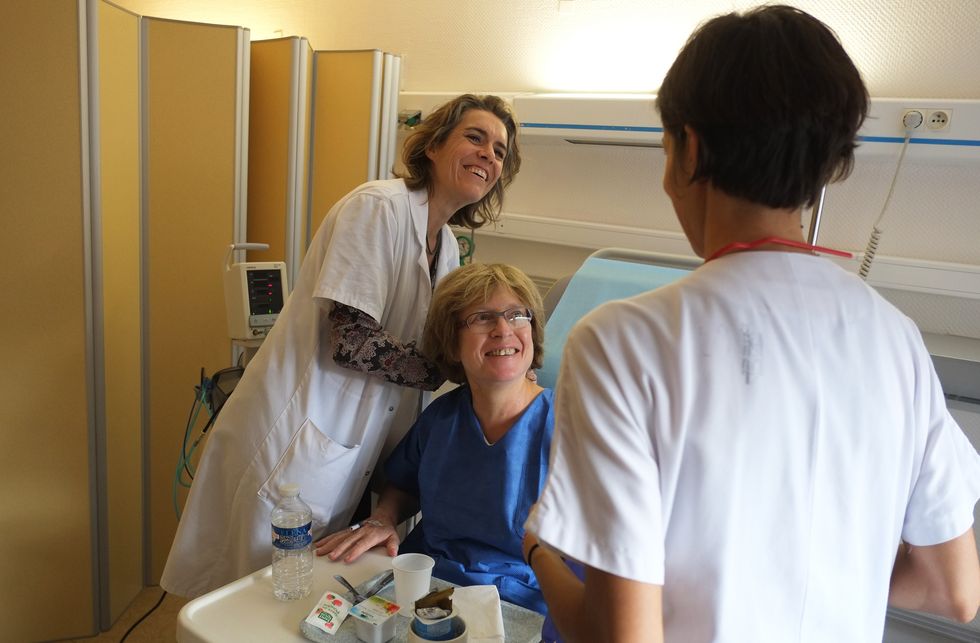 Medical professionals keep a patient's spirits high.
Due to the latest in imaging techniques, genetic research, and other breakthroughs, we know more about the brain than ever before. Still, much remains a mystery. Some believe the brain itself has the power to heal, but we do not know how to harness it. Take the case of Norman Cousins. In the 1970's the editor-in-chief of the Saturday Review came down with a serious and rare illness. It was progressive, terminal, and had no cure. Instead of giving up, Cousins, who knew about the impact of negative emotions on disease, attempted to tap into the power of positive ones. Their effect on pathology was unknown at the time. He got a movie projector and every Marx Brothers and Candid Camera reel could find. Cousins holed up in a hotel and slowly over time laughed himself well again.
---
One important aspect of this miracle was that it was so well documented. The case began an entirely new field known as psychoneuroimmunology. This is how thoughts and feelings change our brain chemistry, which in turn effects how the body confronts disease. Today, there are about a half dozen well known departments in places like Harvard, UCLA, The University of Ohio, and the University of Miami, and more. These researchers say that our thoughts and emotions affect us, either positively or negatively, right down to the cellular level.
The idea is not new. Healers throughout the ages have tried to find ways to goose the body into healing itself. This is the theory behind homeopathic medicine, considered unfounded by the medical establishment. But modern medicine wouldn't operate without the vital concept at its root, what we call the placebo effect. The gold standard for medical research is the placebo-controlled, double-blind study. Here one group of participants is given a drug or undergoes a procedure, while the other receives a fake version. Researchers do not know which is which until the results are examined. It is expected that a certain number of those in the placebo group experience symptom relief, even though don't receive actual treatment.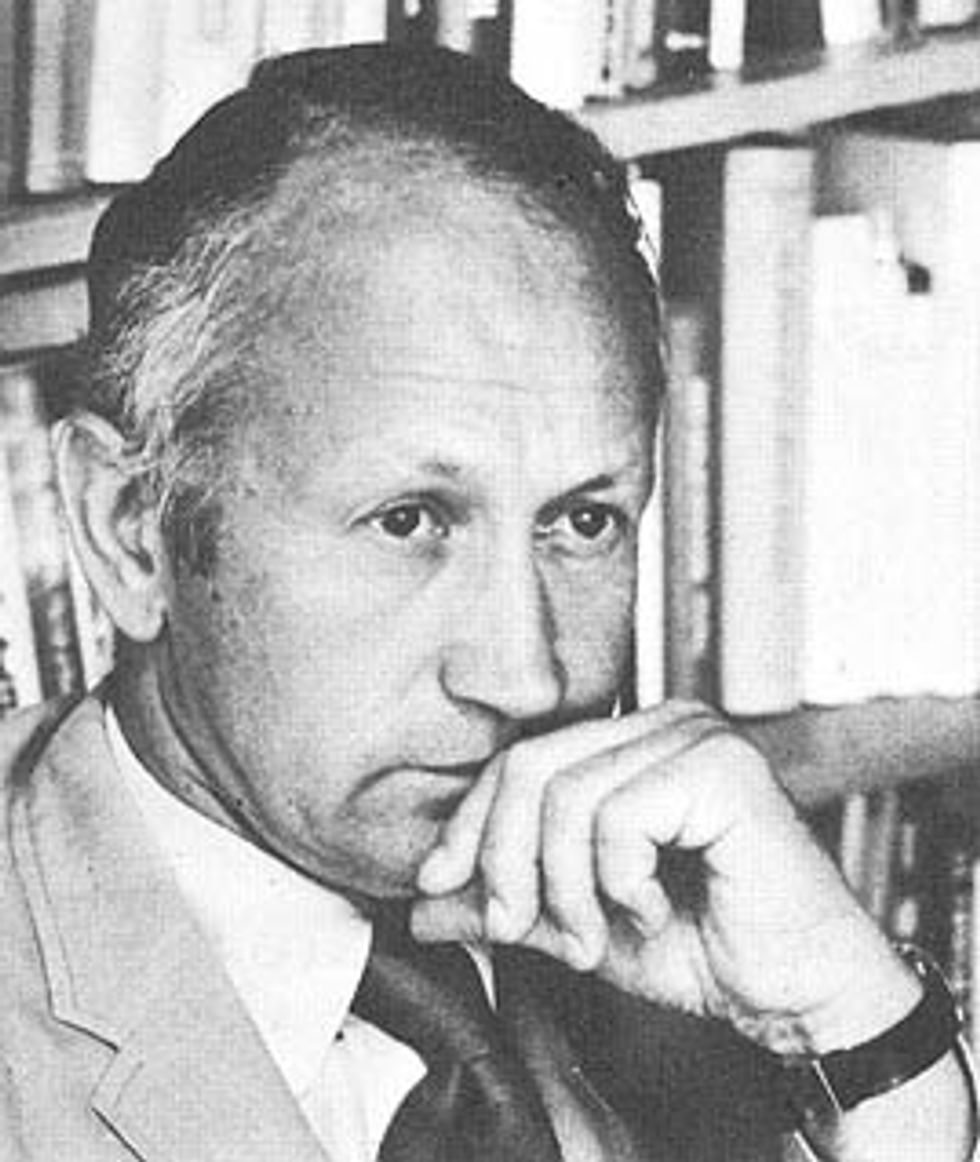 Norman Cousins, the man who "laughed himself well."
So how effective are placebos? Several studies have shown symptom relief in treating pain, the menopause, irritable bowel syndrome, asthma, sleep disorders, and depression. Researchers theorize that the belief or expectation surrounding a certain drug or procedure initiates some kind of biochemical reaction in the brain which fulfills the expectation. Those with stronger expectations are more likely to experience the placebo effect. Studies have shown for instance that those given a placebo described as a new painkiller saw levels of the body's own natural pain relievers, called endorphins, shoot up. Other studies have recorded changes in brain activity in response to taking a placebo.
The placebo effect can go the other way too. The patient can feel "side effects" such as headaches, nausea, constipation, and others, even when taking a sugar pill. This is called the "nocebo effect." Taken together, these two phenomena are known as expectation effects. So can we use the placebo effect to heal the body? After all, what's better than all natural healing with no side effects?
Unfortunately, over the last six decades, the placebo effect has been something of a mystery, and a source of consternation for medical science. Today, we are just starting to see a strong interest in exploring the mind-body connection. An overarching theory on how the placebo effect works is still forthcoming. Recent studies support the hypothesis that the effect pertains mainly to symptoms, not the cause. There are some studies which look into using the placebo effect for symptom relief. Such a breakthrough could be huge, especially in light of the chronic pain epidemic currently gripping the U.S., the opioid addiction epidemic resulting from it.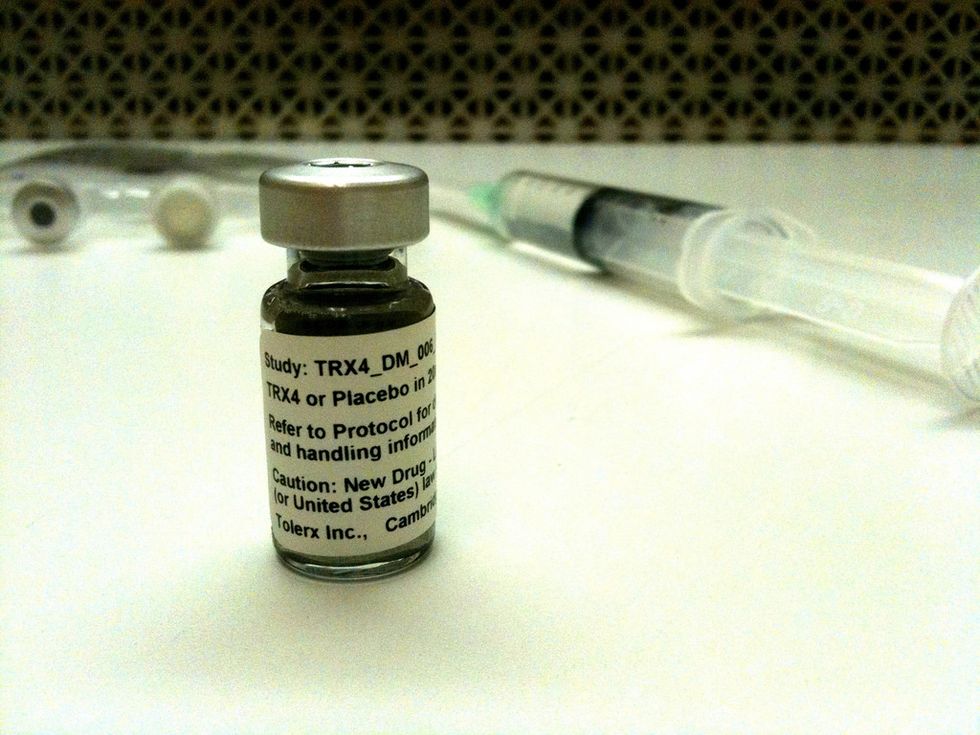 Placebo labeled for a trial. Could this help alleviate pain while avoiding addiction or side effects?
 One Harvard study discovered that 44% of patients with IBD found relief by undergoing sham acupuncture. Coupled with empathetic interaction with the practitioner, symptom relief shot up to 66%. What's more, many doctors are already using the placebo effect to help patients. 
A 2008 study found that around half of doctors in the U.S. prescribed placebos such as sedatives, vitamins, or over-the-counter pain relievers, to help increase patient expectations of recuperation. A 2010 study found that 40% of all doctors gave an antibiotic as a placebo, though hopefully this is changing in light of the current "superbug" threat. Meanwhile, 11% had given injections or prescribed pills that served no medical purpose. Though widespread, ethically speaking, the practice is controversial. Doctor shouldn't lie to patients. But how can the placebo effect be used without deception?
Doctors today already use the placebo effect in some ethical ways. For instance, a positive doctor-patient relationship can help set up a positive expectation. How diagnoses are delivered and discussed, what cues and expectations the doctor gives, and the employment of certain conditioning techniques can all make a difference in how the patient responds to therapy. In terms of conditioning, empathy, positive touch, and a certain level of confidence have been shown to catalyze healing.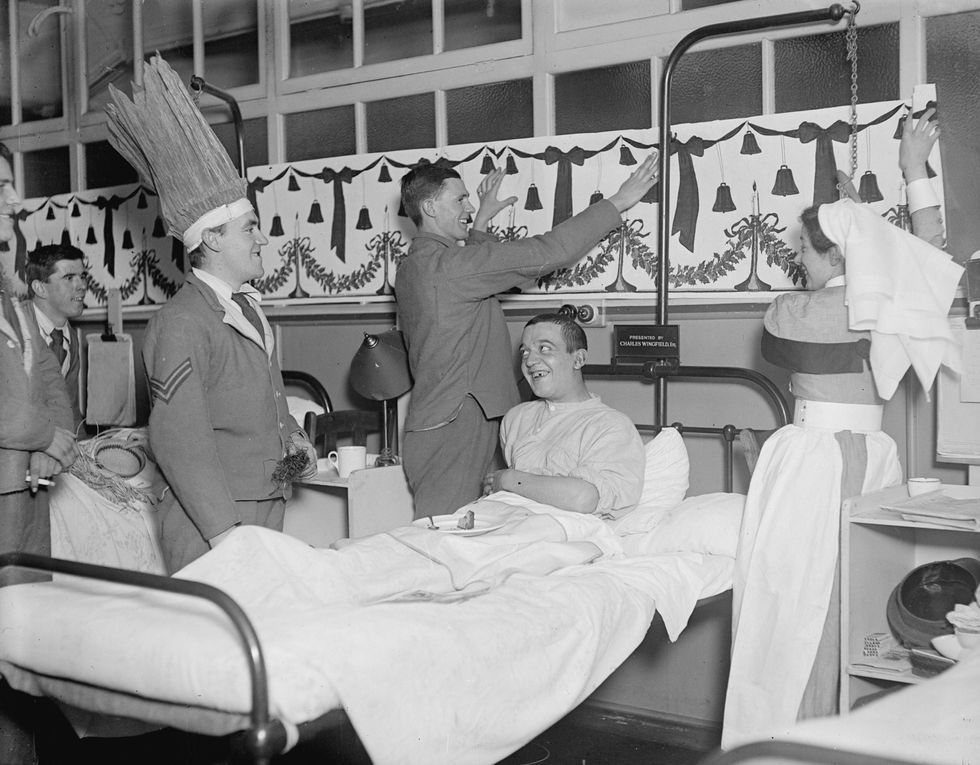 Physicians have long known the impact positive emotions have on healing. But how to use it has escaped them.
Ted J. Kaptchuk is an expert in the placebo effect. He is an associate professor of medicine at Harvard Medical School, and the director of the program in placebo studies and therapeutic encounters at Beth Israel Deaconess Medical Center. Kaptchuk led a groundbreaking 2012 study which looked at the placebo effect on the genetic level. He discovered a certain genetic mutation associated with the neurotransmitter dopamine. When released, this brain chemical causes feelings of wellbeing, reward, and euphoria. The patients carrying this mutation were found to be more likely to respond to the placebo effect. This could help scientists pinpoint who would most likely benefit from placebo-related treatment. It might also aid researchers in parsing out which symptom relief aspects of a certain drug are psychological, and which are biochemically based.
Kaptchuk says we shouldn't expect the placebo effect to be able to say cure a tumor. Apparently, the mystery behind Norman Cousins is still intact. But in a breakthrough letter to The New England Journal of Medicine, he did write that we can and should use the placebo effect along with traditional medicine to influence patients and help them manage their symptoms in a safe, effective manner.
To learn more about the placebo effect click here: 
Geologists discover a rhythm to major geologic events.
Surprising Science
It appears that Earth has a geologic "pulse," with clusters of major events occurring every 27.5 million years.
Working with the most accurate dating methods available, the authors of the study constructed a new history of the last 260 million years.
Exactly why these cycles occur remains unknown, but there are some interesting theories.
Our hearts beat at a resting rate of 60 to 100 beats per minute. Lots of other things pulse, too. The colors we see and the pitches we hear, for example, are due to the different wave frequencies ("pulses") of light and sound waves.
Now, a study in the journal Geoscience Frontiers finds that Earth itself has a pulse, with one "beat" every 27.5 million years. That's the rate at which major geological events have been occurring as far back as geologists can tell.
A planetary calendar has 10 dates in red
Credit: Jagoush / Adobe Stock
According to lead author and geologist Michael Rampino of New York University's Department of Biology, "Many geologists believe that geological events are random over time. But our study provides statistical evidence for a common cycle, suggesting that these geologic events are correlated and not random."

The new study is not the first time that there's been a suggestion of a planetary geologic cycle, but it's only with recent refinements in radioisotopic dating techniques that there's evidence supporting the theory. The authors of the study collected the latest, best dating for 89 known geologic events over the last 260 million years:
29 sea level fluctuations
12 marine extinctions
9 land-based extinctions
10 periods of low ocean oxygenation
13 gigantic flood basalt volcanic eruptions
8 changes in the rate of seafloor spread
8 times there were global pulsations in interplate magmatism
The dates provided the scientists a new timetable of Earth's geologic history.
Tick, tick, boom
Credit: New York University
Putting all the events together, the scientists performed a series of statistical analyses that revealed that events tend to cluster around 10 different dates, with peak activity occurring every 27.5 million years. Between the ten busy periods, the number of events dropped sharply, approaching zero.

Perhaps the most fascinating question that remains unanswered for now is exactly why this is happening. The authors of the study suggest two possibilities:
"The correlations and cyclicity seen in the geologic episodes may be entirely a function of global internal Earth dynamics affecting global tectonics and climate, but similar cycles in the Earth's orbit in the Solar System and in the Galaxy might be pacing these events. Whatever the origins of these cyclical episodes, their occurrences support the case for a largely periodic, coordinated, and intermittently catastrophic geologic record, which is quite different from the views held by most geologists."
Assuming the researchers' calculations are at least roughly correct — the authors note that different statistical formulas may result in further refinement of their conclusions — there's no need to worry that we're about to be thumped by another planetary heartbeat. The last occurred some seven million years ago, meaning the next won't happen for about another 20 million years.
The great theoretical physicist Steven Weinberg passed away on July 23. This is our tribute.
Credit
: Billy Huynh via Unsplash
13-8
The recent passing of the great theoretical physicist Steven Weinberg brought back memories of how his book got me into the study of cosmology.
Going back in time, toward the cosmic infancy, is a spectacular effort that combines experimental and theoretical ingenuity. Modern cosmology is an experimental science.
The cosmic story is, ultimately, our own. Our roots reach down to the earliest moments after creation.
When I was a junior in college, my electromagnetism professor had an awesome idea. Apart from the usual homework and exams, we were to give a seminar to the class on a topic of our choosing. The idea was to gauge which area of physics we would be interested in following professionally.
Professor Gilson Carneiro knew I was interested in cosmology and suggested a book by Nobel Prize Laureate Steven Weinberg: The First Three Minutes: A Modern View of the Origin of the Universe. I still have my original copy in Portuguese, from 1979, that emanates a musty tropical smell, sitting on my bookshelf side-by-side with the American version, a Bantam edition from 1979.
Inspired by Steven Weinberg

Books can change lives. They can illuminate the path ahead. In my case, there is no question that Weinberg's book blew my teenage mind. I decided, then and there, that I would become a cosmologist working on the physics of the early universe. The first three minutes of cosmic existence — what could be more exciting for a young physicist than trying to uncover the mystery of creation itself and the origin of the universe, matter, and stars? Weinberg quickly became my modern physics hero, the one I wanted to emulate professionally. Sadly, he passed away July 23rd, leaving a huge void for a generation of physicists.
What excited my young imagination was that science could actually make sense of the very early universe, meaning that theories could be validated and ideas could be tested against real data. Cosmology, as a science, only really took off after Einstein published his paper on the shape of the universe in 1917, two years after his groundbreaking paper on the theory of general relativity, the one explaining how we can interpret gravity as the curvature of spacetime. Matter doesn't "bend" time, but it affects how quickly it flows. (See last week's essay on what happens when you fall into a black hole).
The Big Bang Theory
For most of the 20th century, cosmology lived in the realm of theoretical speculation. One model proposed that the universe started from a small, hot, dense plasma billions of years ago and has been expanding ever since — the Big Bang model; another suggested that the cosmos stands still and that the changes astronomers see are mostly local — the steady state model.
Competing models are essential to science but so is data to help us discriminate among them. In the mid 1960s, a decisive discovery changed the game forever. Arno Penzias and Robert Wilson accidentally discovered the cosmic microwave background radiation (CMB), a fossil from the early universe predicted to exist by George Gamow, Ralph Alpher, and Robert Herman in their Big Bang model. (Alpher and Herman published a lovely account of the history here.) The CMB is a bath of microwave photons that permeates the whole of space, a remnant from the epoch when the first hydrogen atoms were forged, some 400,000 years after the bang.
The existence of the CMB was the smoking gun confirming the Big Bang model. From that moment on, a series of spectacular observatories and detectors, both on land and in space, have extracted huge amounts of information from the properties of the CMB, a bit like paleontologists that excavate the remains of dinosaurs and dig for more bones to get details of a past long gone.
How far back can we go?
Confirming the general outline of the Big Bang model changed our cosmic view. The universe, like you and me, has a history, a past waiting to be explored. How far back in time could we dig? Was there some ultimate wall we cannot pass?
Because matter gets hot as it gets squeezed, going back in time meant looking at matter and radiation at higher and higher temperatures. There is a simple relation that connects the age of the universe and its temperature, measured in terms of the temperature of photons (the particles of visible light and other forms of invisible radiation). The fun thing is that matter breaks down as the temperature increases. So, going back in time means looking at matter at more and more primitive states of organization. After the CMB formed 400,000 years after the bang, there were hydrogen atoms. Before, there weren't. The universe was filled with a primordial soup of particles: protons, neutrons, electrons, photons, and neutrinos, the ghostly particles that cross planets and people unscathed. Also, there were very light atomic nuclei, such as deuterium and tritium (both heavier cousins of hydrogen), helium, and lithium.
Cosmic alchemy
So, to study the universe after 400,000 years, we need to use atomic physics, at least until large clumps of matter aggregate due to gravity and start to collapse to form the first stars, a few millions of years after. What about earlier on? The cosmic history is broken down into chunks of time, each the realm of different kinds of physics. Before atoms form, all the way to about a second after the Big Bang, it's nuclear physics time. That's why Weinberg brilliantly titled his book The First Three Minutes. It is during the interval between one-hundredth of a second and three minutes that the light atomic nuclei (made of protons and neutrons) formed, a process called, with poetic flair, primordial nucleosynthesis. Protons collided with neutrons and, sometimes, stuck together due to the attractive strong nuclear force. Why did only a few light nuclei form then? Because the expansion of the universe made it hard for the particles to find each other.
What about the nuclei of heavier elements, like carbon, oxygen, calcium, gold? The answer is beautiful: all the elements of the periodic table after lithium were made and continue to be made in stars, the true cosmic alchemists. Hydrogen eventually becomes people if you wait long enough. At least in this universe.
In this article, we got all the way up to nucleosynthesis, the forging of the first atomic nuclei when the universe was a minute old. What about earlier on? How close to the beginning, to t = 0, can science get? Stay tuned, and we will continue next week.
To Steven Weinberg, with gratitude, for all that you taught us about the universe.
Long before Alexandria became the center of Egyptian trade, there was Thônis-Heracleion. But then it sank.
Surprising Science
Egypt's Thônis-Heracleion was the thriving center of Egyptian trade before Alexandria — and before earthquakes drove it under the sea.
A rich trade and religious center, the city was at its height from the six to the fourth century BCE.
As the city's giant temple collapsed into the Mediterranean, it pinned the newly discovered military vessel underwater.
Before Alexander the Great established Alexandria around 331 BCE, one of Egypt's primary ports on the Mediterranean Sea between the sixth and fourth centuries BCE was a place called Thônis-Heracleion.
Now researchers from the European Institute for Underwater Archaeology (IEASM), the same organization that first found the city in 2001, have announced the discovery of a couple of fascinating items from the city's heyday. Pinned beneath fallen temple stones is a surprisingly intact Egyptian military vessel from the second century BCE, and researchers have excavated a large cemetery from the fourth century BCE.
Thônis-Heracleion
Credit: Egyptian Ministry of Tourism and Antiques
Thônis-Heracleion was one of the two primary access points to ancient Egypt from the Mediterranean. (The other, Canopus, was discovered in 1999.) For millennia, experts assumed Thônis-Heracleion were two different lost cities, but it's now known that Thônis is simply the city's Egyptian name, while Heracleion is its Greek name.

Thônis-Heracleion had been the stuff of legend before it was located, mentioned only in rare ancient texts and stone inscriptions. Herodotus seems to have been referring to Thônis-Heracleion's temple of Amun as the place where Heracles first arrived in Egypt. He also described a visit there by Helen with her lover Paris just before the outbreak of the Trojan War. In addition, 400 years later, geographer Strabo wrote that Heraclion, containing the temple of Heracles, had been located opposite Canopus across a branch of the Nile. Today we know Thônis-Heracleion's location as Egypt's Abu Qir Bay. The sunken port is about 6.5 kilometers from the coast and lies beneath ten meters of water.
Both Thônis-Heracleion and Canopus were wealthy in their day, and the temple was an important religious center. This all ended when the Egyptian dynasty created by Ptolemy set out to establish Alexandria as Egypt's center. Thônis-Heracleion and Canopus' trade — and thus wealth — was diverted to the new capital.
It was perhaps just as well, given that natural forces eventually destroyed Thônis-Heracleion. Located on the Mediterranean, the ground upon which it was built became saturated and eventually began to destabilize and liquefy. The temple of Amun probably collapsed around 140 BCE. A series of earthquakes sealed the cty's' fate around 800 CE, sending a 100 square-kilometer chunk of the Nile delta on which it was constructed under the waves. The Mediterranean's rising sea level over the next couple thousand years completed the drowning of Thônis-Heracleion.
Researchers have recovered a large collection of Thônis-Heracleion's treasures revealing an economically rich culture. Coins, bronze statuettes, and over 700 ancient ship anchors have been pulled from the waters. Divers have also identified over 70 shipwrecks. A giant statue of the Nile god Hapi took two and a half years to bring up.
An ancient vessel and a cemetery
Gold mask found in a submerged Greek cemetery.Credit: Egyptian Ministry of Tourism and Antiques
The newly discovered ship was found beneath 16 feet of hard clay, "thanks to cutting-edge prototype sub-bottom profiler electronic equipment," says Ayman Ashmawy of the Egyptian Ministry of Tourism and Antiques.

The military vessel had been moored in Thônis-Heracleion when the temple of Amun collapsed. The temple's enormous blocks fell onto the ship, sinking it. The boat is a rare find — only one other ship of its period has been found. As underwater archaeologist Franck Goddio, one of the scientists who found the city, puts it, "Finds of fast ships from this age are extremely rare."
At 80 feet long, the boat is six times as long as it is wide. Like its dually-named city, it's an amalgam of Greek and Egyptian ship-building techniques. According to expert Ehab Fahmy, head of the Central Department of Underwater Antiquities at IEASM, the boat has some classical construction features such as mortar and tenon joints. On the other hand, it was built to be rowed, and some of its wood was reused lumber, signature traits of Egyptian boat design. Its flat bottom suggests it was built for navigating the shallows of the Nile delta where the river flows into the Mediterranean.
Also found alongside the city's submerged northeastern entrance canal was a large Greek cemetery. The funerary is adorned with opulent remembrances, including a mask made of gold, shown above. A statement by the Egyptian Ministry of Tourism and Antiques describes its significance, as reported by Reuters:
"This discovery beautifully illustrates the presence of the Greek merchants who lived in that city. They built their own sanctuaries close to the huge temple of Amun. Those were destroyed simultaneously and their remains are found mixed with those of the Egyptian temple."
Excavation is ongoing, with more of Egypt's ancient history no doubt waiting beneath the waves.
Scroll down to load more…