What we touch while shopping affects what we buy, researchers say
Our hands lead us to certain choices, according to Zachary Estes of Bocconi University. 
18 May, 2017
We were hunter-gatherers for the vast majority of human history. The ancient practice of weighing game or foraged goodies in the hand, may be having a lasting impression on us, today. Though we're unaware of it, what we touch influences what we buy.
---
Whether it's running your fingers over fabrics or weighing a coffee mug in your hand, touching a product ensures future recognition of it, according to a 2015 study published in Applied Cognitive Psychology. For instance, those who want to purchase a candy bar are more likely to buy a KitKat over a Snickers, if they're holding their smartphone in their hand. That's because the candy bar and the phone are more or less the same in size and shape. Nestlé lucked out.
Other startling findings were uncovered during a series of studies conducted by Zachary Estes and a colleague. Estes is an assistant professor of marketing at Bocconi University in Italy. He collaborated with Mathias Streicher at the University of Innsbruck in Austria. The two ran a series of studies on touch and how it affects purchasing decisions.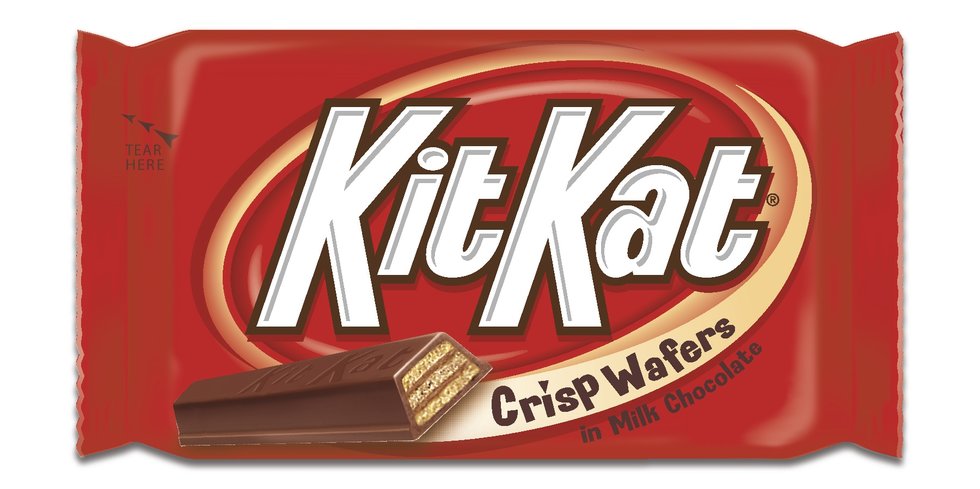 Those wanting a candy bar while holding a smartphone are more likely to choose a KitKat. Flickr.
Just holding a product in your hand increases your likelihood of buying it, the researchers found. That and we're liable to purchase whatever item we are looking at, if it's similar to what we're currently holding. This could have tremendous ramifications not only in marketing but psychology, sociology, neurology, and our understanding of human evolution.
Estes and Streicher performed a number of experiments. In each, they blindfolded participants and had them grasp familiar objects, such as a Coke bottle. They had participants touch these items under the guise of a weight test. Subjects were asked to weigh them in their hand. What researchers were really looking at was whether tactile sensation led to brand recognition. Estes said what they found was that, "Distinctive product shapes like Coca-Cola's iconic bottle design can provide a powerful source of brand identity and recognition."
Next, participants were asked to identify any product from its picture on a screen. The images faded in. Over time, the product they had held, along with others from the same category, appeared. So in the Coke bottle experiment, other sodas faded in onscreen along with a Coke. Researchers wanted to see which one participants noticed first. Similar products often appeared more quickly on the screen than the one the recruits had handled beforehand. Even so, they were more likely to pick the one that they'd touched.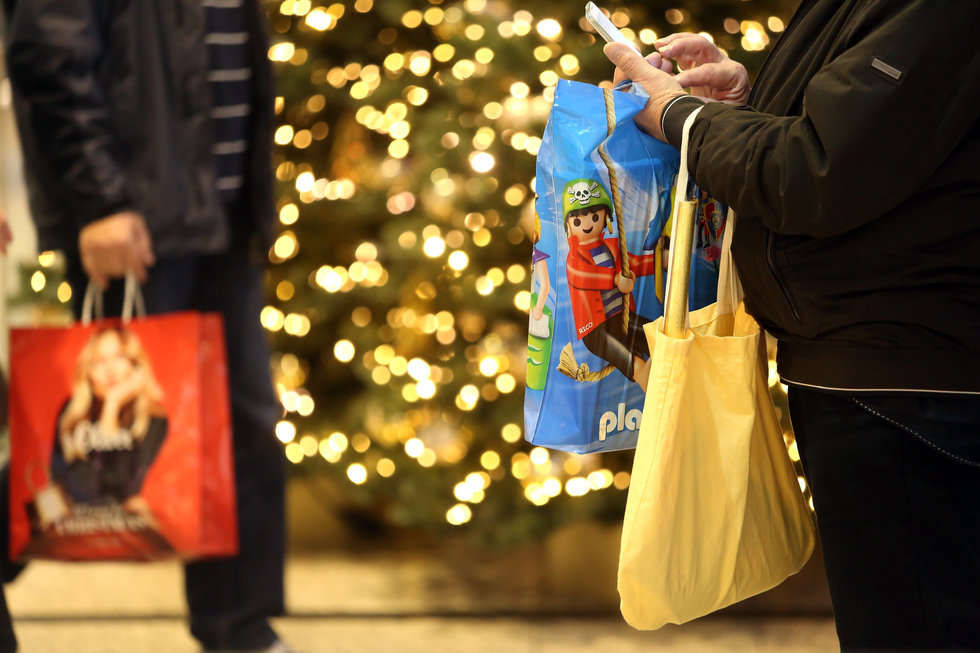 Merely holding something in your hand affects what you buy. Getty Images.
In addition, participants were more likely to choose the product they had held, when offered a drink as a reward for taking part in the experiment. Why? According to the authors, touching the bottle "activated the conceptual representation of that object, which then facilitated subsequent processing of the given object."
That recognition in turn, strengthened their choice. Our brain prefers something a similar shape and size to what we've had before, it turns out. So when you hold something like your phone, wallet, or a drink, or even when you shop online using a mouse, those tactile sensations influence how you shop and what you buy.
What can be done to solidify a product in the public's mind? According to Estes, "Product designers could create packages that mimic those commonly held forms, and marketing managers can accentuate this effect of product touch by placing several products near one another, and by encouraging consumers to touch the products on display."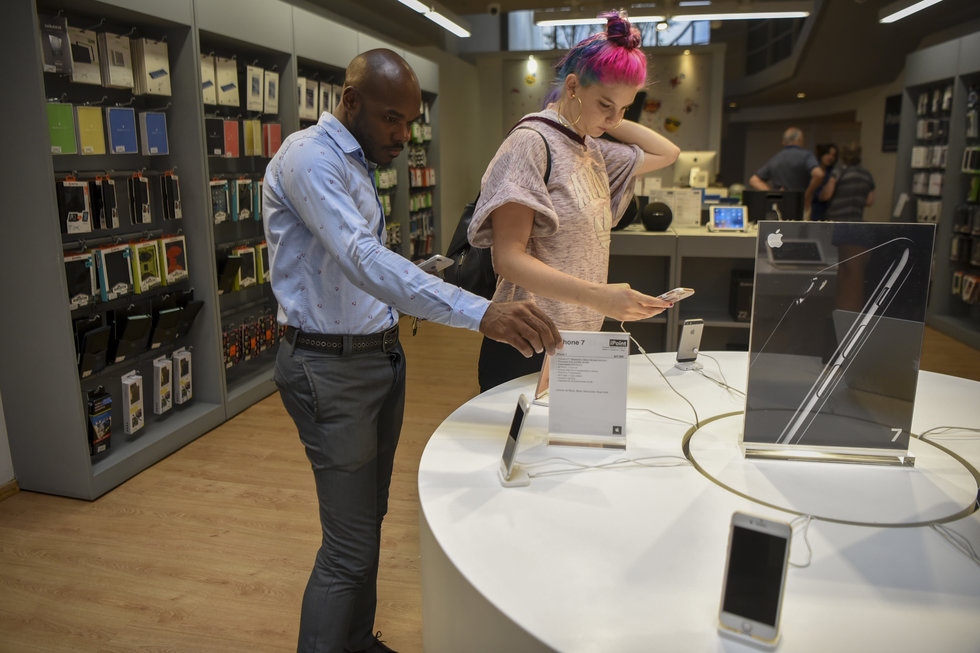 Retailers such as Apple and Best Buy bank on customers having tactile experiences. Image source: Getty
There were two variables that strengthened or reduced this tactile effect, researchers found. One is situational and the other personal. The situational variable has to do with what is known as visual density. If you go into some discount stores, displays are often overcrowded with merchandise. There's very little space between items and they might overlap one another.

In more highbrow establishments, products tend to have a lot of room. It turns out, when the arrangement is dense and crowded, our sense of touch becomes more important. The authors write, "As visual perception becomes less reliable, tactile perception assumes a greater role in the recognition of object shape."
The other factor is personality. Some people have more of a need to touch things than others. These touchy-feely types usually pick up products, read their labels, and weigh them in their hands, while they shop. Those who are haptic in their approach are more influenced by how a product feels.
In a Proctor & Gamble study published in 2009, spanning 21 years total, found that customers who were able to feel merchandise were willing to pay more than those who hadn't. This phenomenon is called "The Endowment Effect." Basically, we make an emotional connection with what we touch.
As a result, touching something increases one's sense of ownership over it. The innovation here is that the shape of the object seems to make a particular impression and the effect is strengthened or dimmed upon one's haptic proclivities and how the merchandise is displayed.
To hear about this study, click here:
Malcolm Gladwell teaches "Get over yourself and get to work" for Big Think Edge.
Big Think Edge
Learn to recognize failure and know the big difference between panicking and choking.

At Big Think Edge, Malcolm Gladwell teaches how to check your inner critic and get clear on what failure is.

Subscribe to Big Think Edge before we launch on March 30 to get 20% off monthly and annual memberships.
The 21st century is experiencing an Asianization of politics, business, and culture.
Videos
Our theories about the world, even about history or the geopolitics of the present, tend to be shaped by Anglo perspectives of the Western industrial democracies, particularly those in the United States and the United Kingdom.
The West, however, is not united. Canada, for instance, acts in many ways that are not in line with American or British policies, particularly in regard to populism. Even if it were united, though, it would not represent most of the world's population.
European ideas, such as parliamentary democracy and civil service, spread across the world in the 19th century. In the 20th century, American values such as entrepreneurialism went global. In the 21st century, however, what we're seeing now is an Asianization — an Asian confidence that they can determine their own political systems, their own models, and adapt to their own circumstances.
They didn't know it, but the rituals of Iron Age Scandinavians turned their iron into steel.
Shutterstock
Culture & Religion
Iron Age Scandinavians only had access to poor quality iron, which put them at a tactical disadvantage against their neighbors.
To strengthen their swords, smiths used the bones of their dead ancestors and animals, hoping to transfer the spirit into their blades.
They couldn't have known that in so doing, they actually were forging a rudimentary form of steel.
Can sensitive coral reefs survive another human generation?
Videos
Coral reefs may not be able to survive another human decade because of the environmental stress we have placed on them, says author David Wallace-Wells. He posits that without meaningful changes to policies, the trend of them dying out, even in light of recent advances, will continue.
The World Wildlife Fund says that 60 percent of all vertebrate mammals have died since just 1970. On top of this, recent studies suggest that insect populations may have fallen by as much as 75 percent over the last few decades.
If it were not for our oceans, the planet would probably be already several degrees warmer than it is today due to the emissions we've expelled into the atmosphere.
Big think's weekly newsletter.
Get smarter faster from the comfort of your inbox.
See our newsletter privacy policy
here
Most Popular
Most Recent
Big think's weekly newsletter.
Get smarter faster from the comfort of your inbox.
See our newsletter privacy policy
here
© Copyright 2007-2018 & BIG THINK, BIG THINK EDGE,
SMARTER FASTER trademarks owned by The Big Think, Inc. All rights reserved.