Calorie Intake and Health: Major Study Reveals a New Relationship
Understanding the biology of aging can help us develop strategies to slow or even overcome it.
20 January, 2017
One of the most significant aspects of the modern world is that food scarcity is at its lowest point in human history. Tens of millions over the past few decades have been lifted out of poverty. Of course, world hunger is still a serious problem. We know that in ancient hunter-gatherer societies however, times of scarcity and famine cropped up periodically. Agricultural societies too, due to drought, war, a natural disaster, or some other factor, saw smaller yields from time to time, or worse, and needed to cut back on their food intake, just to survive.
---
Instead today, obesity is becoming an epidemic worldwide. New middle classes are starting to gobble up more meat and other items, so much so that alarmists warn that we may run out of arable land in the future to grow food, and that a significant increase in livestock could contribute heavily to global warming. Studies over decades have hinted that rather than taking in more food, a calorie restricted diet is healthier for humans. This isn't to say malnutrition is desirable, but rather getting all the nutrients you need in small portions.
The idea that calorie restriction might extend the human lifespan goes back to the 1930's, when lab workers first noticed that rats who didn't get as much food as their brethren tended to live longer. Since then, similar studies have shown consistently that calorie restriction prolongs the life of certain organisms such as yeast, worms, flies, fish, and even mice. The increase is significant, in some cases up to 40%. So does it work in humans? We don't know yet. Where this research got stuck was with rhesus monkeys.
A 25-year University of Wisconsin-Madison study, beginning in 1989, used such monkeys to test calorie intake on longevity and health. These primates share 93% of our genome and age similarly to us. In this study, one cohort could eat whatever it wanted while the other was put on a restricted diet. The latter ate 30% less calories than their peers.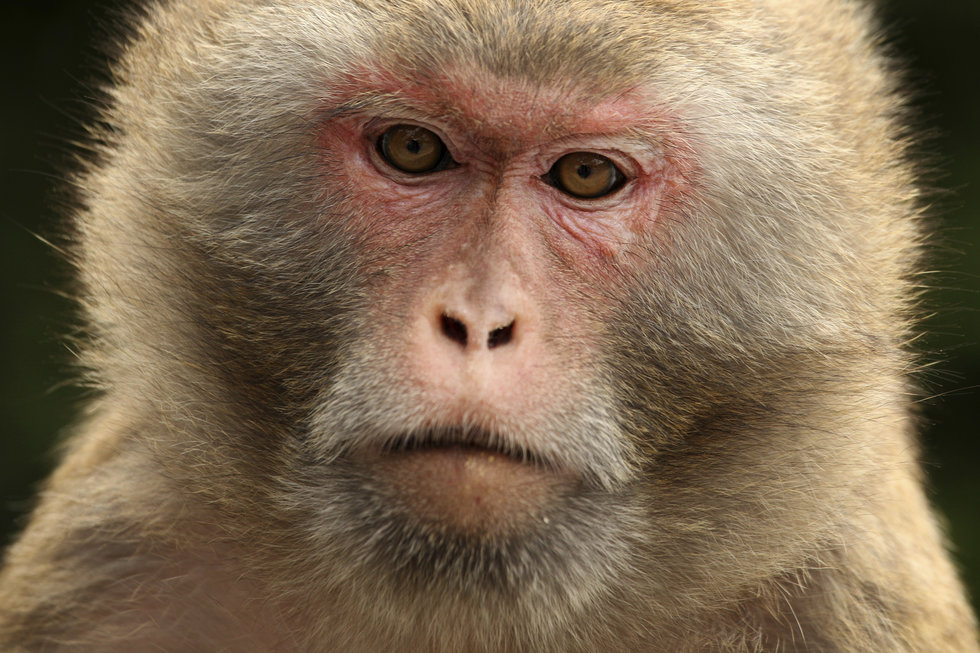 The face of a rhesus macaque monkey, like the ones used in the experiment.
In the end, the results were clear. Those monkeys who ate a calorie restricted diet had a risk of death three times lower than those who ate whatever they wanted. They also had a 2.9 times lower risk of disease. These included things like cardiovascular disease, diabetes, and cancer. You would think such results would launch a public health campaign heralding the benefits of a calorie restricted diet. Instead, its publication created one the most compelling controversies ever to emerge out of aging research.
For a similar, 30-year study, conducted by the National Institute of Aging (NIA), found that a calorie restricted diet in rhesus monkeys offered no significant difference in health or longevity. So what to do? Blame? Finger point? Well, they did what any good scientists do. They collaborated. And the findings of this review were published in a recent issue of the journal, Nature Communications. Together, they went through the data of almost 200 monkeys, gathered over the course of many years and found the source of the discrepancy.
Turns out, the age, diet, and sex of the monkeys counted for a lot. The cohorts who endured calorie restrictions in these studies differed in age for instance at the outset. Researchers agreed that in younger monkeys, calorie restriction did not seem beneficial. Yet, in older adults, it led to increase health and longevity. This is the opposite of previous, rodent studies, where the animals benefitted more, the earlier calorie restriction took place.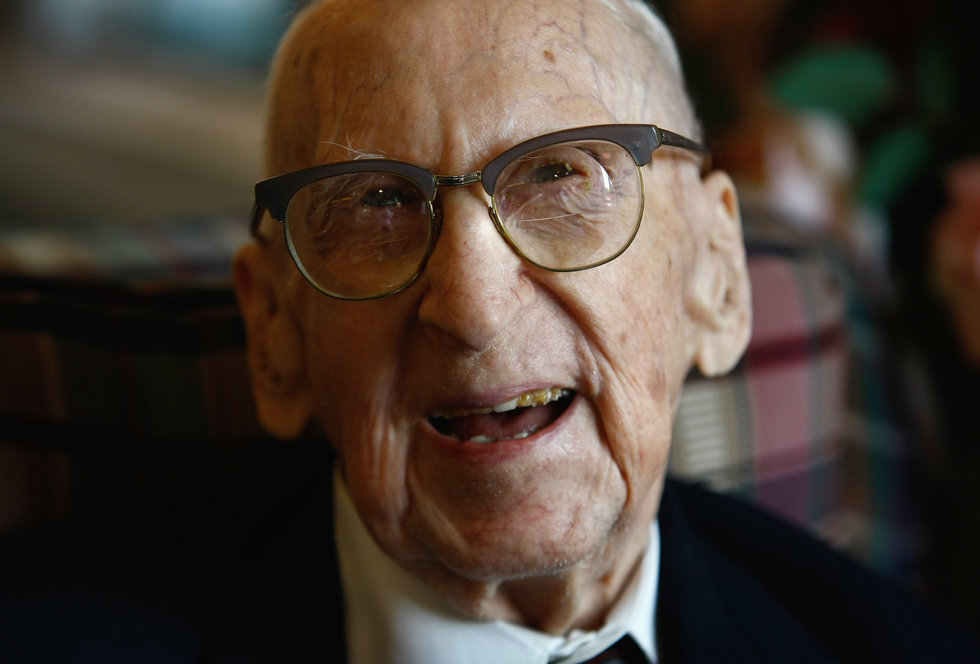 Walter Breuning at age 112 is the world's oldest man.
Another difference, diet restricted monkeys in the UW study consumed more calories than those in the NIA one. Researchers took this to mean that such a diet must be carefully planned. Small variations resulted in large differences in terms of health and aging. Another discrepancy was the composition of each study's diet. UW monkeys ate processed foods high in sugar, whereas their NIA counterparts ate natural foods. Those in the control group of the UW study were fatter than in the NIA one, which indicates that the quality of the diet makes a huge difference.
Lastly, what sex the subjects were influenced results. We know that in humans, women tend to outlive men. That's also the case for rhesus monkeys. With the monkeys, scientists say, it's because females were less affected by the buildup of adiposity or fat than males. Researchers believe that this could be the case in humans.
So if you want to live longer and have a higher chance of being disease-free in old age, restrict your calorie intake and eat a balance diet containing natural, healthy food. Of course, no such experiment has been conducted on humans, yet. These results only indicate that there's a good chance such a thing might be true. And one must check with a doctor or dietician before radically changing their diet, or they may end up malnourished, undermining their efforts.
Researchers concluded that, "A clear understanding of the biology of aging, as opposed to the biology of individual age-related diseases, could be the critical turning point for novel approaches…" slowing or even overcoming the aging process in humans. But it will take years or even decades until that understanding is fully within our grasp.
Robert Butler of the International Longevity Center explains more about the research behind the benefits of restricting calories in human diets. 
--
Lumina Foundation is partnering with Big Think to unearth the next large-scale, rapid innovation in post-high school education. Enter the competition here!
Good science is sometimes trumped by the craving for a "big splash."
Videos
Scientists strive to earn credit from their peers, for grants from federal agencies, and so a lot of the decisions that they make are strategic in nature. They're encouraged to publish exciting new findings that demonstrate some new phenomenon that we have never seen before.
This professional pressure can affect their decision-making — to get acclaim they may actually make science worse. That is, a scientist might commit fraud if he thinks he can get away with it or a scientist might rush a result out of the door even though it hasn't been completely verified in order to beat the competition.
On top of the acclaim of their peers, scientists — with the increasing popularity of science journalism — are starting to be rewarded for doing things that the public is interested in. The good side of this is that the research is more likely to have a public impact, rather than be esoteric. The bad side? To make a "big splash" a scientist may push a study or article that doesn't exemplify good science.
Moans, groans, and gripes release stress hormones in the brain.
popular
Could you give up complaining for a whole month? That's the crux of this interesting piece by Jessica Hullinger over at Fast Company. Hullinger explores the reasons why humans are so predisposed to griping and why, despite these predispositions, we should all try to complain less. As for no complaining for a month, that was the goal for people enrolled in the Complaint Restraint project.
Participants sought to go the entirety of February without so much as a moan, groan, or bellyache.
Two space agencies plan missions to deflect an asteroid.
ESA's Hera mission above asteroid 65803 Didymos. Credit: ESA/ScienceOffice.org
Surprising Science
NASA and the European Space Agency (ESA) are working together on missions to a binary asteroid system.
The DART and Hera missions will attempt to deflect and study the asteroid Didymoon.
A planetary defense system is important in preventing large-scale catastrophes.
Big think's weekly newsletter.
Get smarter faster from the comfort of your inbox.
See our newsletter privacy policy
here
Most Popular
Most Recent
Big think's weekly newsletter.
Get smarter faster from the comfort of your inbox.
See our newsletter privacy policy
here
© Copyright 2007-2018 & BIG THINK, BIG THINK EDGE,
SMARTER FASTER trademarks owned by The Big Think, Inc. All rights reserved.