US Veterans Weigh in on NFL Players Taking a Knee
In the US Army, taking a knee has a special connotation.
25 September, 2017
Before Sunday's lineup of NFL games, over 100 players from several different teams took Colin Kaepernick's lead from last year, and in silent protest took knees, locked arms, or stayed off the field entirely, before Sunday's games. President Donald Trump responded with two tweets which together said, "If a player wants the privilege of making millions of dollars in the NFL, or other leagues, he or she should not be allowed to disrespect our Great American Flag (or Country) and should stand for the National Anthem. If not, YOU'RE FIRED. Find something else to do!"
---
The president has followed with a steady stream of tweets about the subject since then, including:
Roger Goodell of NFL just put out a statement trying to justify the total disrespect certain players show to our country.Tell them to stand!

— Donald J. Trump (@realDonaldTrump) September 23, 2017
Some conservatives believe that since NFL players enjoy fortune and celebrity, they aren't in fact victims of prejudice. And that taking a knee or locking arms during the national anthem is a disrespect to the nation's veterans who put their lives on the line, or to those who lost them, in defense of freedom and liberty.
On the other hand, liberals believe that it's one's right to protest according to the 1st amendment, that the actions were peaceful, and that African-Americans have legitimate concerns when it comes to police violence and systemic racism. Liberal-minded spectators saw this as an overall protest of racial injustice, while certain conservatives saw it as a direct protest against the president.
The Twitterverse exploded in debate soon after and the fury picked up on Monday, with many conservatives rallying around the hashtag #StandForOurAnthem and liberals circling around #TakeaKnee. In many conservative channels, Pittsburgh Steelers offensive tackle and former Army Ranger Alejandro Villanueva, became a hero. He was the lone Steeler who stood for the anthem in Sunday's game.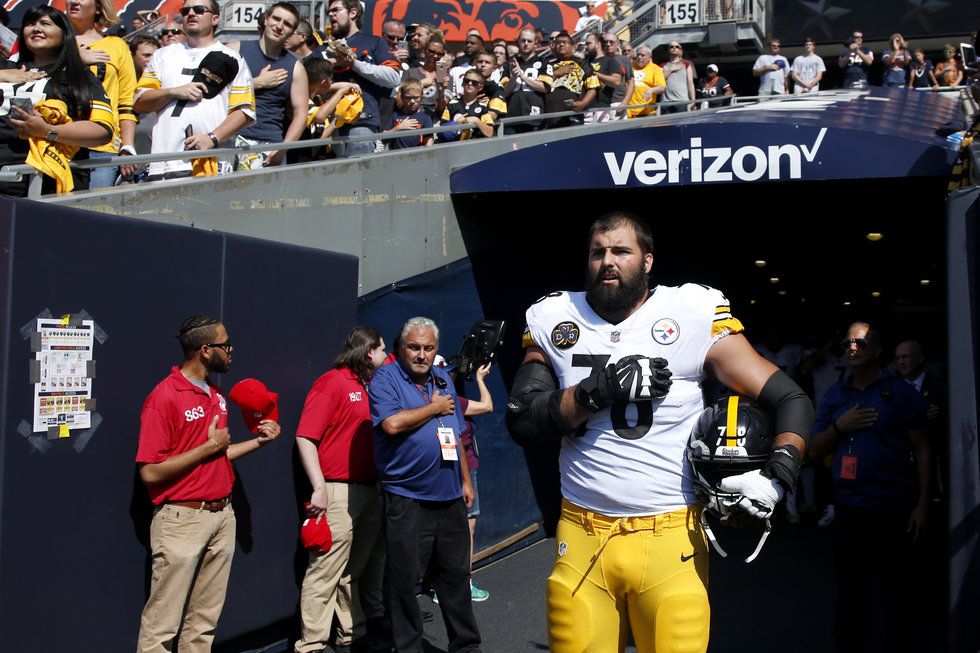 Pittsburgh Steelers offensive tackle Alejandro Villanueva stands for the national anthem. Getty Images.
The country's divide was once again made glaringly apparent as this new front in the culture wars flared up. Since then, a number of celebrities, pundits, and media personalities have weighed in. Fox News commentator Bryan Dean Wright wrote that such protests inflame racial divides, rather than merely calling attention to inequity. He said he'd rather players, "lead a constructive conversation on race."
To the contrary, a piece in Foreign Policy magazine by veteran military journalist Thomas E. Ricks outlines the US Army tradition of "taking a knee" as something to admire, and be emulated. It's taking a breather—a chance to step back for a moment, gather one's thoughts and reconsider the situation. "I kind of like the idea of the nation taking a knee and considering our racial situation, and how we can all do better," he wrote. "You know we can."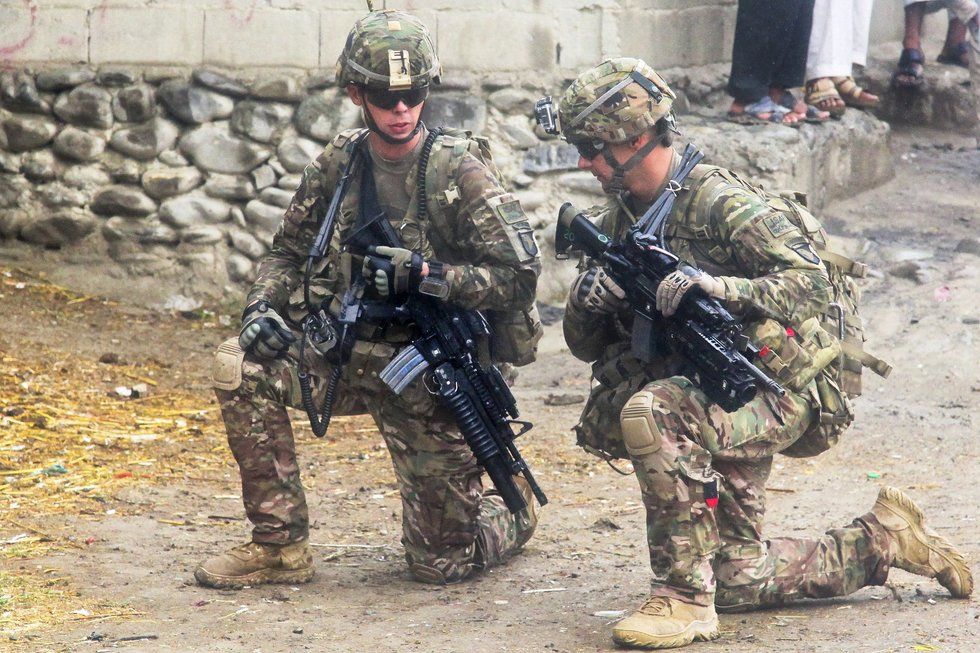 U.S. Army Soldiers with 2nd Battalion, 506th Infantry Regiment, 4th Brigade Combat Team, 101st Airborne Division, take a knee to talk and reassess in Afghanistan, June 12, 2013. U.S. Army photo by Spc. Robert Porter.
Of course, the beautiful thing about the digital era is we can easily see what veterans themselves think. Legions took to the character-restricted social media site to voice their opinion.
Some felt certain parties used them to serve their own side:
I'm one of countless military veterans taking a knee. Do not exploit our service to silence black Americans and endorse racism.#TakeaKnee
— Charles Clymer
Others merely showed solidarity:
Im a veteran and i served so we all have rights and are free i will be taking a knee from here on out we must stand together. #TakeAKnee

— Amanda Alonzo ☺️ (@army_brat_fit) September 24, 2017
What can 3D printing do for medicine? The "sky is the limit," says Northwell Health researcher Dr. Todd Goldstein.
Northwell Health
Sponsored by Northwell Health
Medical professionals are currently using 3D printers to create prosthetics and patient-specific organ models that doctors can use to prepare for surgery.
Eventually, scientists hope to print patient-specific organs that can be transplanted safely into the human body.
Northwell Health, New York State's largest health care provider, is pioneering 3D printing in medicine in three key ways.
The tactics that work now won't work for long.
Politics & Current Affairs
Arms races happen when two sides of a conflict escalate in a series of ever-changing moves intended to outwit the opponent.
Great ideas in philosophy often come in dense packages. Then there is where the work of Marcus Aurelius.
(Getty Images)
Personal Growth
Meditations is a collection of the philosophical ideas of the Roman Emperor Marcus Aurelius.
Written as a series of notes to himself, the book is much more readable than the dry philosophy most people are used to.
The advice he gave to himself 2,000 years ago is increasingly applicable in our hectic, stressed-out lives.
By working together, and learning from one another, we can build better systems.
Videos
Many of the things that we experience, are our imagination manifesting into this physical realm, avers artist Dustin Yellin.
People need to completely rethink the way they work together, and learn from one another, that they they can build better systems. If not, things may get "really dark" soon.
The first step to enabling cooperation is figuring out where the common ground is. Through this method, despite contrary beliefs, we may be able to find some degree of peace.
Big think's weekly newsletter.
Get smarter faster from the comfort of your inbox.
See our newsletter privacy policy
here
Most Popular
Most Recent
Big think's weekly newsletter.
Get smarter faster from the comfort of your inbox.
See our newsletter privacy policy
here
© Copyright 2007-2019 & BIG THINK, BIG THINK EDGE,
SMARTER FASTER trademarks owned by The Big Think, Inc. All rights reserved.