This is Why Some People Naturally Have a Harder Time Losing Weight
The study may help us develop a new biomarker for obesity and even type 2 diabetes.
24 November, 2017
Like many Americans, I struggle with my weight and have trouble losing it. I've always had something of a belly. Exercise and dieting have left me frustrated. I usually hit a wall after losing about 20 lbs. or so. A new study finds that it might not be my lifestyle, but my genetic makeup. The results were published in the journal, Proceedings of the National Academy of Sciences (PNAS). 
---
First, let's be clear. The scientists in this study do peg the growing worldwide obesity epidemic, going on now for the past 40 years or so, to over-nutrition and an increasingly sedentary lifestyle. Even so, "numerous familial studies also provide strong evidence for heritable contributions to obesity," study authors write. Over 100 genes have somehow been implicated. But how much they impact weight and how they work exactly has been unclear, until now.
So it may be a poor diet and little exercise that makes us overweight. But stubborn weight loss might not be. I mean, we can't be held responsible for how our body stores fat. As a result, society may have to change its perception on what's healthy and attractive and what isn't. Because some people just might be more naturally curvy than others. How do we know? Researchers found a certain genetic mutation which tells our body to store much more fat than necessary. And millions of Americans have it.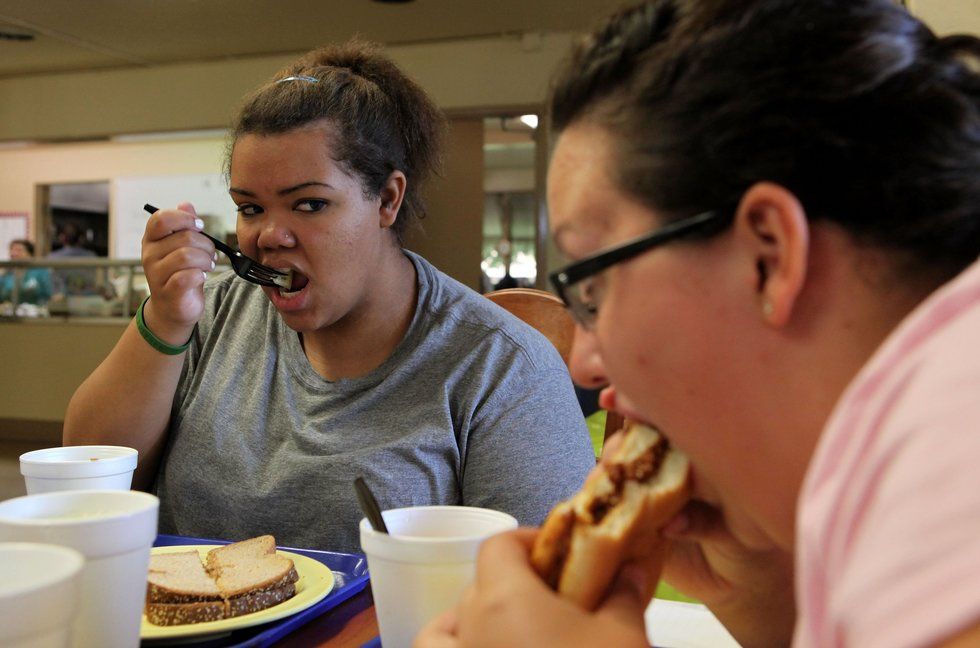 Although what you eat and how much you exercise are important, how much fat your body stores and how quickly you lose weight may be up to your genetic code. Credit: Getty Images.
This mutation at one time was helpful for our species. In the dawn of humanity and perhaps during other periods of history, food wasn't always plentiful. So building up a nice layer of fat could help you survive the lean times, whereas others might fall away. Today however, there's a stigma against being overweight, regardless of one's biological situation. And of course it's worse for women than men.
Dr. Vann Bennett was the senior author on this study. He's a professor of biochemistry at Duke University. Bennett worked with Damaris Lorenzo, an assistant professor of cell biology. She hails from the University of North Carolina, Chapel Hill. Although it was discovered in mice, researchers believe this mutation is present across many mammalian species, including our own.
This study surrounds the gene ankyrin-B. Dr. Bennett discovered this gene, and a former PhD. student noticed that mice who had the mutation were fatter than those who didn't. All a gene is, is a set of instructions on how to make a certain protein. This particular gene's protein connects a cell's membrane to other important proteins, and can be found in almost every tissue in the body.
There's one problem however, no one knows how the gene works. The leading theory today is that obesity has to do with appetite control centers in the brain. Dr. Bennett wondered whether the problem emanated not from the head but elsewhere.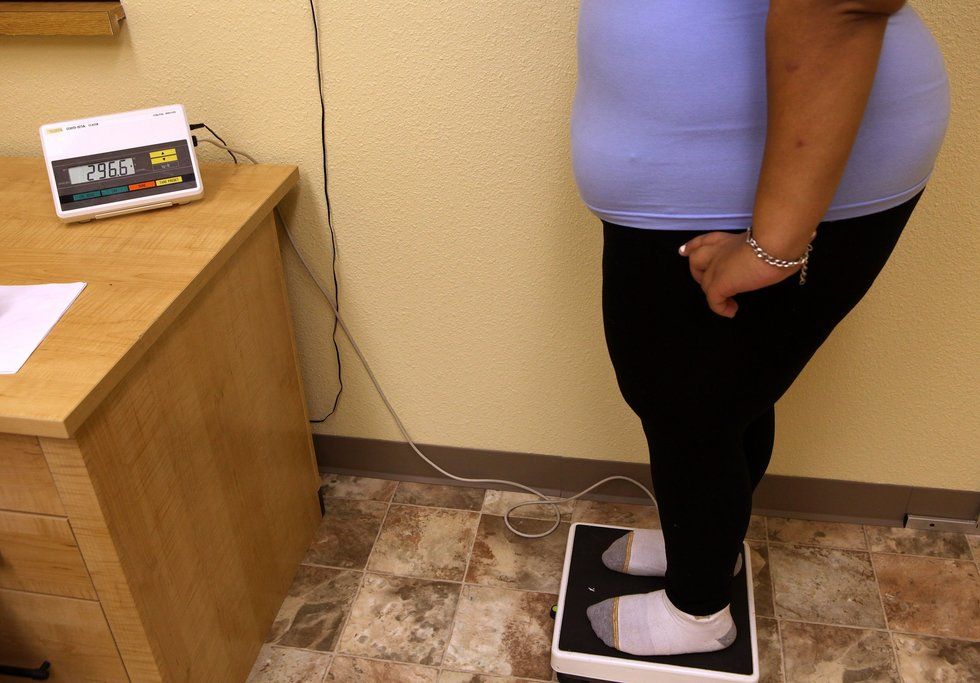 Ankyrin-B may serve as a biomarker for stubborn weight loss. Credit: Getty Images.
What scientists did in this study was "design" mice, by injecting their DNA with the human variant of the gene ankyrin-B. Then a surprising thing happened. The mice grew fat and quickly. Looking more closely, researchers found that these mice had fat cells that were twice as big as normal ones. Instead of burning calories, their bodies were storing more of their energy as fat. This occurred even though these mice were still eating the same portions and exercising as much as they were before. "We call it fault-free obesity," Dr. Bennet said.
Now, researchers believe changing or suppressing the ankyrin-B mutation could prevent a common, unhealthful cascade which often leads to a serious condition. According to Prof. Lorenzo, "We quickly learned that the increased accumulation of lipids in fat cells 'spilled over' to the liver and muscles." This is similar to what's seen in humans where an "abnormal accumulation of fat" as Dr. Lorenzo put it, leads "to inflammation and disruption of response to insulin, a hallmark of type 2 diabetes."
If future research holds up, this gene could become a biomarker for those who are at-risk for body weight issues, and may help researchers develop gene therapies to get stubborn weight loss under control. These scientists estimate that today, 1.3% of white Americans and 8.4% of African Americans carry this genetic mutation. "The problem is, we still didn't know how this gene worked," Dr. Bennett said. Next, he and colleagues plan to identify humans who carry this gene variant and find out how it affects their metabolism.
To see how one company is marrying genetic information with weight loss, click here:
What can 3D printing do for medicine? The "sky is the limit," says Northwell Health researcher Dr. Todd Goldstein.
Northwell Health
Sponsored by Northwell Health
Medical professionals are currently using 3D printers to create prosthetics and patient-specific organ models that doctors can use to prepare for surgery.
Eventually, scientists hope to print patient-specific organs that can be transplanted safely into the human body.
Northwell Health, New York State's largest health care provider, is pioneering 3D printing in medicine in three key ways.
A recent study gives new meaning to the saying "fake it 'til you make it."
Pixabay
Surprising Science
The study involves four experiments that measured individuals' socioeconomic status, overconfidence and actual performance.
Results consistently showed that high-class people tend to overestimate their abilities.
However, this overconfidence was misinterpreted as genuine competence in one study, suggesting overestimating your abilities can have social advantages.
Is this proof of a dramatic shift?
Strange Maps
Map details dramatic shift from CNN to Fox News over 10-year period
Does it show the triumph of "fake news" — or, rather, its defeat?
A closer look at the map's legend allows for more complex analyses
Dramatic and misleading
Image: Reddit / SICResearch
The situation today: CNN pushed back to the edges of the country.
Over the course of no more than a decade, America has radically switched favorites when it comes to cable news networks. As this sequence of maps showing TMAs (Television Market Areas) suggests, CNN is out, Fox News is in.
The maps are certainly dramatic, but also a bit misleading. They nevertheless provide some insight into the state of journalism and the public's attitudes toward the press in the US.
Let's zoom in:
It's 2008, on the eve of the Obama Era. CNN (blue) dominates the cable news landscape across America. Fox News (red) is an upstart (°1996) with a few regional bastions in the South.
By 2010, Fox News has broken out of its southern heartland, colonizing markets in the Midwest and the Northwest — and even northern Maine and southern Alaska.
Two years later, Fox News has lost those two outliers, but has filled up in the middle: it now boasts two large, contiguous blocks in the southeast and northwest, almost touching.
In 2014, Fox News seems past its prime. The northwestern block has shrunk, the southeastern one has fragmented.
Energised by Trump's 2016 presidential campaign, Fox News is back with a vengeance. Not only have Maine and Alaska gone from entirely blue to entirely red, so has most of the rest of the U.S. Fox News has plugged the Nebraska Gap: it's no longer possible to walk from coast to coast across CNN territory.
By 2018, the fortunes from a decade earlier have almost reversed. Fox News rules the roost. CNN clings on to the Pacific Coast, New Mexico, Minnesota and parts of the Northeast — plus a smattering of metropolitan areas in the South and Midwest.
"Frightening map"
Image source: Reddit / SICResearch
This sequence of maps, showing America turning from blue to red, elicited strong reactions on the Reddit forum where it was published last week. For some, the takeover by Fox News illustrates the demise of all that's good and fair about news journalism. Among the comments?
"The end is near."
"The idiocracy grows."
"(It's) like a spreading disease."
"One of the more frightening maps I've seen."
For others, the maps are less about the rise of Fox News, and more about CNN's self-inflicted downward spiral:
"LOL that's what happens when you're fake news!"
"CNN went down the toilet on quality."
"A Minecraft YouTuber could beat CNN's numbers."
"CNN has become more like a high-school production of a news show."
Not a few find fault with both channels, even if not always to the same degree:
"That anybody considers either of those networks good news sources is troubling."
"Both leave you understanding less rather than more."
"This is what happens when you spout bullsh-- for two years straight. People find an alternative — even if it's just different bullsh--."
"CNN is sh-- but it's nowhere close to the outright bullsh-- and baseless propaganda Fox News spews."
"Old people learning to Google"
Image: Google Trends
CNN vs. Fox News search terms (200!-2018)
But what do the maps actually show? Created by SICResearch, they do show a huge evolution, but not of both cable news networks' audience size (i.e. Nielsen ratings). The dramatic shift is one in Google search trends. In other words, it shows how often people type in "CNN" or "Fox News" when surfing the web. And that does not necessarily reflect the relative popularity of both networks. As some commenters suggest:
"I can't remember the last time that I've searched for a news channel on Google. Is it really that difficult for people to type 'cnn.com'?"
"More than anything else, these maps show smart phone proliferation (among older people) more than anything else."
"This is a map of how old people and rural areas have learned to use Google in the last decade."
"This is basically a map of people who don't understand how the internet works, and it's no surprise that it leans conservative."
A visual image as strong as this map sequence looks designed to elicit a vehement response — and its lack of context offers viewers little new information to challenge their preconceptions. Like the news itself, cartography pretends to be objective, but always has an agenda of its own, even if just by the selection of its topics.
The trick is not to despair of maps (or news) but to get a good sense of the parameters that are in play. And, as is often the case (with both maps and news), what's left out is at least as significant as what's actually shown.
One important point: while Fox News is the sole major purveyor of news and opinion with a conservative/right-wing slant, CNN has more competition in the center/left part of the spectrum, notably from MSNBC.
Another: the average age of cable news viewers — whether they watch CNN or Fox News — is in the mid-60s. As a result of a shift in generational habits, TV viewing is down across the board. Younger people are more comfortable with a "cafeteria" approach to their news menu, selecting alternative and online sources for their information.
It should also be noted, however, that Fox News, according to Harvard's Nieman Lab, dominates Facebook when it comes to engagement among news outlets.
CNN, Fox and MSNBC
Image: Google Trends
CNN vs. Fox (without the 'News'; may include searches for actual foxes). See MSNBC (in yellow) for comparison
For the record, here are the Nielsen ratings for average daily viewer total for the three main cable news networks, for 2018 (compared to 2017):

Fox News: 1,425,000 (-5%)
MSNBC: 994,000 (+12%)
CNN: 706,000 (-9%)
And according to this recent overview, the top 50 of the most popular websites in the U.S. includes cnn.com in 28th place, and foxnews.com in... 27th place.
The top 5
, in descending order, consists of google.com, youtube.com, facebook.com, amazon.com and yahoo.com — the latter being the highest-placed website in the News and Media category.
If you thought your mother was pushy in her pursuit of grandchildren, wait until you learn about bonobo mothers.
Pixabay
Surprising Science
Mother bonobos have been observed to help their sons find and copulate with mates.
The mothers accomplish this by leading sons to mates, interfering with other males trying to copulate with females, and helping sons rise in the social hierarchy of the group.
Why do mother bonobos do this? The "grandmother hypothesis" might hold part of the answer.
Big think's weekly newsletter.
Get smarter faster from the comfort of your inbox.
See our newsletter privacy policy
here
Most Popular
Most Recent
Big think's weekly newsletter.
Get smarter faster from the comfort of your inbox.
See our newsletter privacy policy
here
© Copyright 2007-2019 & BIG THINK, BIG THINK EDGE,
SMARTER FASTER trademarks owned by The Big Think, Inc. All rights reserved.
//This will actually fire event. Should be called after consent was verifed