The Bad News: Trauma Can Be Inherited. The Good News — So Can Resilience
This discovery could lead to a whole new class of drugs for psychiatric disorders.
05 September, 2016
We tend to understand where our physical traits come from. We may have our mother's eyes or our father's chin. But when it comes to personality traits, we tend to think of them as our own. Psychologists go one step farther. They see things like anxiety or depression stemming from personal experiences which shaped us. Some studies however reach back even farther, are in fact passed down from parents or even grandparents.
---
Neurosis, anxiety, an adventuresome spirit, can these be inherited? That was the question on the minds of two researchers back in 1992. Then molecular biologist and geneticist Moshe Szyf and neurobiologist Michael Meaney, both of Montreal's McGill University, met after a conference and had a few beers in a nearby bar. They started discussing inheritable traits, and Meaney theorized that certain emotional traits could be passed down through genes inside the brain. Szyf though skeptical was intrigued.
DNA inhabits the nuclei of cells. Since the 1970's, scientists had wondered what tells each cell to transcribe certain genes and discard others. It was found that molecules in the methyl group earmarked certain genes, tagging them for transcription. Because of the discovery of these methyl groups and their position, each sitting beside a corresponding gene, the field of epigenetics was born. The Greek prefix epi meaning over from. At first, it was thought that epigenetic changes only occurred in the fetal stage of life. Over time, scientists discovered that changes in diet, exposure to certain elements in the environment, and other encounters also changed our DNA.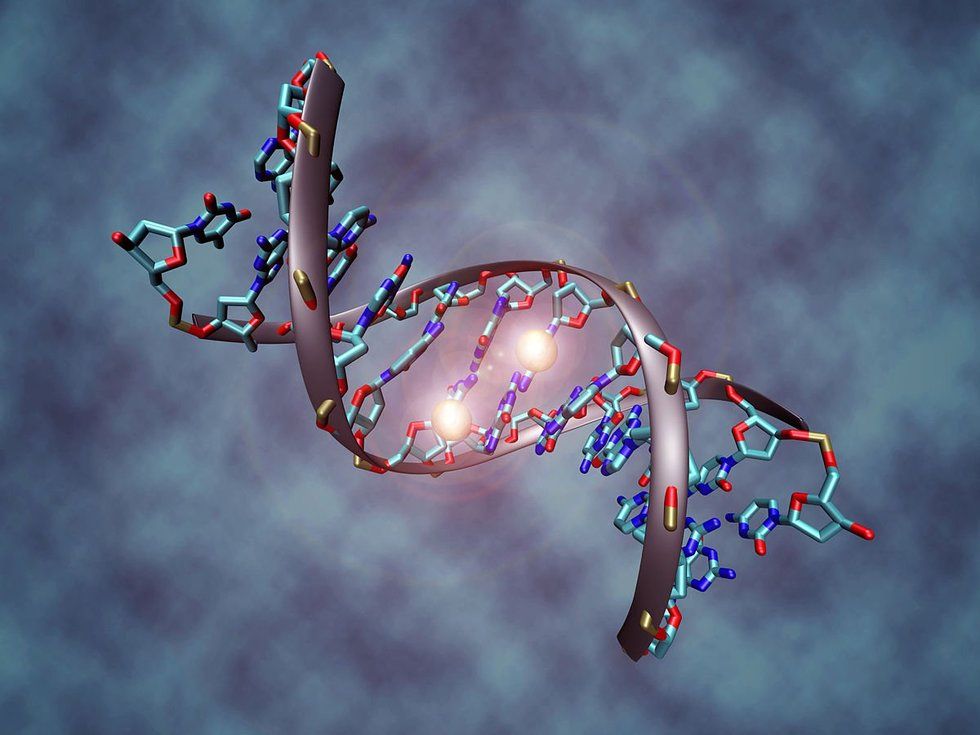 Artist's rendition of DNA methylation. By Christoph Bock (Max Planck Institute for Informatics) - Own work, CC BY-SA 3.0
What Prof. Meaney hypothesized was that a parent who experienced a trauma could have certain changes in their brain which might lead to epigenetic changes that were passed on, inhabiting the neurons of their children's brains or even their grandchildren. That rumination bore an entirely new field, behavioral epigenetics. That means if you had a parent or grandparent who lived through a genocide, war, saw someone murdered, or who suffered a different trauma, say at the hands of an abusive or neglectful parent, you carry traits for the emotional impact in your genes.
A grandfather who was neglected as a child for instance, may have experienced depression, and so passed that predisposition onward. It works in the positive sense too. If your grandfather had loving, nurturing parents, you get a genetic boost in the psychological and behavioral sense. How far does this epigenetic influence go? It's pretty hard to parse out, even for scientists.
Meaney was able to prove that certain emotional traits were passed down by studying female rats and their pups. He and colleagues gathered data reaching back to the 1950's. Those baby rats handled by researchers, for as little as five minutes a day, during the first few weeks after birth, were calmer and less stressed than those who were never handled. Meaney and colleagues found this was not due to human handling.
Instead, mother rats were more likely to groom their pups after humans had touched them. They also tended to give them more room for suckling. This extra attention led to better adjusted pups. Meaney showed that the more attention an infant rat received, the lower their stress hormone level in adulthood was. He said, "What we had done up to that point in time was to identify maternal care and its influence on specific genes." It was after this experiment that Meaney met Szyf.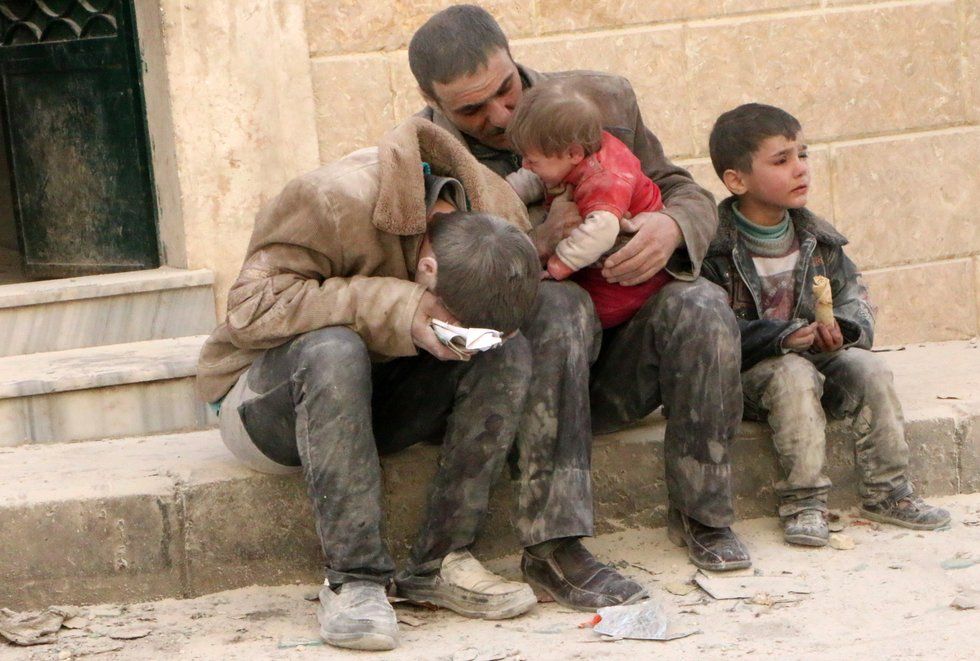 Syrian refugees. Those who endure dramatic experiences pass epigenetic changes down to their offspring.
The pair conducted an array of experiments. They began by selecting highly attentive mother rats and those who were neglectful. The offspring of neglectful mothers were more anxious and easily startled. Researchers took the offspring of these rats in adulthood and examined their brains, specifically the hippocampus. This is the area that has to do with stress, anxiety, and the formation of memories.
Those who had neglectful mothers had observable changes in the methylation of the genes there. These changes produced more glucocorticoid receptors, which interact with the stress hormone. More of them means a higher sensitivity to stress. Those with diligent mothers did not display such changes.
Next, Meaney and Szyf took a group of pups raised by neglectful mothers. They injected their brains with a drug called trichostatin A. This removes methyl groups. None of the skittishness seen in their mothers was found in this group. Their brains were once again examined, and no epigenetic changes were found. "It was like rebooting a computer," Szyf said.
In a 2008 study, the pair found that neglectful mother rats had fewer estrogen receptors in their brain. When their female offspring matured, this resulted in fewer estrogen receptors in their brains, which led to neglect of their own young. Meaney and Szyf had discovered what is now called postnatal inheritance, or epigenetic changes from the environment that are written into our DNA, and then passed down to the next generation. These two scientists have published 24 papers on the subject since.
Next, the researchers moved on to human subjects. In a 2008 study, Meaney and Szyf examined the brains of those who committed suicide, and compared them with those who had died for other reasons. Among the suicidal, neural genes in the hippocampus showed excessive methylation. Since their brains were so methylated, researchers concluded that suicidal subjects must have been abused as children. This could be why someone who had neglectful or abusive parents must struggle to overcome the trauma they endured. Methyl groups in their neural genes bind them to feelings of anxiety, hopelessness, malaise, or worry. Of course, due to ethical concerns, examining the brains of living humans is out of the question. Professor Szyf however has located signs of epigenetic methylation in blood samples.
An orphans suffering may affect their genome, long-term.  
In one experiment, Szy and researchers from Yale recruited 14 Russian children brought up in an orphanage, and 14 others raised by their parents. Each gave a blood sample which was examined. Orphans had far more methylation than those who were raised by their parents. Areas of the brain important for communication and brain development were most affected.
The study concluded that separation from biological parents causes early stress that effects the person's genome, long-term. This in turn could explain why adopted children may be more susceptible to damage from harsh parenting styles, on the part of adoptive parents. Study co-author, psychologist Elena Grigorenko wrote, "Parenting adopted children might require much more nurturing care to reverse these changes in genome regulation."
The most exciting revelation was from a study last year out of New York's Mount Sinai hospital. 32 holocaust survivors and their children had their genes analyzed. A methylation tag was found in a stress-related gene in parents and children alike. "The gene changes in the children could only be attributed to Holocaust exposure in the parents," said Rachel Yehuda, lead researchers on the study.
More research must be done to understand the processes involved. How epigenetic changes are passed on from parent to offspring still remains Unknown. Though we may despair that our parents or grandparents trauma lives on in us, Prof. Yehuda says other, related methylation tags may make us more resilient, which could be passed down too.
Some researchers take it a step further. It could be that many or even most of our emotional and psychological tendencies, whether we are intellectual or tactile, communicative or quiet, emotional or stoic, forgetful or possess a perfect memory, might all arise from epigenetic changes passed down from our ancestors. What's more, this breakthrough could lead to big changes in how we treat psychiatric conditions. Big Pharma and small biotech startups alike are already hunting for compounds, hoping to launch the next generation of drugs for psychiatric disorders, ones that are more effective, with very few, if any, side effects.
To learn more about the holocaust study and it's implication for mental health click here: 
A large new study uses an online game to inoculate people against fake news.
University of Cambridge
Politics & Current Affairs
Researchers from the University of Cambridge use an online game to inoculate people against fake news.
The study sample included 15,000 players.
The scientists hope to use such tactics to protect whole societies against disinformation.
Researchers hope the technology will further our understanding of the brain, but lawmakers may not be ready for the ethical challenges.
Still from John Stephenson's 1999 rendition of Animal Farm.
Surprising Science
Researchers at the Yale School of Medicine successfully restored some functions to pig brains that had been dead for hours.
They hope the technology will advance our understanding of the brain, potentially developing new treatments for debilitating diseases and disorders.
The research raises many ethical questions and puts to the test our current understanding of death.
The image of an undead brain coming back to live again is the stuff of science fiction. Not just any science fiction, specifically B-grade sci fi. What instantly springs to mind is the black-and-white horrors of films like Fiend Without a Face. Bad acting. Plastic monstrosities. Visible strings. And a spinal cord that, for some reason, is also a tentacle?
But like any good science fiction, it's only a matter of time before some manner of it seeps into our reality. This week's Nature published the findings of researchers who managed to restore function to pigs' brains that were clinically dead. At least, what we once thought of as dead.
What's dead may never die, it seems
The researchers did not hail from House Greyjoy — "What is dead may never die" — but came largely from the Yale School of Medicine. They connected 32 pig brains to a system called BrainEx. BrainEx is an artificial perfusion system — that is, a system that takes over the functions normally regulated by the organ. The pigs had been killed four hours earlier at a U.S. Department of Agriculture slaughterhouse; their brains completely removed from the skulls.
BrainEx pumped an experiment solution into the brain that essentially mimic blood flow. It brought oxygen and nutrients to the tissues, giving brain cells the resources to begin many normal functions. The cells began consuming and metabolizing sugars. The brains' immune systems kicked in. Neuron samples could carry an electrical signal. Some brain cells even responded to drugs.
The researchers have managed to keep some brains alive for up to 36 hours, and currently do not know if BrainEx can have sustained the brains longer. "It is conceivable we are just preventing the inevitable, and the brain won't be able to recover," said Nenad Sestan, Yale neuroscientist and the lead researcher.
As a control, other brains received either a fake solution or no solution at all. None revived brain activity and deteriorated as normal.
The researchers hope the technology can enhance our ability to study the brain and its cellular functions. One of the main avenues of such studies would be brain disorders and diseases. This could point the way to developing new of treatments for the likes of brain injuries, Alzheimer's, Huntington's, and neurodegenerative conditions.
"This is an extraordinary and very promising breakthrough for neuroscience. It immediately offers a much better model for studying the human brain, which is extraordinarily important, given the vast amount of human suffering from diseases of the mind [and] brain," Nita Farahany, the bioethicists at the Duke University School of Law who wrote the study's commentary, told National Geographic.
An ethical gray matter
Before anyone gets an Island of Dr. Moreau vibe, it's worth noting that the brains did not approach neural activity anywhere near consciousness.
The BrainEx solution contained chemicals that prevented neurons from firing. To be extra cautious, the researchers also monitored the brains for any such activity and were prepared to administer an anesthetic should they have seen signs of consciousness.
Even so, the research signals a massive debate to come regarding medical ethics and our definition of death.
Most countries define death, clinically speaking, as the irreversible loss of brain or circulatory function. This definition was already at odds with some folk- and value-centric understandings, but where do we go if it becomes possible to reverse clinical death with artificial perfusion?
"This is wild," Jonathan Moreno, a bioethicist at the University of Pennsylvania, told the New York Times. "If ever there was an issue that merited big public deliberation on the ethics of science and medicine, this is one."
One possible consequence involves organ donations. Some European countries require emergency responders to use a process that preserves organs when they cannot resuscitate a person. They continue to pump blood throughout the body, but use a "thoracic aortic occlusion balloon" to prevent that blood from reaching the brain.
The system is already controversial because it raises concerns about what caused the patient's death. But what happens when brain death becomes readily reversible? Stuart Younger, a bioethicist at Case Western Reserve University, told Nature that if BrainEx were to become widely available, it could shrink the pool of eligible donors.
"There's a potential conflict here between the interests of potential donors — who might not even be donors — and people who are waiting for organs," he said.
It will be a while before such experiments go anywhere near human subjects. A more immediate ethical question relates to how such experiments harm animal subjects.
Ethical review boards evaluate research protocols and can reject any that causes undue pain, suffering, or distress. Since dead animals feel no pain, suffer no trauma, they are typically approved as subjects. But how do such boards make a judgement regarding the suffering of a "cellularly active" brain? The distress of a partially alive brain?
The dilemma is unprecedented.
Setting new boundaries
Another science fiction story that comes to mind when discussing this story is, of course, Frankenstein. As Farahany told National Geographic: "It is definitely has [sic] a good science-fiction element to it, and it is restoring cellular function where we previously thought impossible. But to have Frankenstein, you need some degree of consciousness, some 'there' there. [The researchers] did not recover any form of consciousness in this study, and it is still unclear if we ever could. But we are one step closer to that possibility."
She's right. The researchers undertook their research for the betterment of humanity, and we may one day reap some unimaginable medical benefits from it. The ethical questions, however, remain as unsettling as the stories they remind us of.
Many governments do not report, or misreport, the numbers of refugees who enter their country.
David McNew/Getty Images
Politics & Current Affairs
Conflict, violence, persecution and human rights violations led to a record high of 70.8 million people being displaced by the end of 2018.
Big think's weekly newsletter.
Get smarter faster from the comfort of your inbox.
See our newsletter privacy policy
here
Most Popular
Most Recent
Big think's weekly newsletter.
Get smarter faster from the comfort of your inbox.
See our newsletter privacy policy
here
© Copyright 2007-2019 & BIG THINK, BIG THINK EDGE,
SMARTER FASTER trademarks owned by The Big Think, Inc. All rights reserved.