Big ideas.
Once a week.
Subscribe to our weekly newsletter.
That know-it-all who drives you crazy? They're full of it, says science.
In this study, know-it-alls although aware of their biases, selected data that supported their beliefs anyway.
26 April, 2018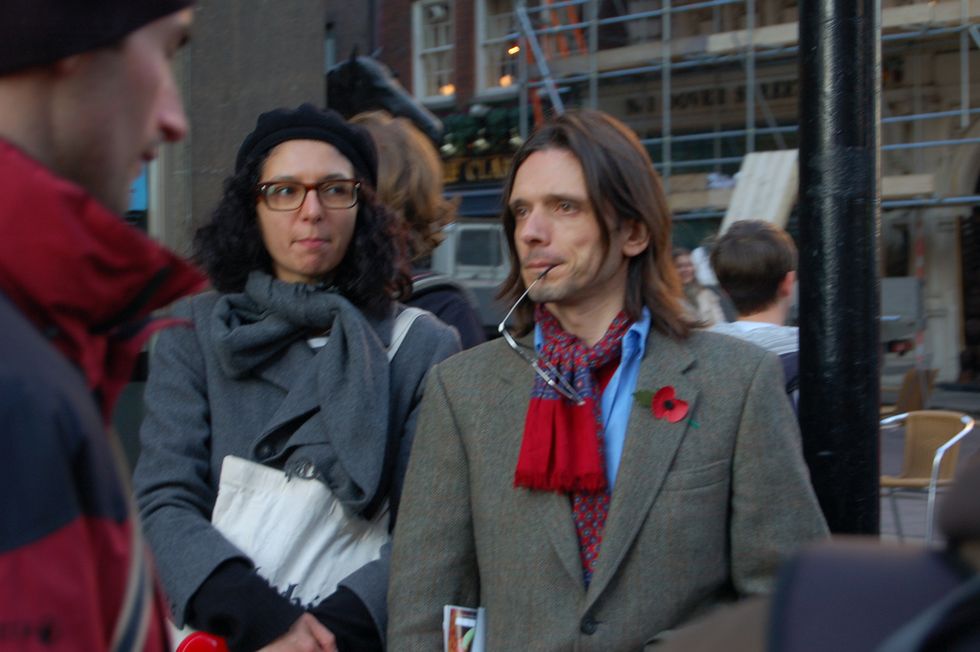 Credit: Andy Wright. Pretentious, Moi? Flickr.
Do you know someone who claims to be THE source on one particular thing, be it politics, religion, relationships, or etiquette? There are movies, music, and sports know-it-alls too. No matter the kind, few people can be quite as irksome. Want to stick it to the know-it-all in your life? Just casually mention that they seem to suffer from "belief-superiority." Then hit them with this study, out of the University of Michigan. It says that know-it-alls tend to over-inflate what they know.
---
Although we all do this to some degree, and studies have shown that it's actually hard for us to judge exactly what we do know, some people take their sense of being knowledgeable to the extreme. Researchers ran six studies focusing on politics. They wanted to answer these questions: "Do people who think that their beliefs are superior have more knowledge about the issues they feel superior about? And do belief-superior people use superior strategies when seeking out new knowledge?"
What they found was, even when faced with holes in their understanding, know-it-alls still claimed to be more knowledgeable than their peers and even sought out information to confirm their bias, while ignoring data which made them appear wrong or less savvy. The study's findings were published in the Journal of Experimental Social Psychology.
The research consisted of quizzes testing knowledge on political terms and issues. Many contained both true terms and made up ones. Just like you're average music know-it-all who says they recognize a band they've never heard of, so too did political know-it-alls say they were familiar with terms that didn't exist. In one experiment, participants were told beforehand that some of the terms were made up. Belief-superior people still selected fake terms and insisted they knew them.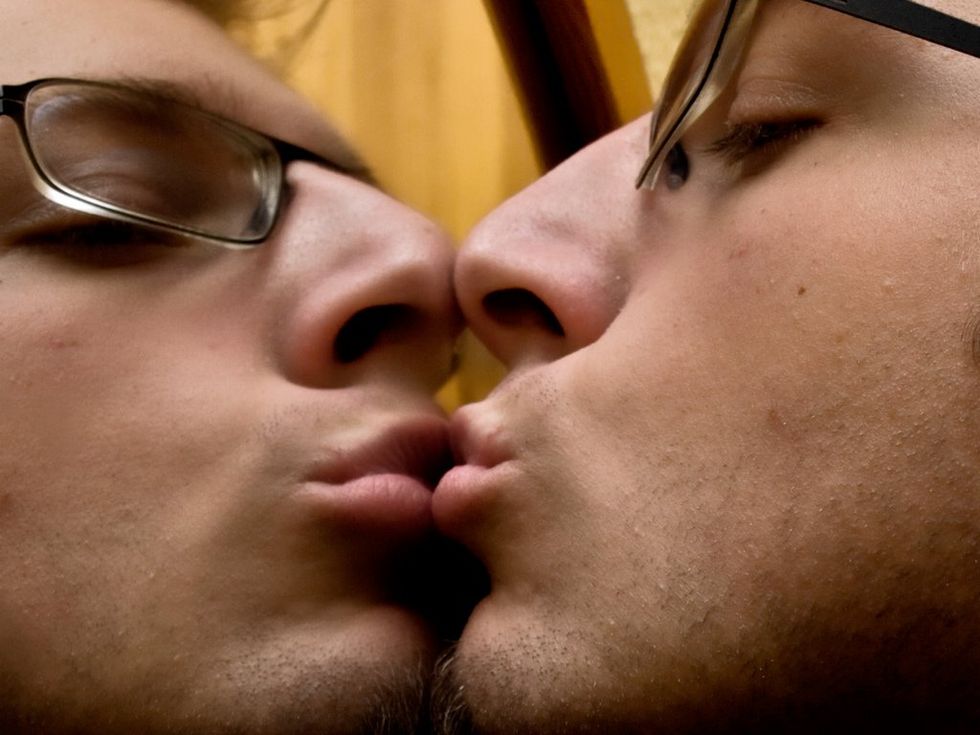 Psychologists say most belief-superiors are underneath it all insecure. They feel a compulsive need to appear as if they know everything. Sometimes under that though, they harbor deeper feelings of superiority. Credit: Bastian, Day 264. Flickr.
Michael Hall was the lead author of the study. He's a psychology graduate student at the university. "Whereas more humble participants sometimes even underestimated their knowledge, the belief superior tended to think they knew a lot more than they actually did."
This is reminiscent of the quote by British philosopher Betrand Russell, "The whole problem with the world is that fools and fanatics are always so certain of themselves, but wiser people so full of doubts." Psychologists call this the Dunning-Kruger effect and a number of studies have supported it.  
In one part of the quiz, participants were asked to read one of two articles on a controversial topic. In half of these, respondents read essays which agreed with their point of view. In the other, they got ones that disagreed. "We thought that if belief-superior people showed a tendency to seek out a balanced set of information," Hall said, "they might be able to claim that they arrived at their belief superiority through reasoned, critical thinking about both sides of the issue."
Instead, know-it-alls were far more likely to choose data that supported their beliefs and ignore things that contradicted them. This phenomenon not only over-inflates what belief-superior people actually know, it causes them to miss opportunities to genuinely improve their knowledge base.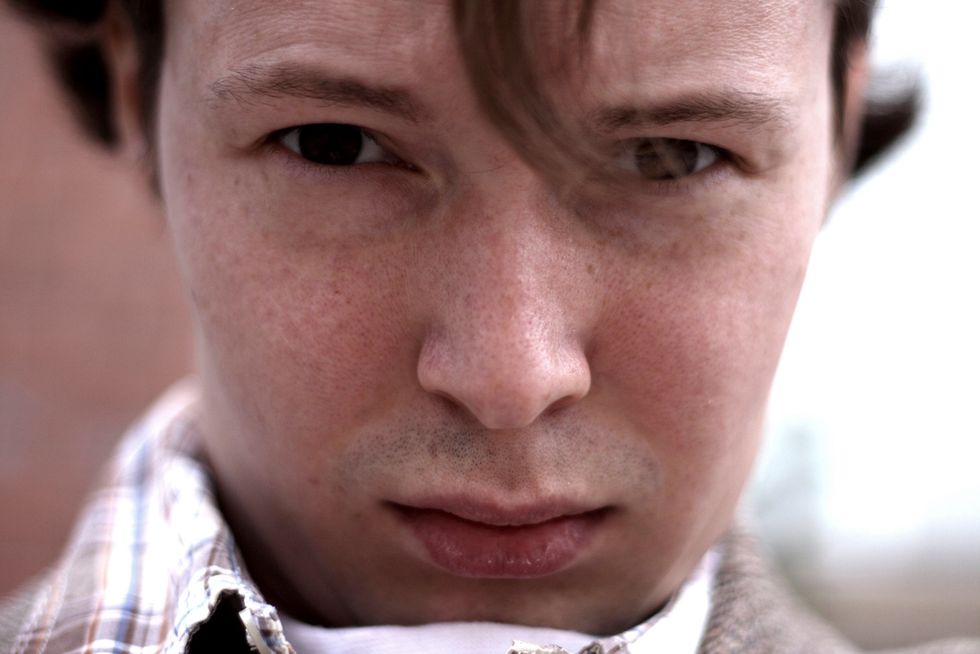 Despite it all, there is hope for the know-it-all. Credit: Sage Ross. Self-Portrait, Pretentious. Flickr.
All of us shy away from information that confirms opposing viewpoints to a certain extent. Belief-superior people do this to a far greater degree, researchers say. These are usually tied to more significant parts of our identity, such as our values. Kaitlin Raimi is a U-M assistant professor of public policy. She was the study's co-author.
Raimi said in a press release, "Having your beliefs validated feels good, whereas having your beliefs challenged creates discomfort, and this discomfort generally increases when your beliefs are strongly held and important to you." What's really interesting is, as the researcher's wrote in their study, "When belief superiority is lowered, people attend to information they may have previously regarded as inferior." So there is hope for the know-it-all, if you can break past their defenses. But that'll be a tough shell to crack.
To learn more about the Dunning-Kruger effect, click here:
"Deepfakes" and "cheap fakes" are becoming strikingly convincing — even ones generated on freely available apps.
Magdalene Visaggio via Twitter
Technology & Innovation
A writer named Magdalene Visaggio recently used FaceApp and Airbrush to generate convincing portraits of early U.S. presidents.
"Deepfake" technology has improved drastically in recent years, and some countries are already experiencing how it can weaponized for political purposes.
It's currently unknown whether it'll be possible to develop technology that can quickly and accurately determine whether a given video is real or fake.
Ancient corridors below the French capital have served as its ossuary, playground, brewery, and perhaps soon, air conditioning.
Credit
: Inspection Générale des Carrières, 1857 / Public domain
Strange Maps
People have been digging up limestone and gypsum from below Paris since Roman times.
They left behind a vast network of corridors and galleries, since reused for many purposes — most famously, the Catacombs.
Soon, the ancient labyrinth may find a new lease of life, providing a sustainable form of air conditioning.
Ancient mining areas below Paris for limestone (red) and gypsum (green).Credit: Émile Gérards (1859–1920) / Public domain
"If you're brave enough to try, you might be able to catch a train from UnLondon to Parisn't, or No York, or Helsunki, or Lost Angeles, or Sans Francisco, or Hong Gone, or Romeless."

China Miéville's fantasy novel Un Lun Dun is set in an eerie mirror version of London. In it, he hints that other cities have similar doubles. On the list that he offhandedly rattles off, Paris stands out. Because the City of Light really does have a twisted sister. Below Paris Overground is Paris Underground, the City of Darkness.
Most people will have heard of the Catacombs of Paris: subterranean charnel houses for the bones of around six million dead Parisians. They are one of the French capital's most famous tourist attractions – and undoubtedly its grisliest.
But they constitute only a small fragment of what the locals themselves call les carrières de Paris ("the mines of Paris"), a collection of tunnels and galleries up to 300 km (185 miles) long, most of which are off-limits to the public, yet eagerly explored by so-called cataphiles.
The Grand Réseau Sud ("Great Southern Network") takes up around 200 km beneath the 5th, 6th, 14th, and 15th arrondissements (administrative districts), all south of the river Seine. Smaller networks run beneath the 12th, 13th, and 16th arrondissements. How did they get there?
Paris stone and plaster of Paris
It all starts with geology. Sediments left behind by ancient seas created large deposits of limestone in the south of the city, mostly south of the Seine; and gypsum in the north, particularly in the hills of Montmartre and Ménilmontant. Highly sought after as building materials, both have been mined since Roman times.
The limestone is also known as Lutetian limestone (Lutetia is the Latin name for ancient Paris) or simply "Paris stone." It has been used for many famous Paris landmarks, including the Louvre and the grand buildings erected during Georges-Eugène Haussmann's large-scale remodelling of the city in the mid-19th century. The stone's warm, yellowish color provides visual unity and a bright elegance to the city.

The fine-powdered gypsum of northern Paris, used for making quick-setting plaster, was so famed for its quality that "plaster of Paris" is still used as a term of distinction. However, as gypsum is very soluble in water, the underground cavities left by its extraction were extremely vulnerable to collapse.
Like living on top of a rotting tooth: subsidence starts far below the surface, but it can destroy your house.Credit : Delavanne Avocats
In previous centuries, a road would occasionally open up to swallow a chariot, or even a whole house would disappear down a sinkhole. In 1778, a catastrophic subsidence in Ménilmontant killed seven. That's why the Montmartre gypsum quarries were dynamited rather than just left as they were. The remaining gypsum caves were to be filled up with concrete.

The official body governing Paris down below is the Inspection Générale des Carrières (IGC), founded in the late 1770s by King Louis XVI. The IGC was tasked with mapping and, where needed, propping up the current and ancient (and sometimes forgotten) mining corridors and galleries hiding beneath Paris.
A delightful hiding place
Also around that time, the dead of Paris were getting in the way of the living. At the end of the 18th century, their final destination consisted of about 200 small cemeteries, scattered throughout the city — all bursting at the seams, so to speak. There was no room to bury the newly dead, and the previously departed were fouling up both the water and air around their respective churchyards.

Something radical had to happen. And it did. From 1785 until 1814, the smaller cemeteries were emptied of their bones, which were transported with full funerary pomp to their final resting place in the ancient limestone quarries at Tombe-Issoire. Three large and modern cemeteries were opened to receive the remains of subsequent generations of Parisians: Montparnasse, Père-Lachaise, and Passy.
Who says stacking skulls and bones can't be fun?Credit: Rijin via Wikimedia and licensed under CC BY-SA 4.0
The six million dead Parisians in the Catacombs, from all corners of the capital and across many centuries, together form the world's largest necropolis — their now anonymized skulls and bones methodically stacked, occasionally into whimsical patterns. The Catacombs are fashioned into a memorial to the brevity of life. The message above the entrance reads: Arrête! C'est ici l'empire de la Mort. ("Halt! This is the empire of Death.")

That has not stopped the Catacombs, accessible via a side door to a classicist building on the Avenue du Colonel Henri Rol-Tanguy, making just about every Top 20 list of things to see in Paris.
An underground economy
However, while the Catacombs certainly are the most famous part of the centuries-old network beneath Paris, and in non-pandemic times draw thousands of tourists each day, they constitute just 1.7 km (1 mile) of the 300-km (185-mile) tunneling total.
Subterranean Paris wasn't just used for mining and storing dead people. In the 17th century, Carthusian monks converted the ancient quarries under their monastery into distilleries for the green or yellow liqueur that still carries their name, chartreuse.

Because the mines generally keep a constant cool temperature of around 15° C (60° F), they were also ideal for brewing beer, as happened on a large scale from the end of the 17th century until well into the 20th century. Several caves were dug especially for establishing breweries, and not just because of the ambient temperature: going underground allowed brewers to remain close to their customers without having to pay a premium for real estate up top.
Overview of the Paris Catacombs.Credit: Inspection Générale des Carrières, 1857 / Public domain.
At the end of the 19th century, the underground breweries of the 14th arrondissement alone produced more than a million hectoliters (22 million gallons) per year. One of the most famous of Paris' underground breweries, Dumesnil, stayed in operation until the late 1960s.

In that decade, the network of corridors and galleries south of the Seine, long since abandoned by miners, became the unofficial playground for the young people of Paris. They explored the fantastical world beneath their feet, in some cases via entry points located in their very schools. Fascinated, these cataphiles ("catacomb lovers") read up on old books, explored the subterranean labyrinth, and drew up schematics that were passed around among fellow initiates as reverently as treasure maps.
As Robert Macfarlane writes in Underland, Paris-beneath-their-feet became "a place where people might slip into different identities, assume new ways of being and relating, become fluid and wild in ways that are constrained on the surface."

Some larger caves turned into notorious party zones: a 7-meter-tall gallery below the Val-de-Grâce hospital is widely known as "Salle Z." Over the last few decades, various other locations in subterranean Paris have hosted jazz and rock concerts and rave parties — like no other city, Paris really has an "underground music scene."
Hokusai's Great Wave as the backdrop to the "beach" under Paris.Credit: Reddit
Cataphiles vs. cataphobes

With popularity came increased reports of nuisance and crime — the tunnels provided easy access to telephone cables, which were stolen for the resale value of their copper.
The general public's "discovery" of the underground network led the city of Paris to officially interdict all access by non-authorized persons. That decree dates back to 1955, but the "underground police" have an understanding with seasoned cataphiles. Their main targets are so-called tourists, who by their lack of knowledge expose themselves to risk of injuries or worse, and degrade their surroundings, often leaving loads of litter in their wake.

The understanding does not extend to the IGC. Unlike in the 19th century, when weak cavities were shored up by purpose-built pillars, the policy now is to inject concrete to fill up endangered spaces — thus progressively blocking off parts of the network. That procedure has also been used to separate the Catacombs to prevent "infiltration" of the site by cataphiles.
Many subterranean streets have their own names, signs and all. This is the Rue des Bourguignons (Street of the Burgundians) below the Champs des Capucins (Capuchin Field), neither of which exists on the surface.Credit: Jean-François Gornet via Wikimedia and licensed under
The cataphiles, however, are fighting back. In a game of cat and mouse with the authorities, they are reopening blocked passages and creating chatières ("cat flaps") through which they can squeeze into chambers no longer accessible via other underground corridors.

Catacomb climate control
Alone against the unstoppable tide of concrete, the amateurs of Underground Paris would be helpless. But the fight against climate change may turn the subterranean labyrinths from a liability into an asset — and the City of Paris into an ally.
The UN's 2015 Climate Plan — concluded in Paris, by the way — requires the world to reduce greenhouse gas emissions by 75 percent by 2050. And Paris itself wants to be Europe's greenest city by 2030. More sustainable climate control of our living spaces would be a great help toward both targets. A lot of energy is spent heating houses in winter and cooling them in summer.
This is where the constant temperature of the Parisian tunnels comes in. It's not just good for brewing beer; it's a source of geothermal energy, says Fieldwork, an architectural firm based in Paris. It can be used to temper temperatures, helping to cool houses in summer and warming them in winter.

One catch for the cataphiles: it also works when the underground cavities are filled up with concrete. So perhaps one day, Paris Underground, fully filled up with concrete, will completely fall off the map, reducing the city's formerly real doppelgänger into an air conditioning unit.
Cool in summer, warm in winter: Paris Underground could become Paris A/C.Credit: Fieldwork
Strange Maps #1083
Got a strange map? Let me know at strangemaps@gmail.com.
Meconium contains a wealth of information.
Surprising Science
A new study finds that the contents of an infants' first stool, known as meconium, can predict if they'll develop allergies with a high degree of accuracy.
A metabolically diverse meconium, which indicates the initial food source for the gut microbiota, is associated with fewer allergies.
The research hints at possible early interventions to prevent or treat allergies just after birth.
The prevalence of allergies arising in childhood has increased over the last 50 years, with 30 percent of the human population now having some kind of atopic disease such as eczema, food allergies, or asthma. The cause of this increase is still subject to debate, though it has been associated with a number of factors, including changes to the gut microbiomes of infants.
A new study by Canadian researchers published in Cell Reports Medicine may shed further light on how these allergies develop in children by examining the contents of their first diaper.
The things you do for science
The research team examined the first stool of 100 infants from the CHILD Cohort Study. The first stool of an infant is a thick, green, horrid-looking substance called meconium. It consists of various things that the infant ingests during the second half of gestation. Additionally, it provides not only a snapshot of what the infant was exposed to during that time, but it also reveals what the food sources will be for the initial gut bacteria that colonize the baby's digestive tract.
The content of the meconium was examined and found to contain such varied elements as amino acids, lipids, carbohydrates, and myriad other substances.
A graph of the comparative, summed abundance of different elements in a metabolic pathway after scaling to median abundance of each metabolite. The blue figures are those children without atopy, the yellow ones show the data for those with an atopic condition. Petersen et al.
The authors fed this information into an algorithm that used this data, along with the identities of the bacteria present as well as the baby's overall health, to predict which infants would go on to develop allergies within one year. The algorithm got it right 76 percent of the time.

A way to prevent childhood allergies?
Infants whose meconium had a less diverse metabolic niche the initial microbes to settle in the gut were at the highest risk of developing allergies a year later. Many of these elements were associated with the presence or absence of different bacterial groups in the digestive system of the child, which play an increasingly appreciated role in our overall health and development. The findings were summarized by senior co-author Dr. Brett Finlay:

"Our analysis revealed that newborns who developed allergic sensitization by one year of age had significantly less 'rich' meconium at birth, compared to those who didn't develop allergic sensitization."
The findings could be used to help understand how allergies form and even how to prevent them. Co-author Dr. Stuart Turvey commented on this possibility:
"We know that children with allergies are at the highest risk of also developing asthma. Now we have an opportunity to identify at-risk infants who could benefit from early interventions before they even begin to show signs and symptoms of allergies or asthma later in life."
A model for early childhood allergies
Petersen et al.
As shown above, the authors constructed a model of how they believe metabolites and bacterial diversity help prevent allergies. Increased diversity of metabolic products in the meconium encourage the development of "healthy" families of bacteria, like Peptostreptococcaceae, which in turn promote the development of a healthy and diverse gut microbiome. Ultimately, such diversity decreases the likelihood that a child will develop allergies.
Mind & Brain
If you ask your maps app to find "restaurants that aren't McDonald's," you won't like the result.
Scroll down to load more…