Scientists Invent "Tattoos" That Deliver Medicine
So how would you like your prescription? A dragon? Tiger? Something tribal maybe?
29 September, 2016
Once the realm of sailors, outlaws, rock stars, and others on the fringe of society, tattoos today are ubiquitous. People of all walks of life, moms and dads, and upstanding members of society adorn them, when the weather is nice and people are showing more skin. One in five Americans have a tattoo, according to a 2012 Harris Poll. That's about 21% of all U.S. adults, 40% of which are between the ages 18 to 29.
---
The temporary kind are fun for children and teens, and even questioning adults, who want to find out if it is right for them. But what if a tattoo wasn't just a way to telegraph your rugged individualism, but instead, was a delivery system for important medicine? That's what researchers at Rice University and the Baylor College of Medicine are working on.  
Investigators on this proof-of-concept study, created a temporary tattoo replete with antioxidant nanoparticles. When placed underneath the skin, these helpful particles provide relief from autoimmune conditions, such as multiple sclerosis (M.S.). This study, published online in the journal Nature, proved that such particles could be altered, so as to be taken up by the immune system.
Baylor scientist Christine Beeton led the study. According to her, the therapy works like this, once the so-called tattoo is in place, "…the carbon-based particles form a dark spot that fades over about one week as they are slowly released into the circulation."
In autoimmune disorders such as M.S., killer T-cells, the soldiers of the immune system, are no longer able to tell the difference between harmful pathogens and healthy tissue. As a result, they go berserk and attack indiscriminately. With this therapy, the nanoparticles would be picked up by the T-cells which would slow them down, without inhibiting the other cells of the immune system.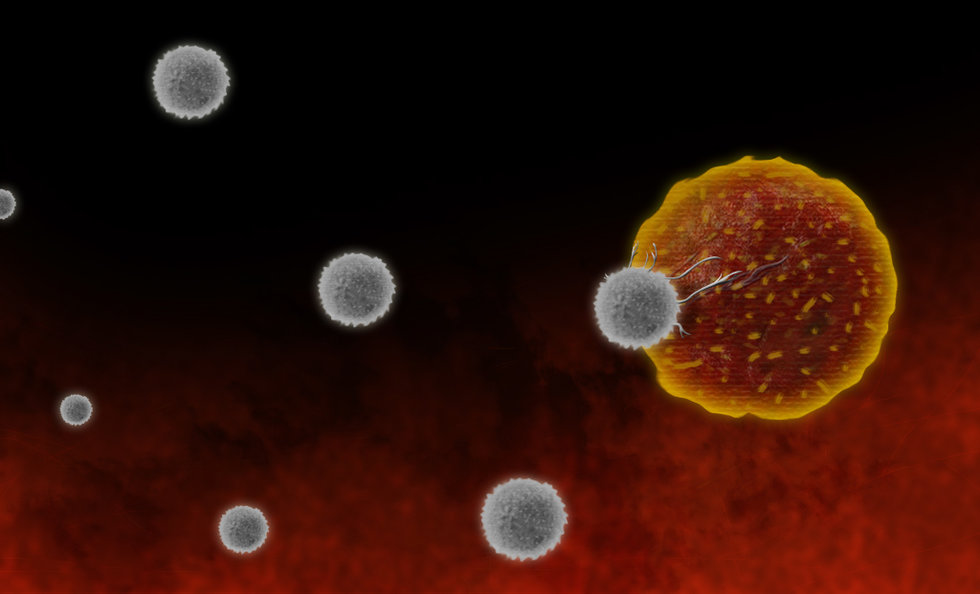 T-cells attacking an invader.
Redwan Huq was the study's lead author. He is a graduate student at Baylor, and assigned to Beeton's lab. Huq said that today, the typical drugs used are "broad-spectrum immune-suppressants." Instead of targeting only the cells which have gone haywire, all the immune cells are affected. This causes side effects, including a higher susceptibility to infection and even a greater risk of cancer.
"So we get excited when we see something new," he said. Since the other immune cells in this therapy are unaffected, the immune system essentially operates normally, and the chances of side effects are greatly reduced.
The nanoparticles used are called polyethylene glycol with hydrophilic carbon clusters (PEG-HCCs). Put together, they form a patch that is a mere 35 nanometers long, three nanometers wide, and just one atom thick. In globular form, it is about 100 nanometers all around. Just to get an idea of the scale we're talking about, a human hair is 60,000 – 80,000 nanometers wide.
PEG-HCCs pick up superoxide molecules, which are used by the immune system to kill invaders. T-cells are activated when they come into contact with these molecules. But when PEG-HCCs absorbs them, T-cells remain deactivated. Small amounts of these nanoparticles, injected underneath the skin in rodent models, showed that T-cells were in fact inhibited.
They do not remain within the system, long-term. Rather, these nanoparticles fade out within a few days. According to Beeton, "…you want a drug that's in the system long enough to be effective, but not so long that, if you have a problem, you can't remove it."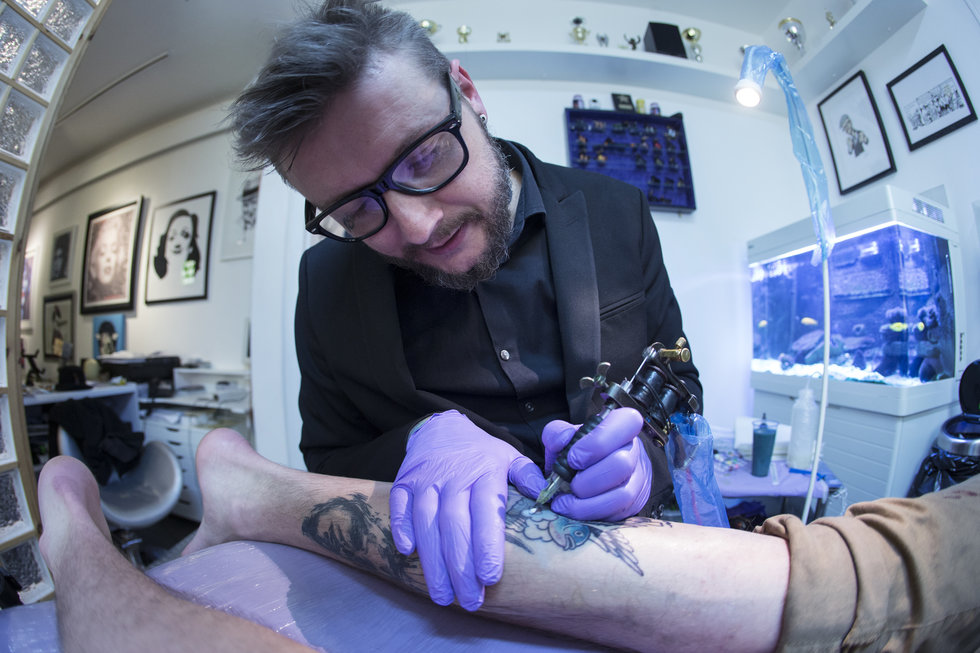 A room at your local hospital may soon contain an artist like this.
Researchers say the more they understand the nature of nanoparticles, the more medical applications they discover. Other uses for this technique might include a delivery system for cancer drugs and to help mitigate damage in the aftermath of traumatic brain injury. Placing these nanoparticles under the skin helps them to seep into the system slowly, making them last longer, and the uptake more consistent to T-cells or other targets.
As it often is in life, what could be a drawback to some is an advantage to others. As it stands now, this nano-globule looks like a dark spot when placed underneath the skin. For those who aren't interested in a blemish like this, Beeton suggests that it can be either injected into a hidden area, or using needles, shaped into a micro-pattern, like a tattoo. "I can see doing this for a child who wants a tattoo and could never get her parents to go along," Beaton said. "This will be a good way to convince them."
Tattooing is also used in other areas of medicine today. Cosmetic tattoos restore nipples to breast cancer patients, offer instructions to healthcare professionals in an emergency, to say warn of a dangerous allergy (for those who cannot wear a medical bracelet), and even to cover up burns and scars, improving a patient's appearance and restoring their self-esteem, in the aftermath of a traumatic experience.  So what was once the realm of rouges and colorful characters is now helping all kinds of patients gain their lives back.
To learn more about medical tattooing click here: 
In a breakthrough for nuclear fusion research, scientists at China's Experimental Advanced Superconducting Tokamak (EAST) reactor have produced temperatures necessary for nuclear fusion on Earth.
Credit: EAST Team
Surprising Science
The EAST reactor was able to heat hydrogen to temperatures exceeding 100 million degrees Celsius.
Nuclear fusion could someday provide the planet with a virtually limitless supply of clean energy.
Still, scientists have many other obstacles to pass before fusion technology becomes a viable energy source.
Military recruits are supposed to be assessed to see whether they're fit for service. What happens when they're not?
Politics & Current Affairs
During the Vietnam War, Robert McNamara began a program called Project 100,000.
The program brought over 300,000 men to Vietnam who failed to meet minimum criteria for military service, both physically and mentally.
Project 100,000 recruits were killed in disproportionate numbers and fared worse after their military service than their civilian peers, making the program one of the biggest—and possibly cruelest—mistakes of the Vietnam War.
The 116th Congress is set to break records in term of diversity among its lawmakers, though those changes are coming almost entirely from Democrats.
(Photo: MANDEL NGAN/AFP/Getty Images)
Politics & Current Affairs
Women and nonwhite candidates made record gains in the 2018 midterms.
In total, almost half of the newly elected Congressional representatives are not white men.
Those changes come almost entirely from Democrats; Republican members-elect are all white men except for one woman.
Big think's weekly newsletter.
Get smarter faster from the comfort of your inbox.
See our newsletter privacy policy
here
Most Popular
Most Recent
Big think's weekly newsletter.
Get smarter faster from the comfort of your inbox.
See our newsletter privacy policy
here
© Copyright 2007-2018 & BIG THINK, BIG THINK EDGE,
SMARTER FASTER trademarks owned by The Big Think, Inc. All rights reserved.