Stephen Hawking Believes We Will Abandon Earth via Light-Based Transportation
The iconic physicist warns that we'd better find another planet in the next 100 years, or humanity is screwed.
24 June, 2017
Stephen Hawking is fed up. He thinks the world is doomed and that we should start preparing our exit strategy now. Easier said than done. Hawking recently spoke out at the Starmus Festival of arts and sciences in Norway. In his speech, the world famous physicist slammed President Donald Trump for taking "the most serious, and wrong, decision on climate change this world has seen." When asked to comment further the famous cosmologist groaned: "The Earth is under threat from so many areas that it is difficult for me to be positive."
---
In two previous statements, Hawking has warned that we'd better formulate a workable plan B in order to punch out in the next century or so, as Earth is caught in a downward spiral he believes we can't escape. As a result, the professor suggests we find a new home planet in the next two to five centuries. The only way we can do that is to start exploring space for a suitable planet sufficient to sustain life, or even perhaps more than one. Using advanced scientific instruments, we've been able to peer into the universe like never before, Hawking said.
"When we have reached similar crises in our history, there has usually been somewhere else to colonize," he said. "Columbus did it in 1492 when he discovered the New World. But now there is no new world. No Utopia around the corner." The first logical places to start are the moon and Mars. According to the BBC, Hawking called on nations to colonize the moon by 2020 and Mars by 2025.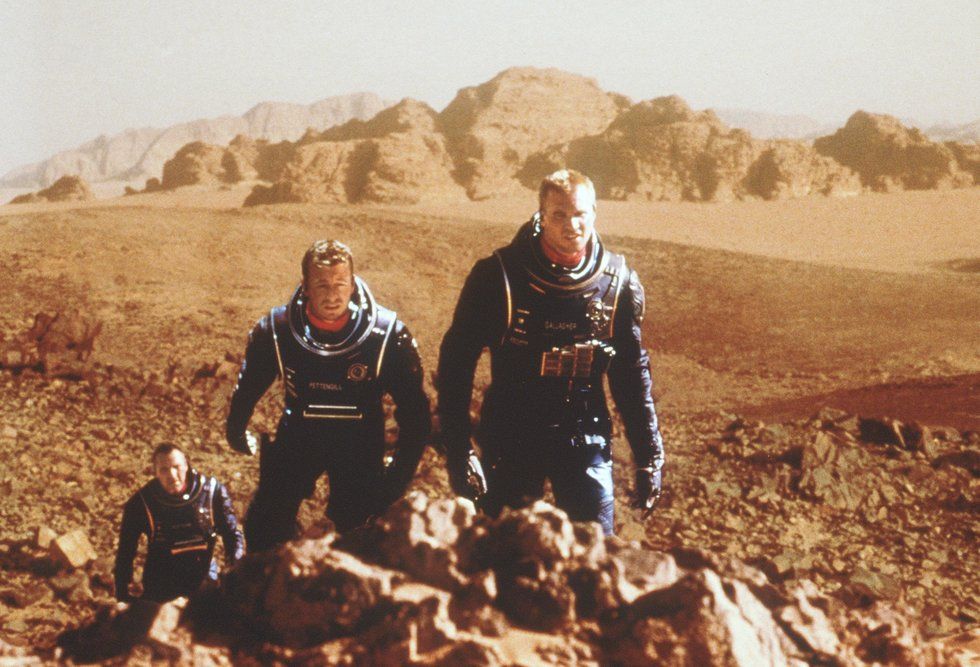 Hawking believes one of our first moves is colonizing Mars. Getty Images.
But each is subject to cosmic radiation, long-term exposure of which could cause cancer and Alzheimer's. We'll need to invent proper shielding. What's more, no one knows how a child being born in such circumstances might fare. The gravity for instance, is way different in both places than on Earth. How would this affect skeletal development? Growing up on Mars might mean never being able to set foot on the Earth, as one's skeletal system wouldn't be able to withstand the gravity.
Planet Proxima b in the Proxima Centauri system, approximately 4.5 light-years from Earth, was one such candidate Hawking mentioned. Note that one light-year is around six trillion miles (10 million km). We don't even have the cryonic process down completely yet. We can freeze a person but we don't know how to revive them. Beyond that, the distances are just mind-blowing. Even with such technology tucked under our arm, is such a feat feasible?
The renowned cosmologist said, "To go faster would require a much higher exhaust speed than chemical rockets can provide—that of light itself." He added, "A powerful beam of light from the rear could drive the spaceship forward. Nuclear fusion could provide 1 percent of the spaceship's mass energy, which would accelerate it to a tenth of the speed of light." Such technology is theoretical. NASA has tested an EM or "impossibility" drive, and other types of next generation rockets are on the horizon.
Of course, we'd have to harness the power of antimatter to achieve the kind of technological feat Hawking is proposing. Antimatter particles are puzzlingly rare in the universe, even though equal parts of matter and antimatter were supposedly present at the Big Bang. Generating enough antimatter to power a rocket borders on the fantastical. Such an engine remains, for the time being, in the theoretical stages.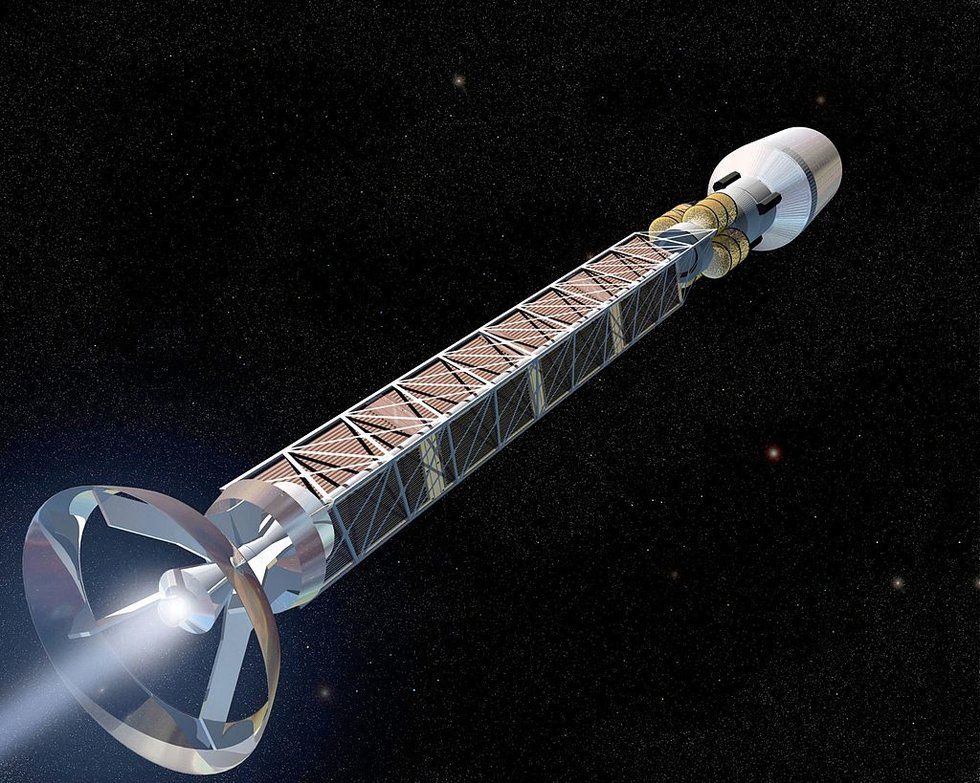 Model of an antimatter rocket. NASA.
Even so the moderator, taking Hawking's suggestion as granted, feared that we might become complacent or preoccupied in an era of such technology, having the ability to observe the unexplored corners of the universe and marvel at their wonders, as one watches television. But Hawking replied that the peril the Earth is in will motivate us to take action.
Hawking said in his speech:
Human colonization on other planets is no longer science fiction. It can be science fact. The human race has existed as a separate species for about 2 million years. Civilization began about 10,000 years ago, and the rate of development has been steadily increasing. If humanity is to continue for another million years, our future lies in boldly going where no one else has gone before.
Cheesy Stark Trek line aside, Russian billionaire Yuri Milner, Facebook founder Mark Zuckerberg, and Hawking have developed an initiative called Breakthrough Starshot, which plans to comb the universe for intelligent life and Earth-like planets. They plan on sending out hundreds or even thousands of tiny spacecraft, each weighing less than one ounce, to explore the Alpha Centauri star system and see what's out there. This will be 2,000 times farther than anything from Earth has ever traveled.
This animation depicts the Breakthrough Starshot:
These little spacecraft, called nanocrafts, will be propelled by an array of powerful lasers. The lasers will hit each nanocraft's solar sail, pushing it along. With such force behind it and at such a small size, they should travel at an unheard of velocity, one fifth the speed of light. Hawking said at the announcement, "With light beams, light sails and the lightest spacecraft ever built, we can launch a mission to Alpha Centauri within a generation." So far the project has raised $100 million to explore its viability. There will be other benefits besides saving humanity's collective skin.
At the Starmus festival, Hawking commented:
Spreading out into space will completely change the future of humanity. I hope it would unite competitive nations in a single goal, to face the common challenge for us all. A new and ambitious space program would excite (young people), and stimulate interest in other areas, such as astrophysics and cosmology.
Will the Earth really perish? To hear what physicist Michio Kaku thinks, click here: 
What can 3D printing do for medicine? The "sky is the limit," says Northwell Health researcher Dr. Todd Goldstein.
Northwell Health
Sponsored by Northwell Health
Medical professionals are currently using 3D printers to create prosthetics and patient-specific organ models that doctors can use to prepare for surgery.
Eventually, scientists hope to print patient-specific organs that can be transplanted safely into the human body.
Northwell Health, New York State's largest health care provider, is pioneering 3D printing in medicine in three key ways.
The periodic table was a lot simpler at the beginning of the universe.
The controversial herbicide is everywhere, apparently.
Surprising Science
U.S. PIRG tested 20 beers and wines, including organics, and found Roundup's active ingredient in almost all of them.
A jury on August 2018 awarded a non-Hodgkin's lymphoma victim $289 million in Roundup damages.
Bayer/Monsanto says Roundup is totally safe. Others disagree.
Can dirt help us fight off stress? Groundbreaking new research shows how.
University of Colorado Boulder
Surprising Science
New research identifies a bacterium that helps block anxiety.
Scientists say this can lead to drugs for first responders and soldiers, preventing PTSD and other mental issues.
The finding builds on the hygiene hypothesis, first proposed in 1989.
Are modern societies trying too hard to be clean, at the detriment to public health? Scientists discovered that a microorganism living in dirt can actually be good for us, potentially helping the body to fight off stress. Harnessing its powers can lead to a "stress vaccine".
Researchers at the University of Colorado Boulder found that the fatty 10(Z)-hexadecenoic acid from the soil-residing bacterium Mycobacterium vaccae aids immune cells in blocking pathways that increase inflammation and the ability to combat stress.
The study's senior author and Integrative Physiology Professor Christopher Lowry described this fat as "one of the main ingredients" in the "special sauce" that causes the beneficial effects of the bacterium.
The finding goes hand in hand with the "hygiene hypothesis," initially proposed in 1989 by the British scientist David Strachan. He maintained that our generally sterile modern world prevents children from being exposed to certain microorganisms, resulting in compromised immune systems and greater incidences of asthma and allergies.
Contemporary research fine-tuned the hypothesis, finding that not interacting with so-called "old friends" or helpful microbes in the soil and the environment, rather than the ones that cause illnesses, is what's detrimental. In particular, our mental health could be at stake.
"The idea is that as humans have moved away from farms and an agricultural or hunter-gatherer existence into cities, we have lost contact with organisms that served to regulate our immune system and suppress inappropriate inflammation," explained Lowry. "That has put us at higher risk for inflammatory disease and stress-related psychiatric disorders."
University of Colorado Boulder
Christopher Lowry
This is not the first study on the subject from Lowry, who published previous work showing the connection between being exposed to healthy bacteria and mental health. He found that being raised with animals and dust in a rural environment helps children develop more stress-proof immune systems. Such kids were also likely to be less at risk for mental illnesses than people living in the city without pets.
Lowry's other work also pointed out that the soil-based bacterium Mycobacterium vaccae acts like an antidepressant when injected into rodents. It alters their behavior and has lasting anti-inflammatory effects on the brain, according to the press release from the University of Colorado Boulder. Prolonged inflammation can lead to such stress-related disorders as PTSD.
The new study from Lowry and his team identified why that worked by pinpointing the specific fatty acid responsible. They showed that when the 10(Z)-hexadecenoic acid gets into cells, it works like a lock, attaching itself to the peroxisome proliferator-activated receptor (PPAR). This allows it to block a number of key pathways responsible for inflammation. Pre-treating the cells with the acid (or lipid) made them withstand inflammation better.
Lowry thinks this understanding can lead to creating a "stress vaccine" that can be given to people in high-stress jobs, like first responders or soldiers. The vaccine can prevent the psychological effects of stress.
What's more, this friendly bacterium is not the only potentially helpful organism we can find in soil.
"This is just one strain of one species of one type of bacterium that is found in the soil but there are millions of other strains in soils," said Lowry. "We are just beginning to see the tip of the iceberg in terms of identifying the mechanisms through which they have evolved to keep us healthy. It should inspire awe in all of us."
Check out the study published in the journal Psychopharmacology.
Big think's weekly newsletter.
Get smarter faster from the comfort of your inbox.
See our newsletter privacy policy
here
Most Popular
Most Recent
Big think's weekly newsletter.
Get smarter faster from the comfort of your inbox.
See our newsletter privacy policy
here
© Copyright 2007-2019 & BIG THINK, BIG THINK EDGE,
SMARTER FASTER trademarks owned by The Big Think, Inc. All rights reserved.