Space Dust Could Be Bringing Alien Life to Earth
Life never ceases to surprise, even when faced with the unforgiving environment of space.
17 December, 2017
Hollywood almost always portrays our first encounter with extraterrestrials as humans confronting a big, shiny spacecraft, piloted by organisms with technology far beyond our own. More likely, it'll be alien microbes we first encounter. And it may not just be on other moons or planets. It could be right here on Earth. How? They may be hitching a ride on space dust.
---
Typically, 4,000 tons of micrometeorites fall to Earth every year, each about the width of a human hair. Amateur scientist Jon Larsen collaborated with a number of scientists earlier this year and wrote about the phenomenon in the journal Geology. He's also authored a book entitled, In Search of Stardust: Amazing Micro-Meteorites and Their Terrestrial Imposters.
More recently, a researcher at the University of Edinburgh went a step further. Arjun Berera, a professor in the physics and astronomy department at the University of Edinburgh, discovered that space dust moves at such a high velocity that it could possibly bring alien microbes to our planet. His findings were published in the journal Astrobiology.
"It is observed that hypervelocity space dust, which is continuously bombarding the Earth, creates immense momentum flows in the atmosphere," Berera writes. "Some of this fast space dust inevitably will interact with the atmospheric system, transferring energy and moving particles around, with various possible consequences."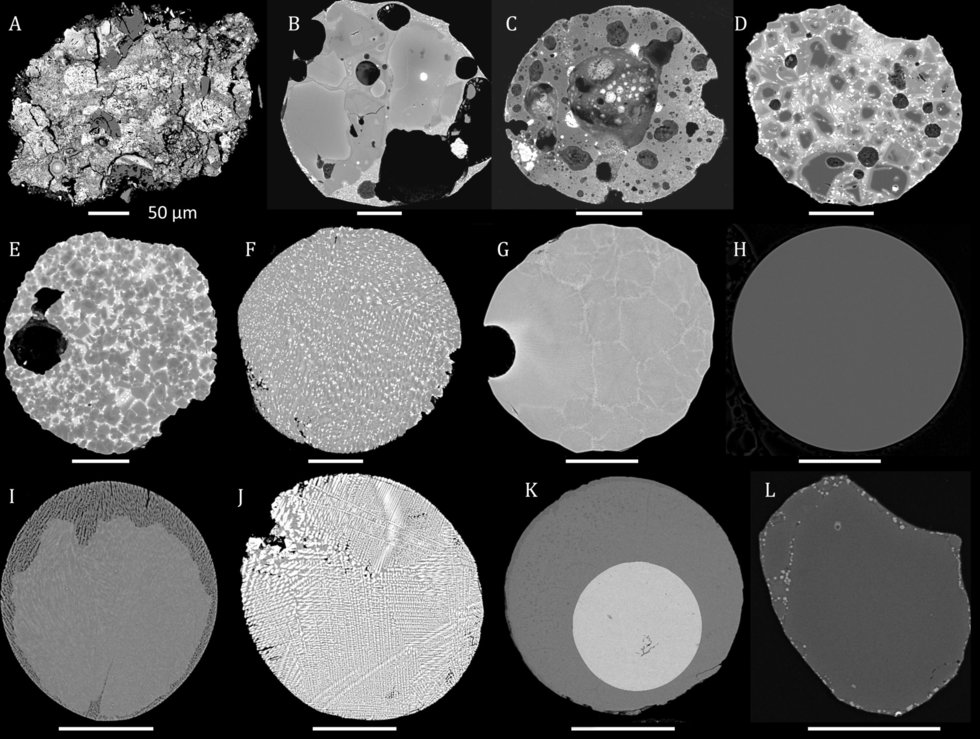 Cross-sections of different micrometeorites. Credit: Shaw Street (Own work), Wikimedia Commons.
Berera continued, "Floating in the Earth's atmosphere are a variety of particles containing the telltale signs of Earth's organic story, including microbial life and life essential molecules." What he found was that cosmic dust flows can travel up to 43 miles per second (70 km per second). These collide constantly with organic particles in the upper atmosphere, which might generate enough energy to send them careening into space. "The same mechanism could enable the exchange of atmospheric particles between distant planets," according to a press release.
Such flows are thought to constantly move between planets. This would theoretically take bacteria and eventually distribute them elsewhere, perhaps even seeding life on other moons and planets in our solar system and beyond. Before this, it was thought that only large asteroid impacts could transmit life through space.
According to a press release, "Some bacteria, plants and small animals called tardigrades are known to be able to survive in space, so it is possible that such organisms – if present in Earth's upper atmosphere – might collide with fast-moving space dust and withstand a journey to another planet." Case in point, bacteria was recently found living on the outside hull of the International Space Station, which one cosmonaut claims is alien in origin—though no proof has yet surfaced.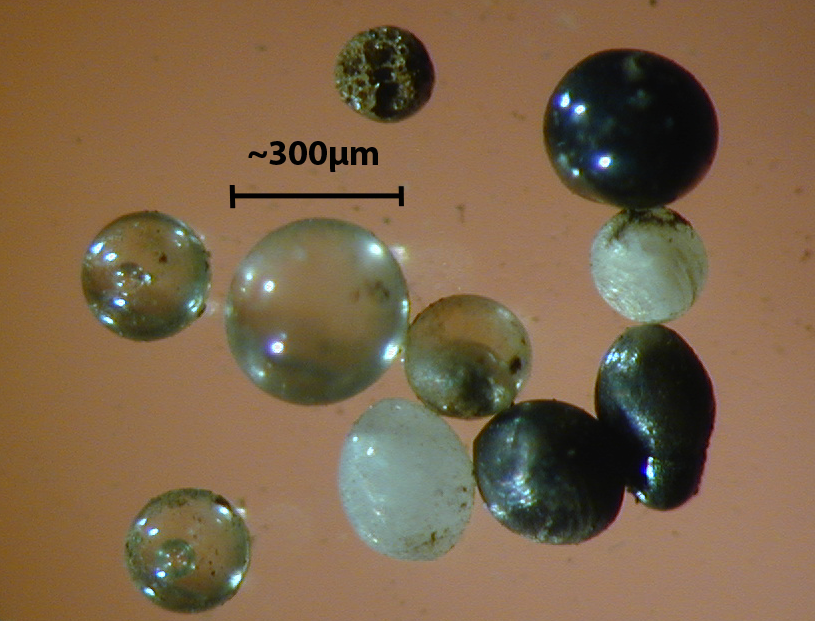 Microscopic images of melted micrometeorites. Credit: Shaw Street (Own work), Wikimedia Commons.
This paper also strengthens the case for what's been, up until now, considered a radical theory, panspermia. It states that life on our planet was seeded by space-faring molecules or microbes from elsewhere in the solar system, most likely Mars.
"The proposition that space dust collisions could propel organisms over enormous distances between planets raises some exciting prospects of how life and the atmospheres of planets originated," Barera said. "The streaming of fast space dust is found throughout planetary systems and could be a common factor in proliferating life."
To learn more about panspermia, click here:
Swipe right to make the connections that could change your career.
Getty Images
Sponsored
Swipe right. Match. Meet over coffee or set up a call.
No, we aren't talking about Tinder. Introducing Shapr, a free app that helps people with synergistic professional goals and skill sets easily meet and collaborate.
Research by neuroscientists at MIT's Picower Institute for Learning and Memory helps explain how the brain regulates arousal.
Photo by CHARLY TRIBALLEAU / AFP/ Getty Images
Mind & Brain
The big day has come: You are taking your road test to get your driver's license. As you start your mom's car with a stern-faced evaluator in the passenger seat, you know you'll need to be alert but not so excited that you make mistakes. Even if you are simultaneously sleep-deprived and full of nervous energy, you need your brain to moderate your level of arousal so that you do your best.
A disturbing interview given by a KGB defector in 1984 describes America of today and outlines four stages of mass brainwashing used by the KGB.
Politics & Current Affairs
Bezmenov described this process as "a great brainwashing" which has four basic stages.
The first stage is called "demoralization" which takes from 15 to 20 years to achieve.
According to the former KGB agent, that is the minimum number of years it takes to re-educate one generation of students that is normally exposed to the ideology of its country.
When these companies compete, in the current system, the people lose.
Top Video Splash
When a company reaches the top of the ladder, they typically kick it away so that others cannot climb up on it. The aim? So that another company can't compete.
When this happens in the pharmaceutical world, certain companies stay at the top of the ladder, through broadly-protected patents, at the cost of everyday people benefitting from increased competition.
Since companies have worked out how to legally game the system, Amin argues we need to get rid of this "one size fits all" system, which treats product innovation — "tweaks" — the same as product invention.
Big think's weekly newsletter.
Get smarter faster from the comfort of your inbox.
See our newsletter privacy policy
here
Most Popular
Most Recent
Big think's weekly newsletter.
Get smarter faster from the comfort of your inbox.
See our newsletter privacy policy
here
© Copyright 2007-2018 & BIG THINK, BIG THINK EDGE,
SMARTER FASTER trademarks owned by The Big Think, Inc. All rights reserved.