"Smart Needle," the Width of a Human Hair Set to Revolutionize Brain Surgery
The computer it's attached to can "see" potential hazards and alert the surgeon to them.
27 January, 2017
With some serious conditions, brain surgery remains the only option. With a brain glioma for instance, or cancer, surgery is the go-to treatment. But the brain is a complex organ that's difficult to navigate. As a result, there is a high risk of after effects, what are known as "late effects." These include difficulties with balance, vision, coordination, memory, and speech, among others. More serious effects include having a stroke, bleeding or infection inside the brain, swelling, and even going into a coma.
---
Australian researchers recently improved on brain surgery by making it more precise, thus lowering the risk of late effects. They did so by adding a novel device to the procedure, the "smart needle." With it, they can check for abnormalities and avoid blood vessels. This results in significantly improved outcomes for patients.
The device is basically a high-tech imaging probe attached to a biopsy needle. It employs a 200-micron wide fiber-optic camera, about the width of a human hair. The camera uses infrared light. It acts sort of like an ultrasound, but using light instead of sound waves. The "needle" is connected to the internet, part of the "internet of things." So it sends video in real time, allowing surgeons to detect abnormalities when they encounter them and steer past. It also contains smart software, researchers said. This allows it to take a still photo, analyze it, and determine whether it contains a blood vessel or brain tissue.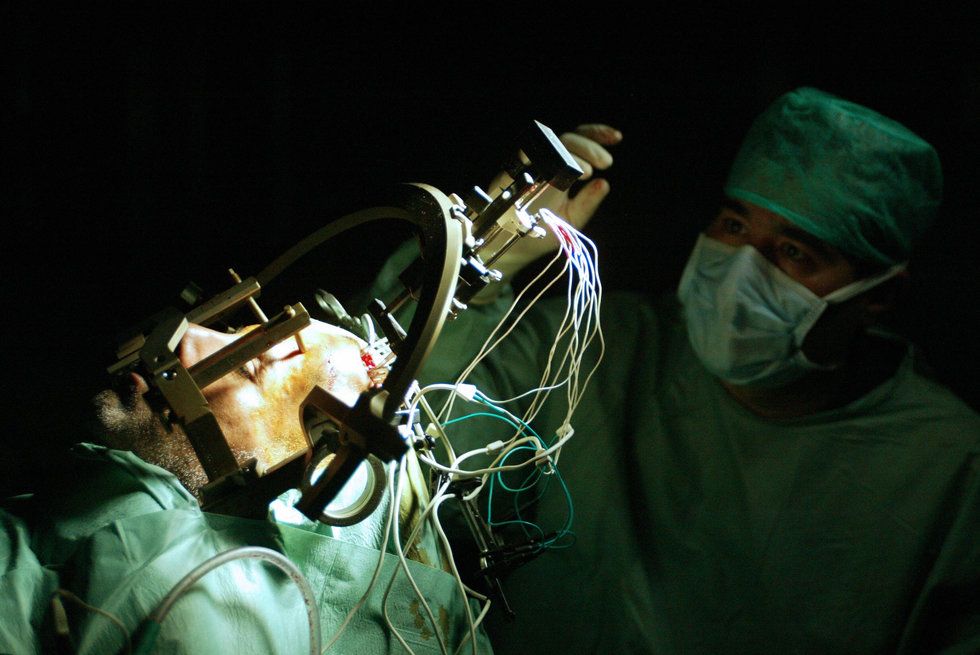 The smart needle acts as a second pair of unblinking eyes, operating from inside the skull.
Researchers at the University of Western Australia and Sir Charles Gairdner Hospital collaborated on this project. Robert McLaughlin was the research leader on this study. He is the Chair of the University of Adelaide's Centre of Excellence for Nanoscale BioPhotonics. He said, "There are about 256,000 cases of brain cancer a year and about 2.3 per cent of the time you can make a significant impact that could end in a stroke or death." Allowing surgeons to "see" such blood vessels or evaluate anomalies more carefully, is a huge improvement.
Over the course of the six-month pilot, 12 patients slated for craniotomies—removing part of the skull to get at the brain, underwent procedures that employed the smart needle. Researchers proved that it can successfully identify previously unrecognized blood vessels, and help surgeons steer clear of them. Professor Christopher Lind led the trial. He said that the needle's ability to guide surgery was an impressive breakthrough. "To have a tool that can see blood vessels as we proceed through the brain would revolutionize neurosurgery," he said. "It will open the way for safer surgery, allowing us to do things we've not been able to do before."
Currently, a brain surgeon take scans prior to conducting the procedure, and uses these to navigate. But the smart needle has proven more accurate. Now, McLaughlin, Lind, and their colleagues are investigating what other areas of medicine the smart needle could make an impact in. Breast cancer is one such arena mentioned. The device will be ready for clinical trials come 2018. Should they prove successful, manufacture would take place within five years' time.
To learn how the internet of things will change our lives in other ways, click here: 
What can 3D printing do for medicine? The "sky is the limit," says Northwell Health researcher Dr. Todd Goldstein.
Northwell Health
Sponsored by Northwell Health
Medical professionals are currently using 3D printers to create prosthetics and patient-specific organ models that doctors can use to prepare for surgery.
Eventually, scientists hope to print patient-specific organs that can be transplanted safely into the human body.
Northwell Health, New York State's largest health care provider, is pioneering 3D printing in medicine in three key ways.
The tactics that work now won't work for long.
Politics & Current Affairs
Arms races happen when two sides of a conflict escalate in a series of ever-changing moves intended to outwit the opponent.
Great ideas in philosophy often come in dense packages. Then there is where the work of Marcus Aurelius.
(Getty Images)
Personal Growth
Meditations is a collection of the philosophical ideas of the Roman Emperor Marcus Aurelius.
Written as a series of notes to himself, the book is much more readable than the dry philosophy most people are used to.
The advice he gave to himself 2,000 years ago is increasingly applicable in our hectic, stressed-out lives.
By working together, and learning from one another, we can build better systems.
Videos
Many of the things that we experience, are our imagination manifesting into this physical realm, avers artist Dustin Yellin.
People need to completely rethink the way they work together, and learn from one another, that they they can build better systems. If not, things may get "really dark" soon.
The first step to enabling cooperation is figuring out where the common ground is. Through this method, despite contrary beliefs, we may be able to find some degree of peace.
Big think's weekly newsletter.
Get smarter faster from the comfort of your inbox.
See our newsletter privacy policy
here
Most Popular
Most Recent
Big think's weekly newsletter.
Get smarter faster from the comfort of your inbox.
See our newsletter privacy policy
here
© Copyright 2007-2019 & BIG THINK, BIG THINK EDGE,
SMARTER FASTER trademarks owned by The Big Think, Inc. All rights reserved.